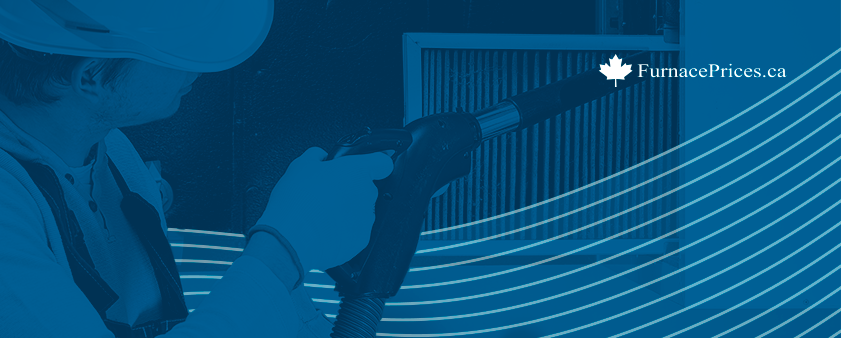 Updated February 8th 2023
Proper HVAC & gas furnace repairs and furnace maintenance are mandatory if you want to get the longest life, best performance, and highest efficiency from your heating system.
An inadequately maintained furnace could get red-tagged for safety reasons, but annual maintenance will also ensure smooth operation and efficiency for years to come.
This comprehensive guide will tell you everything you need to know about furnace maintenance services, including common furnace problems, frequently asked questions, troubleshooting help, and even average repair costs.
*Please note, the following is for informational purposes only. Any servicing you attempt is at your own risk.
Furnace Troubleshooting Tips and Some DIY Furnace Repairs
IMPORTANT: You should always call a professional for gas furnace repair and maintenance, except for minor issues like changing your filter.
Find a Certified HVAC Technician here
Basic Furnace Repair Tools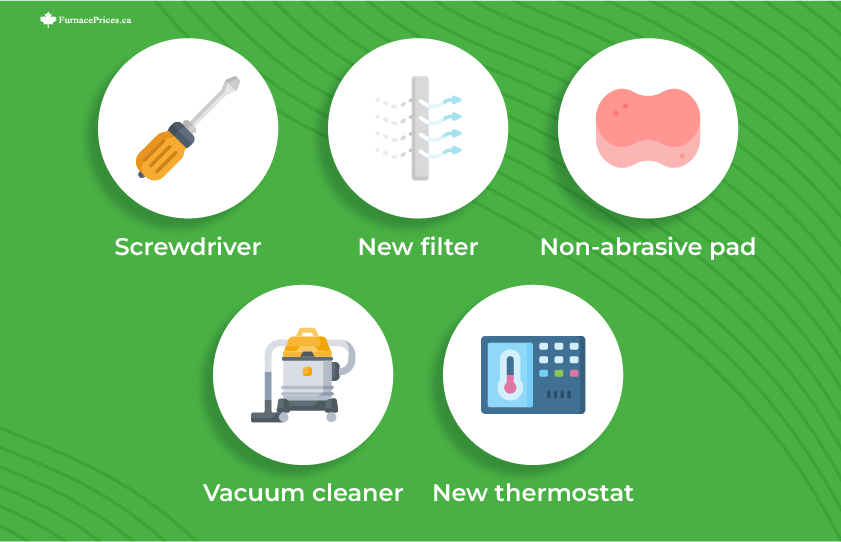 Screwdriver to open the access panel
New filter when replacing the old one
Non-abrasive pad to clean the flame sensor
Vacuum cleaner to clean the blower and fan blades
New thermostat if the old one is faulty
Furnace Repair Safety Tips
Always call a professional furnace technician for gas furnace repair and maintenance
Before you attempt any furnace maintenance (like changing the filter), turn off the furnace power switch or shut off power to the system
Test your carbon monoxide detectors monthly if you have a conventional gas furnace or propane or oil furnace
Make sure the area around your furnace, and the air intake and exhaust (usually outside on newer furnaces), is free of debris, furniture, clutter, and especially flammable items like wood, papers, and some chemicals
Always read the owner's manual before doing anything to your furnace and follow all safety and repair instructions carefully
If you smell gas or suspect a gas leak, shut the unit off, open the windows, and get everybody out of the house immediately before calling your utility company or the fire department
Use parts and replacement components that are made for your specific furnace
If you suspect the heat exchanger is cracked, call a certified HVAC technician immediately—it could lead to a gas leak (look for visible cracks, corrosion, and a clicking sound from the furnace when the blower fan shuts off)
Some common furnace problems have easy solutions that you can try. However, if the following troubleshooting tips don't fix the furnace issue, then the problem is more complex and you'll have to call a professional.
Problem: Furnace Won't Turn On / Isn't Producing Heat
When your furnace system won't come on, check that the: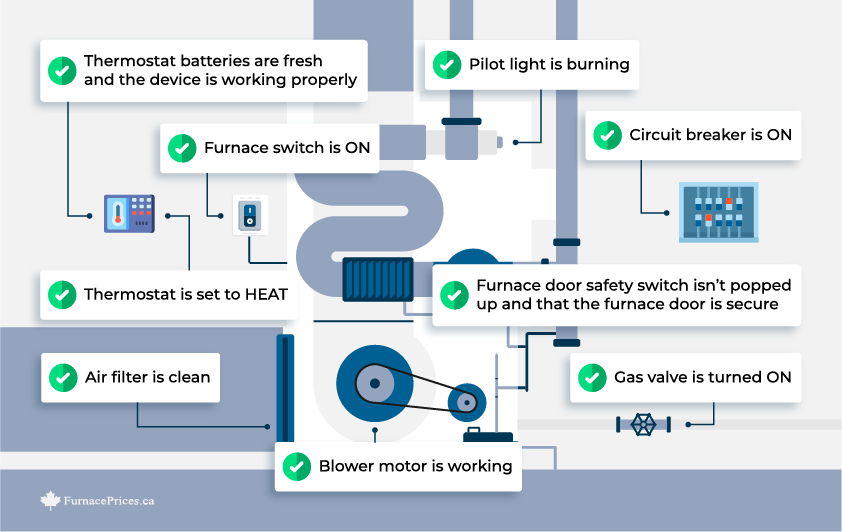 Furnace switch is ON
Circuit breaker is ON
Thermostat is set to HEAT
Thermostat batteries are fresh and the device is working properly
Air filter is clean
Gas valve is turned ON
Furnace door safety switch isn't popped up and that the furnace door is secure
Pilot light is burning (for older furnaces)
Blower motor is working
Problem: Furnace Isn't Producing Enough Heat
When your furnace produces warm air but not enough, try:
Cleaning or replacing a dirty filter
Ensuring you've used the right furnace filter and that it's installed properly
Checking for leaks in the ductwork
Doing a quick check with an online calculator to see if your furnace is the right size
Problem: Furnace Is Blowing Cold Air / Blower Is Always Running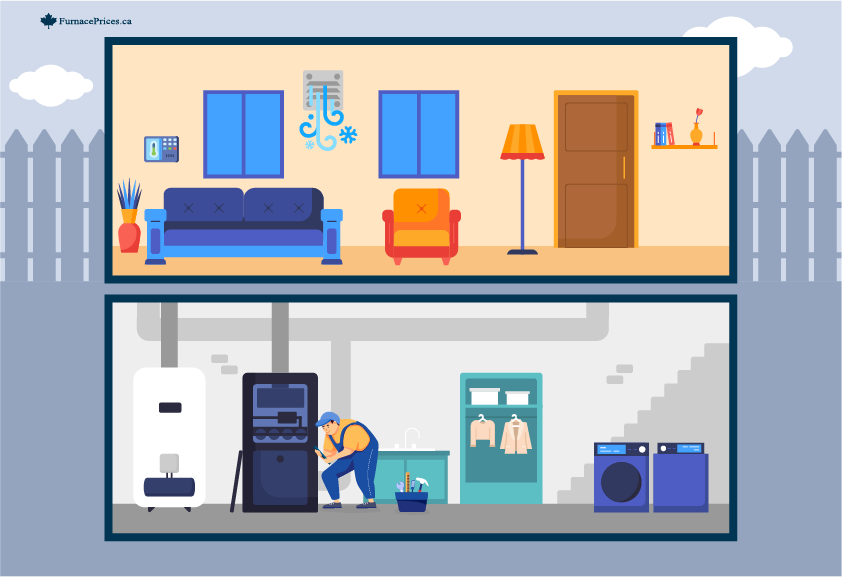 When your furnace is blowing cool air, take these steps:
Change the fan setting from ON to AUTO
Make sure the thermostat is set to HEAT (not COOL)
Check that the gas valve is turned ON
Check that the fresh air intake is clear of debris
Problem: Shuts Down Right After Coming On
When your furnace is cycling irregularly and won't stay on, try:
Cleaning a dirty flame sensor
Changing a dirty filter
Removing debris from the fresh air intake and exhaust vents
Problem: Producing Bad Smells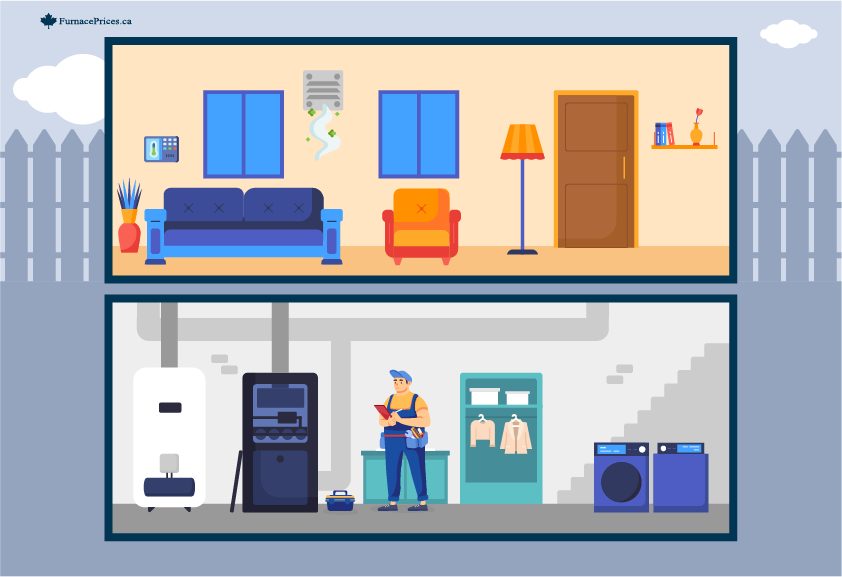 When your furnace is stinking up your house with a dirty or dusty smell:
Change or clean the furnace filter
The Most Common Furnace Problems and Causes
1. Dirty filter
A dirty air filter causes reduced air flow, so it makes your furnace less efficient, and it's harder to heat your house. It also impacts indoor air quality and can lead to other furnace issues. Air filters should be changed every one to three months during heating season.
2. Lack of maintenance
Your furnace has a lot of working parts. For the unit to perform optimally and efficiently, these components have to be serviced regularly. A good rule of thumb is to have your HVAC system inspected and tuned up once a year by a certified HVAC technician.
3. The unit doesn't heat/work
This particular furnace repair problem has many potential causes. If your furnace isn't coming on and won't produce heat, it could be because of: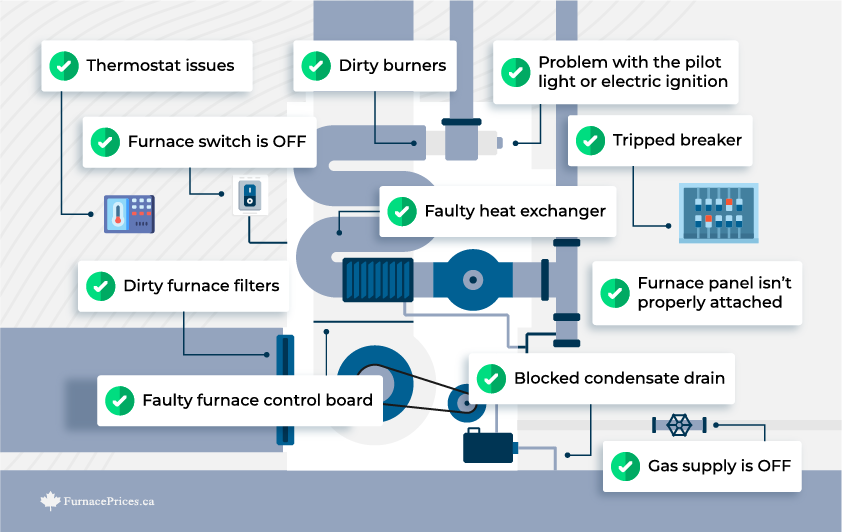 Dirty furnace filters
Furnace switch is OFF
Tripped breaker
Thermostat issues
Dirty burners
Blocked condensate drain
Gas supply is OFF
Faulty furnace control board
Problem with the pilot light or electric ignition
Faulty heat exchanger
Furnace panel isn't properly attached
4. Furnace that's the wrong size
We already talked about when a furnace doesn't produce enough heated air to keep your home comfortable, and this is another potential cause. A new furnace must be properly sized for your home.
Furnace is too small? It will run constantly, cost a fortune to operate, and won't keep your home warm enough. Furnace is too large? It will frequently cycle, allow your home to cool between cycles, and increase humidity levels.
Get Quotes
How soon are you looking to buy?*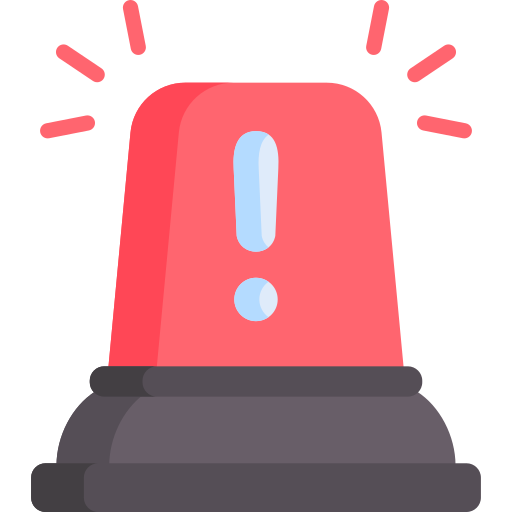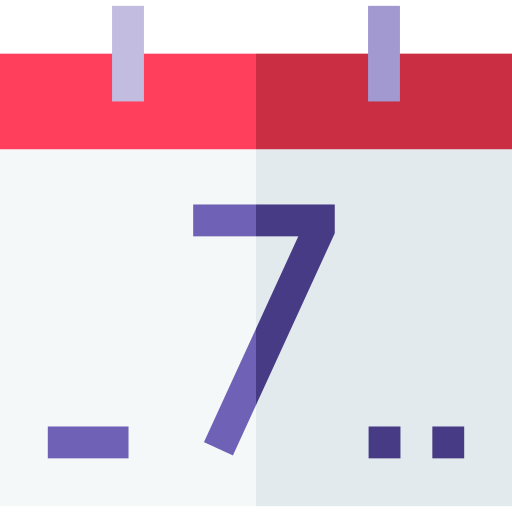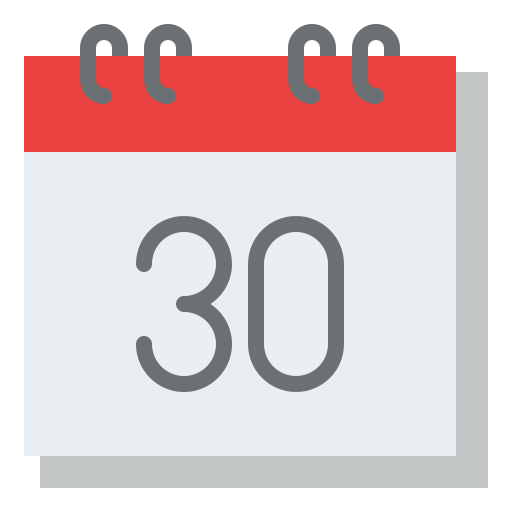 5. Improper installation
You spent a great deal of money on your furnace, so make sure it's installed properly. Lots of furnace problems can be traced back to shoddy installation. The only way to ensure the furnace is installed right is by hiring a trained and certified local contractor. This is especially important with a natural gas furnace because the last thing you want is a gas leak from a botched installation job.
6. Thermostat problems

Thermostats do break down. When this happens, they don't properly control heating cycles. If you think your thermostat might be malfunctioning, replace it with a new one and make sure it's adequately calibrated and set according to your comfort needs.
7. Dirty flame sensor
A furnace flame sensor is a safety feature that prevents the furnace from using gas when there's no burner flame present to ignite it. If the sensor gets dirty, it won't be able to detect the flame and will shut the furnace down. Your system will come on when it should but then turn off before it can heat the house.
8. Pilot light problems
Older furnaces have a standing pilot light that burns all the time. If it goes out because of a draft, clog problem with the thermocouple, or other reason, then the furnace won't be able to produce heat.
9. Blower motor
The furnace blower motor powers the fan that circulates hot air around your house. If the motor is faulty or breaks down, then the fan won't operate at the right speed and won't keep your home at the right temperature.
What regular maintenance should I be doing to keep my furnace in top shape?
There are many simple furnace maintenance steps you can do that will extend the life of your heating system and keep it working optimally:
Change the filter every one to three months (see below).
Vacuum the blower and fan blades regularly to keep them free of dust.
Inspect the vents including the exhaust vent occasionally to ensure it's not obstructed
Check the chimney annually for cracks and damage (if you have an older furnace that vents through the chimney)
Inspect the fan belts to make sure they're intact.
Hire a certified technician once a year for a furnace tune up inspection and servicing.
Frequently Asked Questions
Should I repair or replace my furnace?
The average lifespan of a furnace is 13 to 20 years, with most lasting around 15. When your furnace is older than 10 years and no longer under warranty, you should consider upgrading to a new unit if your old unit requires significant repairs, especially to expensive components like the heat exchanger.
How do I know if my furnace is starting to fail?
Signs that your furnace is on its last legs include: corrosion on the unit; the unit isn't producing heat or isn't producing enough heat; odd sounds or excessive noise; and delayed ignition after a call for heat has been made.
What can I do to stop the furnace from cycling irregularly?
This is usually because of the thermostat's heat anticipator. Check the settings to make sure they're correct, clean the inside of the thermostat, and replace the device if you think the thermostat is faulty.
How do I stop my furnace from blowing cold air?
Change the thermostat setting to Auto to prevent the fan from running when the furnace isn't in a heating cycle.
How do I clean a dirty furnace flame sensor?
Open the access panel and locate the flame sensor, a small metal rod near the pilot. Scrub it carefully with a non-abrasive pad to clean off dust, residue, and dirt.
My furnace won't run at all. What's the problem?
First, check that the unit is getting power and that the breaker didn't trip or a fuse didn't blow. Next, check your thermostat to make sure it's set to Heat and at a comfortable temperature. See that the access panel is attached correctly, otherwise, the safety switch might be engaged and preventing the furnace from operating. If you have a pilot light, make sure it's burning.
Why isn't my furnace heating properly?
The simplest and most common causes of this include a dirty air filter, improper thermostat setting, or a poorly sized unit. If the furnace isn't heating at all, it could be a power/fuel supply issue, broken blower motor, malfunctioning heat exchanger, or problem with the pilot light or ignitor.
Why is my furnace so noisy?
There are lots of issues that can cause your furnace to make funny sounds. You may even be able to diagnose the problem based on the noise. For instance, a furnace that rattles, squeaks, or rumbles probably has a mechanical problem, such as a faulty belt or an issue with the blower. Grinding noises often indicate a problem with the motor.
How do I change my furnace filter?
Turn off the furnace. Locate the filter, which is usually on the right side of the furnace. Slide out the old filter and, using the arrows for guidance, slide the new filter into place. Turn the unit back on. 
Furnace Repair Cost Breakdown
Here's a rough estimate of the average price for common furnace repairs and maintenance.
We've put together a general guide to furnace repair prices when you hire a contractor, followed by a description of the services (from least to most expensive):
Average hourly rate for furnace service calls: $75 – $150 hour
Annual inspection, thermostat repair, flame sensor or igniter repair: $80 to $300
Limit switch replacement, burner repair, or gas valve replacement: $115 to $470
Replacing the thermostat, blower fan, or circuit board: $125 to $650
Replacing the furnace motor or heat exchanger: $1,200 to $2,400
Price Range: $80 to $300
Annual furnace inspection
When you schedule an annual inspection and maintenance, the HVAC contractor will:
Check the air filter and replace it if necessary
Clean the outdoor unit, including the fan blades, blower, and coil
Check the thermostat and settings and calibrate it if necessary
Inspect the unit for signs of wear and tear, cracks, damage, and other issues
Ensure the furnace switch is working
Lubricate moving parts
Check the condensate drain and access vents for blockages
Test airflow, the pilot or ignitor, oil or gas line, and fuel pressure
Thermostat repair
A thermostat monitors the temperature in your home and communicates with the furnace. When there's a problem with the thermostat, it might not initiate heating cycles, might cycle too frequently, and will cause erratic temperatures in your home.
Repairs to the flame sensor or igniter
The flame sensor can fail, and this will cause the furnace to cycle on and off too quickly. A related problem involves the hot surface ignition, which is used in modern furnaces instead of a pilot to ignite the furnace burners.
Price Range: $115 to $470
Limit switch service
When the furnace kicks on, the limit switch turns on the blower when the furnace reaches the right temperature. It also acts as a safety device that stops the furnace from overheating. When a limit switch fails, it needs to be replaced. Otherwise, the furnace will cycle erratically.
Service to the burner
The burner assembly is where fuel is burned to provide heat for your home. If the burner malfunctions, it will need to be repaired or replaced for the furnace to work.
Cleaning or replacing the gas valve
The gas valve controls the flow of gas (fuel) in your heating system. A dirty or clogged gas valve will need to be cleaned. A gas valve that stops opening will need replacement.
Price Range: $125 to $650
Thermostat replacement
Sometimes thermostats malfunction or break down to the point where they can't be repaired. In those cases, they have to be replaced. Alternatively, if you get a furnace upgrade, then you may need a more modern thermostat.
Repairing or replacing the blower fan
Once the burner heats the air, the furnace blower fan blows it into the ductwork and distributes it around your house. When this component malfunctions, the fan doesn't circulate air properly.
Replacing the circuit board
The circuit board connects all the electrical components in the furnace. it will need to be replaced if it becomes damaged or corroded or otherwise malfunctions. This can be a big furnace problem—you won't get any heat or fan power if the circuit board is broken.
Price Range: $1,200 to $2,500
Repairing or replacing the furnace motor
The furnace motor powers the fan that circulates air throughout your house, and it can malfunction or break, preventing the fan from working properly.
Repairing or replacing the heat exchanger
The heat exchanger is what heats the air that gets circulated around your house, so it's one of the most important components in your furnace and also one of the most expensive to repair or replace if it gets damaged, cracks, or breaks down.
Repairing or replacing the inducer motor
The inducer motor brings air into the system. It clears gas out of the heat exchanger from the previous heating cycle and ensures clean, safe combustion. It prevents the burners from clogging, ensures maximum efficiency, and doubles as a safety.
---
HVAC Help and Maintenance – Who to Call
While you may have the urge to tinker with your furnace to get it working, you'll want to get help from a trained professional.
During these times, you want a technician you can rely on, and that's why we created our independent contractor certification program. With this program, you can find a trustworthy and dependable HVAC technician in your area who has all the right licenses and certifications, training, experience, and more.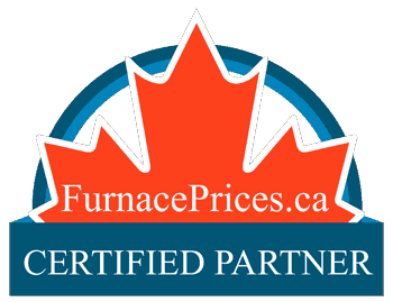 When choosing an HVAC contractor, we recommend checking that the company has:
All the proper licenses & certifications
Additional manufacturer training
Experienced staff
A good track record
Adequate insurance
Offers fair & transparent quotes
---
Furnace Brand Repair Guides
Local HVAC Repair Guides & Prices