Ductless mini-split systems work similarly to a ducted air-source heat pump. However, each room or area of the house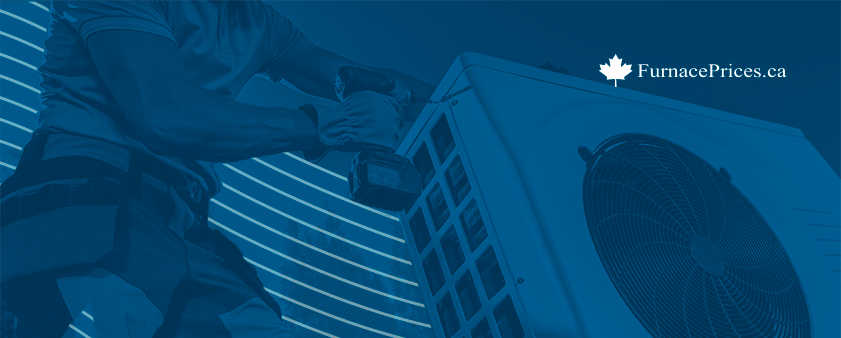 Heat pumps are considered by many experts to be the future of household temperature control. They are significantly more environmentally friendly and energy-efficient than furnaces, saving the planet while potentially also saving you money on your utility bills.
Before you invest in a heat pump, you need to know everything, from the different types of heat pumps available to the costs associated with each system. Read on to discover how installing a heat pump could be the perfect decision for your home and your finances.
Average Installed Cost of a Heat Pump System
The costs associated with installing a heat pump can vary significantly depending on the type of heat pump you choose. On average, you can expect to pay between $3,500 and $15,000, with a simple ductless mini-split air conditioner system sitting at the lower end of the price range while a geothermal or ground-source heat pump unit comes with a remarkably higher price.
The size of your property and its current infrastructure can also influence the cost of installation. While the upfront costs can seem significant, it is important to remember that effectively installed heat pump systems can produce 1.5 to 3 times more heat than the electrical energy they must consume while operating. As such, a modern heat pump can reduce the amount of energy you use to heat your home by 50 percent, especially if you have traditional electric baseboard heating. Over time, this amounts to a significant reduction in your energy consumption and savings on the associated utility bills.
Heat Pump Cost Calculator
Factors that Influence Heat Pump Prices
If you are considering installing a heat pump in your home, there are several factors that will affect the associated costs of both the unit and the installation process. Gathering this information ensures that you are well informed and can make the best decision for your home.
Size
Most manufacturers calculate the capacity of heat pumps in tons, with domestic units typically measuring between 2 and 5 tons. To get the most out of a heat pump, you need to find the right size for your home. Otherwise, you could end up with inadequate heating or, on the other hand, paying more for a unit that is too large for your home.
In addition to the square footage of your home, you need to take into account the height of your ceilings, the number of windows, and the type of insulation you have into consideration. Each of these factors will impact the requirements of the heat pump.
Brand
There is a wide range of heat pumps currently available on the market. See our comparison of the best ductless heat pump brands here. Most brands offer a selection of heat pumps suitable for different budgets. Before settling on a particular brand, read customer reviews and look at what else is available. A couple of minutes of research to compare the prices of both the unit and the installation costs can lead to substantial savings.
Supply and Demand
With heat pumps becoming more popular and some lingering supply chain issues, heat pump prices may be higher in some cases as a result. This can vary by region, the company you deal with, and time of year, among other factors.
Installation
To ensure that your heat pump is safely and efficiently installed, it is always advisable to hire a qualified and dependable HVAC contractor. The cost of installation will vary depending on both the type of heat pump you choose and the type and condition of your home's current heating system.
But proper sizing and installation are crucial to not only your home comfort but the reliability and longevity of your heat pump.
Average Heat Pump Costs by Type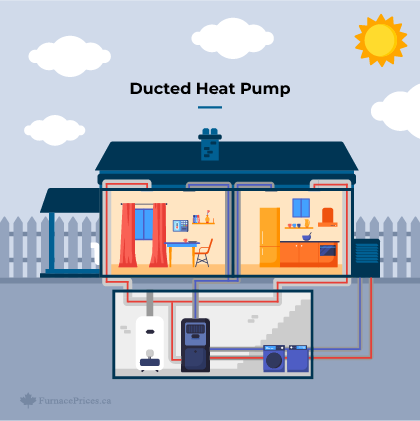 There are four main types of heat pumps for homeowners to choose from, each coming with its own advantages and associated costs. For every budget and home, there is an appropriate heat pump.
Ducted Air-Source
A ducted air-source heat pump warms your home by absorbing ambient heat in the outdoor air via a recirculating fluid and then transferring that heat to the indoor air, which is then cycled through your home's duct system. This process is virtually the same as what occurs in your refrigerator, which extracts heat energy from one spot and releases it somewhere else. Even cold air has heat that can be extracted.
These systems are comprised of two units: an outdoor unit to collect the heat, and an indoor unit to release it. They use the same ductwork as an air conditioning system and a furnace. It is common for homeowners to install an air-source heat pump in tandem with a furnace, only relying on the furnace during especially cold periods when the temperature drops below -5 to -15 degrees Celsius for extended periods.
According to the Canadian government, ducted air-source systems are the most commonly installed heat pump systems on the Canadian market, with over 700,000 units installed across the country.
On average, these systems cost between $10,000 to $20,000 including installation. This price depends largely on the model and size of the system, with more advanced cold-weather systems that can operate at colder temperatures (as low as -20 degrees Celsius or colder according to certain manufacturers) typically costing more.
Geothermal
Geothermal heat pumps are the most efficient type of heat pump, however, they come with a substantial upfront cost. They use the constant temperature of the earth or a body of water to collect heat in a fluid flowing through a buried loop of pipes called a heat exchanger. An indoor unit receives the fluid from these pipes and distributes warm air throughout the property. It is an incredibly efficient, eco-friendly heating system that can reduce a property's energy bills by 65 percent.
The cost of installing a geothermal unit ranges between $15,000 to $40,000+. The installation costs are so much higher than other systems because part of the system has to be buried underground or submerged. Trenches that are at least four feet deep must be dug around the property to install an effective geothermal system. This comes with significant labor costs due to the time and equipment required. This upfront cost produces considerable long-term savings because the expensive part of the system is the heat exchanger, which has a long life expectancy and will not have to be replaced when other parts of the system wear out.
Ductless Mini-Split
Ductless mini-split systems work similarly to a ducted air-source heat pump. However, each room or area of the house (a zone) can be heated with its own set of indoor units, and sometimes multiple outdoor units may be required depending on the size of your home.
This system is ideal for smaller homes that do not have an air duct system in place because individual blower units can be installed in different zones using a single outdoor unit. While many people underestimate this system due to its minimal infrastructure and size, it can effectively heat your home in sub-zero temperatures.
This type of system is common for homes that are heated with boilers or radiators and therefore do not have ductwork.
These heat pumps are often the cheapest option; however, this depends on how many zones need to be heated, and whether the unit is rated for cold-weather heating. At the low end, a ductless heat pump may cost only $4,000 to $8,000 with installation, although this can certainly rise to over $10,000 or $15,000 for larger units, cold weather models, multiple interior zones, more complex installation situations, and so on. However, in a normal case, the installation can be simpler than other types of heat pumps.
Gas-Fired Heat Pump
Gas-fired or 'absorption' heat pumps are uncommon in residential applications. For larger homes, they can be preferable because they can manage and sustain the temperature of bigger rooms.
The average cost for a gas-fired heat pump is $5,000 to $15,000+.
Heat Pump Price by Size & Type
Before you purchase a heat pump, it is essential to know what size heat pump would be most suited to your home. HVAC contractors can conduct surveys of your home, taking measurements of the property, the ceiling height, and the number and type of windows to calculate what size heating pump would be appropriate for your property.
It's important to note that a big factor in the overall price of the heat pump will be how cold the temperatures the unit is rated to operate in. Extreme cold-weather heat pumps with newer refrigerants and more advanced other features cost considerably more than heat pumps rated for milder climates.
| Size in Tons | Price of mild-weather unit (installed) | Price of extreme cold-weather unit (installed) |
| --- | --- | --- |
| 1.5 Tons | $4,000 - $6,500 | $7,500 - $10,000+ |
| 2 Tons | $4,500 - $7,000 | $9,500 - $11,500+ |
| 2.5 Tons | $5,000 - $7,500 | $10,000 - $12,500+ |
| 3 Tons | $5,500 - $8,000 | $11,500 - 14,500+ |
| 3.5 Tons | $6,000 - $9,000 | $12,000 - $15,000+ |
| 4 Tons | $7,000 - $10,000 | $13,000 - $15,000 |
| 5 Tons | $8,000 - $12,000 | $15,000 - $17,500+ |
Cost by Heat Pump Efficiency Ratings
Companies will offer heat pumps with varying energy efficiency ratings. Typically, the more efficient a system is, the more expensive it will be. Anything with a SEER rating above 14 is considered to have high energy efficiency. While it can be tempting to avoid higher upfront costs, it is important to remember that the energy efficiency rating of the system will affect your utility bills. Paying more upfront can save you considerable money in the long run.
| SEER Rating | Unit Price |
| --- | --- |
| 14 | $950 - $1,300 |
| 15 | $1,100 - $1,750 |
| 16 | $1,000 - $1,800 |
| 17 | $2,000 - $2,750 |
| 18 | $3,100 - $3,500 |
| 19 | $3,750 - $4,000 |
| 20 | $3,950 - $4,300 |
Replacement Cost for Type of Heat Pump Installed
If your heat pump stops working, there can be several common causes, such as depleted refrigerant or issues with a major component like the compressor. It is always advisable to check if your system is still under warranty and to contact an HVAC contractor to complete any necessary repairs.
It may be necessary to replace your entire heat pump system if it is too old or beyond repair. The cost to replace a heat pump system will likely be similar to installing a new unit where there wasn't one previously. However, you may save some money because certain aspects of the installation may already be in place, like the holes for the refrigerant lines, for example.
In any case, a replacement air-source heat pump with installation will typically cost in the $5,000 to $15,000 range depending on the type of unit, its size and BTU output, and whether it is rated for extremely cold weather. Cold weather units that can operate at temperature of minus 20 Celsius or below can cost several thousand dollars more.
It is also worth noting that increases in demand and limited supply of equipment, among other factors, can also impact prices.
Heat Pump Performance Features and Price Factors
Efficiency
The performance of a heat pump is assessed according to two factors, the COP and the SEER. Typically, the higher the SEER rating, the more expensive the heat pump will be.
The COP refers to the Coefficient of Performance rating. This is calculated from the ratio of heat produced per unit of electricity consumed when the heat pump is active. If a heat pump is awarded a COP of 2.5, that means it can produce (or rather move) 2.5 times as much heat energy as it consumes.
In general units with a higher COP will make them more cost competitive with heating via other means like a gas furnace and will do so at lower temperatures. Of course, the price of natural gas or propane vs electricity will be a factor to consider, but as a rule of thumb, heat pumps with a COP above 2.5 or 3 are likely to save you money compared to heating with natural gas, and a COP above 2 will likely make them cheaper than heating with oil.
A SEER rating is focused on how efficiently a system cools a property. It stands for the Seasonal Energy Efficiency Ratio and is calculated using a similar metric to the COP. A system with a higher SEER rating will cool your home more efficiently than a lower-graded system.
Heat pumps with a higher SEER rating – above 20 SEER for instance – will be considerably more expensive but also a lot cheaper to operate because they use less electricity.
Cold-weather Rating
The latest heat pumps use newer and more advanced refrigerants, among other technological improvements that allow them to operate and heat effectively at much colder temperatures, sometimes as low as -30 Celsius, according to some manufacturers. Of course, actual real-world performance will depend on various factors, like the home's insulation.
These cold-weather air-source heat pump models can cost anywhere from $12,000 to as much as $20,000+ including installation. These prices may come down as they become more widely used, and their manufacturing continues to improve.
Unit Size & BTU Output
As with any HVAC system, the more powerful the unit, the more expensive it tends to be. Larger homes and homes in more extreme climates will require larger units to effectively heat and cool the home.
Heat Pump Installation and Add-On Costs
When budgeting for a heat pump, you need to consider the associated installation costs. These costs will vary depending on the current heating system you have in your home and whether your property has a pre-existing air duct system or an existing central air conditioner.
The price of installation covers the cost of labor to install the equipment, plus the necessary additional parts and materials, permit and inspection fees, electrical work and rewiring, and smart thermostats.
A more complex installation, or one where additional work is required, like replacing an old furnace, adding a new evaporator coil, or having to replace your electrical panel if it doesn't have the necessary amp rating to accommodate the added electrical demand, can easily add several thousand dollars to the final price.
Heat Pump Cost: DIY Installation vs. Hiring a Professional
When it comes to heating and cooling your home, you want to ensure that the system has been installed so that it is both safe and maximizes efficiency. As such, it is always advisable to hire a professional HVAC contractor.
Geothermal heat pumps require specialist equipment and intensive labor to install, including digging trenches or boring deep holes for the exterior piping.
Air-source and ductless mini-split heat pumps also require specialist knowledge, although they are considerably easier to install than geothermal systems. While heat pumps run on electricity and, therefore, do not necessitate working with gas lines, they are still complex systems that require expert electrical wiring and refrigerant charging, and can be hindered by ineffective installation.
A specialist will be able to assess the ideal location for your units, calibrate them, and ensure that the system is working as it should.
How to Save Money on a Heat Pump
When purchasing a heat pump, you can save money by researching the size and type of system best suited to your property and the local climate. This ensures that you are getting the most efficient heat pump for your needs.
A heat pump that is either too small or large can lead to you spending more money unnecessarily. Consulting with an HVAC contractor is the surest way to get the correctly sized heat pump for your home.
Selecting a heat pump with a higher SEER rating can also save you money. Initially, this may require a larger investment, but can lower your ongoing operating costs.
However, to encourage consumers to choose more energy-efficient, eco-friendly options, the Canadian government offers rebates of up to $5,000 to homeowners when they install heat pumps. Before selecting a heat pump, check if any additional grants are available in your area.
What Heat Pump Efficiency is Right for You?
There are several factors to take into consideration when choosing the right heat pump and SEER rating for your home. Primarily, you need to assess how much you can budget for a heat pump. Higher-rated systems typically cost more upfront; however, given their improved energy efficiency, you will actually save money in the long run.
The size of your property also needs to be taken into consideration. If you have a large family home, a heat pump with a higher SEER rating may be better able to efficiently control the temperature of the whole house. By contrast, smaller properties do not require as much heating or cooling to maintain the desired temperature.
Other factors, such as the quality of your insulation, the age and type of your windows, the local climate, and the local cost of electricity will also affect the SEER rating best suited to your home. For example, if you live in an area where electricity costs more, choosing a higher-rated machine will be more cost-effective.
Heat Pump vs. Furnace

When choosing between a heat pump and a furnace, the biggest factor to take into consideration is the climate you live in. Heat pumps are most effective when they are installed in mild climates, since it's harder to extract heat from cooler air, whereas furnaces can work efficiently regardless of the exterior climate.
It is important to note that recent advances in technology have made heat pumps more effective in colder climates. The weather will greatly impact how much you need to use the system and the subsequent cost of running it.
It is also crucial to remember that while furnaces can supply heat regardless of the temperature outside, that is all they can do. If you have a furnace and want to cool your home, you will have to install an air conditioning unit as well. Heat pumps can both heat and cool your home.
Heat pumps are more energy efficient and more environmentally friendly, especially when run on electricity that is produced via renewable sources. By comparison, gas and oil furnaces rely on costly fossil fuels.
The upfront costs of heat pumps are significant because of their complexity, plus the associated installation costs; however, they have many long-term benefits that can serve both your home, your finances, and the environment.
Frequently Asked Questions about Heat Pumps
How long do heat pumps last?
Due to advances in technology, with the proper maintenance, most heat pumps regardless of type can now last between 15 and 25 years before they need to be replaced if they are properly maintained. They are long-term investments that can have significant financial benefits. 
At what temperature does a heat pump stop working?
Heat pumps start to lose efficiency at around 4 degrees Celsius, however, they can continue to work in sub-zero temperatures, down to as low as -30 degrees Celsius for certain models, although they will be quite a bit less efficient at those temperatures than at milder ones. If you live in an area that regularly experiences temperatures that are much below freezing, it may be advisable to have a secondary heating system. 
Is it okay to leave a heat pump on all day?
By design, heat pumps can run for long stretches of time. They work most efficiently when they are maintaining a temperature, so turning it on and off can use more energy than necessary. 
Can a heat pump freeze up?
During the winter months, it is normal for heat pumps to begin to ice up. The system will periodically perform a defrosting cycle that will de-ice the coils and allow effective heat transfer to resume between the refrigerant and the outside air. 
Get Quotes
How soon are you looking to buy?*