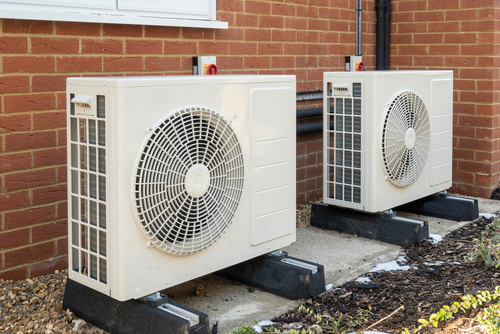 Condo HVAC systems are sophisticated types of equipment that can significantly improve how livable and pleasant your unit is. Installing a heat pump may be a wise investment to improve the efficiency and comfort of your condo.
A heat pump could be an efficient way to heat your condo in the winter and keep it cool in the summer for year-round comfort.
Keep reading to discover what you need to know about heat pumps for condos, including whether one could work in your building, how it works, what to do to maintain it, how to handle a condo heat pump repair, and how to choose one.
Most condos already have a primary heating system which may or may not include an air conditioning system. First, you need to find out what kind of heating system your unit has. Is it for your unit alone and not part of a whole-building system? If so, you may be in luck for converting to a heat pump system.
However, many buildings (especially older buildings) have systems that do not lend themselves to conversion, for instance if you have steam-fed radiators or electric baseboard heat. So your first step is finding out whether your condo is in a building with a system you can convert. If you have ducts and vents, you may be in luck.
Even if you cannot convert your built-in system to a heat pump, you may be able to add a mini-split condo heat pump if you have a balcony. This could provide cooling and additional heating to a portion of your unit.
What is a Heat Pump?
Heat pumps provide heating and cooling for residences. A heat pump has two components: an exterior unit and an interior unit. When there is a need for heat, the heat pump's external unit pulls heat from the outside air (even if it's cold) and transfers it to the interior unit, where a fan distributes the warm air throughout the interior space.
When you need cool air, the cycle is reversed, removing heat from the air in your residence and expelling it to the outside. In contrast to most conventional house heating systems, which use furnaces to generate heat, this method simply transfers heat from one location to another without creating it.
There are two types of heat pumps that might work in your condo. Both are air-source types, which means they use outside air both as a source of heat and as a place to dump your heat from inside. One type is ducted, the other is ductless.
A ducted condo heat pump has a single outdoor unit and a central indoor unit connected to a system of ducts that can conduct the heated or cooled air to every room and space. The indoor and outdoor units are sized so that they have enough capacity to heat or cool a room or space, and are connected with a pipe that shuttles the heat back and forth. You can select the appropriate size for your particular dwelling.
Ductless condo heat pumps, or mini-splits, have a single outdoor unit connected with a pipe to the indoor unit (or units), which distributes the warmed or cooled air. The most common mini-splits have a single indoor unit, which has a blower with enough power to cover one room or space.
An elaborate installation can have several indoor units, but there are pipes from the single outdoor unit to each of them. These are uncommon in condos because they are expensive. But they can heat or cool every room that has an indoor unit.
Heat Pumps for Condos
Before installing a heat pump in your condo, it's important to determine how much of your condo you personally control. Most condos allow you to have complete control over your unit's interior.
The good news is that installing a ductless heat pump unit typically only involves cutting one or more small holes in the wall or ceiling for refrigerant lines. So you may be able to efficiently heat and cool your property without violating the terms of your condo agreement. 
Of course, every condo building is different, so you will have to check with your condo association. Some may not want you to penetrate an exterior wall with even a small hole to your balcony. Ideally, you should speak with a professional HVAC contractor to help you assess your options, choose the best one, and then install your system.
Since they are very energy efficient, heat pumps will help you save both money and energy.
Condo Heat Pump Maintenance
Regular maintenance is necessary to keep your system working properly. By performing routine condo HVAC maintenance, you can address problems before they result in system failure or costly repairs.
The main thing you should do is change or clean the air filters regularly. A ducted system will normally have an inexpensive filter that can be discarded, although more expensive filter systems are available. A mini-split will have a filter screen inside the blower unit that can be removed for cleaning.
Your other routine maintenance is cleaning the outside unit, washing off dust and grime, making sure the heat exchanger fins are clean. Check the refrigerant line insulation for damage, and repair it if necessary.
It's a good idea to have a regular maintenance plan with a qualified contractor, especially after the first few years, which should run $150 to $200 per year.
Condo Heat Pump Repair
After you've installed a heat pump in your condo, you might discover that it isn't performing as you had anticipated. Heat pumps sometimes need repair work. Hopefully, this will be covered by your warranty. But warranties don't last forever.
Home Advisor states the average maintenance cost for a heat pump is $387, although typically it runs between $199 and $499.
Some indications that a heat pump needs to be repaired include:
Strange noises
Inadequate heating or cooling,
Short cycling, or shutting off before a heating cycle is completed
A significant increase in your electricity bill
Some problems that might occur with your heat pump include:
Refrigerant leak
Bad capacitor
Defective defrost control board
Busted reversing valve
Broken thermostat
Faulty compressor
Condo Heat Pump Replacement
If your current heat pump has reached the 15-year mark, it may need a replacement. As your heat pump enters its final years, you may start noticing the following:
Broken thermostat
Blown motor
Issues with cooling and heating
Low refrigerant levels
Problems with the circuit breaker
A typical condo heat pump replacement costs anywhere from $3,000 to $5,000 and up. If you're looking at a more expensive model, heat pumps can cost up to $8,000 or more. Different aspects will affect heat pump expenses, including:
Size of the heat pump
Ductless or ducted
Cooling and heating vs. only cooling
Installation
Living premise
Brand/Model
Having a qualified and experienced HVAC professional install your heat pump in your condo can help you avoid spending thousands of dollars on needless repairs or replacement units.
Best Heat Pumps for Condos
If you're thinking about replacing or updating your heat pump, here are some of the best heat pump brands for condos in Canada:
Mitsubishi
Daikin
Fujitsu
Carrier
York
Keeprite
Samsung
Trane
Lennox
Features
When purchasing a heat pump, you'll need to be very specific about the features and operational capabilities you're looking for.
Capacity: Determines how big of a room or how many cubic meters of space within a house it can efficiently heat up. Make sure you get the right size! A professional can help with this
Size of the physical unit: Provides the unit's precise measurements so you can make sure it fits where you want it
Efficiency ratings: SEER ratings show how effectively a heat pump utilizes energy to heat and cool a house.
Operating noise: Measures the loudness of each unit
Specific features: There are a variety of useful features available on different models.
Hire a Professional Service to Install the Heat Pump
Although heat pump installation might seem simple and straightforward, you shouldn't think of it as a DIY project. These appliances still require knowledge, expert safety considerations, measurements, and sizing.
Is a Heat Pump the Right Choice for You?
Installing a heat pump in your condo can save you money on heating, cooling, or even both! Wherever you live, heat pumps can be an intelligent and cost-effective HVAC option, but they're particularly common in places where it rarely gets below freezing for extended periods.
However, when a heat pump is combined with a furnace or another electric heating system, it can be a great option for your condo if you reside in a colder region. Heat pumps are also among the best methods to lessen carbon footprint and gain the advantages of a more sustainable future.
With FurnacePrices.ca, you can get quotes for your heat pump from our trusted local HVAC partners today. They will help you through your heat pump journey so you can find the best one for your needs.
Click here for a complete buying guide on heat pumps!
Get Quotes
How soon are you looking to buy?*