Below you'll find our comprehensive air conditioner buying guide for Canadians, as well as links to our top resources to help you buy the right AC for your home at a fair price.
Helpful Resources for Buying a New Air Conditioning System
Air Conditioner Pricing Guide – Our breakdown of what a new air conditioning system or an AC replacement will cost Canadians in 2023 and the factors affecting the price.
Best Central Air Conditioners – We compare the best central air conditioner brands and models across a variety of criteria, including efficiency, features, warranty coverage, noise level and more.
Benefits of buying a new air conditioning system
Potentially quieter unit
More consistent and uniform comfort levels
Better energy efficiency and potentially lower operating costs
Full warranty coverage
Newer features and technologies like variable-speed ECM blower motors to save energy and maintain more consistent indoor temperatures
Improved humidity control throughout the house
Good time to add a programmable or smart thermostats to reduce energy use
Important things to consider before buying
Are you replacing an old unit or installing a new air conditioner for the first time?
When adding a new air conditioner, there may some additional installation costs as there will be additional labour needed for things like drilling holes for refrigerant lines, for example. This will impact the final price, which we will cover in more detail below.

Consider a heat pump
Heat pumps – considered by many people to be the future of heating & cooling – are essentially air conditioners that can also operate in reverse, heating your home during the colder months of the year. They are far energy-efficient and environmentally-friendly than traditional heating systems that burn fossil fuels, and can potentially save you money in the long run. There are various government rebates available for installing a heat pump.

Should you repair or replace your old air conditioning system?
If your current A/C is at least 10-15 years old and is requiring significant or frequent repairs, it may make sense to consider replacing it. A new unit will likely be more efficient and come with full warranty coverage, which may be expired on your current unit – especially if it was installed by the previous homeowner. An air conditioning unit older than 15 years is also likely to be considerably less efficient, meaning a new unit could save you money on electricity.
How Air Conditioners Work & Major Components
All air conditioning systems function in basically the same way that your refrigerator does. Whether it's a small window or portable unit, or a central air conditioner, they use refrigerant gas to absorb heat in one area which is then pumped to a different spot where the heat can be released, and the cycle starts over.
They do this by compressing and expanding the refrigerant from a liquid to a gas and vice versa. This condensing and evaporation process absorbs and releases heat a bit like how sweat on your skin will absorb ambient heat which causes it to evaporate and thus cool you down.
As stated above, heat pumps also work in exactly the same way, except they have reversing valves so they can also be run in reverse. Even when it's cold outside, they're able to absorb enough ambient heat to warm your home. While this sounds counter-intuitive, consider that your freezer is able to absorb enough heat from the air inside your freezer to continue lowering the temperature to well below zero (this heat is then released into the room where your refrigerator or freezer is).
Full guide to how an air conditioner works.
Key Air Conditioner Components
Refrigerant – environmentally friendly, R-410A Chlorine-free refrigerant is contained in the air conditioner's coils. It absorbs the heat inside your home and expels it outside. Less common in modern air conditioners is the older, non-environmentally friendly R-22 refrigerant. When selecting the best high-efficiency air conditioner for your home, be sure to pay careful attention to which type of refrigerant the model of your choice uses, since R-22 is no longer allowed to be used in new systems after 2020.
Compressor – Compresses the refrigerant gas into a liquid, causing it to heat up, then moves refrigerant through the system. The compressor is just one of the key parts that should be checked by an HVAC technician prior to the start of the summer season. Broken compressors can result in costly repairs to your air conditioning system.
Condenser Unit – The outdoor unit which releases the heat pulled from the warm indoor air, and releases it outside. This unit contains a coil that dissipates the heat created when the compressor turns the refrigerant from a gas back into a liquid, before cycling the refrigerant to the indoor unit.
Evaporator Coil – This indoor unit is attached to the furnace and as warm indoor air is run over its copper coils, the refrigerant inside evaporates from liquid to gas form, chilling the coil and absorbing heat energy from the air in the process. This also causes humidity to condense out of the air at the same time, and the liquid is drained off. The refrigerant is then cycled to the outdoor condensing unit.
[ADD DIAGRAM]
New AC Refrigerants Entering Production
In 2023, a newer more environmentally-friendly R-454b air conditioner refrigerant will start to replace the older R-410a refrigerant in new air conditioners and heat pumps. The old R-410a is a hydrofluorocarbon (HFC) which acts as a potent greenhouse gas, and so this push is seen as an important step against climate change.
Air Conditioner Types
Air conditioners come in a range of shapes and types to suit different needs and budgets, but they all work on the same basic principal of absorbing and moving heat from one area to another with the use of refrigerants, much like your refrigerator does.
Window and portable air conditioners are cheap options that are good for renters.
Most homeowners in Canada that have forced-air heating will usually opt for a central air conditioner (also sometimes called a split system air conditioner) which takes advantage of the home's ductwork to circulate cool air. They're called 'split systems' because they have both an exterior unit (the part most people think of, which sits outside) and an interior component (the condensing coil attached to your furnace) in contrast to 'packaged units' which are common in hotels, motels, and mobile homes for instance, which are a single unit which is installed in an opening in the wall and will usually both heat and cool a limited area.
For homeowners without ductwork, like homes with boiler heating or baseboard radiators, a ductless mini-split A/C system is a good option.
Condo air conditioners will typically consist of either have an air handler or a ductless or other system.
Increasing in popularity are heat pumps, which are essentially air conditioners
Ducted vs. Ductless Air Conditioners
For most people with a forced-air heating system like a furnace, a ducted A/C will make the most sense. These units connect to your furnace and use the same blower motor and ductwork to circulate the cool air throughout your home.
If you don't have ductwork because your home is heated with a boiler or baseboard heaters for instance, a ductless mini-split aid conditioning system probably makes the most sense.
In some cases, even if you have ductwork, a ductless air conditioner might make sense. For example, as a supplementary unit such as for a home addition or an in-law suite, an alleyway or garage suite, or on the top floor of a large home where the main air conditioner doesn't cool sufficiently.
Note: 'split air conditioner' is another term for a central air conditioner, while 'mini-split air conditioner' is another term for ductelss air conditioner.
Which Central Air Conditioner to Buy
There are many brands and models available to choose from. Some key things to consider when choosing the right air conditioner for your home.
The brand you choose isn't as important as you think. Making sure your unit is properly sized for your home (more on this later), and that the installation is done by a qualified, well-trained, and reliable HVAC contractor is arguably as important. Not only is the installation key to your unit's performance and longevity, but you also want someone dependable if and when servicing is needed in the future.

Not all air conditioner units make sense for Canadians. The most energy-efficient and powerful A/Cs are typically made for hot climates like the southern United States and generally aren't worth the additional cost for most Canadian homeowners. A central air conditioner in the 16 – 20 SEER range is most common in Canada, and we'll cover efficiency ratings in more depth below.
Top Central Air Conditioner Brands
Here is a comparison of the top central air conditioner brands in Canada:
[Add chart]
>> See our full breakdown and recommendations for the best central air conditioners.
Single Stage, Dual Stage, Variable-Speed/ECM – What Does it All Mean?
Central air conditioners can be grouped into three major tiers based on how advanced and sophisticated the compressor pumps and motors are, and the style you choose will impact the cost of the unit and the efficiency of the system.
Single-stage System: This type operates in an on/off mode: the compressor is either running or it's not. It is the least energy efficient of the three types. Single-stage compressors are most commonly seen in entry-level central A/C units, such as 13 and 14 SEER models.

Dual-stage/two-stage System: More efficient than the single-stage compressor, a two-stage compressor has two speeds in the On mode. That means it can operate at 100 percent and usually around 70 percent capacity for reduced energy consumption. You'll typically find dual-stage compressors in 16 to 18 SEER central A/C units. Two-stage compressors are also quieter and a little better at managing humidity.

Variable-speed System: The most efficient type of system features an ECM or Electrically Commutated Motors (a fancy way of saying it can precisely modulate its output for variable speeds) and variable-speed compressors which can operate in incremental power stages. These offer consumers greater energy efficiency, more precise and consistent home cooling, more even temperatures throughout the house, advanced humidity control, and quieter operation. Variable-speed functionality is usually found in premium air conditioner units, starting around 18 SEER.
How Much Does an Air Conditioner Cost?
A new central air conditioner will typically cost between $4,000 and $7,000 including installation.
A ductless mini-split air conditioner will usually cost between $5,000 and $8,000 including installation.
There are many factors that will impact the final cost, including the brand and model you choose, including the size and efficiency rating, factors relating to the installation, where you live, among other factors.
| Air Conditioner Type | Average Price Range |
| --- | --- |
| Portable Air Conditioner | $250 - $600 |
| Window Air Conditioner | $200 - $500 |
| Central Air Conditioner (incl. install) | $4,000 - $7,500+ |
| Ductless Mini-split A/C (incl. install) | $4,000 - $8,000+ |
Factors that Can Impact the Cost of a New Air Conditioner
Brand & model: Every major brand has model ranges that vary from entry-level to more advanced in terms of features, operation, and efficiency.

Unit size & BTU output: A 1.5-ton unit is going to cost less than its 4-ton counterpart, so choosing the right size for your home's square footage and features is important (be sure to seek the help of a trusted professional to properly size your air conditioner).

Efficiency rating: A/C systems with a higher SEER rating will require a bigger initial investment, although they may soon pay for themselves in terms of energy savings

Where you live: Prices can vary by region. Licensing and other business costs can vary from one province or municipality to another.

How much HVAC competition there is in your area: If you're in a rural area with little competition and where an HVAC dealer has to travel long distances, then you can expect to pay more compared to a larger city with more resources and more companies operating.

Installation: Installation costs will vary depending on, for example, whether you need to install/upgrade your ductwork, or the evaporator coil that connects to your furnace, or the electrical panel, the cost of materials, and what supplies are required for the job.
Renting vs Buying an Air Conditioner
Some companies offer rent to own heating & air conditioning systems and tout the benefits of paying a monthly fee rather than a large upfront cost. In some cases, maintenance and service calls may also be included.
Note however that while paying a fee of $75 – $99/month on average may be more appealing than paying several thousand dollars upfront, keep in mind that in the long-run you will generally pay considerably more in total.
This is because air conditioner rental contracts are usually 10 or 15 years, and so 12 monthly payments per year multiplied by 10 or more years amounts to a cost of over $10,000 for a central air conditioner that may only have cost $5,000 to $7,000 including installation.
The contracts may also auto-renew at the end of the term unless cancelled, meaning you would have to keep paying. And the contracts often include a 'discharge fee' of several hundred dollars to end the contract at the end of the 10 or 15 year term.
Always read the contract carefully before signing!
That being said, the set monthly cost and included servicing and maintenance can be a good option for some people, especially landlords and property owners for example, who prefer the predictable expense.
Factors to Consider When Buying a New Central Air Conditioner
In the following sections, we will examine the key aspects of a central air conditioning system that you should consider when making your purchasing decision.
SEER & Efficiency Ratings Explained
Air conditioner efficiency is measured in seasonal energy efficiency ratio (SEER), which measures how much cooling power you get versus how much energy the unit consumes. The higher the SEER rating, the more efficient the unit. The more efficient the unit, the less it will cost to operate.
Most new central air conditioners sold in Canada are at least 14 SEER, but they can go up to 26 SEER or higher. That being said, units above 20 SEER are more common in warmer climates like the southern United States. Because they tend to cost quite a bit more, they aren't usually worth it in Canada.
We recommend buying an air conditioner with a SEER of at least 16 to 18 if possible.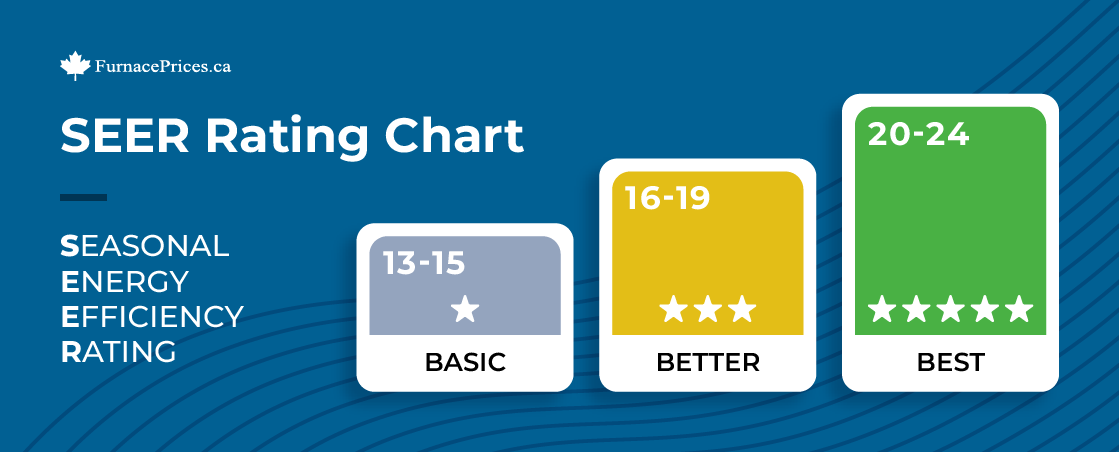 ENERGY STAR® Rated Air Conditioners – Are They Worth It?
The ENERGY STAR program was created by the U.S. Environmental Protection Agency and the Department of Energy to help consumers make more informed choices when buying energy-using products.
When an air conditioner has ENERGY STAR certification, it means that it has a SEER of at least 13 and meets certain criteria regarding operation.
While an ENERGY STAR qualifying unit might cost a bit more, it will also be more energy-efficient meaning it will save you money on electricity in the long-run and be better for the environment.
Furthermore, most government rebates, where available, will require an ENERGY STAR rated unit to qualify.
In short, always choose an ENERGY STAR air conditioner if you can!
Understanding Air Conditioner Warranties
Before purchasing any new central air conditioning system, check the warranty carefully: terms can vary considerably from one manufacturer to the next, and buying a more expensive unit from a top-tier brand doesn't always guarantee the best coverage. In fact, a few of the economy and mid-range brands offer some of the best warranty protection on the market.
The warranty on your new air conditioning system would come in the form of the manufacturer's warranty on the unit and parts, and then the labour & installation warranty from the contractor you buy it from.
Most manufacturer warranties should cover major components including:
Compressor
Condenser
Evaporator coil
Secondary parts
A review of popular manufacturers provides the following baseline for warranty coverage:
10-year limited compressor warranty
10-year limited parts
However, a few brands offer longer 12-year warranties, and some even provide lifetime coverage for the compressor.
Further, there are a few brands that offer unit replacement warranties as well. That means if a major component fails during the coverage period, the manufacturer will provide a brand new replacement unit.
However be advised that you must usually have annual maintenance or inspection performed by a qualified professional in order to maintain the full coverage.
In addition to the manufacturer's warranty on the equipment, you should also receive a labour warranty on the installation from the contractor, with a guarantee of at least one year or more, if it's a reputable company.
A/C Unit Noise and Decibel Ratings
Air conditioner sound levels are measured in decibels (dB). The lower the decibel rating, the quieter the system. The more silent units typically fall into the 50 to 60 dB range, which can best be understood by the following real-world examples:
50 decibels = the sound of rainfall or ambient noise of a home
60 decibels = the sound of a conversation held in normal tones
When you're shopping for a quiet air conditioner, look for the following features, which will have a dampening effect on any noise from the unit:
Variable-speed blower fans that prevent the system from running at 100 percent capacity all the time, thereby reducing noise levels and even energy bills
Noise-reducing fan blades that are quieter than traditional fans
Compressor insulation and blankets that trap noise
Special mounting materials that limit sound and vibration when the air conditioner is running
Note: Keep in mind, however, that the quietest central air conditioners are typically units that are rated above 20 SEER. These units are less common in Canada and are meant for warmer climates. Units commonly sold in Canada are usually in the 65 – 78 decibel range.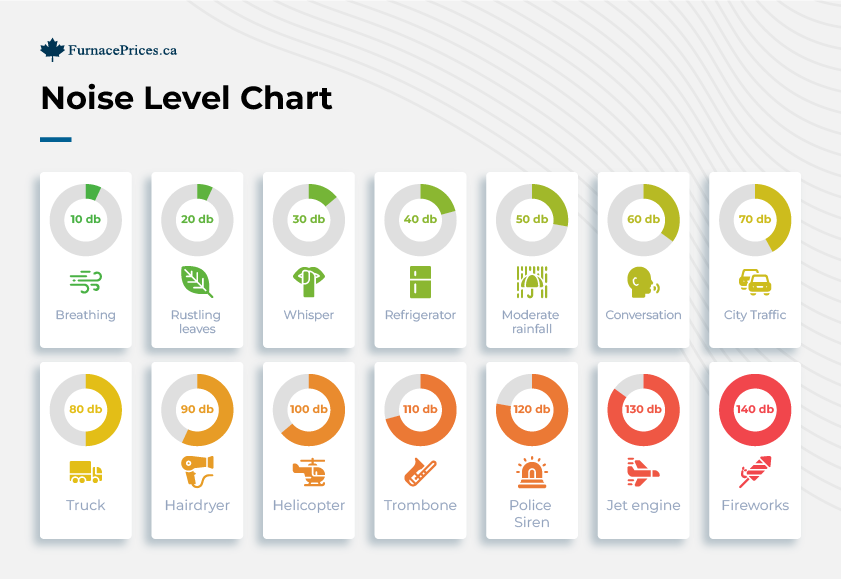 Air Conditioner Sizing, Tonnage & BTU Output
Why is installing the correct size of air conditioner important? Similar to with a furnace, an incorrectly-sized unit will not be as effective or efficient at keeping your home the ideal temperature, and may wear out more quickly.
An A/C unit that's too small will operate constantly, run up your energy bills, and still won't keep your home comfortable. An A/C that's too big will cycle irregularly, cause moisture problems, and also won't keep your home at the right temperature. In both instances, the air conditioner will probably wear out prematurely.
In other words, correct sizing and professional installation are critical for the proper operation of your air conditioner.
A central air conditioner's size is measured in tonnes. The tonnage refers to how much heat the unit can remove from a home in one hour, not the weight of the unit itself. The majority of central air manufacturer brands produce air conditioners between 1 and 5 tonnes for residential use.
You can also measure air conditioner size in British thermal units (BTUs): a 1-ton air conditioner is equivalent to a 12,000-BTU air conditioner.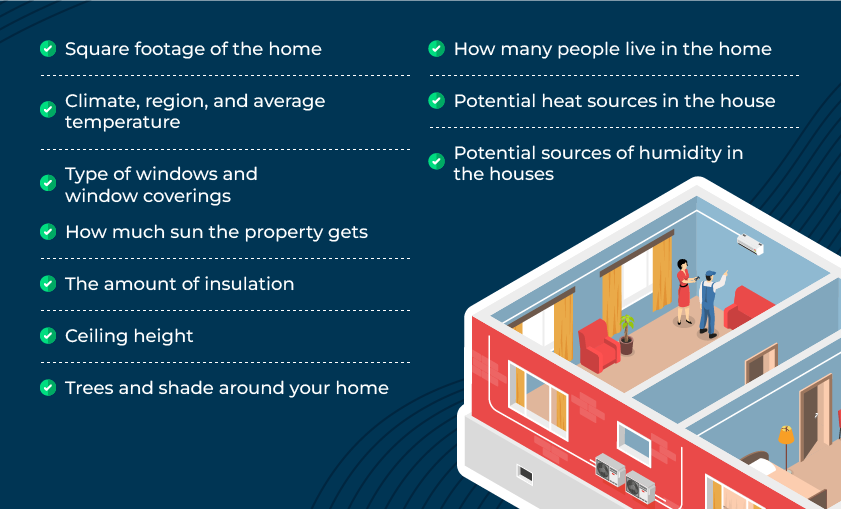 Why do they call it a ton and what is the origin of air conditioner of the term?
The tons in an air conditioning system don't refer to its weight, as that would mean an ordinary 2 or 3 ton air conditioner would weigh more than your car! The history of the term 'ton' comes from the fact that before air conditioning ice was harvested from frozen lakes in the winter and used for cooling. And basically a ton refers to the number of British Thermal Units (BTUs/hour) it would take to melt an imperial ton of ice (2000lbs) in a day, which is 12,000 BTUs per ton of ice.
If this sounds confusing, that's ok, the origin of term 'air conditioner ton' isn't that relevant to your A/C buying decision!
Just like horsepower might give you a general (albeit more intuitive) sense of how powerful a car is, it doesn't really matter in a practical sense.
Factors used in determining the correct size of air conditioner for your home
Square footage, number of floors, and layout of the home
Climate, region, and average temperature
Type of windows and window coverings
How much sun the property gets
The amount and quality of insulation
Ceiling height
Trees and shade around your home
How many people live in the home
Potential sources of humidity in the house
The size of your previous air conditioner if you have one
Check out our A/C Size Calculator for a rough estimate >>
Because there are so many factors that go into sizing an air conditioner, it's often best to enlist the help of a trusted local professional when attempting to correctly size your new A/C.
A heat-load calculation will likely be required. But just as a general guideline, here's a chart that generally describes air conditioner sizing based just on square footage for buildings up to 20-25 years old.
Central Air Conditioner Sizing & Tonnage Chart
| Square Footage of Home | Size of Central Air Conditioner |
| --- | --- |
| Up to 1500 sq. ft. | 1.5 ton (2 ton if 2-story home) |
| 1500 – 2200 sq. ft. | 2 ton |
| 2200 – 2800 sq. ft. | 2.5 ton |
| 2800 – 3200 sq. ft. | 3 ton |
| 3200 – 3700 sq. ft. | 3.5 ton |
| 3700 – 4200 sq. ft. | 4 ton |
| 4200 – 4700 sq. ft. | 4.5 ton |
| Over 4700 sq. ft. | 5 ton |
Air Conditioner Features & Technology
Modern air conditioners can come with some cool features that improve performance and efficiency or just make your life easier. Not every special feature will interest every homeowner, but if you want something like quiet operation, humidity control, or Wi-Fi connectivity, then you can shop specifically for air conditioners that offer that.
The specific technologies available vary from brand to brand, but these are some of the most common features you can get with modern central A/C units: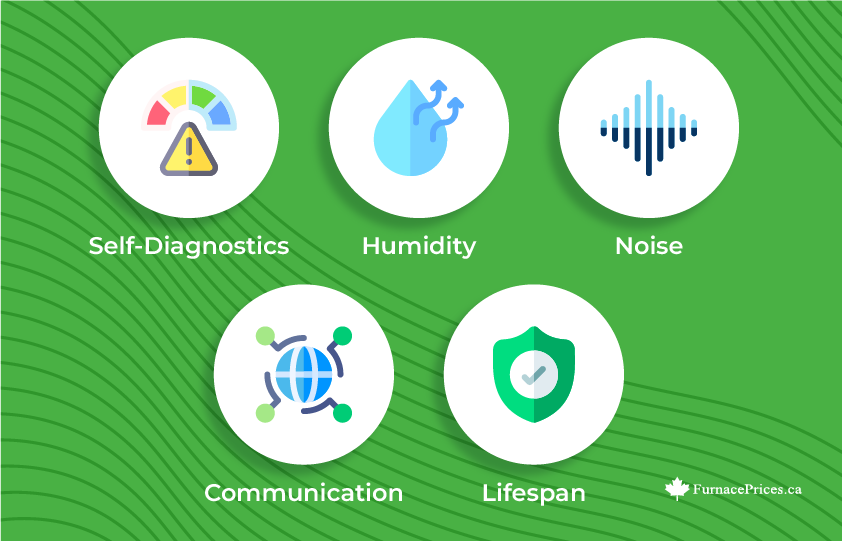 Self-Diagnostics
How the Brands Describe It: Technology that constantly monitors the A/C to reduce failures and downtime and make it easier to diagnose trouble.
What It Is in Plain Language: Air conditioners with self-diagnostics have special control boards that are designed to monitor the system for performance issues and provide diagnostic information to make repairs and maintenance faster and easier.
Brand Examples: Amana, Rheem, Bryant, Goodman
Advanced Humidity Control
How the Brands Describe It: Air conditioners that are designed to provide enhanced moisture control.
What It Is in Plain Language: Air conditioners naturally remove some humidity from the air because moisture collects on the coils and drains away; however, air conditioners can provide even better humidity control with design elements like two-stage or variable speed compressors and multi- or variable-speed blowers.
Brand Examples: Keeprite, York, Tempstar, Lennox, Goodman, Comfortmaker, Carrier, American Standard, Bryant, Heil, Trane
Noise Dampening & Quiet Technology
How the Brands Describe It: Special features that make your air conditioner whisper quiet.
What It Is in Plain Language: There are a number of design elements that manufacturers use to reduce the noise made by their air conditioners, including dampening blankets and covers and special fan designs and mountings that reduce vibrations, but two-stage and variable-speed compressors and blowers are also naturally quieter than single-stage ones.
Brand Examples: Trane, Luxaire, Heil, Amana, Bryant, American Standard, Carrier, Continental, Comfortmaker, Lennox, Payne, Napoleon, Armstrong, York
Smart Communication
How the Brands Describe It: Smart air conditioners with communicating abilities for better efficiency and improved comfort
What It Is in Plain Language: Communicating air conditioners have special control boards that enable them to communicate with the thermostat so that the system can initiate automatic adjustments to the temperature and humidity levels.
Brand Examples: Keeprite, Tempstar, American Standard, Daikin, Amana, Goodman, Trane
Durability & Lifespan Maximizing Features
How the Brands Describe It: Get a longer life with an air conditioner that's been specially designed for longevity.
What It Is in Plain Language: Most design elements that increase the lifespan of an air conditioner are related to corrosion-resistant and weather-resistant components.
Brand Examples: Payne, Trane, Ruud, Armstrong, Carrier
How to Choose the Right HVAC Contractor to Install Your New Air Conditioner
While homeowners are naturally concerned about which brand and model of air conditioner to buy, equally important is choosing the right local HVAC supplier for the job.
Here's why that's important: having a long-lasting air conditioner that does its job effectively for years to come, requires properly sizing your air conditioner, helping you choose a make and model that suits your needs and works with your current HVAC setup, installing the A/C properly with good workmanship, attention to detail, and without damaging it, making sure the unit is operating at peak efficiency, and being available and responsive down the road when you need maintenance and repairs.
So what separates a good HVAC company from the rest?
Key criteria to look for when choosing an air conditioning contractor
They have friendly, honest, and experienced customer service staff
The technicians have extensive experience, training, and certification
The company has comprehensive and adequate insurance
All their licenses are up to date
Technicians have additional manufacturer training and can work with all HVAC equipment
They offer a broad range of products and services and aren't just focused on a narrow aspect like selling rent to own programs
The company is established and has a good reputation in the community
And good feedback from real customers
They have adequate & well-trained support staff so they're responsive, flexible, accommodating, and available when you need them
Their prices are fair and transparent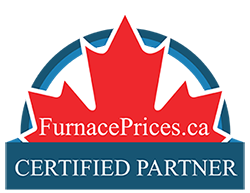 Government Air Conditioner Rebates
Rebates can be a great way to save money on a new air conditioner, and the right HVAC contractor will be able to help you with the application process.
Find the current available government HVAC rebates in your region.
Rebates for air conditioners are available from a variety of other sources as well, including:
Government programs
Municipalities
Utility companies
Energy and environmental agencies
HVAC manufacturers
Banks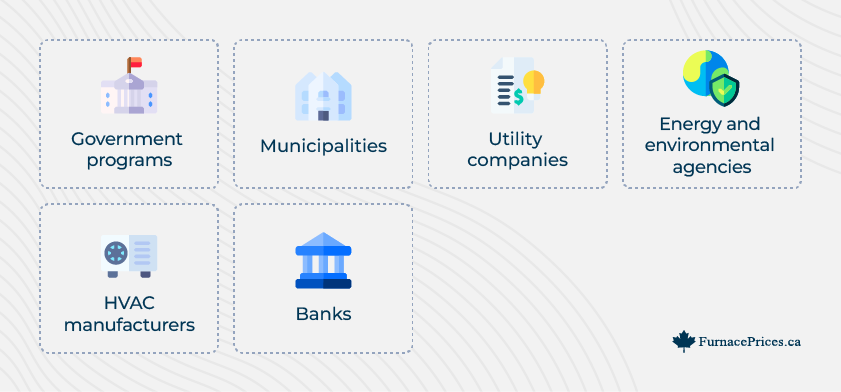 As of 2023 there have been fewer rebates available in most regions for air conditioners. And A/C rebates may only applicable to consumers who are UPGRADING from an older model, not simply adding a new one to a home where there was none previously. The idea is to encourage homeowners to switch to newer more energy-efficient models, rather than simply adding a new air conditioner, which obviously increases not decreases energy use.
However, there are currently many rebates for heat pump systems, which can work as both a central air conditioner and a heating system in the colder months, and are worth considering if you are replacing your air conditioning unit.
Further, not every air conditioner will be eligible for rebates. For the most part, rebates are for high-efficiency units or models with ENERGY STAR certification. Typically, you have to qualify for the rebate before you buy the air conditioner, so be sure to start the application process early.
The local distributor from whom you purchase your central air conditioner should be able to assist you with filling out and submitting paperwork for all the rebates you're entitled to. In some cases, the company must be registered with the government to provide rebates.
Ensure the company you buy from is registered to offer rebates (where required) by finding a local company through our free quote page.
Air Conditioner Deals & Promotions
And have a look at the local deals available around the country for discounts and promotions being offered by our local HVAC contractor partners across Canada.
Financing Programs
Financing is an excellent option when you want to replace or install a central air conditioning system but can't pay for it all at once.
And here's another reason you might want to take advantage of financing: it can enable you to upgrade to an even better system that's more efficient, has more features, and will offer a better return on investment in the long run through energy savings.
Most HVAC companies offer financing options through financing providers like Snap Financial or FinanceIt. Most plans are flexible and allow you to choose a repayment plan that works with your budget. Many HVAC dealers have repayment terms that last anywhere from 12 months to 15 years with varying interest rates, and approval criteria.
Financing programs are similar but separate from rent to own programs.
Get Quotes on a New Air Conditioning System
Ultimately, the best way to get a fair price on a reliable new central air conditioner is to request free in-home estimates from trusted professionals, like our Certified local HVAC contractor partners.
Can air conditioning make you sick?
Generally speaking, air conditioning will not make you sick. However, anecdotally, some people may find that excessively dry air may irritate their sinuses or make them more prone to infection. This may particularly be the case if you sleep with cold air blowing directly at you, as may be the case with a ductless mini-split installed above your bed. Furthermore, if you don't change your filters frequently enough, indoor air quality may suffer somewhat, which again, may aggravate sinuses.
How much electricity does a central air conditioner use?
A central air conditioner will typically use 3000 – 4000 watts per hour, and draws between 15 and 60 amps. At an average electricity price of say $0.15 per kWh, that would equate to about $0.45 – $0.60 per hour and approximately $75 – $200 per month based on typical usage.
How big is a central air conditioner unit?
The outside unit, which is what most people envision when thinking of a central air conditioner, is usually about 2-3 feet wide on its sides, and 3-4 feet tall. The indoor coil which attaches to the furnace is about the size of a microwave.
Do central air conditioner have filters?
Because central air conditioners use the same ductwork and your furnace's blower motor, the filter is actually the furnace's filter, which you should change at least once every month or two.
Can bugs come through your central air conditioner?
Bugs can find their way into your home via all sorts of small cracks and gaps, however a well-installed air conditioning system should not have any gaps that insects could get through. Air conditioners generally don't actually draw air from outside and so the only holes drilled in the exterior wall is for the refrigerant lines, which would then be well-sealed. If you have an older air conditioner it may be worth checking the seals at the beginning of the season, along with any other obviously gaps around your home, windows, and doors.
How long does a central air conditioner last?
A properly-sized and well-maintained air conditioner should last at least 10 – 15 years, and possibly longer. Choosing a good brand, and a model and size that is well-suited for your home, along with quality installation by a reputable company, and regular maintenance should keep your unit working reliably for many years.
Is central air conditioning a good investment?
A central air conditioning system can certainly add to your comfort and quality of life, and overall home value. Many home buyers want an air conditioning system and so it's a nice thing to have if you are selling your home. Like any appliance there is a cost for installation, operation, and maintenance so it's best to think of the investment in terms of the comfort it will add to your home rather than any potential financial return.
Is it better to run your air conditioner all day?
There are a number of variables including the size of your home, how long you plan to be gone, how cool you like to set the temperature, and how well-insulated your home is, that will impact whether it's more efficient to turn your A/C off or keep it running. We recommend using a smart thermostat to automatically adjust the temperature while you're away. Depending on how long you will be gone, you may choose to raise the temperature a few degrees while away in order to save energy, while also allowing your home to be cooled back to your ideal temperature more quickly upon your return.
Is it OK to leave central AC on all the time?
Most air conditioners are built to operate for extended periods of time, and higher end models also have special motors and compressors that can ramp up or down gradually as needed, leading to less wear and stress on the unit and more efficient operation. If your unit is constantly operating at full output, it may be undersized for your home and needs, which can wear out the AC system more quickly.
How long does it take to install a central AC unit?
Assuming it is a standard installation with no complications, the installation can usually be done in a day.
How long is an average air conditioner warranty?
There two main types of warranty, the manufacturer's parts warranty, and the labour & service warranty from the contractor. The manufacturer's warranty usually has a few components and criteria but may last 5 to 10 years for certain base coverage, and an extended 20 year or lifetime coverage if the warranty is registered and other criteria are met, like annual maintenance. The contractors' labour warranty will usually be at least one year, and may be several years, up to 10 years or longer. Again, there are usually certain criteria for maintaining full coverage, like annual maintenance.
---
Air Conditioner Brand Reviews & Prices
---
---
Regional Air Conditioner Buying Info & Prices
---