A detailed look at central air conditioning system prices across Canada, including by size, brand, installation costs, and other factors that can affect the total price.
---
With rising temperatures in the late spring and summer, Canadians homeowners may be looking for a new central air conditioning system and wondering how much their new A/C is going to cost.
This guide will go over typical prices for new central air systems across Canada, on how costs typically vary based on the brand and model you choose, home size and unit cooling output/capacity, installation costs and other factors. Note that these are of course just estimates and the best way to get a more accurate custom price estimate is to request free quotes from our Certified local contractor partners.
All prices listed in this article are INCLUDING INSTALLATION, unless otherwise noted, as manufacturers and distributors don't typically sell units directly to consumers anyway. These prices are estimates, and are likely to vary based on many factors.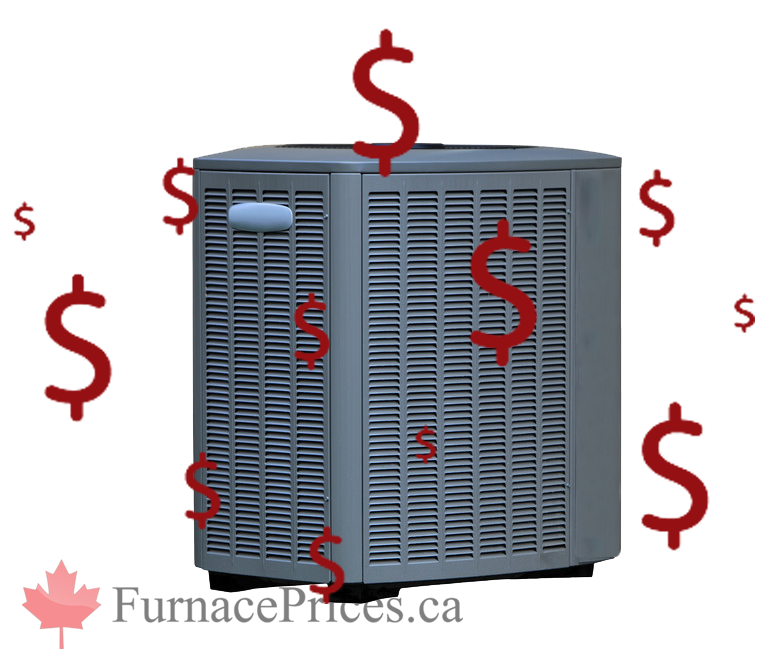 A/C Cost Calculator
Try our Air Conditioner Cost Calculator (~1 minute) to get a quick price estimate on adding or upgrading your central air conditioning system!
Air Conditioner Replacement Cost vs Adding An Air Conditioner
Also, please note that the final price may differ slightly if you are simply upgrading or swapping out an old unit vs installing one where there was none previously. There can be additional labour required to drill holes, run lines and electrical wiring for example when installing a unit for the first time. Or when replacing an A/C, other factors must also be considered like how old the previous unit was and what upgrades must be made to meet new safety codes.
Government Rebates
In the case of upgrading an old air conditioning system with a newer and more energy-efficient model, you may qualify for rebates from various levels of government or your local utility company. These vary by region and may change at any time, but you can get more info about available rebates here.
Things That Affect the Cost of a New Central Air Conditioner
Many different factors can impact the final price you pay to install a new central air conditioning system in your home, or to replace your old unit, including:
A/C Brand: Like cars or clothing, some brands cost more than others. The more expensive brands aren't necessarily always better, sometimes they just spend more on marketing and position themselves as more "high-end" products.
A/C Model: Every manufacturer offers a range of models from less expensive and less-efficient entry-level models, to higher end, more energy-efficient air conditioners with more features, quieter operation, better performance, and so on.
A/C Size: Each A/C model will also come in a range of sizes to suit different homes. The larger your home, building, or business/commercial space and the more square footage you're cooling, the larger (and more expensive) the unit will be.
Installation: Every home is different, so things like where exactly the unit will be installed, what type of additional labour might be required, how old your current system and furnace are, whether any safety upgrades must be made to meet modern building codes, and other factors can affect the installation cost.
Where You Live: Living in a rural area or smaller town vs a major urban area with more competition between local companies can affect the price you pay. Prices may also vary a bit if you live in a more or less affluent neighbourhood for example.
Which Company You Buy From: Different companies will quote different prices based on their overhead and the level of service they provide. Going for the best price you can find is not always the best move, and you often get what you pay for… companies that charge very low prices may not provide as good workmanship, may not be as established and reliable, or may not offer the same level of service, warranty coverage, and so on.
See this year's Best Air Conditioner Brands & Models >>
2021 Central Air Conditioner Prices by Brand/Manufacturer
Note that these prices are general estimates including installation and will vary significantly by region you live, the company or contractor you deal with, and other factors like the location and complexity of the installation, and of course the exact model you choose.
We compare several of the most popular central air conditioner manufacturers in Canada, and we've grouped them into three different pricing tiers, based on average prices for their products across the country. Please note these tiers are not necessarily meant to indicate a difference in quality, but rather the relative average prices of each brand of A/C.
Furthermore, every brand usually has a range of products with lower-cost and higher-end models. So there is a significant overlap between brand prices.
The 3 tiers are defined as follows:
Economy Tier: These brands offer decent quality products at a price point that is usually slightly less than the average
Mid-range: These make up the bulk of the popular brands on the market and most of their products fall somewhere in the middle range of prices
Premium: These brands heavily market themselves as being market leaders, and their prices often reflect this. Expect to pay at least a few hundred dollars more for the 'premium brand name'. Note that 'premium' brands are not necessarily BETTER, as this is a designation we give more to indicate that you'll pay a premium for the brand name rather.
Economy Tier Air Conditioner Prices
Focusing on overall efficiency of their air conditioning units these brands offer consumers several efficiency options from 13 to 19 SEER, without the additional innovative technologies seen in the upper tiers. If you are willing to give up some bells and whistles available in the higher tiers, then these brands are an excellent option for cooling your home without breaking your budget.
| Brand | Price Range* |
| --- | --- |
| Goodman | $2800-$4800+ |
| Keeprite | $2800-$4800+ |
| York | $2800-$4800+ |
*Please see further down for more in-depth pricing information
Mid-range Air Conditioner Prices
As you move into the mid-range brands you can expect to see a slight increase in price. This increase is due to some additional features/options that are not offered in the economy tier. Like the economy tier you will notice a wide range of options from 13-24.5 SEER. However given that air conditioners are only operating during a few months of the year, most Canadians choose central ACs in the 13 to 18 SEER range.
| Brand | Price Range* |
| --- | --- |
| Amana | $3000-$5000+ |
| Armstrong | $3000 – $5500+ |
| ComfortMaker | $3000 – $5500+ |
| Coleman | $3250 – $5500+ |
| Heil | $3250 – $5500+ |
| Luxaire | $3250 – $5500+ |
| Payne | $3250 – $5500+ |
| Tempstar | $3250 – $5500+ |
| Napoleon | $3500-$6000+ |
| Daikin | $3500 – $6000+ |
Premium Tier Air Conditioner Prices
As expected we see the highest price points in our premium brands, Lennox, and Carrier, as well as Trane, American Standard, Bryant, Rheem, Ruud, among others. High-performance cooling, quality and durability, units are available in 13-27 SEER. The premium designation does not necessarily imply higher quality or reliability. While these may be fine products, the premium level refers to more expensive units.
| Brand | Price Range |
| --- | --- |
| Lennox | $3500-$6000+ |
| Carrier | $3500-$6000+ |
| Trane | $3400-$5800 |
| American Standard | $3400-$5800 |
| Ruud | $3750-$5750 |
| Rheem | $3700-$5700 |
| Bryant | $3600-$5600 |
Air Conditioner Prices by Unit Size & Ton
The larger your home or small/medium commercial building you're trying to cool, the larger the central air conditioner unit that will be needed. See our Central Air Conditioner Buyer's Guide or more information about how to choose the correct size air conditioner for your home.
This chart gives a rough estimate of how prices will vary based on the required unit size and tonnage. Obviously there are many other factors that will affect price like the brand, model, efficiency rating, installation, and so on. This is only meant to give you an idea of the general differences in cost as the unit gets larger.
Furthermore, if you live in a larger and more expensive home in a wealthier neighborhood, you can expect to pay slightly more for a new air conditioning system just like any other contracting job.
We've listed approximate price for each size along three different pricing tiers from cheaper value A/Cs, mid-range models, and high end central air conditioners.
| Tonnes | Average Pricing |
| --- | --- |
| 1.5 Ton | Value tier: $2400Mid-Range tier: $2825Premium tier: $3200 |
| 2 Ton | Value tier: $2600Mid-Range tier: $3025Premium tier: $3500 |
| 2.5 Ton | Value tier: $2800Mid-Range tier: $3225Premium tier: $3800 |
| 3 Ton | Value tier: $3000Mid-Range tier: $3425Premium tier: $4100 |
| 3.5 Ton | Value tier: $3200Mid-Range tier: $3625Premium tier: $4500 |
| 4 Ton | Value tier: $3300Mid-Range tier: $3825Premium tier: $5000 |
| 5 Ton | Value tier: $3500Mid-Range tier: $4050Premium tier: $6000 |
Air Conditioner Installation Costs
Expect to pay between $500-$1000 for a professional installation of your high-efficiency air conditioner. Note that the prices listed on this page generally include installation and most contractors will provide a quote for the unit AND installation.
"How much does the installation cost for an air conditioner?"
An installation performed by an experienced and certified HVAC technician gives you peace of mind that the job will be done right the first time. An improperly sized or incorrectly installed air conditioning unit will not cool your home efficiently. This can lead to accelerated wear and damage, resulting in greater cost to you for repair or replacement.
Legitimate and reliable HVAC contractors must generally pay for necessary insurance, local licensing, permits, and overhead costs like equipment, vehicles, and administrative staff to operate. This is why we generally caution consumers against going for suspiciously cheap offers you occasionally see advertised online on places like Kijiji or Craigslist… in many cases, there's a very good reason why the prices are so cheap!
See our Certification page for more info on criteria to look for when choosing a contractor.
"Can I install my central air conditioner myself?"
Unless you're a licensed electrician or HVAC technician, it's generally best to leave the installation to the experts.
See the Best Air Conditioner Brands of 2021
Air Conditioner Prices by City & Region
At Furnace Prices, we understand that the replacement cost of an old unit or the cost of a new high-efficiency air conditioner is at the forefront of consumers' minds. To that end, our experts have compiled a breakdown of pricing that you can expect to pay for a new central air conditioner.
The prices below assume a unit with moderate energy-efficiency (SEER rating) and typical installation. Higher end models, with higher SEER ratings (16 SEER and above) or more complicated installations will obviously increase the final price of your air conditioner.
*PLEASE NOTE: These are only estimates. Things like the brand, model, BTU cooling output/size (tonnage), efficiency rating (SEER) of air conditioner, neighbourhood in which you live, local cost of living, local licensing requirements or variations in safety codes, variance from one company to another, differences in installation costs at your home, and distance from a major urban centre can influence the final price you pay. Increased competition between HVAC contractors in larger cities for instance, can also affect price.
Pricing includes cost of installation, and removal of your old unit is usually free of charge or included by most contractors.
ONTARIO
Pricing varies across Ontario, and depending on what city you reside in you can expect to pay anywhere from $3000 – $5500 for a new moderate efficiency air conditioner (13 – 15 SEER). A higher efficiency central air conditioner (16 – 20+ SEER) is likely to cost at least $5000 installed, and up.
You may find some particularly cheap "deals" advertised, especially on places like classified sites, particularly in the Greater Toronto Area. We generally advise caution with these as you often get what you pay for. Things like shoddy workmanship, refurbished units, unreliable companies that don't honour warranties are not unheard of, and we regularly receive calls for help from consumers in these situations.
If possible, save yourself the headache and added expenses down the road, and deal with established and reputable distributors in the first place.
Barrie – $3200 – $5500
Brampton – $3000 – $5200
Belleville/Kingston – $3000 – $5500
Guelph – $3000 – $5500
Hamilton – $2900 – $4900
Kitchener – $3200 – $5500
London – $2900 – $5500
Mississauga – $3000 – $5000
Northern Ontario – $3200 – $4800
Western Ontario – $2900 – $5000
Ottawa – $3000 – $6000
Toronto – $3000 – $5750
MANITOBA
A high-efficiency air conditioner can cost between $2900 – $4800 across Manitoba.
Winnipeg – $2900 – $4800
ALBERTA
Enjoy the benefits of a new high-efficiency air conditioning unit with pricing, between $3000-$5500 throughout Alberta.
Calgary – $3200 – $6000
Edmonton – $3000 – $5000
Rural Alberta – $3500 – $5000
SASKATCHEWAN
Pricing in Saskatchewan for a new high-efficiency cooling system is approximately $3000-$5500.
Regina – $3000 – $5500
Saskatoon – $3000 – $5500
REST OF CANADA
Average between $3000 – $5500
Central Air Conditioner Ownership Costs in Canada
"What Kind of Ongoing Costs Can I Expect Once I Purchase My Air Conditioner?"
Once you've made the initial investment of purchasing a new, high-efficiency air conditioner you should set aside room in your budget for occasional maintenance. Annual maintenance might typically cost $100-$250 for an inspection and tune-up.
While a tune up may not always be necessary, some manufacturer and labour warranties from the contractor who installed the unit may require you to have your system serviced annually to maintain coverage.
In addition, you'll obviously have to consider the added electricity costs which we examine in the next section.
"What is the yearly cost of owning a central air conditioner?"
Apart from the initial purchase cost, most Canadians can expect to spend $300 – $1000+ per year to operate a central air conditioner, including electricity bill costs. Obviously, a number of factors like electricity rates and usage will affect what you end up paying.
Most homes will probably be in the low to middle end of that range, with the largest homes tending to be at the higher end.
Factors Affecting Electricity Usage and A/C Operating Costs
Size of your home – larger homes require a larger air conditioning unit which in turn draws more electricity to power it.
How much your air conditioner is used – some people cool their house 24/7, while others prefer to use it in the evenings and during the night to aid sleeping in the summer heat. If you limit your usage to only the hottest days and switch the unit off when temperatures are more bearable, you'll save some money.
How low the thermostat temperature is set – the lower the temperature setting the more electricity required to run your unit to maintain that temperature.
How well insulated the home is – well insulated homes help to retain the cool air that is circulated by your air conditioner, and keep warm air out. It goes without saying that you should make sure to keep all windows and doors closed as well!
Weather & climate – the hotter the temperature the more use you will have for your air conditioner.
Efficiency of your unit – the higher the SEER the more efficient your unit is. An 18 SEER central air conditioner will result in greater energy savings than a 14 SEER central air conditioner.
Peak hour use – electricity prices are higher during peak hours.
Shade & other factors – things like the amount of trees and shade around your home can affect the internal temperature and thus A/C use.
All things considered, your average monthly electricity costs to run a central air conditioner in most parts of Canada are likely between $50 – $250+/month based on the above factors.
Get quick & free quotes from trusted experts right now!
Fill out our quick quote request form to receive free, no-obligation estimates from our Certified local contractors in your area.
Six Energy-Saving Tips to Keep Your Air Conditioner Operating Costs Down This Summer
Upgrade your insulation – Upgrading your home's insulation will maximize the retention of heat in the winter and cool air in the summer. You'll be more comfortable and you'll ensure that your A/C isn't working harder than it has to. Make sure to check the seal around your windows to see if they need replacing as well.
Choose ENERGY STAR® – In order to offset the additional electricity cost of cooling a larger home, many consumers opt to select a new ENERGY STAR-certified central air conditioner with a greater SEER. A more energy-efficient unit is good for the environment and the pocketbook!
Get SMART – Turn your air conditioner off during the day while you're at work to limit waste and lower your monthly electricity bill. Many SMART thermostats are available that allow you to set your home's temperature automatically or even remotely.
Adjust the thermostat – Try not to run your air conditioner 24/7 or even raising the temperature a few degrees can result in energy savings. It may not seem like a lot but a couple degrees can make a big difference.
Get a tune-up – Be sure to book a maintenance checkup to ensure that your system is fully functional for the summer seasons. A central air conditioner in disrepair can work inefficiently which will affect your monthly electrical bill.
Beat the heat off-peak – Electricity prices tend to be much cheaper during off-peak hours like late in the evening and overnight. You can save a lot by limiting your air conditioner use to these hours, and you'll sleep better too!