Our certification program helps protect homeowners and allows local HVAC contractors to build trust with potential customers by verifying their licenses, insurance, track record, and more.
Why Canadians trust our Certified Partners when they buy a new furnace or A/C:
Local business reviews are important BUT, they're not the only factor you should consider when evaluating a company.
Online reviews are rarely 100% authentic, accurate, and dependable, and they don't necessarily tell the whole story… find out how we're helping Canadians choose established, reliable companies when shopping for a new heating or air conditioning system.
From the CBC: Black market in Google reviews means you can't believe everything you read
Obviously this doesn't mean Google reviews are wrong or should be totally disregarded… just that it's worth considering a range of evaluation criteria and sources rather than just glancing at the star rating. While Google may be doing its best to weed out spammers and fake reviews, it's a never-ending game of cat and mouse.
---
Own an HVAC company?
Find out how you can apply to become one of our Certified contractor partners.
---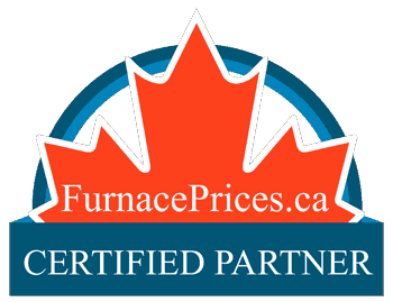 Shop with confidence and peace of mind knowing that you'll get excellent service at a fair price.
When choosing an HVAC contractor, we recommend checking that the company has:
✔ All the proper licenses & certifications
✔ Additional manufacturer training
✔ Experienced staff
✔ A good track record
✔ Adequate insurance
✔ Offers fair & transparent quotes
This can be difficult for the average consumer to verify, which is why we've already done this work for you!
Our Certified Partners have been thoroughly evaluated and we've verified their credentials and other important documents. We also monitor their performance and feedback from real customers to ensure they're always delivering a good customer experience.
➥ We check over 15 different criteria!
---

Established Local Companies

Certified to Offer Rebates

Experienced Staff

Excellent Warranty Guarantee

Fair & Transparent Quotes

Verified Licenses & Insurance

Good Track Record from Verified Customers

Emergency Service Availability
[Video] Our HVAC Contractor Certification Program Explained
---
Get Free Quotes from Certified Local Partners – in 3 Quick Steps!
How it Works
Step 1

Tell Us What You're Looking For
Answer a few quick questions to get your customized estimate.
Step 2

Get FREE No-obligation Quotes
Our Certified local heating contractors provide you with fair & transparent quotes.
Step 3

Buy With Confidence & Peace-of-Mind
Our partners have a proven track record, provide top-notch service & ongoing support.
Get FREE Quotes
We help you compare prices including installation costs, top brands, features and more for a range of HVAC products, including natural gas and propane furnaces, heat pumps, central air conditioners, hot water heaters, boilers and others.
---
Frequently Asked Questions
Don't all companies have certifications and insurance?
Unfortunately not. Most people would be surprised to learn that there are companies operating without valid insurance, or full TSSA or other industry certifications. There are so many contractors operating that it is impossible for regulators to completely monitor and enforce this.
How is FurnacePrices.ca different from other directories and home improvement sites?
We're the only major Canadian heating & cooling-only website of this kind, and because we're industry-specific, we have the relevant experience and industry knowledge that other generalized directories don't.
Unlike most other directories, we will actually remove companies from our partners list if they get frequent unresolved complaints. This provides a much higher incentive for them to provide a great customer experience for quotes received through our website (or risk losing future business from us). And not just providing a good experience up until the point of sale, but also on an ongoing basis after installation as well.
Why should I trust your certification?
Because contractors must provide proof (scans, pictures) of their licenses, insurance, and other credentials.
We're independent, and focused on helping consumers make informed buying decisions first and foremost.
We don't make money off the certification. (Though companies can pay to feature their business and promote their current deals. However we do not take any commissions.)
---
Are you an HVAC contractor?
Find out more about getting your company certified!
---
Why we created our Contractor Certification program – A message from the founder of FurnacePrices.ca
Bringing More Transparency to Shopping for a New Heating & Cooling System for Canadians

Replacing your heating and cooling system is a big financial investment in your home, and it's something you will rely on to keep your home comfortable and liveable for years to come.
Reviews aren't a bad place to start but they're not a perfect way to evaluate potential contractors.
It is relatively easy for anyone to leave glowing fake reviews—or negative ones on a competitor's profile, and fake reviews can be bought online easily and cheaply. Furthermore, while there are plenty of genuine reviews, these reviews rarely evaluate the actual quality of the workmanship, or the long-term post-sale experience of prior customers.
Reviews, whether good or bad, are often left pretty much immediately after the installation is complete. And the reviews often focus on the friendliness of the installer or other relatively trivial details.
To us, this is like evaluating a dentist based on the selection of magazines in the waiting room or the cheeriness of the receptionist. Nice details sure, but hardly an indication of the dentist's skill and experience or how well they'll actually fix your teeth.
Sure, the overall customer experience is important, but this is truer of certain business types than others. At a restaurant, these details really matter because they're central to the service you're paying for—an enjoyable evening out with friends or family. But when it comes to more technical services, skilled trades, and the like, customer reviews may fail to adequately evaluate the core competency of the service providers.
And if there are issues with your new heating & cooling system, how helpful and responsive is the company when it comes to emergency servicing and repairs six months or two years down the line? That initial review provides little insight into the ongoing quality of support.
Second, the average consumer typically lacks the technical expertise and experience to truly assess the quality of an installation.
So although consumer reviews aren't a bad starting point, and do provide some insight into the overall experience of dealing with a company, we think you deserve a more complete picture of the company's qualifications & certifications, up to date insurance, level of training, work history, verified customer feedback, and more.
That's why we developed the FurnacePrices.ca Certification Program, which requires local HVAC contractors to meet a variety of criteria and provide proof of credentials, insurance, and other important documentation.
We also continuously monitor feedback from verified customers, and we actively gather this data over time, rather than simply relying on the small percentage of people who may take it upon themselves to share their experiences (or who only leave a review after being offered an incentive).
Our Certification aims to help companies build trust with customers, while also helping consumers shop with confidence and peace of mind, bringing an additional layer of transparency to the process of buying a new furnace or air conditioner, an exercise that can often be confusing and intimidating for homeowners, given that most of us have little direct experience with these systems, and probably have never bought one before.
We've been around since 2013 and over the years, millions of Canadians have visited our website for help and guidance on shopping for a new heating or air conditioning system. And we've helped countless thousands of homeowners get a reliable new system at a fair price, from our trusted local HVAC contractor partners.
So rest easy and shop with confidence; get in touch with one of our Certified Local Partners today!
---
Browse Our Certified Contractors by Region
Best Heating & Air Conditioning Contractors in Toronto
Best Heating & Air Conditioning Contractors in Ottawa
Best Heating & Air Conditioning Contractors in Oshawa-Whitby, Pickering & Ajax
Best Heating & Air Conditioning Contractors in Markham, Richmond Hill, Vaughan, and Newmarket
Best Heating & Air Conditioning Contractors in Mississauga
Best Heating & Air Conditioning Contractors in Hamilton, Burlington & Brantford
Best Heating & Air Conditioning Contractors in Brampton
Best Heating & Air Conditioning Contractors in Kitchener-Waterloo
Best Heating & Air Conditioning Contractors in Edmonton
Best Heating & Air Conditioning Contractors in Calgary
Best Heating & Air Conditioning Contractors in Winnipeg