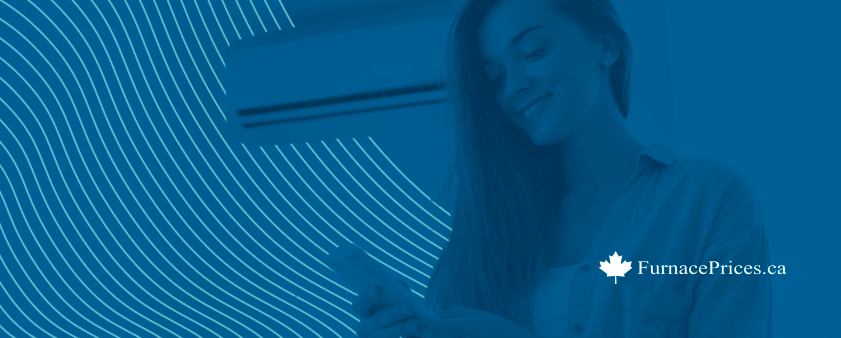 Our complete ductless heat pump buyer guide: Everything you should know about buying a ductless mini-split system, including costs, installation, ideal locations, features, advantages & disadvantages, FAQs, and more!
✔ Expert-reviewed for accuracy and completeness. Learn more
Ductless heat pumps are an ideal way to heat and cool spaces that lack ductwork and venting. In this article, we look at the average costs of these units, warranty terms, efficiency, as well as the top brands, features, advantages & disadvantages, FAQs, and where these systems are typically installed.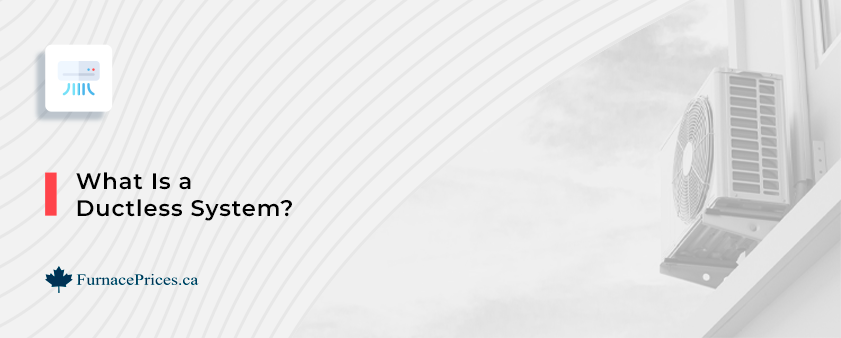 What Is a Ductless System?
The first thing to know about ductless systems is what they are. A ductless system is a type of ductless heat pump. This article can tell you all about heat pumps.
In Canada, most of the time when a person talks about ductless, they mean a ductless mini-split air conditioner or air conditioner/heater. Some heat pumps function as air conditioners while others can provide cooling and heating.
Other types of ductless heat pumps include portable room air conditioners and window air conditioners.
Essentially, a ductless mini-split A/C is an air conditioning system designed to cool spaces without ductwork, which makes these devices popular in warmer climates like Asia, Central & South America, the Southern United States, and in certain types of homes in northern climates.
Ductless mini-split systems are also popular in Canada in a variety of specific situations, which we'll cover in more detail below.
Ductless systems are also common in commercial buildings and businesses.
Watch Video: Ductless Systems: Key Facts, Prices, Pros & Cons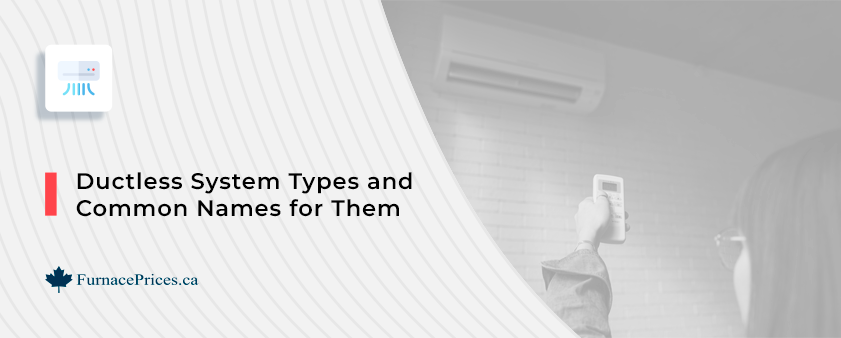 Ductless System Types and Common Names for Them
Ductless systems go by a number of names, including: ductless air conditioner, ductless A/C, ductless split system, ductless mini-split, and ductless heat pump. These terms may refer to different types of systems, including: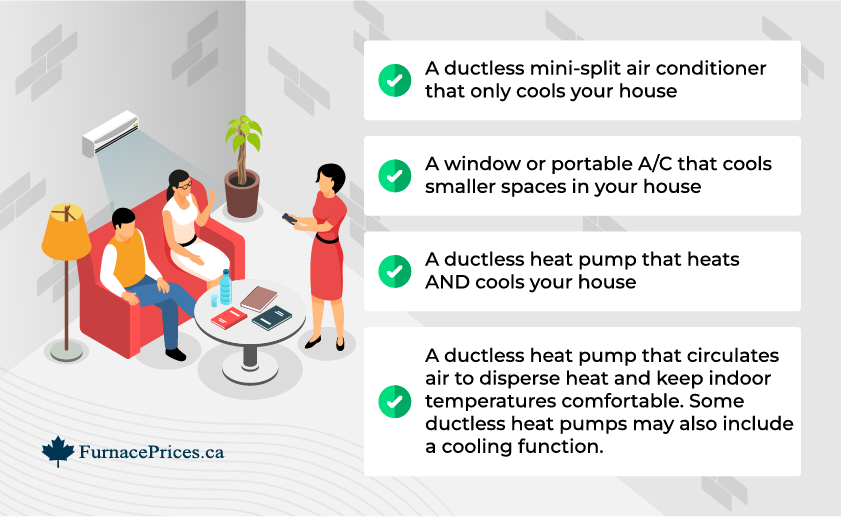 A ductless mini-split air conditioner that only cools your house
A window or portable A/C that cools smaller spaces in your house
A ductless heat pump that heats AND cools your house
A ductless heat pump that circulates air to disperse heat and keep indoor temperatures comfortable. Some ductless heat pumps may also include a cooling function. This type of system is more common in milder or warmer climates like the Southern US.
Whether you should get a ductless air conditioner or heat pump will depend primarily on where you live.
In Canada, due to the more extreme climate in much of the country (cold in winter, hot and humid in summer), actual heat pumps and ductless heat pumps that provide heat for the home are less common.
Get Quotes
How soon are you looking to buy?*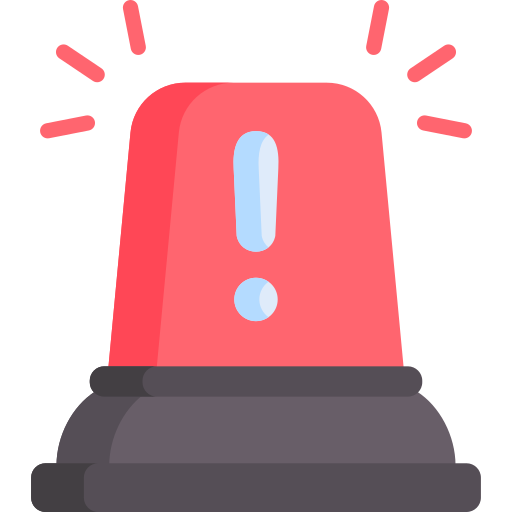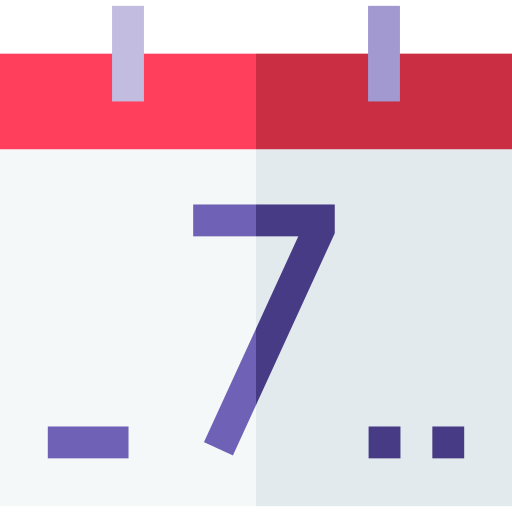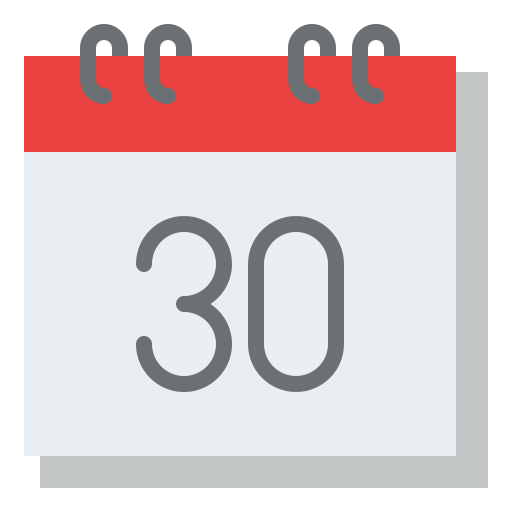 Ductless Heating Systems in Canada
Ductless split systems come in two basic varieties: ones that only cool (ductless air conditioners) and ones that heat AND cool.
Supplementing your heating system with ductless will work in most parts of the country
A ductless heating system can be a good option for supplementing your existing heating system.
Ductless heating systems are not well suited as the primary heating system in most regions of Canada, as most of them are not designed to work in very cold temperatures. Some models might work up to -25 degrees Celsius, but for the most part, ductless heat pumps don't function efficiently below -20 degrees Celsius or so.
There are, of course, some exceptions. Recently, a couple brands have come out with ductless heat pump models that are designed to work in Canada's colder winters.
Two examples include Mitsubishi's Cold-Climate Hyper-Heat ductless models and Napoleon's Hyper Heat ductless systems. These are designed to work reliably in temperatures as cold as -30 C.
In most parts of the country, there will inevitably be a few extremely cold days each winter, and you don't want to be caught without adequate heating during a cold snap. Even in Southern Ontario, you'd likely be fine most of the time, but extreme cold periods do happen.
Using ductless as your primary heat source
Aside from the powerful ductless systems that can handle temperatures of -30, there are also some places where a less robust ductless heating system could work as the primary heat source for a house.
If you live in a climate with milder winters, then a ductless heating system may be a viable option. Examples include Vancouver, Vancouver Island, the Okanagan, and even parts of the Niagara Region.
Nonetheless, ductless heating/cooling units can be a good option for some homes. The rest of the information on this page generally applies to both ductless air conditioning systems and heating models alike. The same factors, advantages/disadvantages, and brands are relevant regardless of the type you buy.
In this article, we'll use the term ductless air conditioner or ductless mini-split for heat pumps that only provide cooling, and we'll say ductless heat pumps for systems that can heat and cool.
That being said, the best thing to do is request a free estimate from a certified local professional for custom recommendations and pricing.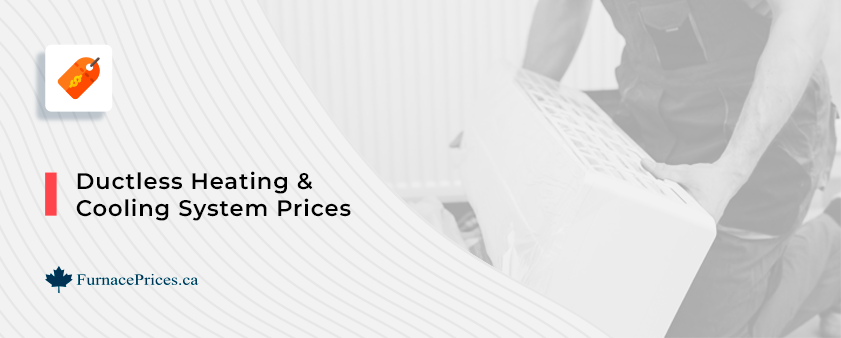 Ductless Heating & Cooling System Prices
Prices for ductless split systems and air conditioner units in Ontario and other provinces across Canada typically start at $4,000 to $6,000 including installation, but they can go as high as $8,000+ per unit, including installation.
This is especially the case for a modern heating & cooling model, and especially if there is more than one interior head connected to the exterior unit.
Prices will vary depending on:
The brand/manufacturer
BTU cooling output rating
Installation costs
The efficiency of the unit
How many indoor and outdoor units you need
Whether the unit is ENERGY STAR® certified
Whether it has extra features
Where you live (costs in urban areas tend to be cheaper than in rural areas)
As mentioned, ductless systems that both heat AND cool will be more expensive, typically starting at around $5,000 and going up to $10,000 or more, including installation.
When it comes to the price of a ductless system, there are two main things to consider:
The number of outdoor units needed. Larger homes or commercial buildings may require multiple units to cool. If you are cooling areas in separate parts of the building, then you may need more than one outdoor unit.
The number of heads (indoor units) needed. One head would be installed in each room or area you wish to cool.
For this reason, the price of a ductless air conditioner is likely to be at least comparable to a central air conditioner.
But a ductless mini-split system or heat pump may be an excellent heating and cooling option for your home or business/commercial property if it doesn't have ductwork, and it will be cheaper than installing ductwork plus a central air conditioner.
Ductless units are also ideal if you build a home addition and extending the ductwork isn't practical or possible. Similarly, the cost of a ductless system is likely to be cheaper than trying to install ductwork if you have a home, cottage, condo, or other space that lacks ductwork.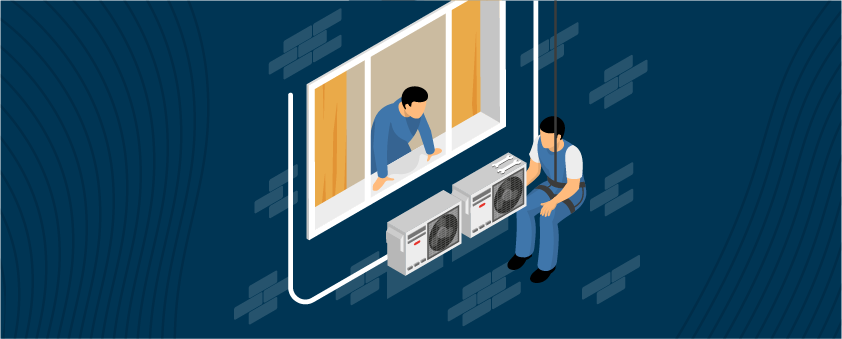 Again, the final price largely depends on the make and model of the system, the efficiency rating and BTU output, whether it's a dual heating/cooling unit, and how many units you need. Get an accurate custom quote for free from one of our trusted local experts.
Why are ductless air conditioners so expensive?
Ductless mini-split systems are expensive because they contain a lot of sophisticated technology and are designed to cool larger spaces than portable or window units.
And unlike a central air conditioner, ductless systems can't use existing ductwork and blower systems from a home's forced-air heating system to circulate the cold air.
Therefore, in addition to the outdoor unit, one or more indoor units must also be installed in each room being cooled, which adds to the total cost.
In the case of ductless systems with heating capabilities, additional heating elements and other components are also built-in to the system, which further increases the total price.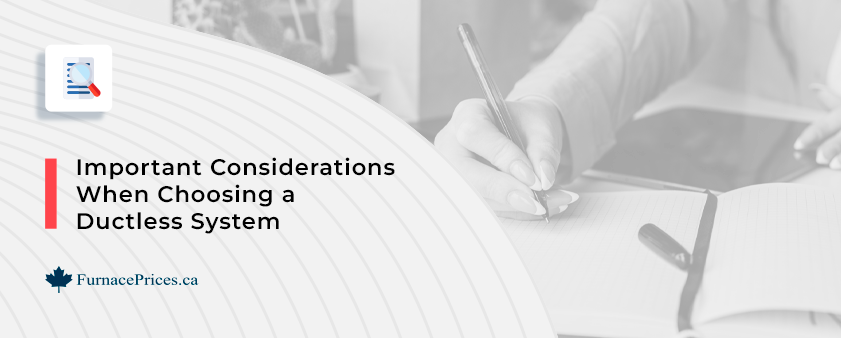 Get Quotes
How soon are you looking to buy?*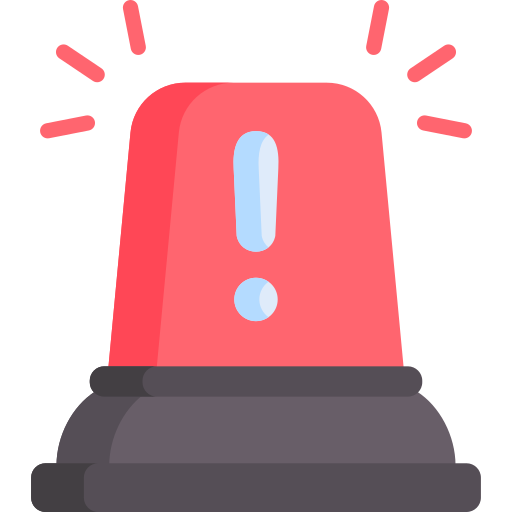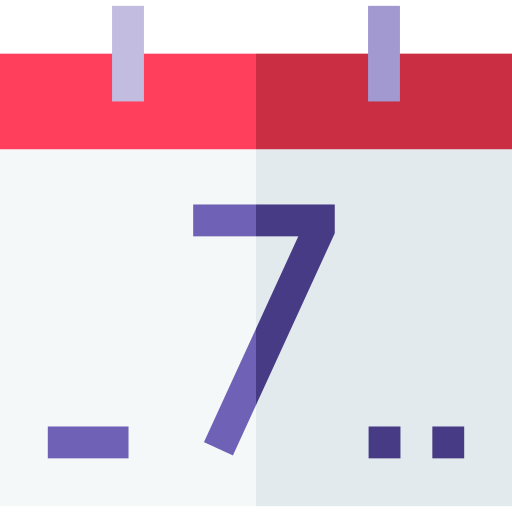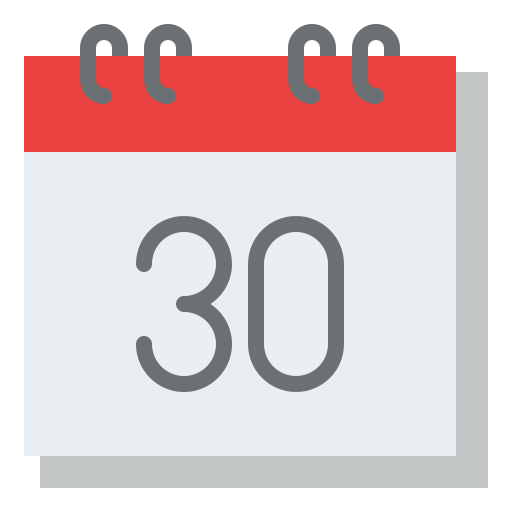 Important Considerations When Choosing a Ductless System
What are your needs?
We've already mentioned that some ductless systems are air conditioners only while others have an A/C and a heating function. So the first thing to figure out is which one you need.
Are you looking for a ductless air conditioner to cool the top floor of a large home, to replace an aging air conditioner that cools your entire house, or to make a home addition more comfortable in summer?
If you only need a ductless mini-split air conditioner, then you could save some money because these systems are cheaper than heat pumps that heat and cool.
On the other hand, you might need a ductless heat pump if you want to cool your home in summer and provide heating in winter, either as a primary heat source or to supplement your existing system.
How big of a system do you need?
Like furnaces and air conditioners, ductless heat pumps and mini-splits have to be sized properly for your home, and their heating or cooling capacity is measured in British Thermal Units (BTUs).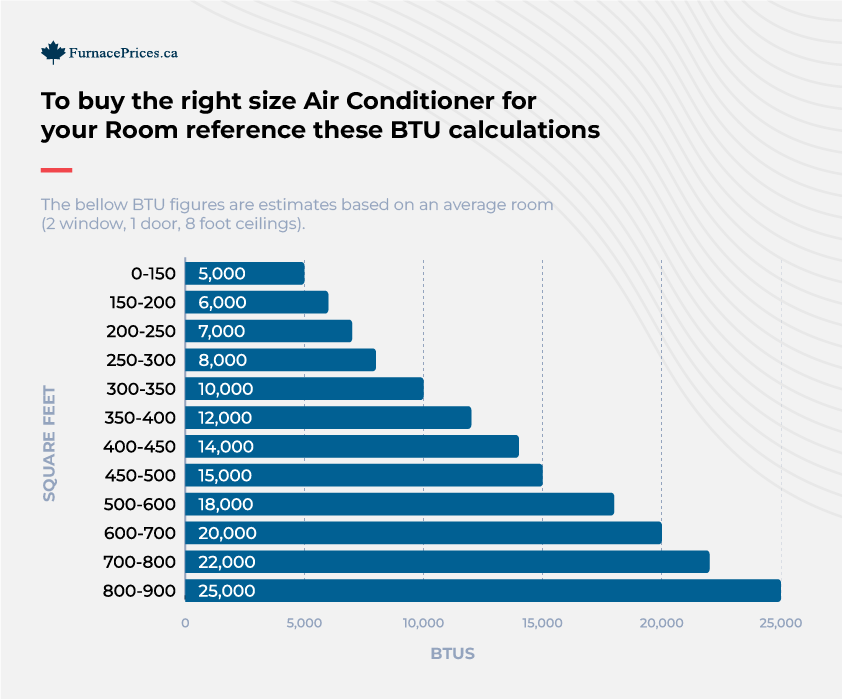 A system that's too small won't heat or cool your space sufficiently, will run constantly, will cost a fortune to operate, and will wear out prematurely.
On the other hand, a system that's too large will cycle on and off too much, won't heat or cool your home evenly, won't operate efficiently, and will have a shorter lifespan.
The size of the system you need will depend largely on the square footage of the space you're heating and/or cooling. However, there are other factors to consider as well, including how much sun or shade the space gets, how humid it is, the efficiency of the unit and whether it's ENERGY STAR certified, how much insulation there is, and more.
How many rooms do you want to heat or cool?
A related issue to sizing is the number of separate spaces you're dealing with. With ductless systems, you'll need one head (indoor unit) for each room or space in your home or commercial property that you want to heat or cool.
More heads will increase the total cost of the project, but it will also make your space more comfortable and enable the system to work efficiently.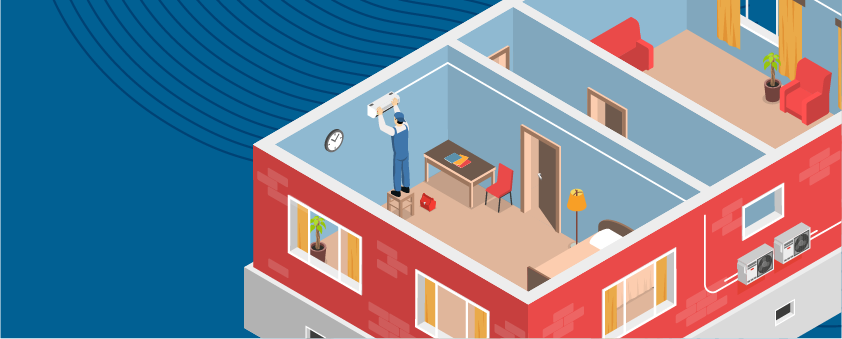 Efficiency ratings, perks, and features
Some modern ductless systems have novel features and cool technologies, such as Wi-Fi connectivity.
We'll discuss those features in more detail later, but you'll have to decide if any of those features are important to you, and whether you're willing to pay extra for a ductless system that offers them.
Similarly, a more efficient system with ENERGY STAR certification will likely cost more, but it will also save you more money in the long-run on cheaper electricity bills.
Warranty is another important consideration because it could potentially save you a lot on repair bills over the years.
And here's something else you'll want to think about: what style of head or indoor air handler do you want, and does the brand/model you're looking at offer it? There are many different styles of heads, including wall-mounted, floor-mounted, and ceiling units that can work with a variety of design, décor, and room styles.
What are some common ductless brands?
Many of the major furnace & A/C manufacturers also make ductless systems. See here for more details on who makes different brands of heating & cooling systems.
Some of the major brands and manufacturers of the ductless mini-splits and heat pumps sold in Canada include: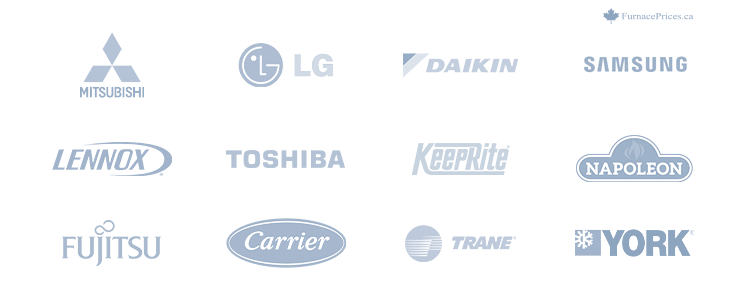 These brands are some of the most common and popular ones in Canada. They use good-quality components and, generally speaking, make reliable ductless systems that last.
Costs between them will vary, as will things like available features, warranties, efficiency ratings, and more. The best way to get an accurate price is to request a free quote.
Choosing a licensed professional contractor will make your job a lot easier
Speaking of quotes, one of the most important decisions you'll make when choosing a ductless mini-split or heat pump is actually the contractor you work with.
A good contractor will assess your home, evaluate your heating/cooling needs, help you choose the right make and model for a ductless heat pump or mini-split, size the unit properly, install it correctly, make sure it's working at peak efficiency, and be available down the road for maintenance and repairs.
While it can be easy to get caught up in things like price and brand name, finding the right contractor can be more important than both those things.
For the best prices and the best results, we recommend getting quotes from at least three contractors.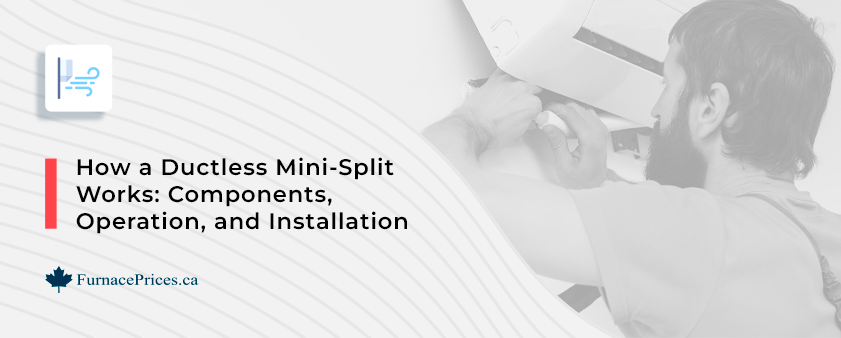 How a Ductless Mini-Split Works: Components, Operation, and Installation
Ductless split systems work somewhat similarly to central air conditioning systems. With a ductless system, there's an outdoor unit that vents heat from a liquefied refrigerant, which is then cycled to the indoor unit, where warm air passes over coils and gives up its heat by vaporizing the refrigerant.
Ductless Mini-Split Components
Let's look at the different components and what they do:
| Location | Component | Function |
| --- | --- | --- |
| Outdoor Unit | Condenser | Enables the refrigerant to transfer its heat to the outside air |
| Outdoor Unit | Compressor | Compresses refrigerant to increase the temperature and pressure |
| Outdoor Unit | Fan | Blows outdoor air over the condenser coils |
| Outdoor Unit | Expansion Valve | Expands the liquid refrigerant to reduce the temperature |
| Connections | Refrigerant tubing | Enables the refrigerant to travel back and forth between the indoor and outdoor units. Refrigerant absorbs heat from the indoor air and transfers it to the outdoor air. During winter, a heat pump in the heating mode works in reverse, absorbing heat from the outside air and transferring it inside. |
| Indoor Unit | Evaporator coil | Filled with liquid refrigerant that absorbs heat and cools the air. Also absorbs moisture from the air because moisture collects on the cold coils. |
| Indoor Unit | Blower | Circulates chilled air through the room |
Ductless Mini-Split Operation
Now that you're familiar with the components, let's look at what happens when a ductless mini-split is working:
The indoor unit draws in warm air from the room
The warm air passes over the evaporator coil
As the liquid refrigerant inside the evaporator coil absorbs heat from the air, the refrigerant turns into a gas
The blower inside the indoor unit blows the cold air back into the room
The gaseous refrigerant travels through the refrigerant lines to the outdoor unit
The compressor increases the pressure and temperature of the refrigerant
The refrigerant travels into the condenser
A fan blows outdoor air over the condenser coils, allowing the refrigerant to transfer its heat to the outdoor air
As the refrigerant cools, it becomes liquid again
The refrigerant passes through the expansion valve, which expands the liquid, thereby reducing the pressure and temperature
The chilled liquid refrigerant travels through the refrigerant lines and back into the evaporator coil in the indoor unit
Those are the basics of how a ductless mini-split air conditioner works. It's very similar to a central air conditioner, but with one main difference: with a central system, the cooling happens in an indoor unit attached to your furnace, and the air is then circulated through the ductwork in your home.
With a ductless system, this heat transfer and cooling process happens in the indoor unit directly in the room where the cold air is blown.
Ductless Mini-Split Installation
Depending on the size of the space you need to cool, you'll need one or more outdoor units for a ductless mini-split.
Inside, one head or indoor unit will be installed in each room or area you want to cool. Indoor units come in a variety of mounting styles. There are wall, floor, ceiling, and recessed ceiling units.
Small holes are then drilled through the exterior walls for the refrigerant tubing that connects the indoor and outdoor units.
Then everything is sealed, and once the electrical setup is done, you're all set!
For most residential applications, the entire process can usually be completed in a few hours, though it can take longer for larger or more complicated jobs.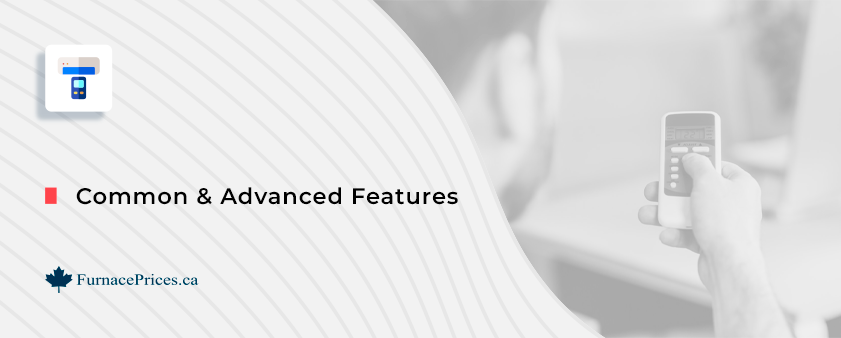 Common & Advanced Features
Ductless mini-splits and heat pumps typically all come with the same basic components and functions, but some brands put more time and energy into developing cool features that can improve efficiency, home comfort, cost-savings, and ease of use.
For the most part, ductless systems with advanced features will cost more than basic models, but lots of homeowners like the novel tech and find it's worth the extra investment.
Features will vary from one brand and model to the next, but let's look at some of the features you might like and some examples of the brands that offer them:
| General Purpose | Feature | Example |
| --- | --- | --- |
| Sensors | Humidity sensors | Carrier's Relative Humidity Sensor |
| Sensors | Room occupancy sensors that can activate the system or change airflow when a room becomes occupied | Mitsubishi's 3D i-See Sensor; Samsung's motion detection sensor; Daikin's Intelligent Eye |
| Energy Savings | Incremental motor speed adjustments | Inverter technology from Lennox, Samsung, and Daikin |
| Energy Savings | Sleep mode | Trane, Napoleon, and Daikin |
| Energy Savings | Airflow management | Mitsubishi's Econo Cool |
| Energy Savings | Cost-effective high-heat setting | Mitsubishi's enhanced compressor technology and H2i Hyper-Heating |
| Energy Savings | Reduced power use | Toshiba's Intelligent Power Drive Unit and DC twin rotary compressor |
| Energy Savings | Smart thermostat compatibility with devices such as Nest or Ecobee | Trane and Carrier |
| Indoor Air Quality | Special filters | Mitsubishi's nano-platinum filter and anti-allergy enzyme filter |
| Indoor Air Quality | Moisture management | Trane's auto clean dry mode |
| Ease of Use | Wi-Fi connectivity | Carrier, Samsung, and Daikin |
| Ease of Use | Apps for remote access to settings and system information | Samsung's SmartThings app; Daikin's Comfort Control App |
| Ease of Use | Learning capabilities for automatic adjustments to comfort settings | Samsung's AI Auto Mode |
| Ease of Use | Remote controls | Trane and Napoleon |
| Maintenance and Longevity | Refrigerant leak detection | Napoleon |
| Maintenance and Longevity | Anti-rust components | Mitsubishi's blue fin (condenser coils) anti-rust coating |
| Maintenance and Longevity | Evaporator coil freeze prevention | Napoleon's Auto Defrost |
| Maintenance and Longevity | Self-diagnostics | Samsung's Smart Check |
| Easy Installation | Installation diagnostics | Samsung's Smart Install |
| Easy Installation | Fewer connections | Toshiba's TCC Link |
| Quiet operation | Design elements to reduce operational noise | Trane and Lennox |
For more information about the features that are available with various models from the most popular brands, check out our article about the best ductless heat pumps for Canadians.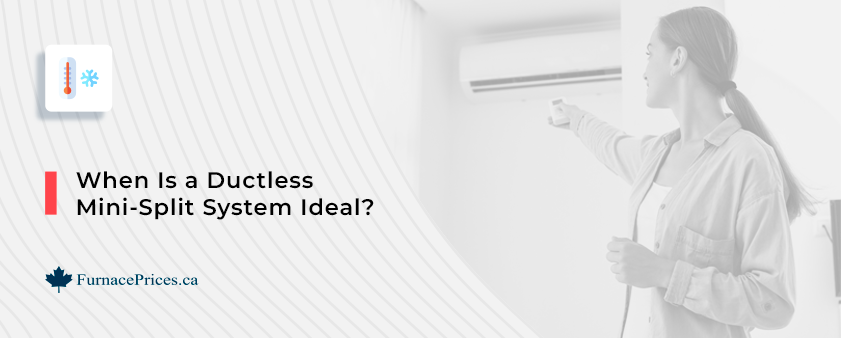 When Is a Ductless Mini-Split System Ideal?
Ductless split systems are often installed in older homes or buildings that are heated with a boiler or electric baseboards, as well as warmer climates where ductwork is uncommon. This type of HVAC system is also a popular option for: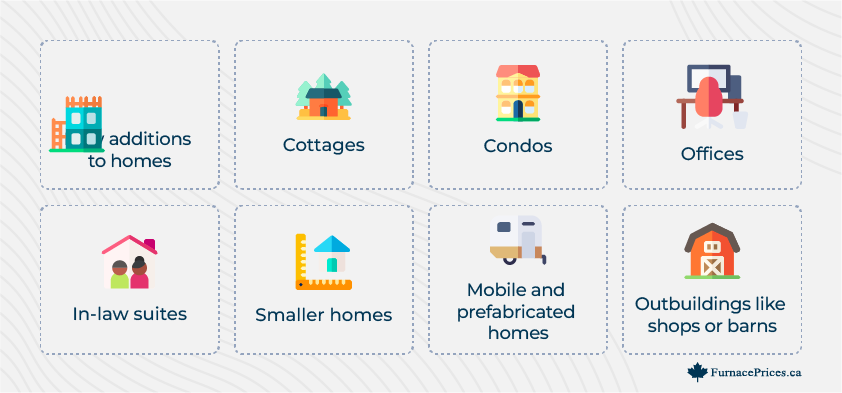 New additions to homes
Cottages
Condos
Offices
In-law suites
Smaller homes
Mobile and prefabricated homes
Outbuildings like shops or barns
Again, ductless heat pumps can also be a good choice in regions with milder climates like Vancouver. Because the winters generally aren't as cold, a ductless unit may be sufficient, depending on the layout and configuration of your home.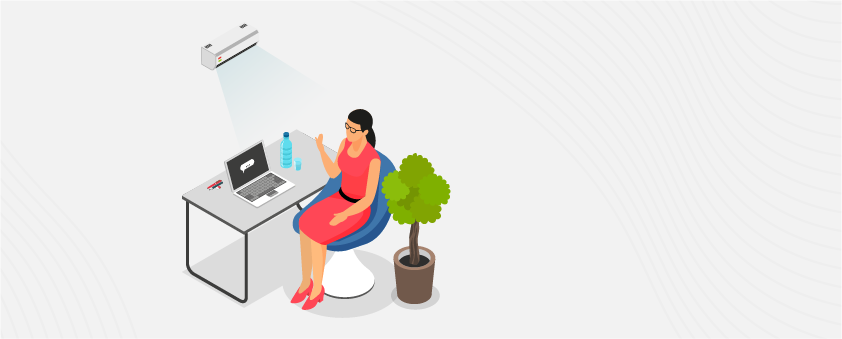 Another somewhat common use is to supplement a central A/C system. For example, even with a central air conditioning system, some large older homes might not be adequately cooled on the third floor, so a ductless system may be used to cool this area. Similarly, a ductless mini-split can also supplement central air conditioning in rooms with unique temperature conditions, like a sunroom. Likewise, a ductless heat pump can supplement heating and A/C needs in certain areas, like a room over a garage that's hot in summer and cold in winter.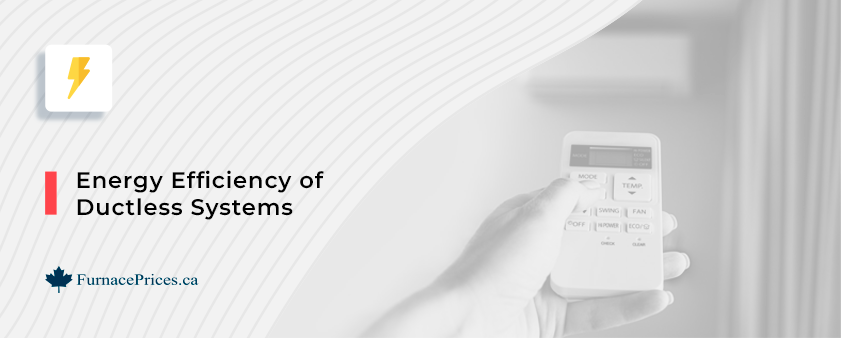 Energy Efficiency of Ductless Systems
Ductless air conditioners and heat pumps are generally very efficient. However, they do run on electricity, which is usually more expensive than natural gas or propane. Consequently, a more energy-efficient unit with ENERGY STAR certification is preferable because it'll cost less to operate.
More efficient models might have a bigger price tag, but the improved efficiency can offset the higher price of electricity, saving you more in the long run.
Measuring the efficiency of ductless air conditioners
The efficiency of ductless A/C systems is measured with Seasonal Energy Efficiency Ratio (SEER). SEER is a measure of how much electricity the system uses compared to how much cold air it produces. A higher SEER number translates to a more efficient unit.
The SEER rating on ductless mini-splits ranges anywhere from 15 to 42, but most of them fall into the 16 to 25 SEER range.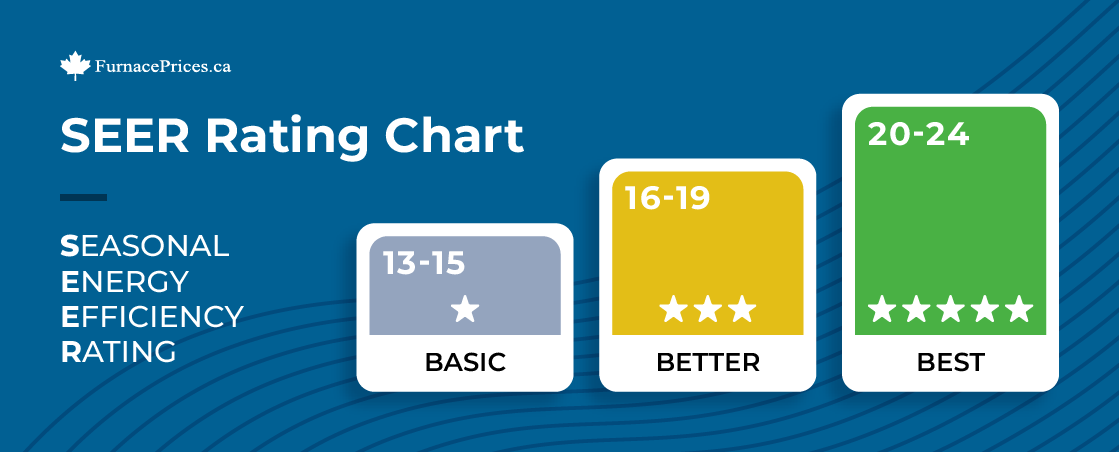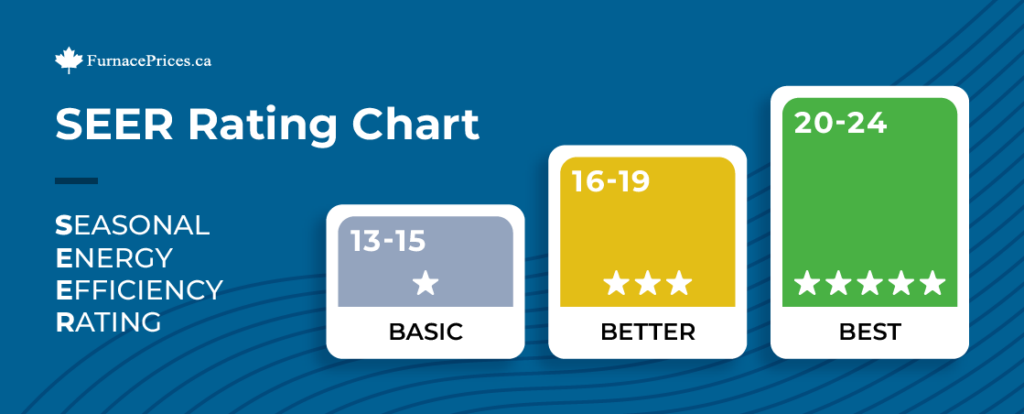 In Canada, where summers tend to be a little milder compared to the Southern United States, for example, a SEER rating between 16 and 18 generally gives a good balance between price and efficiency.
Measuring the efficiency of ductless heat pumps
The efficiency of ductless heat pumps in the heating mode is measured using Heating Seasonal Performance Factor (HSPF). Like SEER, HSPF measures the amount of electricity used versus the heating output.
The HSPF is important in Canada because it requires a lot of energy to extract heat from the outside air in winter. The more efficient your heat pump is, the more you'll save on winter heating bills, regardless of whether you rely on the system as a primary or secondary heat source.
The HSPF on most ductless heat pumps ranges from 8 to 15. For Canadian winters, you'll generally want to opt for a ductless heat pump that has an HSPF of at least 12. Any lower and the system might have a lot of trouble keeping up with the heating demands of your space, and you could spend a fortune on electricity bills.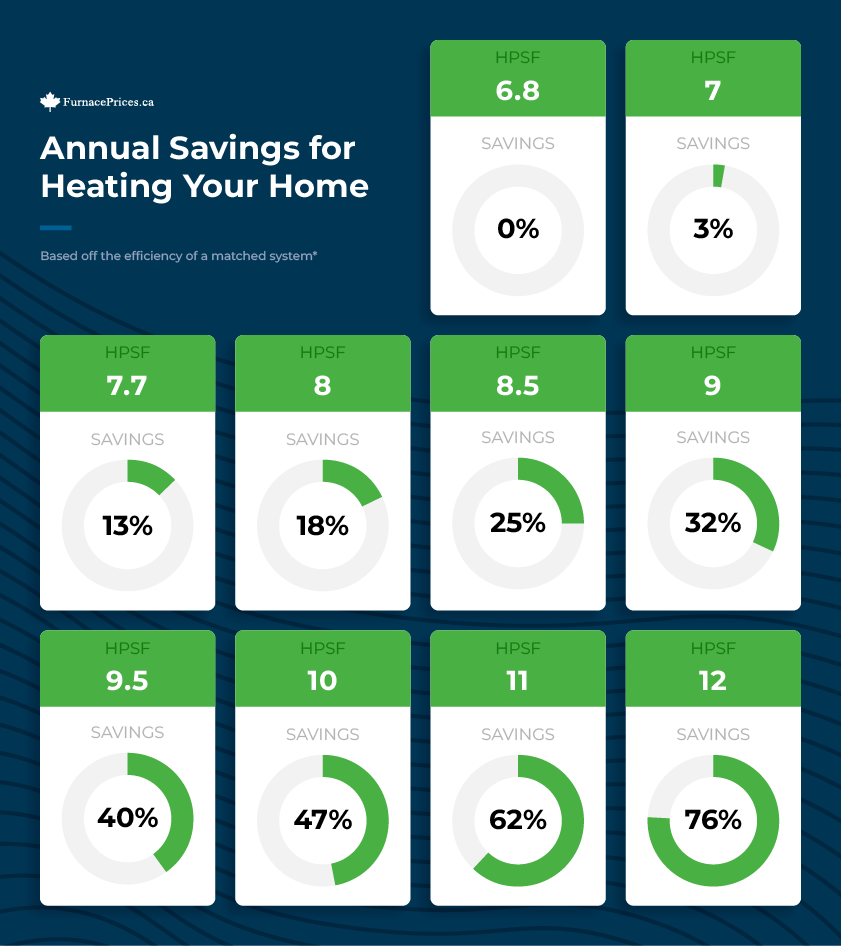 The Importance of ENERGY STAR certification
ENERGY STAR is an independent classification that indicates a particular appliance meets certain performance and efficiency standards.
You might pay a bit more for an ENERGY STAR heat pump or mini-split, but it could save you a lot more on heating and cooling bills over the years.
In fact, an ENERGY STAR certified ductless heat pump will use up to 60 percent less energy than a standard electric heating system and cut cooling costs by 30 percent over a room air conditioner.
What's more, ENERGY STAR heat pumps are more likely to qualify for a wider range of rebates, which could offset the cost of the higher sticker price.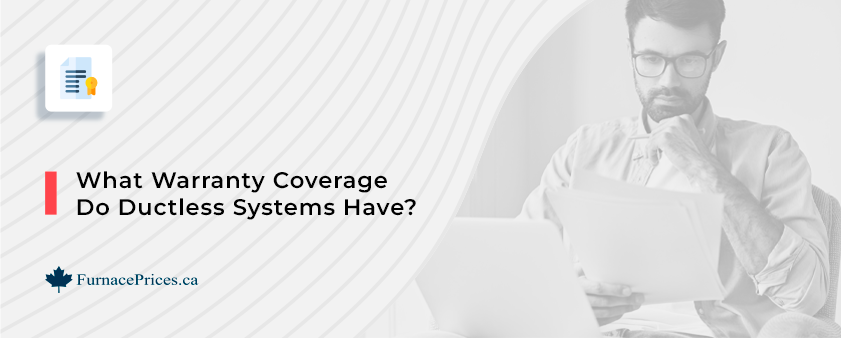 What Warranty Coverage Do Ductless Systems Have?
It's important to pay attention to the warranty coverage on a ductless system for a few reasons.
For one, it'll give you a good idea of the expected lifespan of the unit according to the manufacturer. A ductless heat pump with a comprehensive warranty was probably made with quality components and a good design, so the manufacturer expects that it will last at least the length of the warranty coverage.
Beyond that, warranties can save you plenty over the years on repair bills. After all, even the most expensive and highest quality unit might break down and require service at some point.
The warranty for ductless systems generally involves a parts warranty that's anywhere from five to 10 years.
This could include the compressor, but lots of brands also offer separate compressor warranties, which usually last 6 to 10 years. Be aware that pretty much every manufacturer requires registration before they'll grant the full warranty terms. Unregistered units will likely still have warranty protection, but it won't last nearly as long. You typically have 60 to 90 days to register a new ductless system after installation.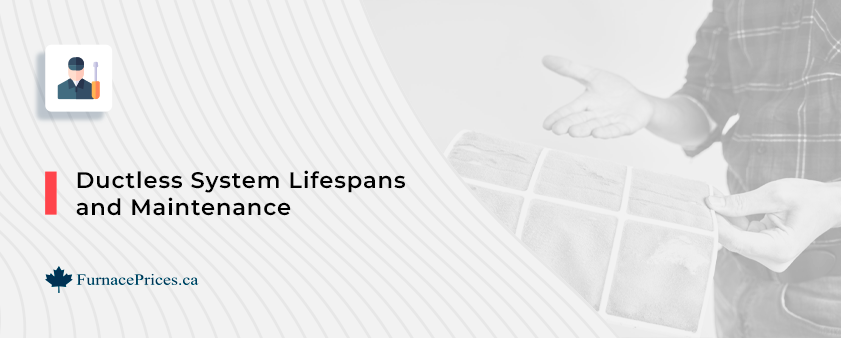 Ductless System Lifespans and Maintenance
A new ductless heat pump or mini-split will generally last anywhere from 15 to 20 years. It could function reliably and efficiently for even longer, especially if you take care of annual maintenance and service.
Beyond helping you get the longest life from your ductless system, regular maintenance will also:

Keep the system working at peak efficiency
Prevent the warranty from being terminated
Help stop major problems and breakdowns
The most reliable way to ensure your system is being maintained properly is to hire a licensed HVAC specialist, but there are also some basic tasks you can perform as well, such as:
Cleaning or replacing the filter every month when the heating or cooling function is in use
Watching for water leaks on the indoor and outdoor units
Keeping an eye on the heating or cooling output, as unscheduled changes could mean a problem with the refrigerant, coils, or another major component
Paying attention to new smells or bad odours coming from the system.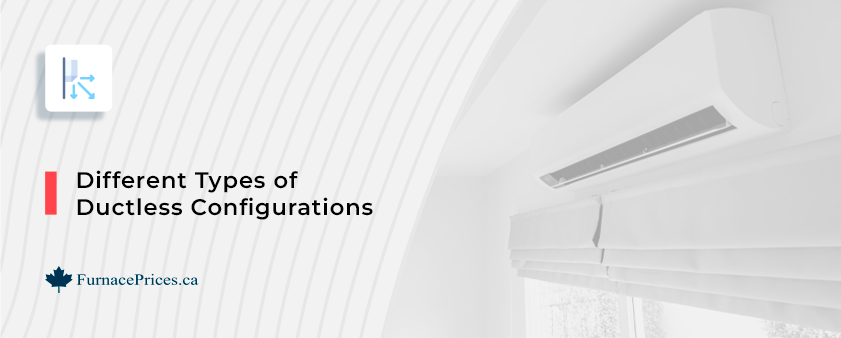 Different Types of Ductless Configurations
Ductless heat pumps and A/C systems come in a variety of configurations, and that includes the number of indoor units you can attach to one outdoor unit, as well as the different mountings styles for the indoor units.
Single-Zone Ductless Systems
Single-zone mini-splits and heat pumps use a single indoor unit connected to a single outdoor unit.
These are often used in situations where you want to provide heating or cooling for a single space within your home or building. For example, if you want to heat your garage, supplement the air conditioning on the third floor of a house, or add climate control to an addition on your home, then a single-zone system could be the ideal solution.
Multi-Zone Ductless Systems
Multi-zone ductless mini-splits and heat pumps connect one or more indoor heads to a single outdoor unit. You can sometimes connect up to eight heads to one outdoor unit.
You might be interested in this type of system if you want to heat or cool an entire home, multiple floors in a building, or separate rooms in a house.
For example, multi-zone systems can be great if you're replacing an old boiler, adding air conditioning to your home or commercial property, or need to heat/cool a large space that lacks ductwork.
Indoor Head Mounting Styles
The indoor component of a ductless heat pump or mini-split typically has three mounting styles: floor-mounted, wall-mounted, and ceiling-mounted.
Wall-mounted heads are the most common and popular because they're easy to install and provide good airflow. However, you typically need to dedicate about 40 inches of wall space to each head.
Floor-mounted heads also provide good airflow, and they can be installed in areas where windows, doors, or other features don't allow for a wall-mounted system.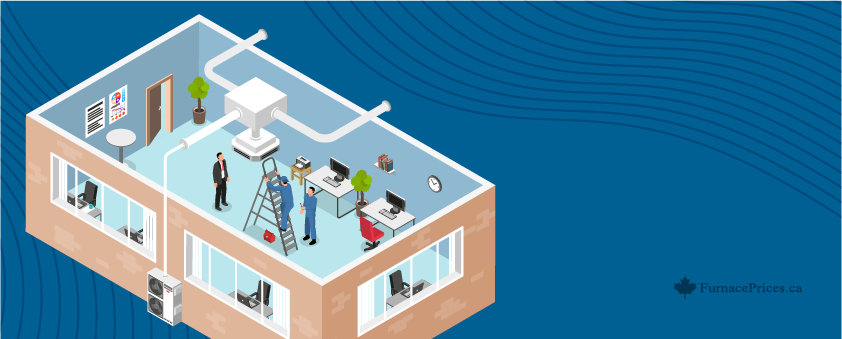 Ceiling-mounted heads are more common in offices and commercial spaces, but they can also be used in residential spaces where wall- or floor-mounted units don't work with the décor or style of the home. The thing about ceiling units is the airflow isn't as good, and they tend to take longer to install.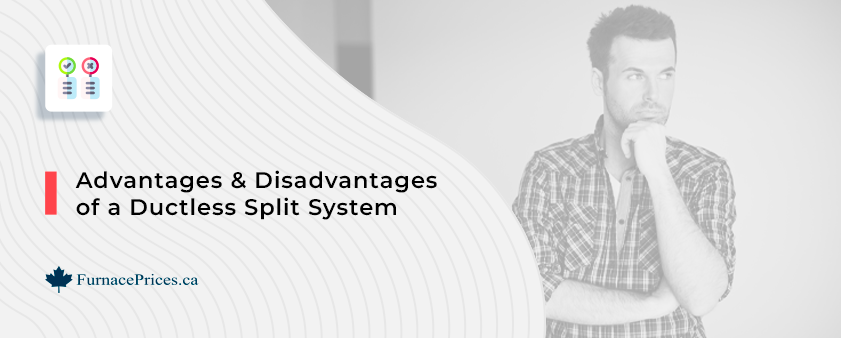 Advantages & Disadvantages of a Ductless Split System
Some pros and cons of ductless systems include: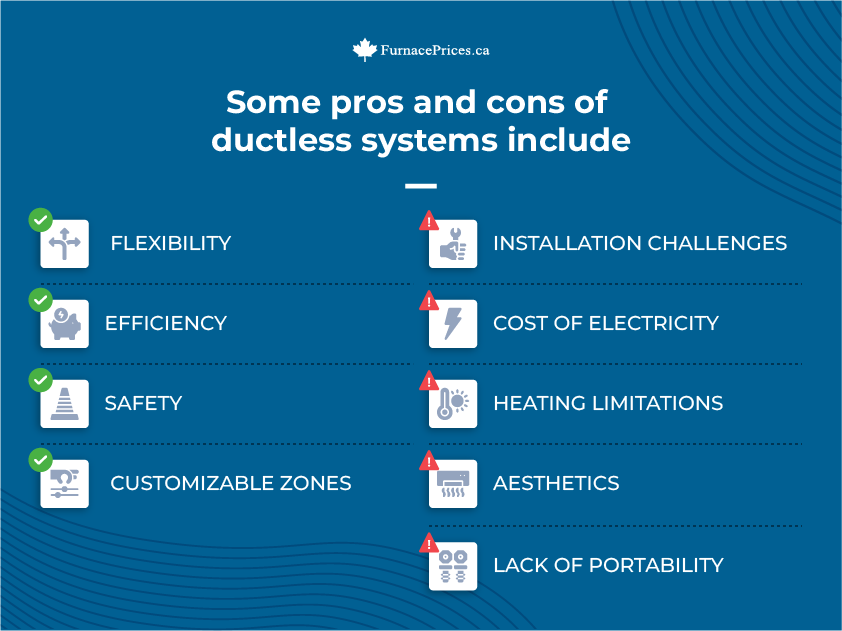 ADVANTAGE: Flexibility – There are several advantages to getting this type of HVAC system, one of which is the fact that ductless systems can offer more flexibility for unconventional spaces and places without ductwork.
Not installing new ductwork may make the total cost lower than, say, buying a new furnace.
However, if you need to purchase multiple units & heads, or require a ductless system that does both heating AND cooling, then the cost can easily approach $6,000 – $8,000, including installation and all associated costs.
Split heating & cooling systems also make good retrofit add-ons to houses with "non-ducted" heating systems, such as hydronic (hot water heat), radiant panels, and space heaters (wood, kerosene, propane). They can also be a good choice for room additions where extending or installing distribution ductwork is not feasible and older homes that require supplemental cooling on the top floor, for example.
Be sure to choose an ENERGY STAR® compliant unit and hire an installer familiar with the product and its installation.
DISADVANTAGE: Installation challenges – Although ductless units can be an excellent option for many situations, the installation can be trickier than simply replacing a furnace. This is because a suitable location for the outdoor unit must be found, which may be somewhere hard to reach, like on the roof. The placement of the indoor units can also be a challenge, and they can only be so far from the outdoor unit.
ADVANTAGE: Efficiency – Mini-split systems may be more efficient and cost-effective than other solutions, especially if you're upgrading from an older system. Replacing an ageing central air conditioner or several window units with a ductless system will probably provide some savings on your utility bills.
Furthermore, ductless systems are often more efficient than ducted systems, which can lose between 20 and 30 percent of the air moving through them to leaks.
DISADVANTAGE: Cost of electricity – However, be cautious of electricity rates and usage, especially if you are considering a ductless system for heating. Because ductless systems run entirely on electricity, this can become very costly in cold winter months.
In most cases, it's hard for a ductless heating system to compete with a gas furnace on operating costs.
ADVANTAGE: Safety – In addition to these features, a mini-split system can even be safer for your home compared to window ACs. There is only a small hole in the wall needed for these systems to be installed, which is far different from the through-the-wall or window-mounted air conditioners that can provide access to intruders.
DISADVANTAGE: Heating limitations – Another potential downside is that these systems are generally not built to handle extreme cold, so they may not heat your home properly below -25 Celsius. However, there are a few models on the market that can handle temperatures of -30 C.
POTENTIAL DISADVANTAGE: Aesthetics – Some people may not like the appearance of the indoor part of the system. While less obtrusive than a window room air conditioner, these units don't have the built-in look of a central system. There must also be a place to drain condensate water near the outdoor unit.
Most indoor units are about seven inches deep and have a sleek, high-tech look. If you're considering a ductless heat pump and really hate the look of the indoor units, then you might want to consider recessed ceiling heads that sit flush with the ceiling.
Many modern systems also offer a remote control to make it easier to control all the system's functions when it's positioned high on a wall or suspended from a ceiling. Newer models may also work with smartphone apps for advanced control.
Some units can even connect via Wi-Fi, and may also be compatible with smart thermostats for automated climate control.
ADVANTAGE: Customizable zones: – Most of the models that are available today can have as many as eight heads (though four heads are the most common), which gives complete individual control in multiple rooms. Every zone can have separate settings and a handheld remote control so you can selectively control the temperature in each room or area.
This can help save money on energy costs if you spend most of your time in specific rooms and less in others.
By contrast, traditional furnaces and central air conditioners generally heat and cool the entire home to the same temperature, unless you have zoned heating control installed or manually close individual registers in each room, which is not recommended.
POTENTIAL DISADVANTAGE: Lack of portability – Compared to less permanent options like a portable or window air conditioner, a ductless system is harder to take with you if you move. That means if you're a renter or looking to move in the near future, then this type of investment might not be ideal.
Ultimately, there are many factors to consider when determining if a ductless split system is the right heating or cooling solution for your needs.
They can be a perfect solution for adding quasi-central cooling or additional heating to a building or space without ductwork.
For help evaluating your options and to get a free price estimate from contractors and distributors in your area, simply request a quote here! You'll often hear from local companies in a matter of minutes!
Financing options are also available, so be sure to ask one of our partners for details.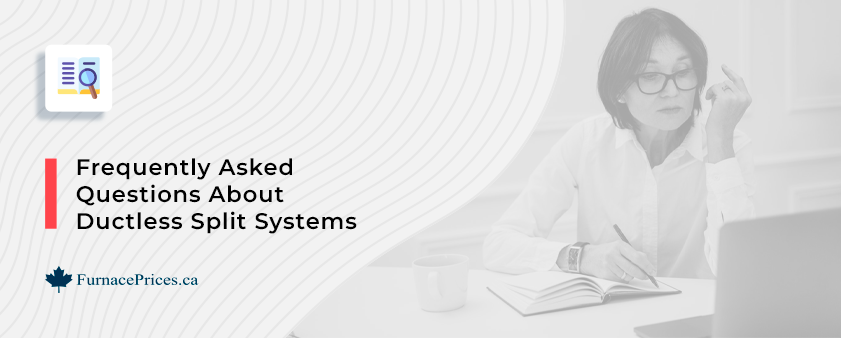 Frequently Asked Questions About Ductless Split Systems
Are ductless air conditioners quiet or noisy?
To indoor occupants, ductless A/C systems are similar to central A/C systems for noise, but they're generally quieter than portable or window air conditioners because the noisiest parts of the system (the compressor and fan) are outside. The indoor ductless units may generate some noise as they cool and circulate air, but they can be as quiet as about 20 decibels—like a low hum or woosh—depending on the make and model.
 
However, the outdoor units tend to have similar noise levels to central air, which can be a little loud if you're sitting outside on a deck or balcony near the unit. The outdoor component of a ductless air conditioner can be as quiet as about 58 – 60 decibels, again depending on the model.
 
Generally speaking, modern ductless systems can be almost silent inside, especially on low settings.
Are ductless systems better than central air or portable/window units?
This depends on your situation, needs, and budget. They each have their pros and cons, with portable and window units being cheaper and moveable, but also less effective, less capable, less efficient, and noisier.
 
Central A/C systems are great for entire homes with adequate ductwork. So ductless air conditioner systems fall somewhere in between and are suitable for specific applications and situations.
 
See our A/C Types Explained article for a more detailed comparison.
Are ductless air conditioners energy efficient?
Ductless mini-split air conditioners tend to be more energy-efficient than portable or window units as they feature more advanced compressor systems and more sophisticated climate control systems, according to ENERGY STAR. They may also offer some operating cost savings compared to a central air conditioning system, as they're able to only cool specific rooms as needed, as opposed to the entire home at once. A fan will be more energy-efficient but won't actually cool the air.
 
Ductless heating systems, however, tend to be less cost-effective than propane or natural gas furnaces because of the higher cost of electricity compared to propane/natural gas in most parts of Canada. Places like Quebec may have cheaper electricity, but winters also tend to be colder, which makes ductless heating less ideal, as most of the systems aren't well suited to extreme cold temperatures.
Are ductless heat pumps worth it?
That depends on your personal needs and preferences of course, but they can be a worthwhile investment for homeowners looking for efficient and effective cooling. If you want something better and quieter than a window or portable A/C but your home isn't well-suited to central air (because you have radiant heating for example), then a ductless system may be a good option. The initial investment required will be somewhat similar to a central A/C ($3,000 – $5,000 on average, including installation) but substantially more than a portable or window unit. That said, you may require multiple window or portable units to cool the same amount of space compared to with a ductless mini-split.
What's the difference between a split A/C and a mini-split A/C?
Split air conditioner is another term for a central air conditioner. Mini-split air conditioner is another term for a ductless air conditioner. The term split air conditioner comes from the fact that a central air conditioning system actually has two separate major components: the outdoor unit most people think of AND the indoor evaporator coil that connects to the furnace and uses the furnace's fan. A mini-split system or a ductless mini-split system is essentially a type of air conditioner which is usually made to cool somewhat smaller areas, rather than an entire home, and the outdoor unit itself is also usually a bit smaller. Hence the name mini-split.
Can I install a ductless A/C myself?
Absolutely not, unless you have the specialized skills and necessary tools. It's best to leave installation to the professionals. And the folks at your home insurance provider would probably agree! Plus, you'll void the warranty on your new system if you try to install it yourself.
What size ductless air conditioner do I need?
This depends primarily on the size of the space you need to cool. The outdoor component will vary in size, with the largest ones able to connect to up to 8 indoor units. The cooling power of ductless A/Cs can vary from 5,000 BTUs to 50,000+ BTUs. Because every situation and home or building is different, online size estimate charts are unlikely to be of much use. In order to determine the size you need, it's best to have a free estimate done by an experienced local HVAC contractor, who will do a load calculation, meaning an assessment of your cooling needs based on the size and configuration of your space.
Where to install a ductless air conditioner?
The exact location of the units will vary by home. In most cases, the outdoor unit will be placed on a rack on the side of the house or even on the roof. In condominium buildings or townhouses, the unit may be placed on/under a deck or balcony. The outdoor unit can only be so far from the indoor units, so this must be considered during installation. The indoor units will be mounted on the wall, floor, or ceiling in the rooms that will be cooled.
How far can the indoor ductless unit be from the outdoor unit?
The maximum distance is about 15 meters in most cases, though this may vary somewhat based on factors like the local climate and whether it's a cooling-only system or heating AND cooling.
Where to buy a ductless mini-split system or ductless air conditioner? Who installs ductless air conditioning?
Similar to buying a central air conditioner, you would purchase a ductless system from a professional local heating & cooling contractor, who would help you choose the right unit & size for your home and handle the installation. Get a free estimate from one of our Certified HVAC contractors!
Can I get a ductless A/C system without the outdoor or indoor unit?
You can purchase either the outdoor or indoor units individually, but you need both for them to work. Some manufacturers sell the indoor and outdoor units as a package whereas others sell them separately. However, both components are required for a functioning cooling or heating system.
Can I buy a natural gas or propane ductless system?
Generally speaking, all ductless systems run on electricity, at least when it comes to everyday consumer applications for the home or for small businesses.
Get a free quote on a new ductless mini-split system from our local partner contractors. We have partners in cities across Canada: Winnipeg, Regina, Saskatoon, Edmonton, Calgary, Vancouver, and most towns across Ontario, including Toronto & the GTA, Hamilton, London, Windsor, Ottawa, and almost everywhere in between!
Get Quotes
How soon are you looking to buy?*