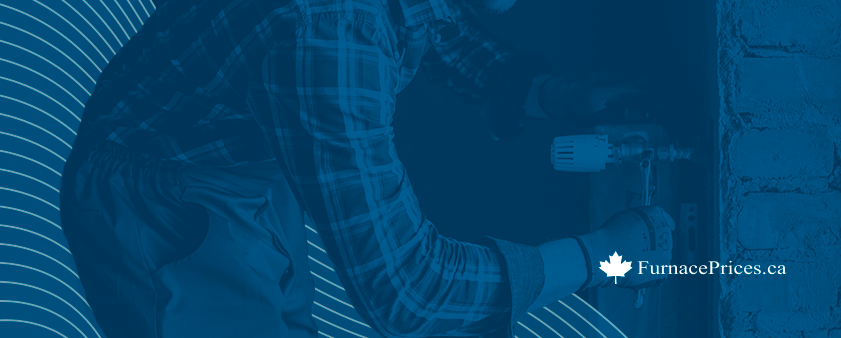 This article will cover everything you need to know about buying a heat pump, including top brands, what a heat pump is, how they work and what they do, the different types of heat pumps, and who they're ideal for.
We will also help you decide if this type of system is right for your home and make the process of choosing one easier. It'll cover things like heat pump efficiency ratings for Canada, common warranty terms, what standard and luxury features are available, and what type of maintenance and service will help you get the most lifespan from your unit.
And we'll go over other relevant things like the environmental benefits of heat pumps, overall pros and cons, what to budget for a new heat pump, and important installation and sizing considerations.
Table of contents
A heat pump may be an effective way to heat your home in winter and keep it cool in summer. This article will not only help you decide if buying a heat pump is a good option for your home, but it will also explain how they work and talk about pricing, types, warranties, efficiency ratings, features, and much more.
What Does a Heat Pump Do?
This type of HVAC system is an electrical device that transfers heat from one location to another. Heat pumps don't actually generate heat. Rather, they move heat and redistribute it in order to heat or cool a specific space.
Common examples that you'd find in your house include refrigerators, freezers, and air conditioners.
With refrigerators and freezers, the heat pump takes hot air from inside the appliance and moves it outside, thereby keeping the inside of the fridge or freezer—and your food—cold.
When it comes to climate control in your house, these systems work in much the same way, moving heat from one place to another to keep you comfortable.
Heat pumps provide air conditioning
All heat pumps function as air conditioners: they take heat from inside your house and move it outside, thereby cooling the air and reducing the temperature inside your home.
Those that function as air conditioners are often referred to as mini-split air conditioners or ductless mini-splits, depending on whether they're ducted or ductless (more on that later). Portable and room air conditioners are also technically examples of ductless heat pumps although they're not usually referred to as such.
Certain heat pumps heat AND cool
Some heat pumps can also function as heaters. In the heating mode, they take heat from the outside air and move it into your house, thereby warming the air inside your home.
These are sometimes referred to as heat pumps, reverse cycle air conditioners, or ductless heat pumps, depending on the style.
Regardless of what they're called, these heat pumps can provide heat in winter and air conditioning in summer.
Are Heat Pumps Good in Any Climate?
They are common all over the world, but for the most part, they're more common in milder climates that don't get the winter deep freezes that many parts of Canada experience.
Air-source heat pumps (more on the different types later) work more efficiently in warmer weather, so they're quite common in Asia, South America, Central America, and the Southern United States.
They typically work in temperatures down to about -20 degrees Celsius. A few brands have started making cold climate models that are designed to work in temperatures as low as -25 to -30 degrees Celsius.
Because cold climate heat pumps are relatively new, it's not all that common to find a house in Canada with one as the only heat source in winter.
That's not to say that Canadians don't use these systems in winter, but it's more common to find them supplemented with a secondary heat source, such as a furnace, boiler, or electric baseboard heating, that can be used when the temperature drops too low for the heat pump to be practical.
In summer, however, they are an excellent option for air conditioning, and they're great at managing humidity as well.
Types of Heat Pumps
There are several different kinds of heat pumps, and they can be categorized based on things like: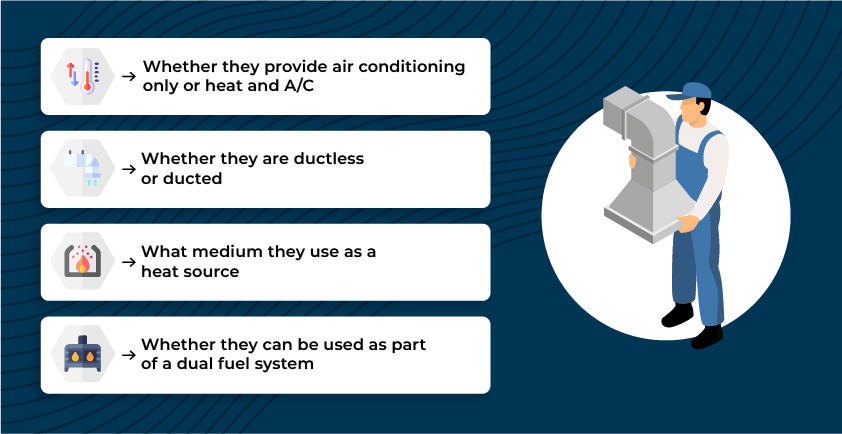 Whether they provide air conditioning only or heat and A/C
Whether they are ductless or ducted
What medium they use as a heat source
Whether they can be used as part of a dual fuel system
Cooling only vs. heating & cooling options
We've already mentioned that some heat pumps are air conditioners only while others have a heating and cooling function.
The two types are almost identical, with a couple exceptions. A heat pump that can heat and cool has a bit of extra piping inside and a special reversing valve that can reverse the flow of refrigerant inside the unit.
We'll cover this in more detail when we talk about how they actually work.
Ductless Heat Pumps
Ductless heat pumps, which are sometimes called ductless mini-splits or ductless air conditioners, are heat pumps that don't need a furnace blower or ductwork to distribute hot or cold air throughout the building.
Ductless heat pumps have an outdoor unit that includes the compressor and condenser. This gets connected to an indoor unit that houses the evaporator and blower. Instead of using ductwork, ductless mini-splits use the blower inside each indoor unit to circulate air-conditioned or heated air.
As such, each room or area that you want to heat or cool needs its own indoor unit. With multi-splits, you can connect multiple indoor units to a single outdoor unit to heat and cool larger spaces and allow smaller customized temperature zones within that larger space.
Ductless systems can be expensive to buy, but it's cheaper to buy a ductless mini-split than to retrofit a space with ductwork.
Ductless mini-splits are great climate control solutions in condos, small homes, offices, cottages, additions on a home, in-law suites, barns, garages, or even rooms in a house with unique climate needs, such as a sunroom.
Learn more about ductless heat pumps
Ducted Heat Pumps
Ducted heat pumps work more like central air conditioners and central heating in that they use ductwork and vents to distribute heated or cooled air around the house.
Like a ductless system, a ducted system has an outdoor unit and an indoor unit.
The indoor unit still houses the evaporator and blower, but instead of having an indoor air handler in each room, a single indoor unit is connected to the ductwork the same way a furnace would be.
The indoor blower then blows the heated or cooled air into the ductwork to be distributed around the house. A ducted unit also has a component called a plenum, which helps to distribute air.
Ducted heat pumps are good for homes that already have ductwork and vents in place because the cost of installing this in an existing home can be prohibitive.
Air-Source Heat Pumps
Air-source heat pumps are the most common type in Canada. They use heat energy from the air to heat or cool. Ductless heat pumps are a type of air-source heat pumps.
In the summer, an air-source heat pump will take heat from the air inside your house and transfer it to the air outside. In winter, it will take heat from the air outside and transfer it inside.
Although it might seem surprising that it can extract heat from the air in the middle of winter, the process works because the expansion valve inside the unit forces the temperature of the refrigerant to drop significantly. As long as the refrigerant is colder than the air outside, then the refrigerant will absorb heat from the air.
This is the type of heat pump that typically only works in temperatures as low as -20 degrees Celsius, though, again, cold climate models can work in even colder temperatures.
Ground-Source Heat Pumps
Ground-source, or geothermal heat pumps, take thermal energy from the ground or groundwater and transfer it to the air inside, and vice versa.
One of the major benefits of a geothermal system is that it's more efficient in warmer and colder temperatures because the temperature of the ground stays consistent throughout the year, no matter how hot or cold it feels outside.
Geothermal systems can be found all over Canada and their popularity is growing, but they're still less common than air-source heat pumps. For one, geothermal is more expensive to install because the loop system has to be buried in the ground.
Moreover, geothermal systems aren't possible in all situations, and whether you can install one will depend on whether you have enough space, whether the landscape allows it, and the type of soil you have.
Water-Source Heat Pumps
Water-source heat pumps take thermal energy from a body of water like a local pond and transfer it to the air inside, and vice versa.
These systems have the same benefits as geothermal systems, but may be less expensive to install if a suitable body of water is available.
The installation of a water-sourced system is less involved than a ground-source system. You have to install the loop in the pond, and connecting it to the heat pump.
Most water-source systems are ducted.
Air-to-Water Heat Pumps
Air-to-water heat pumps extract heat from the air and transfer it to water inside a closed-loop to heat your house. This is a type of hydronic system that can use radiators (like a boiler system) or radiant flooring to distribute heat.
In reverse, the water will absorb heat from the air in your home and expel it outside to cool your home in summer.
These systems aren't nearly as common in Canada.
Dual Fuel Heat Pumps
A dual fuel heat pump is one that works in conjunction with another heat source, often a natural gas/propane furnace, to heat your home.
These systems are controlled with a single thermostat, which will automatically switch between the heat pump and furnace.
When the outside temperature is in the right range, the thermostat will engage the heat pump. But when the weather gets too cold for the heat pump to work efficiently, the thermostat will switch to the furnace.
Not all models are dual-fuel compatible, and not all furnaces are either, so you have to coordinate your equipment to run a system like this.
How Heat Pumps Work
Components
To understand how a heat pump works, it will help if you first understand the important components.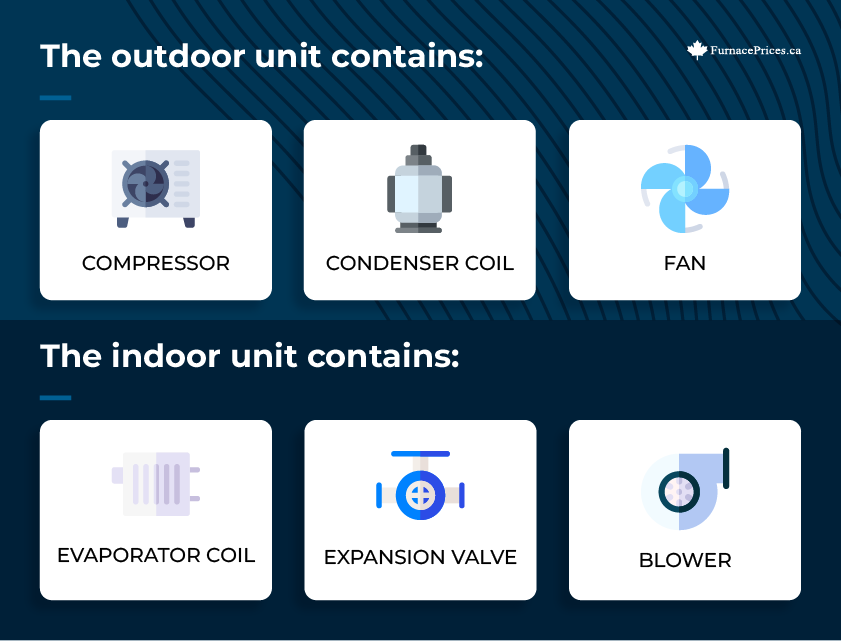 The outdoor unit contains a:
Compressor
Condenser coil
Fan
The indoor unit contains an evaporator coil, the expansion valve, and a blower.
The indoor and outdoor units are connected by two tubes that contain refrigerant, one in liquid form and one in vapor form.
Cooling mode
The entire operation of a heat pump basically comes down to changing the pressure and temperature of the refrigerant so that it can absorb heat in one place and release it in another.
There are different types of refrigerants, but they all have one thing in common: their boiling point is easy to manipulate with pressure.
In the cooling mode, the refrigerant inside the heat pump starts by entering the compressor, which condenses the refrigerant to a liquid and increases its temperature.
From there, the refrigerant travels to the condenser coil. When this happens, the refrigerant heats the condenser coils. The fan blows air over the coils, cooling the refrigerant.
The cooled refrigerant, which is still in liquid form, then travels indoors to an expansion valve, which reduces the pressure, causes it to vaporize and cool considerably.
The cold, vaporized refrigerant then goes through the indoor coils. As the refrigerant passes through the evaporator coil, it absorbs heat from the air. The blower then blows the cold air throughout the room. Moisture also condenses on the cool evaporator coils, which is why heat pumps are great at managing humidity.
As the refrigerant absorbs thermal energy, it heats up and becomes a gas.
From there, the refrigerant travels back outside to the compressor, and the cycle begins again.
Heating mode
A heat pump that can provide heat has a reversing valve because the process and refrigerant flow are reversed in the heating mode.
In the heating mode, the indoor evaporator coil becomes the condenser and the outdoor condenser coil becomes the evaporator.
Outside, the refrigerant inside the evaporator absorbs heat from the air, and the refrigerant then travels to the compressor to be pressurized.
The refrigerant then travels inside to the condenser coil, where the refrigerant releases its heat, and the hot air is blown into the space. Then the cycle repeats.
Energy Efficiency
Heat pumps are highly efficient devices. They also use about 50 percent less electricity than other electric heating systems like baseboard heaters or electric furnaces. This is because heat pumps don't create thermal energy, they just move it from one place to another.
There are many ways to measure the efficiency of a heat pump, but two of the most common are seasonal energy efficiency ratio and heating seasonal performance factor.
Seasonal energy efficiency ratio, or SEER, is used to measure the performance of a heat pump in the cooling mode.
Heating seasonal performance factor, or HSPF, measures the performance of a heat pump in the heating mode.
A heat pump that does both will have both SEER and HSPF listed.
SEER and HSPF both measure how much cooling or heating a heat pump will produce compared to how much electricity it uses. The higher the SEER/HSPF, the more efficient the unit.
Heat Pump SEER ratings in Canada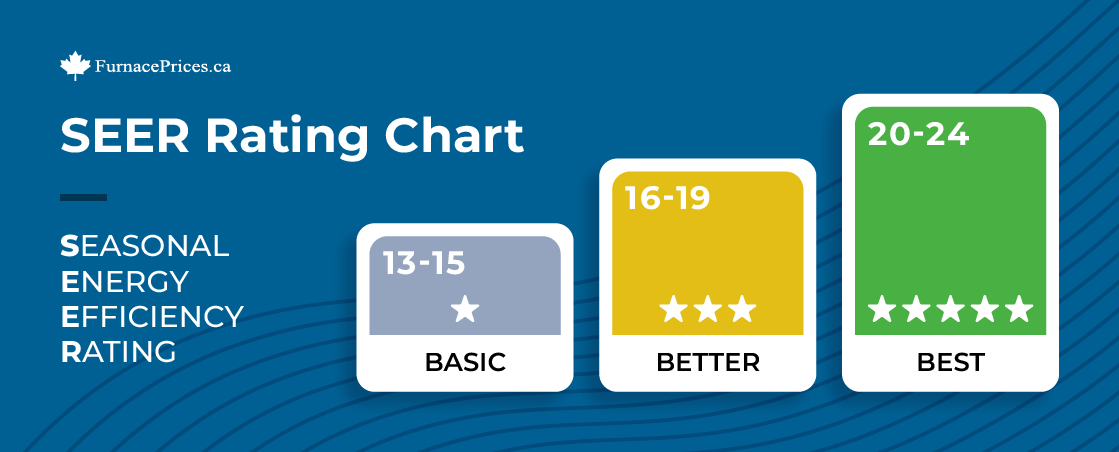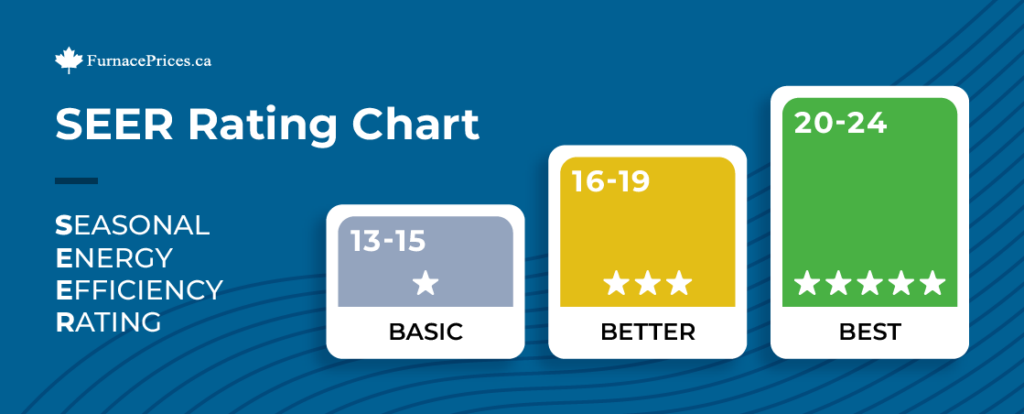 In Canada, heat pumps must have a SEER of at least 14, and there are units on the market right now with SEER ratings anywhere between 14 and 42.
Although the ultra-high SEER units are available, that much cooling power isn't always necessary in Canada.
The higher SEER models tend to cost more, and you might not recoup that money in energy savings.
Generally speaking, a heat pump with a SEER between 16 and 18 will usually provide sufficient air conditioning power for Canadian summers.
Heat Pump Heating Efficiency in Canada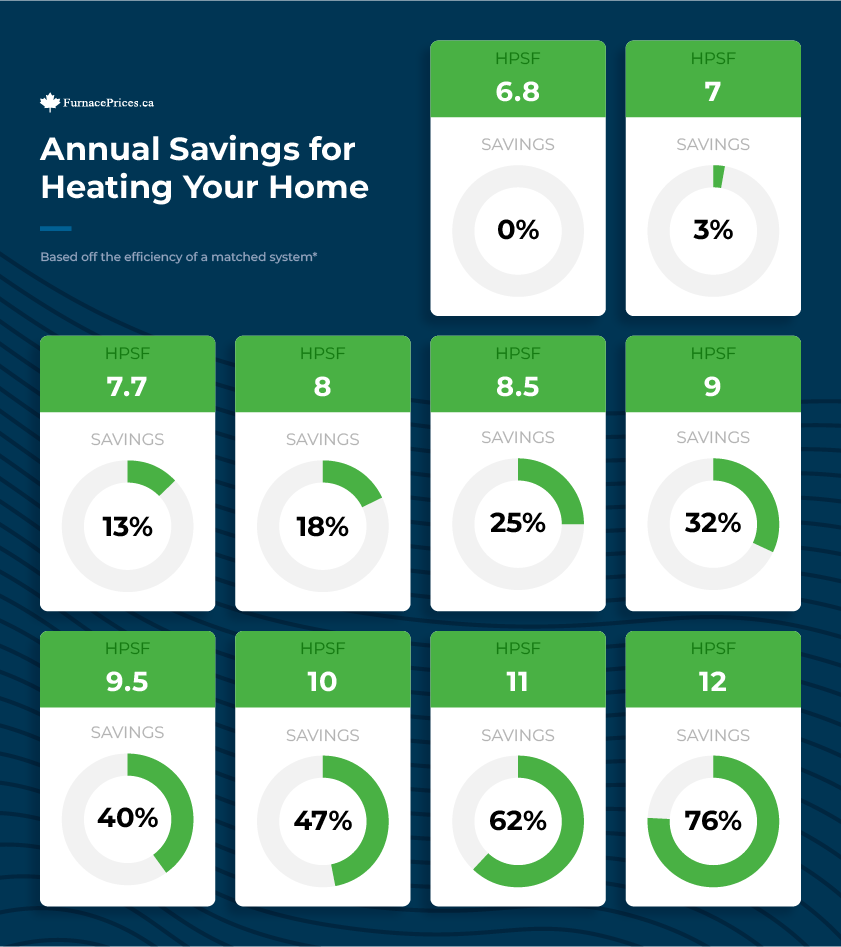 Heat pumps must meet a 7.1 HSPF minimum in many parts of Canada, and there are ones on the market with HSPF ratings ranging from 7.1 to 13.2.
Although lower HSPF models are available, an HSPF of at least 12 is generally recommended for most parts of Canada.
One thing to keep in mind is that the efficiency of the unit will be impacted by the temperature. The colder it gets, the less efficient the heat pump will be, especially if you live in a climate with humid winters.
It's important to pay attention to the temperature rating of a heat pump and make sure it matches your climate, especially if you plan to use it as a sole heat source.
Is an ENERGY STAR® Model Worth It?
It can sometimes be difficult to know if a particular heat pump is worth the investment, but looking at units that have ENERGY STAR certification can make the process easier.
Not only do ENERGY STAR appliances meet certain efficiency requirements, but they've also been tested for performance. You might spend a bit more on an ENERGY STAR model, but you'll get guaranteed efficiency and performance in exchange.
Another thing about ENERGY STAR certification is that it can make a heat pump more likely to qualify for rebates, and that could offset any additional cost there might be.
Advanced Features and Technologies
Like with furnaces and air conditioners, heat pump technologies have improved over the years, and these days you can get some pretty cool features with these devices.
Some of the features are purely functional, including models that have automatic or on-demand defrost modes. This is important in the winter because it prevents ice from building up on the outdoor unit, which would impact efficiency.
There are also geothermal models that are equipped with a desuperheater, which is an additional heat exchanger that extracts heat from the compressor and transfers it to your domestic water heater.
Other features are design-related and meant to improve efficiency and performance, and that includes special compressor designs. One example is the scroll compressor, which is quieter and longer-lasting than a traditional compressor.
Some compressors are two-speed or variable-speed. These tend to be more efficient, quieter, and less expensive to run, along with providing other benefits.
Other heat pumps have variable-speed motors , so they can adjust the airflow as necessary to provide more efficient and economical operation..
Then there are features for improved convenience, efficiency, and comfort, and that includes things like: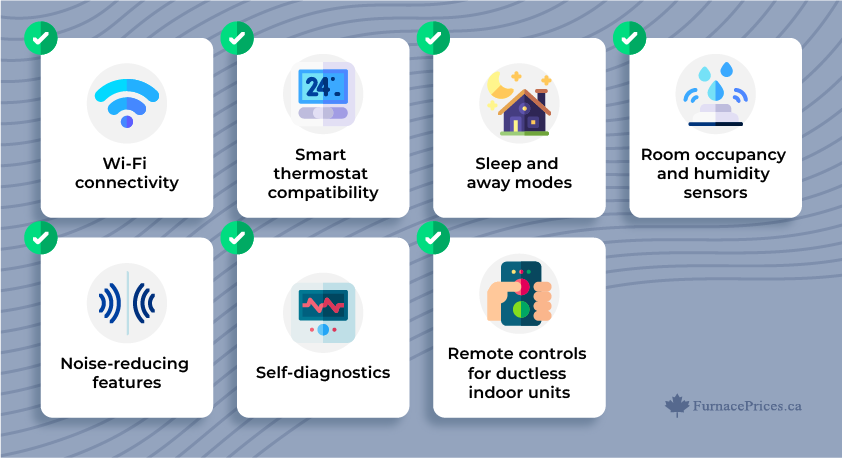 Wi-Fi connectivity
Smart thermostat compatibility
Sleep and away modes
Room occupancy and humidity sensors
Noise-reducing features
Self-diagnostics
Remote controls for ductless indoor units
Getting the Most from Your New Heat Pump: Helpful Tips About Lifespans, Maintenance, and Common Problems
Modern heat pumps typically have a lifespan of 15 to 20 years, but you can get the longest life possible by taking care of the system. Regular TLC will also keep the system working as efficiently as possible for longer, ensuring the most monetary savings from energy efficiency.
Most of the maintenance your heat pump will require should be left to a professional. Hiring a licensed HVAC pro to come in once or twice per year for cleaning and service will do wonders for the performance, efficiency, and lifespan of the system.
As for maintenance you can do yourself, one of the most important things is changing or cleaning the filter. It's recommended that you do this every month when the system is being used for heating or cooling.
A clean filter will help maintain the efficiency of the unit, keep the air quality in your home high, and prevent dust and dirt from blocking airflow.
Moreover, if you notice any of the following, you should contact a licensed HVAC professional to have a look at the system:
Water leaking from the indoor or outdoor units
Bad odours coming from the indoor unit
Airflow problems that aren't related to the filter
A lack of heating or cooling power
Not enough heating or cooling power
Important Considerations When Buying a Heat Pump
There are a lot of things to consider before you buy a heat pump. Imagine a friend sent you to the grocery store for milk. Sounds easy enough, right? But when you get there, you realize that it's a lot more complicated because there are so many decisions to make: dairy or non-dairy? lactose-free? organic? what size carton? chocolate or regular?
Buying the right heat pump requires a lot of careful consideration too, including size, type, brand, and more. Here are some of the most important things you'll want to think about when shopping for one.
Sizing
Heat pumps have to be sized properly for your space the same way furnaces and air conditioners do.
A heat pump that's too small or too large won't operate efficiently, won't heat/cool your home properly, and won't last as long as it should.
The main variable you use when sizing a heat pump is the square footage of your home, but that only gives you a base calculation. From there, you then have to take into account things like:
Your climate (humid, dry, or temperate)
How much insulation there is in the house, and where it is located
Whether your home has unique heating/cooling needs (such as being south-facing or totally in shade)
Whether the system is the sole heating source
The efficiency of the heat pump
Whether you're heating/cooling the entire space or only select areas
Weighing the Benefits of an Efficient Heat Pump
We've already discussed heat pump efficiency, and that's something you'll want to consider when shopping around. But there are many other advantages to heat pumps.
The efficiency of the unit will impact the price, but it will also help to determine the cost of operating the system and the size of the system you need.
The more efficient a heat pump is, the more expensive it will probably be. However, a more efficient model will cost less to operate, and you might be able to get away with a smaller and less expensive unit. Moreover, more efficient units that are ENERGY STAR certified might qualify for more rebates.
And remember that HSPF efficiency is particularly important in Canada if you plan to use the heat pump as a primary heat source in winter. You'll probably need a system with an HSPF of at least 12.
Finding a Heat Pump Type That's Right for You
We've already covered many of the different types of heat pumps, and the various styles will be appropriate in different situations.
Some of the decisions will be easier to make than others. For example, if the space you need to heat or cool doesn't have ductwork and vents already installed, then a ductless system is probably the most feasible option.
Similarly, if your lot and landscape simply don't allow for geothermal, then you can eliminate that option.
To recap, the main decisions you'll have to make are: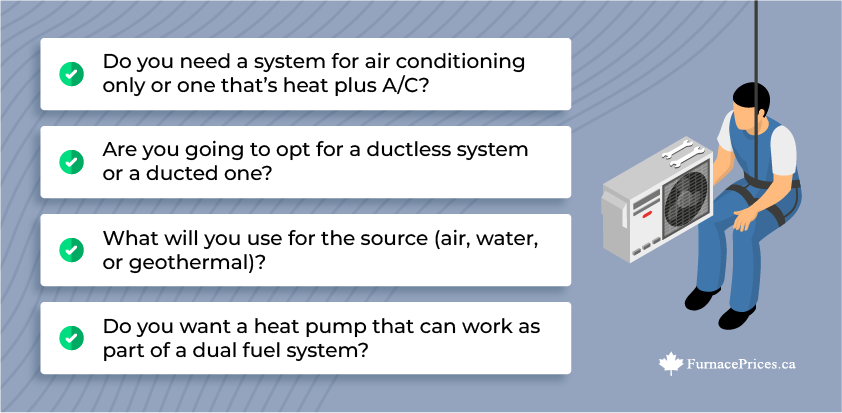 Do you need a system for air conditioning only or one that's heat plus A/C?
Are you going to opt for a ductless system or a ducted one?
What will you use for the source (air, water, or geothermal)?
Do you want a heat pump that can work as part of a dual fuel system?
What's Your Budget and How Much Do Heat Pumps Cost?
The average cost to buy and install an new heat pump in Canada starts at $3,000 to $5,000, and models that heat and cool will start around $3,500. Depending on the specific brand and model, heat pumps can go as high as $8,000 or more.
There are lots of factors that will influence heat pump costs, such as:
The size of the unit (BTU output for heating/cooling)
Efficiency ratings
Additional features
Ductless versus ducted
For ductless, the number of indoor and outdoor units you need
A/C only versus heating and air conditioning
Air-source versus geothermal or water
Installation costs (geothermal will have the highest installation costs)
Where you live
What brand you choose
Brand can make a difference in terms of costs because some brands—like York and Keeprite, for example—are economy brands that charge a lot less for their products compared to premium brands like Lennox or Carrier.
Top Heat Pump Brands
Many of the same HVAC companies that make furnaces and air conditioners also make heat pumps, so you're probably familiar with many of the names.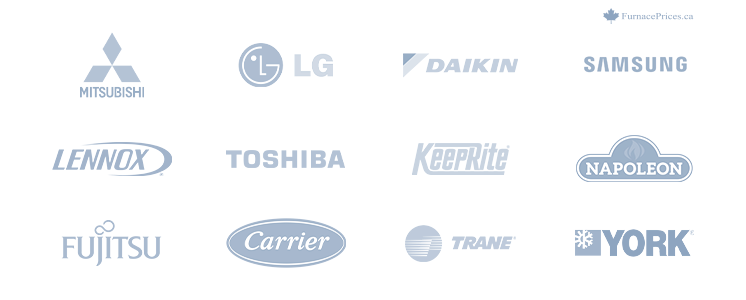 Some of the most common and popular heat pump brands in Canada include:
York
LG
Keeprite
Daikin
Napoleon
Mitsubishi
Samsung
Fujitsu
Toshiba
Carrier
Trane
Lennox
Some brands will be more expensive than others, and some will offer features and technologies that others don't.
But in the end, you have to remember that only a few parent companies are responsible for many of the brands out there, so the name on the side of your heat pump shouldn't account for a huge part of the decision-making process.
Hiring a Licensed HVAC Professional
Buying a new heat pump requires a significant investment, and one of the biggest favours you can do for yourself is to find a licensed HVAC expert to help you along the way. Here's why. They'll be able to:
Help you determine the best system for your needs
Assess whether your best bet is an air-source, water-source, or geothermal system
Provide you with transparent quotes
Size the system properly for your space
Install the system correctly without voiding the warranty
Configure the system so it's working at peak efficiency
Set up HVAC accessories like thermostats or sensors
Be available down the road for maintenance and service
Help you with rebate applications
Beyond that, some contractors also offer additional labour warranties when they sell and install HVAC systems, and that could save you on service, maintenance, and repairs.
Not sure who to turn to for help? Get a quote from a verified local expert in your area today.
Heat Pump Government Rebates
Currently the Canadian federal government is offering up to $5,000 through the Greener Homes Grant Program for home upgrades including installing a heat pump.
See our full government HVAC rebates guide for details, qualification criteria, and how to apply.
Basic Overview of the Heat Pump Installation Process
The installation process for a heat pump depends first on whether it's an air-source, water-source, or ground-source system, and then on whether the device is ducted or ductless.
Geothermal Installation
The installation of a geothermal system is much more involved because first and foremost, you have to install the loop.
That involves digging out a horizontal or vertical section of the property and installing the piping through which the refrigerant will run. Once that's complete, the loop will be connected to the heat pump.
Most geothermal systems are ducted.
Ductless Installation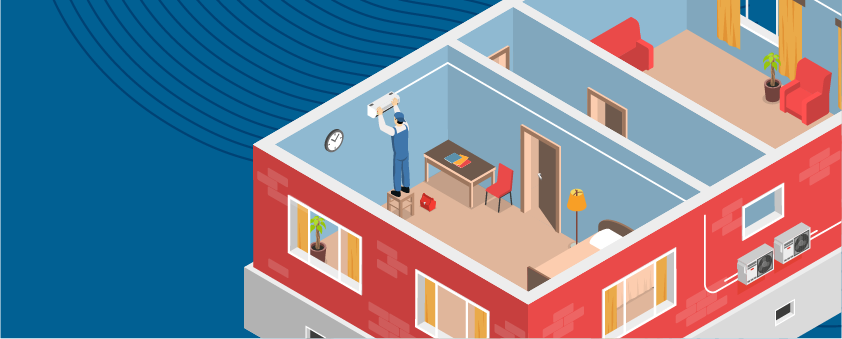 To install a ductless heat pump, the HVAC professional will determine the best place to install the outdoor unit, which will be in a strategic position according to where the indoor units will be. From there, an indoor unit will be installed in each room or space that you want heated/cooled.
There are wall-mounted, floor-mounted, and ceiling-mounted units available for the indoor air handlers.
Once the indoor and outdoor units are in place, the installer will drill small holes through the exterior walls to install the refrigerant lines that connect the indoor and outdoor components.
Ducted Installation
Installing a ducted heat pump is very similar to installing a central heating system. The outdoor unit will be installed outside the house, and the indoor unit will then be connected to the existing HVAC ductwork.
When the system is running, the heated or cooled air will be circulated using the ducts and vents.
The cost of retrofitting a space with ductwork can be prohibitive, so this type of system is typically only feasible if the space already has ducts and vents in place.
Environmental Benefits
There are a few ways that heat pumps can be more environmentally friendly compared to other types of heating systems.
Part of this has to do with the fact that they are powered by electricity.
As long as your electricity comes from a renewable source, such as hydroelectric, solar, or wind power, you can reduce your home's greenhouse gas emissions and reliance on fossil fuels with an electric heat pump versus a natural gas or propane furnace.
In fact, an electric heat pump can reduce greenhouse gas emissions by 97 percent compared to a high-efficiency natural gas furnace.
You do have to keep in mind, however, that in some places, electricity generation still relies on burning coal, oil, or natural gas. If that's the case where you live, then you won't get the same environmental benefit by switching from a natural gas/propane furnace to a heat pump.
At the same time, they are significantly more efficient than electric furnaces or baseboard heaters, so switching from one of those heat sources to a heat pump can be a greener choice, even if your electricity generation relies on fossil fuels.
A Caveat About Heat Pumps and the Environment
One thing to keep in mind is that while heat pumps can be better for the environment in terms of reducing greenhouse gas emissions from fossil fuels, they do still have a challenge: refrigerants.
Older refrigerants were damaging to the ozone layer, and while manufacturers have adopted non-ozone-depleting refrigerants, there are still issues.
While modern refrigerants don't deplete the ozone layer, they do contribute to climate change by trapping heat in the atmosphere. This can happen when heat pumps are manufactured, if your system develops a refrigerant leak, or after it has been disposed of.
As long as you maintain your heat pump properly, fix refrigerant leaks as soon as they happen, and dispose of your old one properly, then you can help to mitigate the environmental impact of refrigerant use.
Should You Buy a Heat Pump?
Heat pumps are extremely versatile and can work well in a variety of situations, especially when you consider the different types that exist.
Ideal Places for Ducted Heat Pumps
A ducted heat pump can easily replace a furnace and central air conditioner in any space that has ductwork. Again, you just have to be mindful when using this type of system as your only heat source in Canada, or have a backup in place for emergency temperature drops.
As such, ducted heat pumps—especially air source ones—could probably function efficiently and reliably in just about any older home, new house, office building, school, or other building that has existing ductwork and vents.
Ideal Places for Ductless Heat Pumps
On the other hand, ductless systems can also be great in a variety of spaces, including any building or space that's never had central heating or air conditioning and doesn't have existing ductwork. Here are some examples of spaces where ductless heat pumps can be ideal HVAC solutions: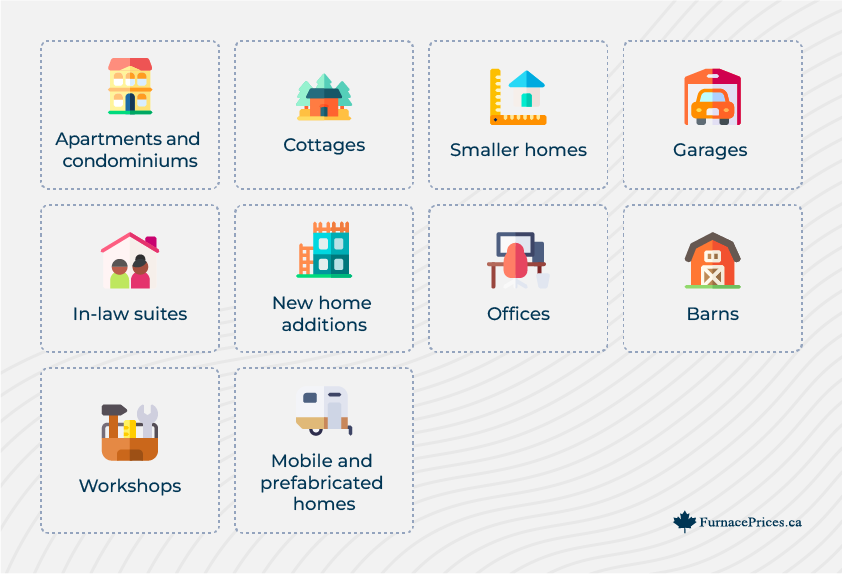 Apartments and condominiums
Cottages
Smaller homes
Garages
In-law suites
New home additions
Offices
Barns
Workshops
Prefabricated homes
Thanks to how adaptable ductless systems are, ductless heat pumps can be used to heat or cool entire spaces, to heat or cool individual spaces within a larger building, or to supplement another heating and cooling system.
For example, if you have central heating and central air in a large house but find that the third floor is always unbearably hot in summer, then a ductless heat pump could supplement your air conditioner to make the third floor more comfortable.
Similarly, you could use a ductless system to supplement an existing heating/cooling system for rooms that have unique temperature conditions, such as a sunroom, a room above a garage, or even a basement suite.
Common Heat Pump Warranty Terms
Heat pumps come with warranties that protect your investment in the same way that furnaces and air conditioners do.
And like furnaces and air conditioners, the exact warranty terms and conditions will depend on the make, model, and brand.
A standard warranty for heat pumps is a five to 10-year parts warranty. Some brands have an additional warranty that covers just the compressor.
There are even a couple brands that offer unit replacement warranties. That means if a crucial component like the compressor fails during the coverage period, the manufacturer will provide a new heat pump.
Although you might expect the expensive, premium brands to offer the best warranties, that's not usually the case. In fact, oftentimes the economy brands will offer better warranty terms, including generous terms like lifetime compressor warranties and unit replacement warranties.
You'll want to pay attention to the warranty terms because a good warranty can save you money, but it will also tell you how long you can reasonably expect a new heat pump to perform.
To be eligible for the longest warranty terms possible, you'll likely have to register a new heat pump with the manufacturer within 60 to 90 days of installation.
Get Quotes
How soon are you looking to buy?*