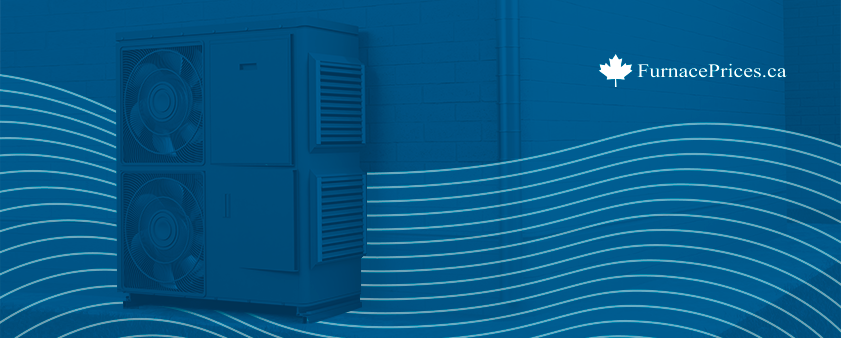 Let's examine the top advantages and disadvantages of heat pump systems for heating and cooling your home in Canada.
Heat pumps have long been popular in warmer climates like the United States, however they're also becoming increasingly popular in Canada. This is partially due to improving heat pump technology that works in colder temperatures, among other factors.
Increasingly, there are also government and utility company rebates available for Canadian homeowners wanting to install a heat pump in their home.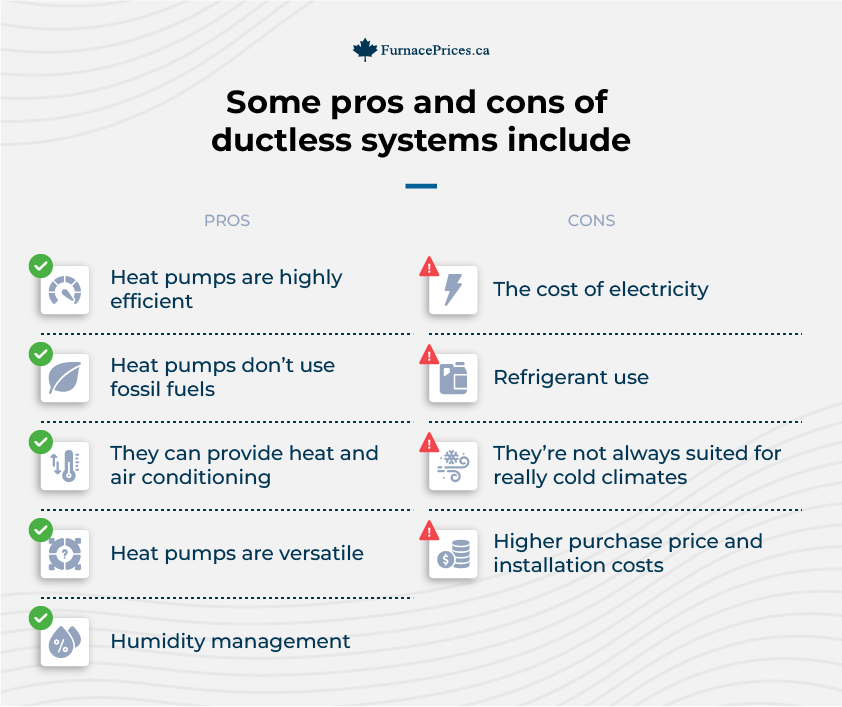 Advantage: Heat pumps are highly efficient
Heat pumps don't produce their own heat and instead transfer heat from one place to another. As a result, they're far more efficient than appliances that generate heat, such as natural gas furnaces, boilers, or electric baseboards.
In fact, most heat pumps have efficiency ratings over 100 percent, meaning they produce more thermal energy than they use electricity.
What does that mean for you? Better efficiency means lower energy costs, so you'll see a reduction in your electricity bills when you switch to a heat pump from another electric heat source. Similarly, depending on the price of electricity versus natural gas where you live, you might even be able to reduce heating costs compared to a furnace or boiler.
Heat pumps have been widely touted as an important part of the fight against climate change, and reducing our reliance on fossil fuels.
Disadvantage: The cost of electricity
Heat pumps run on electricity and not natural gas, and while electricity is usually the more environmentally friendly option depending on the source, it typically costs quite a bit more than natural gas.
A heat pump will be a lot more efficient, but you might not actually end up saving money compared to a natural gas boiler or furnace because of the higher energy costs with electricity.
Another potential issue is that heat pumps won't work during a power outage. Now, furnaces and boilers won't work either because they still have components that require electricity to operate, but this could be important if you currently rely on a heat source like a wood stove, which will continue to produce heat when the power goes out.
Advantage: Heat pumps don't use fossil fuels
Heat pumps are electrical appliances. More than 80 percent of Canada's electricity is generated from renewable sources or nuclear, so if you operate a heat pump in Canada, then chances are you aren't relying on fossil fuels.


That being said, a little more than 19 percent of our electricity does come from fossil fuels, so it will depend on where you live.
So why is it important that heat pumps don't typically use fossil fuels? For one, renewable energies are much better for the environment, so using a heat pump instead of a natural gas appliance will help to reduce your home's carbon footprint.
But safety is another issue too. There's always the risk of gas leaks and carbon monoxide poisoning with natural gas appliances like furnaces and boilers, but this risk is eliminated with an electric heat pump.
Disadvantage: Refrigerant use
While heat pumps may be more environmentally friendly because they use electricity instead of fossil fuels, they aren't completely carbon neutral, and one potential problem is the refrigerants they use.
Ozone-depleting refrigerants are banned in Canada, but modern refrigerants can still have some negative environmental effects. That's why it's important to service your heat pump regularly, fix refrigerant leaks immediately, and dispose of it properly at the end of its lifecycle.
Advantage: They can provide heat and air conditioning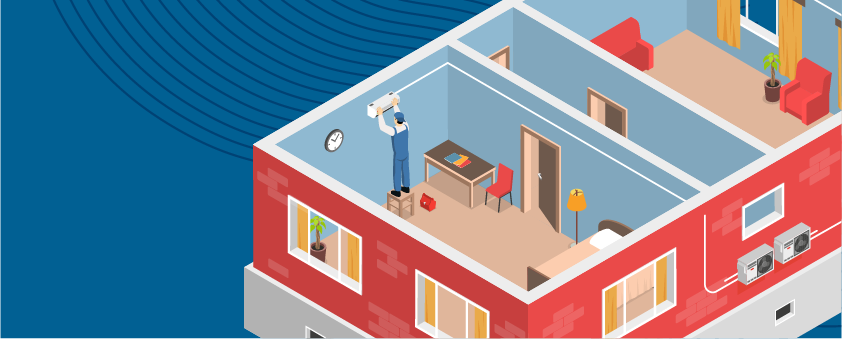 Some heat pump models can work as air conditioners in summer and provide heat for your home in winter, and there are a number of benefits to this.
For one, you only have to buy a single heat pump rather than buying a furnace/boiler plus an air conditioner. Similarly, you only have to pay to install one device. Finally, you only have to pay for maintenance on one appliance, though you might need to have the heat pump serviced twice annually (which would be similar to paying for service for a furnace plus an a/c).
When you're shopping, just be aware that some heat pumps only provide air conditioning, so if you want one that does both, then you'll have to pay attention.
Get Quotes
How soon are you looking to buy?*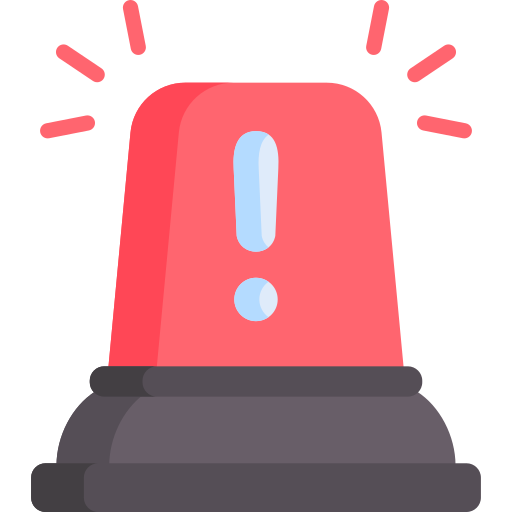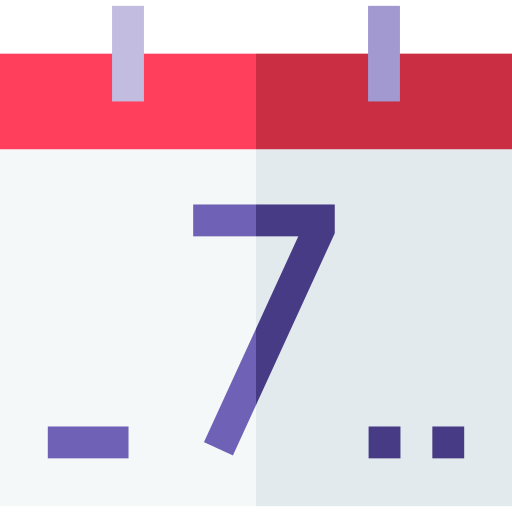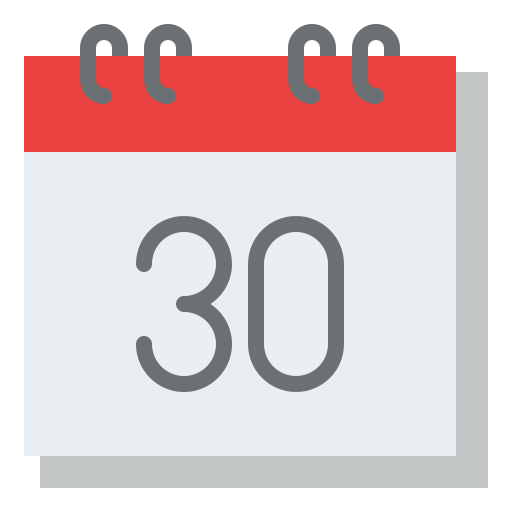 Disadvantage: They're not always suited for really cold climates
Most heat pumps are good down to about -20 degrees Celsius, and a few special models can handle winters as cold as -25 to -30. However even if they can still operate at those extreme temperatures, they become less effective the closer the outside temperature gets to that point.
The models rated for the coldest temperatures also tend to be quite a bit more expensive, with prices that can exceed $15,000 in some cases, including installation, Although government rebates can help offset this.
And of course there are plenty of parts of Canada where winters can get cold enough that a regular heat pump won't be powerful enough to keep your home comfortable.
"That being said, it doesn't mean a heat pump isn't an option worth considering for Canadians."
Since extended periods of extremely cold temperatures may only occur for a relatively small number of days overall throughout the year. And so as long as you have a supplementary heating option for those days, you should be fine.
If you live in a part of the country with harsher winters and still want a heat pump, then you might consider a supplemental heat source, like a boiler system, electric baseboard heater, space heater, furnace, or even a wood stove.
Advantage: Heat pumps are versatile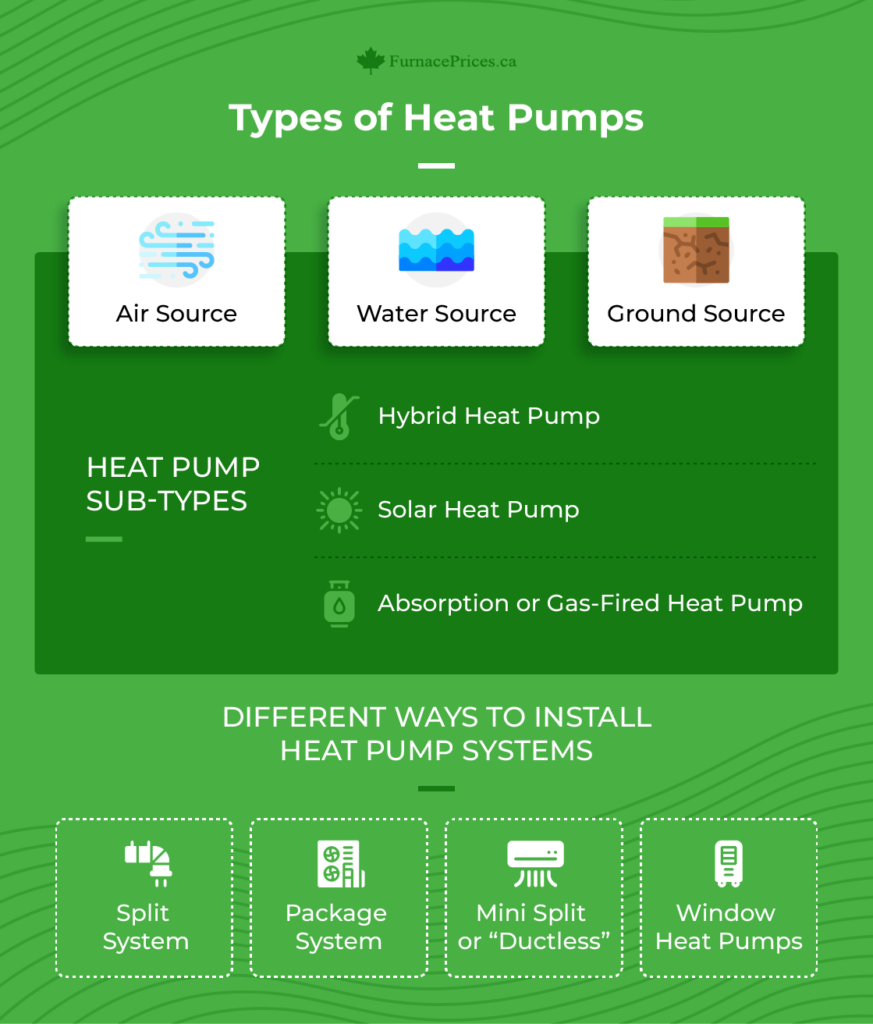 There are many different types of heat pumps, including ducted and ductless ones, air-source, ground- and water-source, and more, so chances are you'll be able to find a model that meets all your needs.
For example, if you have the right landscape and a big enough budget, then you could potentially install a geothermal heat pump that provides you with heat, air conditioning, and domestic hot water.
Or if you have an existing ducted HVAC system and just need to bolster the climate control in certain parts of the house, then a small ductless heat pump could be a great option. And if you're looking to replace a central heating and air conditioning system with a single device, then a ducted heat pump could be a great option.
Disadvantage: Higher purchase price and installation costs
Heat pumps that heat and cool can cost as little as $3,500, but they can also run upwards of $8,000 or more. By comparison, furnaces and air conditioners tend to cost between $3,000 and $6,000 each, though some can be as much as $7,500 or more.
But here's the thing: while you might spend more for a heat pump than you would for a furnace OR air conditioner, a single heat pump that heats and cools could be more affordable than a furnace AND air conditioner. Just remember that you might also have to factor in the cost of a supplemental heat source in winter.
Moreover, heat pumps that only cool will be similar in price to air conditioners, so the cost would still be comparable if you're just replacing an a/c.
And one more thing to keep in mind is the type of system you want. The installation cost for a geothermal system is going to be substantially more than an air-source heat pump. With geothermal, you can expect to pay between $25,000 and $50,000 for installation and setup.
Advantage: Humidity management
Air conditioners naturally dehumidify the air inside your home, with two-stage and variable-speed ones providing the best moisture management. Heat pumps also dehumidify your home in summer, and this can make the air more comfortable and take some strain off the system because humid air is harder to cool.
In winter, however, a natural gas furnace can dry out the air and make your home less comfortable. By contrast, a heat pump in the heating mode won't dry out the air quite as much as a gas furnace, so your home might be more comfortable.
Get free estimates from our Certified local HVAC contractor partners. Our network of trusted local HVAC providers across most of Canada can help you decide if it's the right heating & cooling option for your home.
Get Quotes
How soon are you looking to buy?*