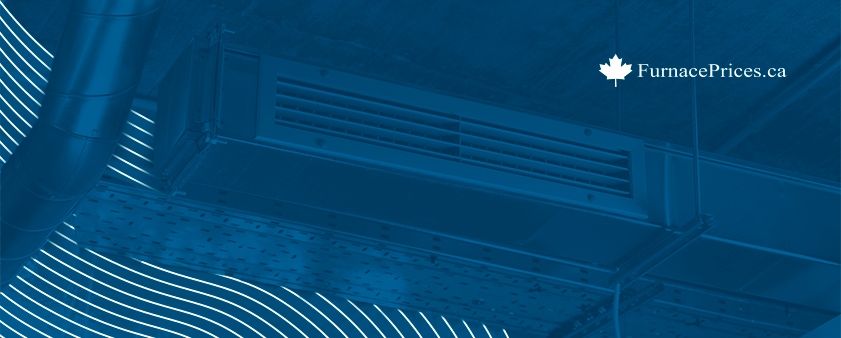 Everything you need to know about buying a new central air conditioner in Canada, including top brands, model types, best features, what to buy, and more!
UPDATED: May 2022
✔ Expert-reviewed for accuracy and completeness. Learn more
A central cooling system in your home can make the summer heat and humidity more bearable for Canadians. While people in apartments or smaller homes can beat the heat with a portable or window air conditioner, people in larger homes might find a central air conditioner is a better solution.
Most modern central air systems are energy-efficient and keep indoor temperatures pleasant without excessively inflating your power bill. But there are a lot of brands and a lot of models to choose from at a range of budgets, and you may not know where to start.
To find out what system is right for you, let's take a closer look at the most popular options on the market today, and what you need to know before buying.
We've split this guide up into major sections: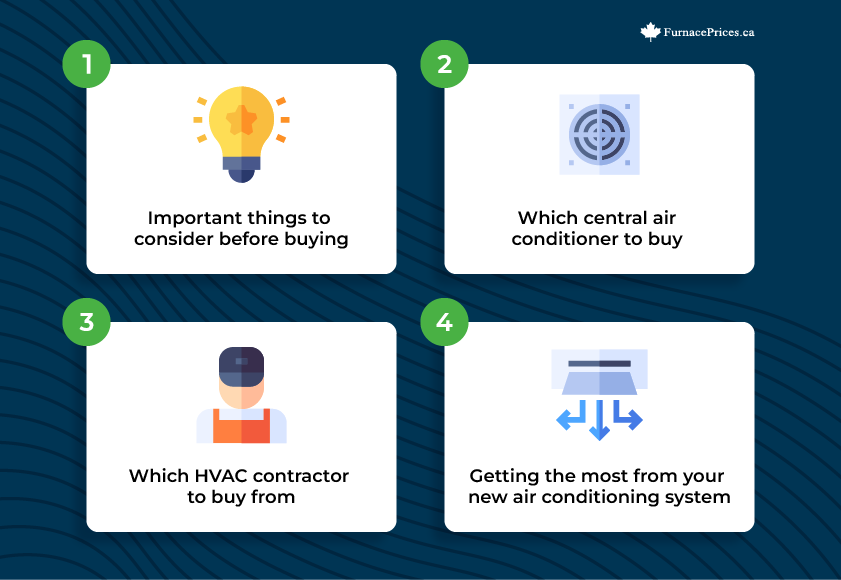 Important things to consider before buying
Which central air conditioner to buy
Which HVAC contractor to buy from
Getting the most from your new air conditioning system
Within each section we aim to cover all the most important information you need to make an informed buying decision, and find the right cooling solution for your home and needs, at a fair price.
Let's dive in!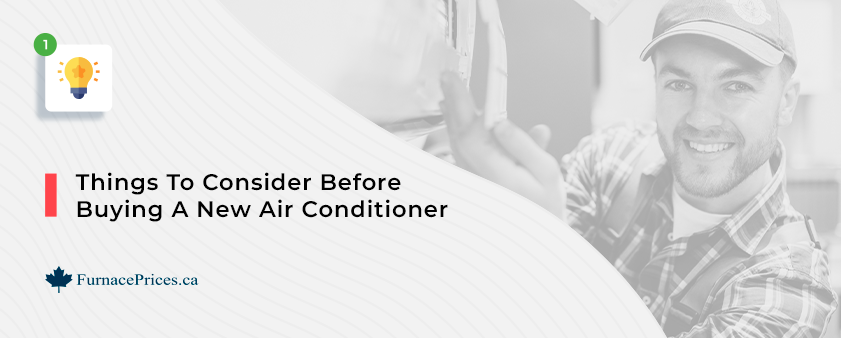 THINGS TO CONSIDER BEFORE BUYING A NEW AIR CONDITIONER
Repair or Replace?
Related Article: 5 Things to Know Before Buying a Central A/C
Installing a central air conditioning system is an investment, so you'll want to think carefully before you dive in. This is also true if you already have an air conditioning system and are facing the choice between repairing it or replacing it. Here are some questions that will help you make the right decision:
How old is the unit?
Air conditioners typically last 15 to 20 years, so if your current system is 10 to 15 years or older, then it might be worth replacing. However, for systems that are only a few years old, repairs and minor upgrades can cost a lot less than buying a new A/C.
What kind of repairs does it need?
An older air conditioner that needs extensive work probably isn't worth repairing because you could spend nearly as much on service as you would on a replacement unit. Some of the most expensive repairs involve the compressor and condenser.
How efficient is the old A/C?
Depending on how old your existing air conditioner is, it may have a seasonal energy efficiency ratio (SEER) at or below 10, which would mean it's not very efficient.
In Canada, air conditioners must have a SEER of at least 13 to qualify for ENERGY STAR® certification, and a unit with a SEER between 16 and 18 is generally ideal for most parts of the country. If you have an older unit that's not very efficient, you could lower your energy bills and make your home more comfortable by upgrading to a modern air conditioner.
Are your cooling costs going up?
Air conditioners tend to become less efficient as they get older, and this means it will cost more to cool the same space. When your air conditioner gets to a certain age and starts losing efficiency, it might be a good idea to upgrade. Efficiency loss can also mean that larger problems are at work that will cost a lot to fix.
Pros and Cons of Installing a Central Air Conditioner When You Don't Already Have One
Do you live in a house that doesn't have central air and are considering installing a system? Here are a couple of situations where installing central A/C might not be appropriate:

You live in a very small home or condo
You're a renter instead of a homeowner
There's no ductwork in the house
The summers are relatively mild
In those cases, you might be better off with an A/C alternative, such as portable, window, or ductless systems. More on those in a minute.
On the other hand, if those situations don't apply to you, then installing central air might be a viable option for your home.
Here are some of the pros of central air conditioning compared to window and portable units: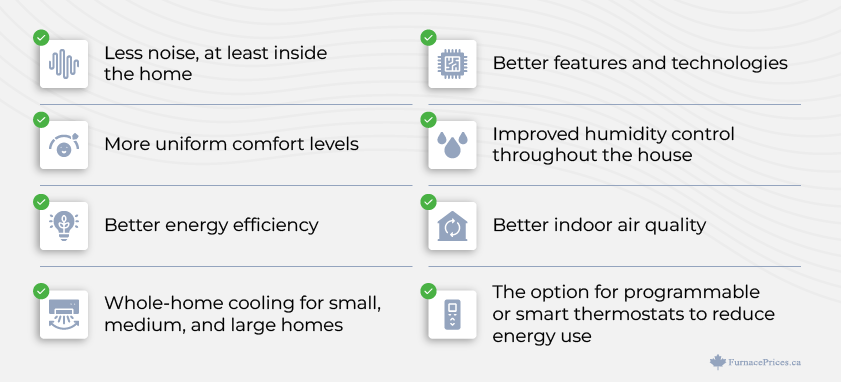 Less noise, at least inside the home
More uniform comfort levels
Better energy efficiency
Whole-home cooling for small, medium, and large homes
Better features and technologies
Improved humidity control throughout the house
Better indoor air quality
The option for programmable or smart thermostats to reduce energy use
There are a few potential drawbacks to installing a central air conditioning system, and most of them have to do with cost. Not only do you have to buy the unit itself, but you'll also have to pay for installation, and that will require more time and money if you don't already have a central system.
If you have ductwork for an existing heating system, some of the ducts may not be adequately sized for air conditioning unless the system was installed with the option to add AC. If the ducts are smaller than required, it takes more pressure to force the cool air through the duct. This makes the fan work harder, wear out faster, and increases your energy bills.
Furthermore, if you have to install or upgrade ductwork as well, then you'll need a much bigger budget. Even if there's existing ductwork, it might require maintenance if it hasn't been used in a while.
And here's something else to consider: while air conditioning will make your home more comfortable in the summer, it's also going to cost a lot to run. When homes have an air conditioner, operating it accounts for 13 percent of the home's energy use.
A Ductless System as an Alternative to Central Air Conditioning
Related Article: Air Conditioner Types Compared
Retrofitting a home with ductwork can be extremely expensive and disruptive. When your home doesn't have ductwork and you want air conditioning, then your best bet might be a ductless mini-split.
Central A/Cs are sometimes called split systems because they have an outdoor unit and an indoor unit. These systems connect to the furnace and the ductwork to distribute cold air around the house.
Ductless split systems or mini-splits are designed for homes and buildings without furnaces and ductwork (like homes heated with radiators). Rather than using ductwork to distribute cool air around the house, mini-split air conditioners rely on individual indoor air handling units that contain a blower and cooling coil. You put one air handler in each room or space you want to cool.
The indoor unit is usually mounted high on the wall, on the floor, or in the ceiling. Because no ductwork is involved, split air conditioning systems are great for condos, home extensions, rooms with unique heating or cooling needs, and older homes with thick walls.
Ductless systems have a number of benefits, including that you can set different temperatures for different rooms, the systems are flexible and work in lots of spaces, they're energy-efficient, and they can come with advanced features.
Learn more about ductless mini-splits.
Major Air Conditioner Components and How They Work
Obviously you don't need an in-depth understanding of how an air conditioner works to buy one, but it can help to have at least a basic understanding of the major components so you have at least a general idea of what you're buying.
Air conditioners, including heat pumps, central A/Cs, and ductless mini-splits, all work by removing heat from inside the house and transferring it outside.
All air conditioners cycle a refrigerant fluid through a network of tubing, endlessly shifting it from liquid form to gas form and back again, which absorbs heat energy (when going from liquid to gas) and releases it (when going from gas to liquid).
By having one half of this cycle operating inside your home and the other half outside, your air conditioner keeps your home cool and comfortable.
This is obviously an over-simplification, but it's actually basically the same process your refrigerator uses. Heat is removed from indoor air by running the warm air over the copper coil and making the refrigerant evaporate. The refrigerant gas goes through a tube to the condenser outside, where it is turned back into a liquid and piped back into the house. Repeat endlessly.
When replacing an old air conditioner, it's important that both the exterior and interior units be replaced with new and compatible units. Beware of companies offering unusually low prices, as they may be using mismatched evaporator and condenser coils, or refurbished or used components.
Learn more about central air conditioner components and function.
---
Some Key Air Conditioner Terms & Definitions to Know
Check out our full HVAC Terms Glossary here for more definitions.
Central Air Conditioning – a central air conditioner is attached to your forced air ventilation system to cool and dehumidify the air. Cool air is distributed through the forced air vents throughout your home.
Central Air Tonnage – the size of your air conditioner is measured in tonnes. Typically, air conditioner units run anywhere from 1.5 to 5 tonnes in size. It's essential that you purchase the correct tonnage to cool your home appropriately, otherwise you won't get the energy efficiency or comfort you want, and might even risk damaging your cooling system.
SEER Rating – The energy efficiency rating (Season Energy Efficiency Ratio), which ranges from 13 to 20+ in modern central air conditioning systems. The higher the better.
Refrigerant – environmentally friendly, R-410A Chlorine-free refrigerant is contained in the air conditioner's coils. It absorbs the heat inside your home and expels it outside. Less common in modern air conditioners is the older, non-environmentally friendly R-22 refrigerant. When selecting the best high-efficiency air conditioner for your home, be sure to pay careful attention to which type of refrigerant the model of your choice uses, since R-22 is no longer allowed to be used in new systems after 2020.
Compressor – Compresses the refrigerant gas into a liquid, causing it to heat up, then moves refrigerant through the system. The compressor is just one of the key parts that should be checked by an HVAC technician prior to the start of the summer season. Broken compressors can result in costly repairs to your air conditioning system.
Condenser Unit – The outdoor unit which releases the heat pulled from the warm indoor air, and releases it outside. This unit contains a coil that dissipates the heat created when the compressor turns the refrigerant from a gas back into a liquid, before cycling the refrigerant to the indoor unit.
Evaporator Coil – This indoor unit is attached to the furnace and as warm indoor air is run over its copper coils, the refrigerant inside evaporates from liquid to gas form, chilling the coil and absorbing heat energy from the air in the process. This also causes humidity to condense out of the air at the same time, and the liquid is drained off. The refrigerant is then cycled to the outdoor condensing unit.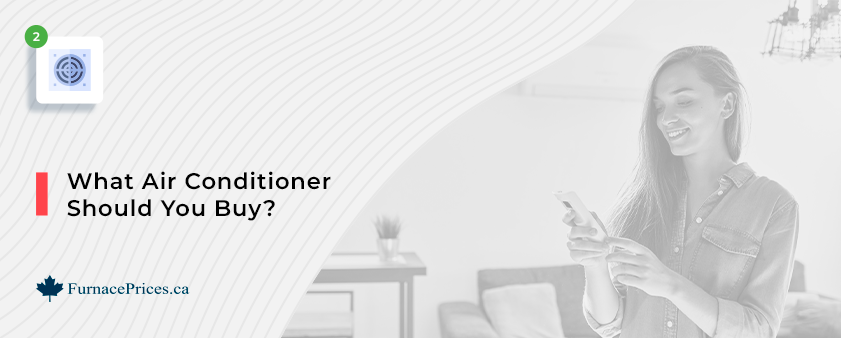 WHAT AIR CONDITIONER SHOULD YOU BUY?
There are a lot of things to consider when buying a new air conditioner, including the brand, your budget, efficiency, compressors, lifespan, warranties, features, HVAC accessories, and more. Let's have a look at those factors so that you can make an informed choice about your air conditioning system.
Check out our Best Central Air Conditioner Brands & Models for Canadians
Popular Central A/C Brands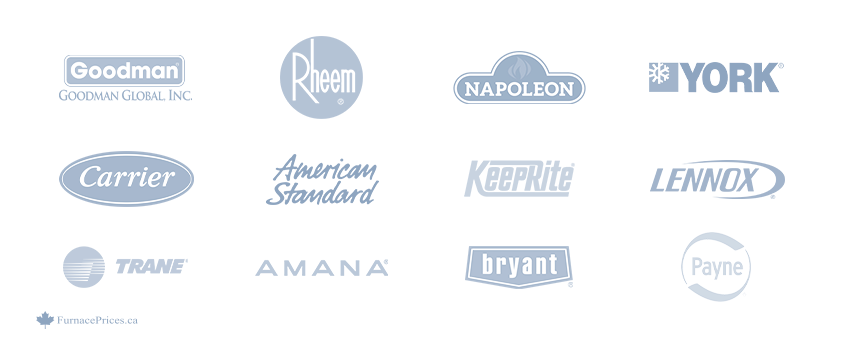 Canadian customers have a wide range of quality and reputable brands to choose from. Some brands charge more for their products than others, but most brands have more affordable entry-level models, mid-range air conditioners, and pricier top-tier A/C units. Here are some of the most popular brands in Canada and what consumers like about them:
Goodman – An economy brand with a reputation for making affordable, reliable, and efficient air conditioners. They have a decent selection of single-stage, two-stage, and variable-speed models with SEERs ranging from 13 to 24.5. Goodman also offers an excellent warranty and has some cool features, like their communicating technology.
Rheem – Rheem is a mid-range brand in terms of pricing, and they are known for making quality air conditioners at reasonable prices, though you will need a larger budget for a Rheem compared to an economy brand. They have all compressor styles available with SEERs between 13 and 20.5. Rheem air conditioners are designed for easy installation and service, but they only come with a standard warranty. Some of them can be paired with the brand's own smart thermostat for advanced features.
Napoleon – Napoleon is a Canadian brand with a manufacturing facility in Ontario. They have a very small selection of single-stage air conditioners with SEERs ranging from 13 to 16. They are backed by a standard warranty, but have some additional features like quiet operation, an easy-maintenance design, compact size, less refrigerant use, and long-lasting coils.
York – A lower-cost brand that's known for their cost-effective and dependable air conditioners. York has all the compressor styles available with models in the SEER range of 15 to 21, and a few ENERGY STAR® models as well. They offer features like quiet operation and good warranties, and some models can be customized based on your climate's humidity level.
Carrier – A top-tier air conditioner brand that has a reputation for making some of the most efficient models on the market, with SEER ratings between 13 and 26. You need a substantial budget for a Carrier air conditioner, especially if you want a top-of-the-line unit with a variable-speed compressor and all the bells and whistles. The brand offers a standard warranty for the industry, but their air conditioners promise excellent humidity control, quiet operation, and advanced features with the higher-end models.
American Standard – A mid- to high-end brand with a solid reputation and long history in the business. American Standard has a number of A/C models, including all the compressor styles and a SEER range of 14.5 to 22. They don't have a lot of novel features, but their units are built to be durable and long-lasting, and they offer a warranty that's slightly better than the industry standard.
Keeprite – A budget-friendly brand with a good selection of single-stage, two-stage, and variable-speed models with SEERs ranging from 13 to 19. They have a number of ENERGY STAR models, an excellent warranty, and air conditioners that have features like quiet operation and Wi-Fi access when paired with the brand's proprietary smart thermostat.
Lennox – A premium brand with some of the most efficient air conditioners available—they have SEER ratings between 13 and 28, many of which are ENERGY STAR certified. A Lennox A/C will require a large investment, especially the top-tier models, but the brand puts a lot of emphasis on things like quiet operation, enhanced humidity control, and high-quality components. Despite being a top-tier brand, Lennox's warranty is industry standard.
Trane – One of the more expensive brands on the market, Trane makes air conditioners that are durable, reliable, and built for years of service. They have a full range of models with SEERs between 14.5 and 22, and they're all compatible with the brand's advanced air filtration system. Some of the features that Trane boasts include quiet air conditioners and communicating technology.
Amana – A mid-range brand that's known for making reliable air conditioners. Amana charges a little more than some of their competitors in the same tier, but they also offer more in return. They have models with SEERs between 14 and 24.5, they have a much better warranty than some of their competitors, and they offer features like quiet performance and communicating technology.
Bryant – A brand in the middle tier, Bryant air conditioners can be a little pricier than some of the other mid-range brands. They do have a wide variety of models with a range of SEERs, from 14 all the way up to 26, and many of them are ENERGY STAR certified. Depending on the model, the air conditioner may have features to reduce operational noise, use a different refrigerant that doesn't deplete the ozone layer, have enhanced humidity control, come with self-diagnostics and Bluetooth connectivity, and be compatible with Bryant's smart thermostat.
Payne – Payne is an entry-level brand with a smaller selection of air conditioners compared to other brands. The models are either single- or two-stage with SEERs between 13 and 17, so this may not be the brand for you if you want a powerful variable-speed A/C with a higher efficiency rating. Payne air conditioners are affordable, dependable, and quiet, but they don't have any special features that set them apart, and their warranty is standard.
Factors that Can Impact the Cost of a New Air Conditioner
Related Article: Central Air Conditioner Prices in Canada
One of the factors that will influence the cost of your air conditioner is the brand name on the unit. There are economy brands like Goodman and York, mid-range brands like Napoleon and Amana, and top-tier brands like Carrier and Lennox.
Depending on the brand and the model, you could pay anywhere between $3,000 and $7,500+ for a new air conditioner.
That's obviously a really large range, and that's because there are so many other things that can influence the cost of a new cooling system.
Other factors affecting price include:
Model and tier: Every major brand has model ranges that vary from entry-level to more advanced in terms of features, operation, and efficiency
Unit size: A 1.5-ton unit is going to cost less than its 4-ton counterpart, so choosing the right size for your home's square footage and features is important (be sure to seek the help of a trusted professional to properly size your air conditioner)
Efficiency rating: AC systems with a higher SEER rating will require a bigger initial investment, although they soon pay for themselves in terms of energy savings
Where you live: If you reside in an area where summer temperatures and humidity levels are higher, then you may need a larger and more powerful unit with a higher efficiency rating
How much HVAC competition there is in your area: If you're in a rural area with little competition and where an HVAC dealer has to travel long distances, then you can expect to pay more compared to a larger city with more resources and more companies operating
Installation: Installation costs will vary depending on whether you need to install/upgrade your ductwork, where you live, the cost of materials, and what supplies are required for the job
Efficiency Ratings
Air conditioner efficiency is measured in seasonal energy efficiency ratio (SEER), which measures how much cooling power you get versus how much energy the unit consumes. The higher the SEER rating, the more efficient the unit. The more efficient the unit, the less it will cost to operate.
While a 14 SEER AC system will do a reasonably effective and efficient job of cooling your home, going up to 16 or 18 SEER can significantly raise your energy savings and lower cooling expenses over the long term.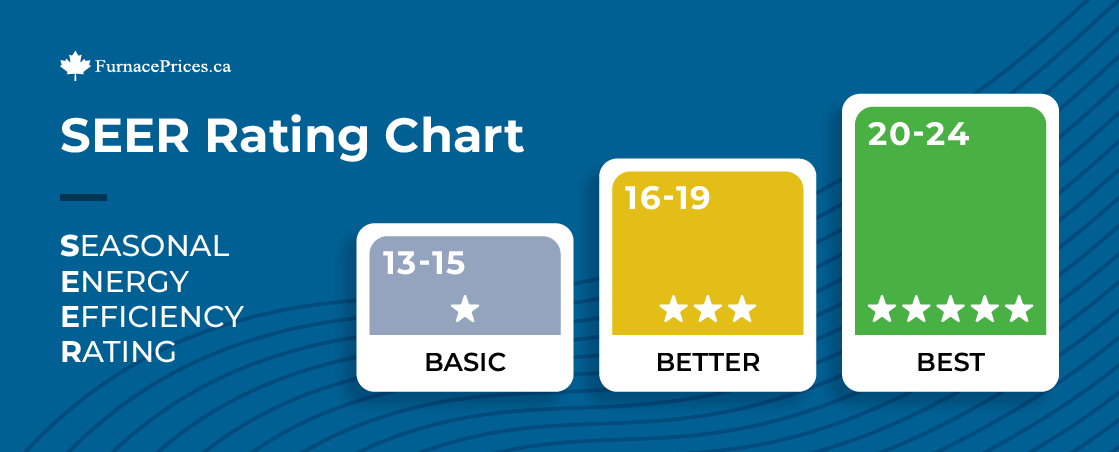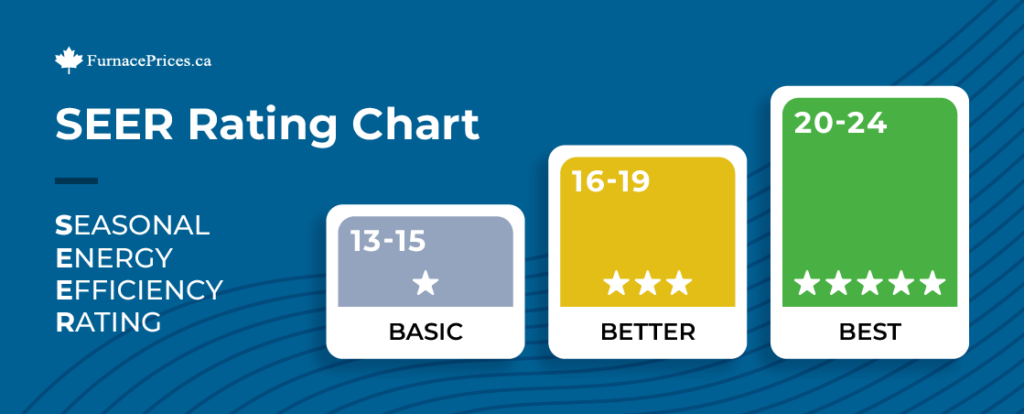 The initial investment may be more, but you may be able to qualify for a provincial tax credit or government rebate or incentives from your local utility company.
It's worthwhile noting that there are far more powerful air conditioners on the market with SEERs in the 20s, but these are generally designed for hotter, more humid climates like the Southern United States. These units will cost a lot more to buy, and you generally won't get the return on investment through energy savings that you would with a 16 to 18 SEER model.
ENERGY STAR: What Is It and Is It Worth It?
The ENERGY STAR program was created by the U.S. Environmental Protection Agency and the Department of Energy to help consumers make more informed choices when buying energy-using products.
When an air conditioner has ENERGY STAR certification, it means that it has a SEER of at least 13 and meets certain criteria regarding operation.
An air conditioning system model that's been certified might cost a little more, but it also offers proven performance, meets a minimum energy efficiency standard, and could be eligible for more rebates than a non-certified model.
Single Stage, Dual Stage, Variable-Speed/ECM – What Does it All Mean?
Central air conditioners can be grouped into three major tiers based on how advanced and sophisticated the compressor pumps and motors are, and the style you choose will impact the cost of the unit and the efficiency of the system.
Single-stage System: This type operates in an on/off mode: the compressor is either running or it's not. It is the least energy efficient of the three types. Single-stage compressors are most commonly seen in entry-level central A/C units, such as 13 and 14 SEER models.
Dual-stage/two-stage System: More efficient than the single-stage compressor, a two-stage compressor has two speeds in the On mode. That means it can operate at 100 percent and usually around 70 percent capacity for reduced energy consumption. You'll typically find dual-stage compressors in 16 to 18 SEER central A/C units. Two-stage compressors are also quieter and a little better at managing humidity.
Variable-speed System: The most efficient type of system features an ECM or Electrically Commutated Motors (a fancy way of saying it can precisely modulate its output for variable speeds) and variable-speed compressors which can operate in incremental power stages. These offer consumers greater energy efficiency, more precise and consistent home cooling, more even temperatures throughout the house, advanced humidity control, and quieter operation. Variable-speed functionality is usually found in premium air conditioner units, starting around 18 SEER.
Understanding Air Conditioner Warranties
An air conditioner warranty can save you a lot of money over the life of the unit, but it's also a good indication of the system's expected lifespan. For example, if a manufacturer warranties their compressors for the lifetime of the unit, it means they don't expect the component to fail.
Before purchasing any new central air conditioning system, check the warranty carefully: terms can vary considerably from one manufacturer to the next, and buying a more expensive unit from a top-tier brand doesn't always guarantee the best coverage. In fact, a few of the economy and mid-range brands offer some of the best warranty protection on the market.
Reputable companies will usually cover the following: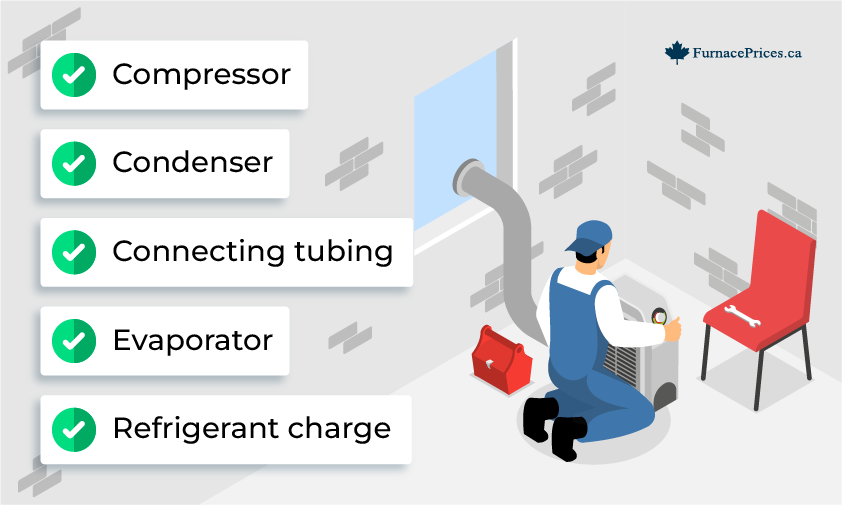 Compressor
Condenser
Connecting tubing
Evaporator
Refrigerant charge
A review of popular manufacturers provides the following baseline for warranty coverage:
10-year limited compressor warranty
10-year limited parts
However, a few brands offer longer 12-year warranties, and some even provide lifetime coverage for the compressor.
Further, there are a few brands that offer unit replacement warranties as well. That means if a major component fails during the coverage period, the manufacturer will provide a brand new replacement unit.
However be advised that you must usually have annual maintenance or inspection performed by a qualified professional in order to maintain the full coverage.
In addition to the manufacturer's warranty on the equipment, you should also receive a labour warranty on the installation from the contractor, with a guarantee of at least one year or more, if it's a reputable company.
Related Article: The Best Central Air Conditioners – Best Warranties
Expected Lifespan of an Air Conditioner
The typical lifespan of a central air conditioner is approximately 15 to 20 years. Like most pieces of equipment, how you care for and maintain it will have an effect on its life expectancy.
Choosing the right contractor that will install a properly-sized unit, with good workmanship and careful installation, and provide solid ongoing support, is a key part of having a long-lasting central air conditioner.
Additional maintenance tips that can enhance the working life of your air conditioner include:
Have an annual inspection done before the start of air conditioning season
Maintain the yard area around the outside unit to eliminate overgrowth, remove debris, and improve air circulation
Give the outside unit a quick hose-down at the beginning and end of each season to rinse away any dirt or debris
Clean the condenser (outdoor) and evaporator (indoor) coils using an approved product
Clean or replace the air filter every one to three months during cooling season
If applicable, empty the drain pan to prevent rusting and algae growth (if the pan doesn't drain almost completely, have a professional adjust it so it drains properly)
Clean the indoor system around the heat vents
Address operating issues immediately to avoid more expensive and more severe problems down the road
Call a licensed HVAC professional to diagnose, troubleshoot, and repair your air conditioner when necessary (going the DIY route can result in expensive damage and may void your warranty)
Make sure your ductwork and your home in general are efficient and well-sealed—leaks can put unnecessary strain on your air conditioning system
Make sure your furnace is also in good working order and well cared for, as your air conditioner uses the furnace's blower to circulate air
Noise and Decibel Ratings
Related: The Quietest Central Air Conditioners
Air conditioner sound levels are measured in decibels (dB). The lower the decibel rating, the quieter the system. The more silent units typically fall into the 50 to 60 dB range, which can best be understood by the following real-world examples: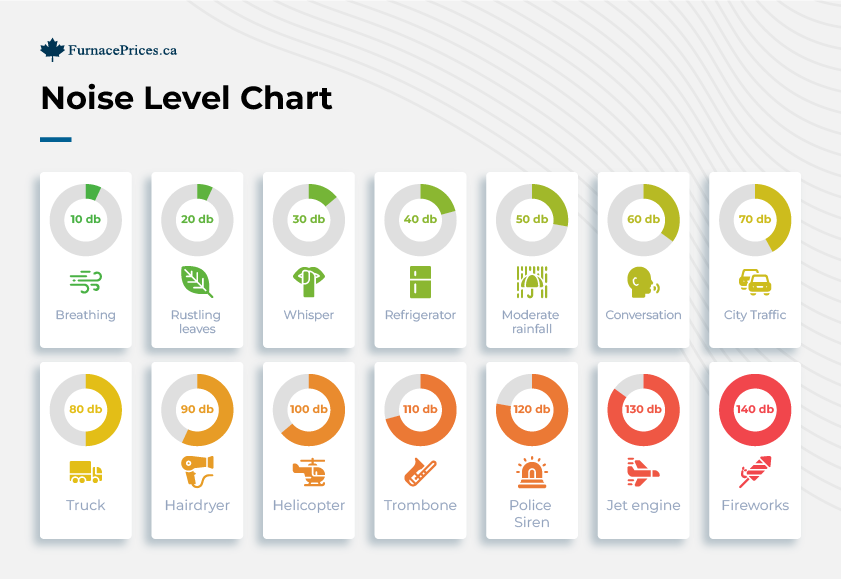 50 decibels = the sound of rainfall or ambient noise of a home
60 decibels = the sound of a conversation held in normal tones
When you're shopping for a quiet air conditioner, look for the following features, which will have a dampening effect on any noise from the unit:
Variable-speed blower fans that prevent the system from running at 100 percent capacity all the time, thereby reducing noise levels and even energy bills
Noise-reducing fan blades that are quieter than traditional fans
Compressor insulation and blankets that trap noise
Special mounting materials that limit sound and vibration when the air conditioner is running
Note: Keep in mind, however, that the quietest central air conditioners are typically units that are rated above 20 SEER. These units are less common in Canada and are meant for warmer climates. Units commonly sold in Canada are usually in the 65 – 78 decibel range.
Sizing
Central air conditioners aren't a one-size-fits-all home cooling solution, just like car tires aren't. Would a small sedan run better if you put, say, large tractor tires on it? No! Similarly, an A/C will operate most effectively and efficiently when it's correctly sized for your home.
An A/C unit that's too small will operate constantly, run up your energy bills, and still won't keep your home comfortable. An A/C that's too big will cycle irregularly, cause moisture problems, and also won't keep your home at the right temperature. In both instances, the air conditioner will probably wear out prematurely.
In other words, correct sizing and professional installation are critical for the proper operation of your air conditioner.
A central air conditioner's size is measured in tonnes. The tonnage refers to how much heat the unit can remove from a home in one hour, not the weight of the unit itself. The majority of central air manufacturer brands produce air conditioners between 1 and 5 tonnes for residential use.
You can also measure air conditioner size in British thermal units (BTUs): a 1-ton air conditioner is equivalent to a 12,000-BTU air conditioner.
Determining the correct size for an air conditioner depends on a lot of factors. Here are some of the most important: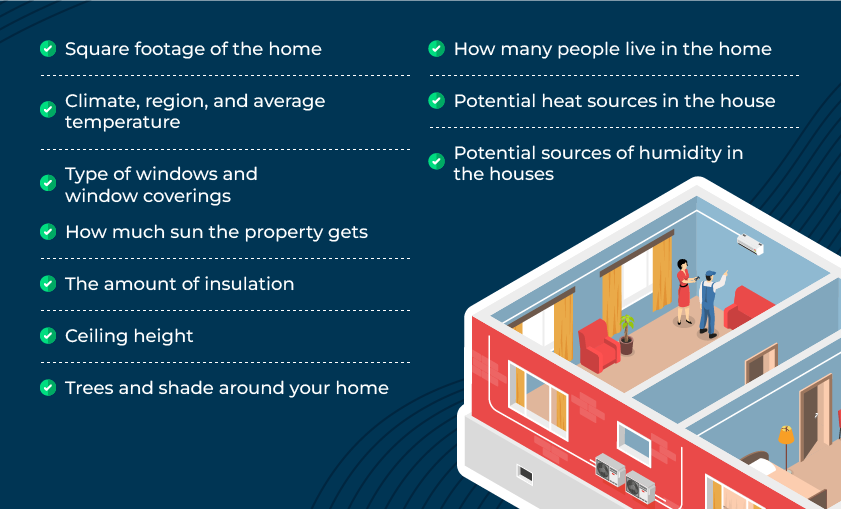 Square footage of the home
Climate, region, and average temperature
Type of windows and window coverings
How much sun the property gets
The amount of insulation
Ceiling height
Trees and shade around your home
How many people live in the home
Potential heat sources in the house
Potential sources of humidity in the house
Because there are so many factors that go into sizing an air conditioner, it's often best to enlist the help of a trusted local professional when attempting to correctly size your new A/C.
A heat-load calculation will likely be required. But just as a general guideline, here's a chart that generally describes air conditioner sizing based just on square footage for buildings up to 20-25 years old.
Central Air Conditioner Sizing & Tonnage Chart
| Square Footage of Home | Size of Central Air Conditioner |
| --- | --- |
| Up to 1500 sq. ft. | 1.5 ton (2 ton if 2-story home) |
| 1500 – 2200 sq. ft. | 2 ton |
| 2200 – 2800 sq. ft. | 2.5 ton |
| 2800 – 3200 sq. ft. | 3 ton |
| 3200 – 3700 sq. ft. | 3.5 ton |
| 3700 – 4200 sq. ft. | 4 ton |
| 4200 – 4700 sq. ft. | 4.5 ton |
| Over 4700 sq. ft. | 5 ton |
Air Conditioner Features & Technology
Modern air conditioners can come with some cool features that improve performance and efficiency or just make your life easier. Not every special feature will interest every homeowner, but if you want something like quiet operation, humidity control, or Wi-Fi connectivity, then you can shop specifically for air conditioners that offer that.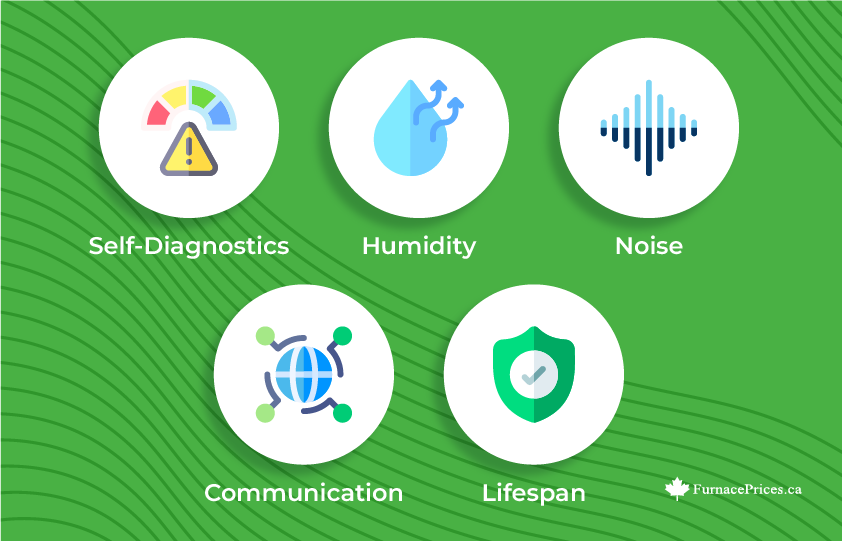 The specific technologies available vary from brand to brand, but these are some of the most common features you can get with modern central A/C units:
Self-Diagnostics
How the Brands Describe It: Technology that constantly monitors the A/C to reduce failures and downtime and make it easier to diagnose trouble.
What It Is in Plain Language: Air conditioners with self-diagnostics have special control boards that are designed to monitor the system for performance issues and provide diagnostic information to make repairs and maintenance faster and easier.
Brand Examples: Amana, Rheem, Bryant, Goodman
Humidity
How the Brands Describe It: Air conditioners that are designed to provide enhanced moisture control.
What It Is in Plain Language: Air conditioners naturally remove some humidity from the air because moisture collects on the coils and drains away; however, air conditioners can provide even better humidity control with design elements like two-stage or variable speed compressors and multi- or variable-speed blowers.
Brand Examples: Keeprite, York, Tempstar, Lennox, Goodman, Comfortmaker, Carrier, American Standard, Bryant, Heil, Trane
Noise
How the Brands Describe It: Special features that make your air conditioner whisper quiet.
What It Is in Plain Language: There are a number of design elements that manufacturers use to reduce the noise made by their air conditioners, including dampening blankets and covers and special fan designs and mountings that reduce vibrations, but two-stage and variable-speed compressors and blowers are also naturally quieter than single-stage ones.
Brand Examples: Trane, Luxaire, Heil, Amana, Bryant, American Standard, Carrier, Continental, Comfortmaker, Lennox, Payne, Napoleon, Armstrong, York
Communication
How the Brands Describe It: Smart air conditioners with communicating abilities for better efficiency and improved comfort
What It Is in Plain Language: Communicating air conditioners have special control boards that enable them to communicate with the thermostat so that the system can initiate automatic adjustments to the temperature and humidity levels.
Brand Examples: Keeprite, Tempstar, American Standard, Daikin, Amana, Goodman, Trane
Lifespan
How the Brands Describe It: Get a longer life with an air conditioner that's been specially designed for longevity.
What It Is in Plain Language: Most design elements that increase the lifespan of an air conditioner are related to corrosion-resistant and weather-resistant components.
Brand Examples: Payne, Trane, Ruud, Armstrong, Carrier
CHOOSING THE RIGHT HVAC COMPANY WHEN YOU BUY AND INSTALL A NEW AIR CONDITIONER
There are a lot of important things to consider when buying a new air conditioner, but something you may not have realized is the importance of choosing the right HVAC dealer.
Here's why that's important: properly sizing your air conditioner, helping you choose a make and model that suits your needs and works with your current HVAC setup, installing the A/C properly without damaging it, making sure the unit is operating at peak efficiency, and being available down the road when you need maintenance and repairs.
So what separates a good HVAC company from the rest? Here are some crucial qualifications:
They have friendly and experienced customer service staff
The technicians have training and certification
The company has adequate insurance
Technicians have additional manufacturer training and can work with all HVAC equipment
They offer a variety of services, including sales, installation, sizing, maintenance, repairs, and emergency service
The company is established and has a good reputation in the community
They are responsive, flexible, accommodating, and available when you need them
Their prices are fair
You're right if that sounds like a lot to go through for each company you consider working with. Our certified partners have been thoroughly vetted based on these criteria and more, so you know you can trust them with all your HVAC needs, including buying a new air conditioner.
Government Air Conditioner Rebates
Rebates can be a great way to save money on a new air conditioner, and the right HVAC contractor will be able to help you with the application process.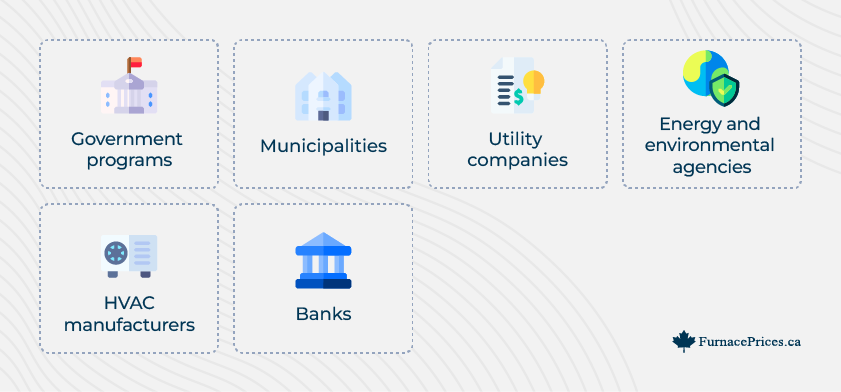 Rebates for air conditioners are available from a variety of other sources as well, including:
Government programs
Municipalities
Utility companies
Energy and environmental agencies
HVAC manufacturers
Banks
Note that most rebates are typically only applicable to consumers who are UPGRADING from an older model, not simply adding a new one to a home where there was none previously. The idea is to encourage homeowners to switch to newer more energy-efficient models, rather than simply adding a new air conditioner, which obviously increases not decreases energy use.
Further, not every air conditioner will be eligible for rebates. For the most part, rebates are for high-efficiency units or models with ENERGY STAR certification. Typically, you have to qualify for the rebate before you buy the air conditioner, so be sure to start the application process early.
Check out the current heating & cooling rebates for Canadians.
The local distributor from whom you purchase your central air conditioner should be able to assist you with filling out and submitting paperwork for all the rebates you're entitled to. In some cases, the company must be registered with the government to provide rebates.
Ensure the company you buy from is registered by finding a local company through our free quote page.
Air Conditioner Deals & Promotions
And have a look at the local deals available around the country for discounts and promotions being offered by our local HVAC contractor partners across Canada.
Financing Programs
Financing is an excellent option when you want to replace or install a central air conditioning system but can't pay for it all at once. Some financing options offer 0 percent interest, and even if you have the money to pay up front, you can still take advantage of financing to keep more money in the bank for longer.
And here's another reason you might want to take advantage of financing: it can enable you to upgrade to an even better system that's more efficient, has more features, and will offer a better return on investment in the long run through energy savings.
Most HVAC companies offer financing options, so be sure to ask what's open to you. Most plans are flexible and allow you to choose a repayment plan that works with your budget. Many HVAC dealers have repayment terms that last anywhere from 12 months to 15 years.
At FurnacePrices.ca we compare free no-obligation estimates from our trusted local distributors. We currently serve Canadians in most major cities and regions across Canada, and are constantly expanding.
Fill out our online form and get your quote today!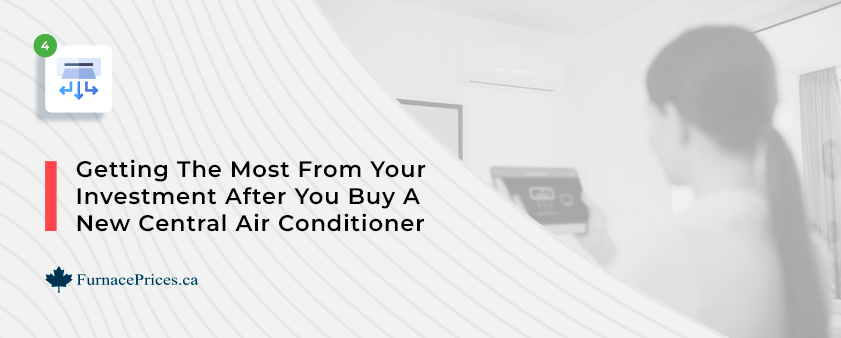 GETTING THE MOST FROM YOUR INVESTMENT AFTER YOU BUY A NEW CENTRAL AIR CONDITIONER
Register Your Warranty and Keep It Safe
Just about every HVAC manufacturer offers shorter base warranty terms and longer registered warranty terms. You'll typically have 60 to 90 days to register the warranty after the air conditioner is installed, and it's well worth the time to get the extra coverage.
You can register your air conditioner online or by phone with the manufacturer. Here's the information you'll need to provide:
Your contact information
The make and model of the air conditioner
The date of installation
The contact details for the HVAC company that installed it
You should probably read through the warranty terms as well so that you know your rights, responsibilities, and how to keep the warranty valid.
Once you've registered the warranty and read through it, make sure you store the documents in a safe place.
Sign up for a free Furnace Prices membership and get access to our digital warranty storage. All you have to do is upload the warranty and we'll keep it secure so that you can access it any time.
Complete the Rebate Application Process
Most air conditioner rebates require you to apply and qualify before you buy. If you did qualify for a rebate, then you'll have to finish the process after installation.
Rebates are available through a number of sources, including utility companies, governments, and HVAC manufacturers, and you'll have to provide them with details about the air conditioner and proof of purchase.
Keep Your Air Conditioner Maintained
Regular maintenance will keep your air conditioner working at peak efficiency and help to extend its life. Beyond that, you'll probably also have to pay for annual service to keep your warranty valid.
Most of the maintenance that your A/C will need should be left to the pros, but one thing you can do is to change the filter. You should change or clean the filter every three months at least, and possibly more if you suffer from allergies, have a particularly dusty home, or have indoor air quality issues.
As a Furnace Prices member, you can sign up to receive maintenance reminders, recall notifications, and more.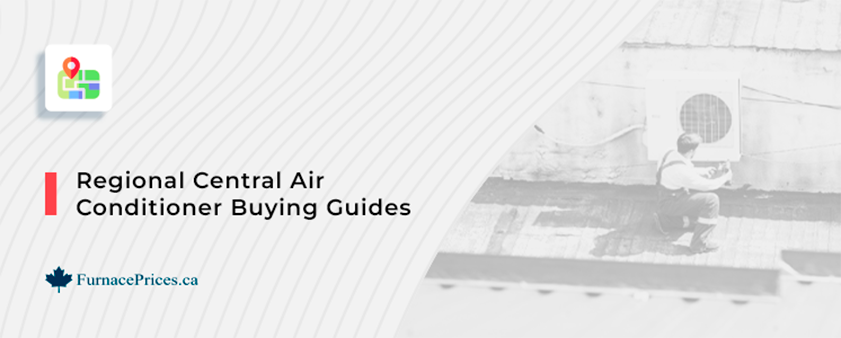 REGIONAL CENTRAL AIR CONDITIONER BUYING GUIDES
Alberta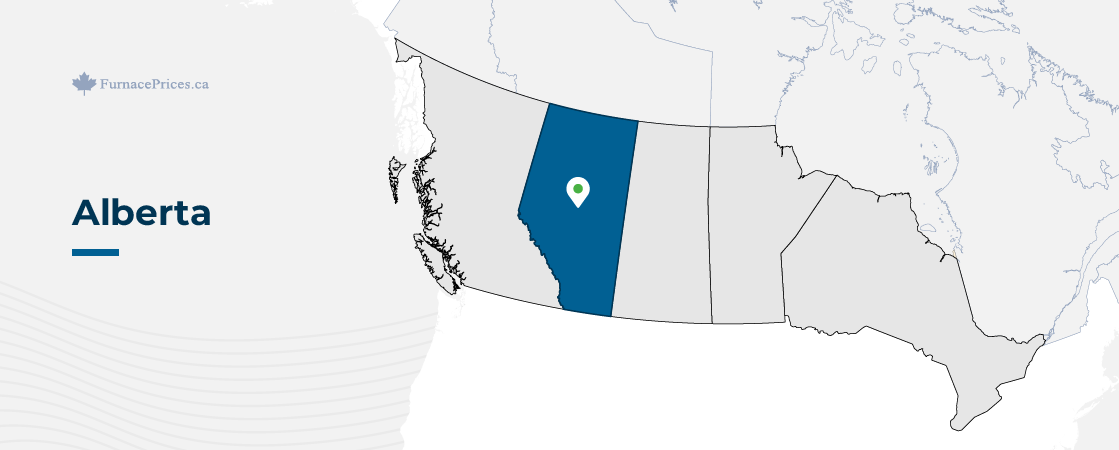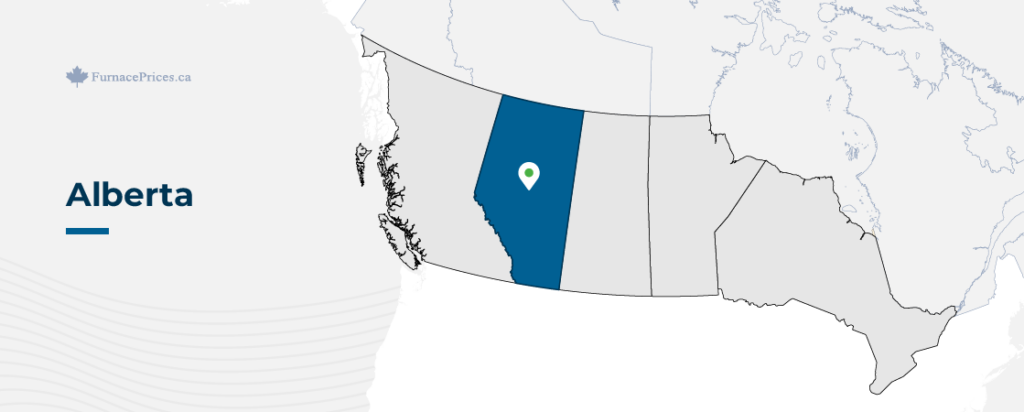 British Columbia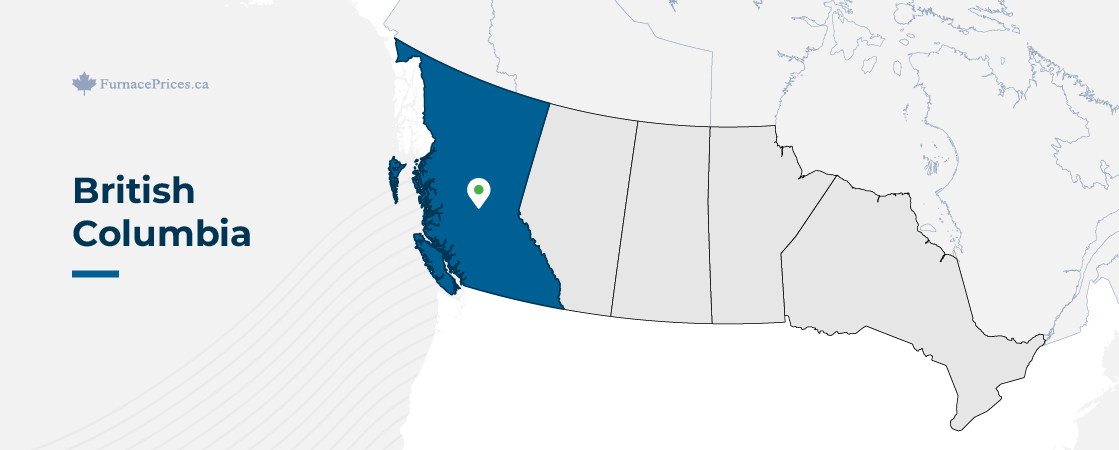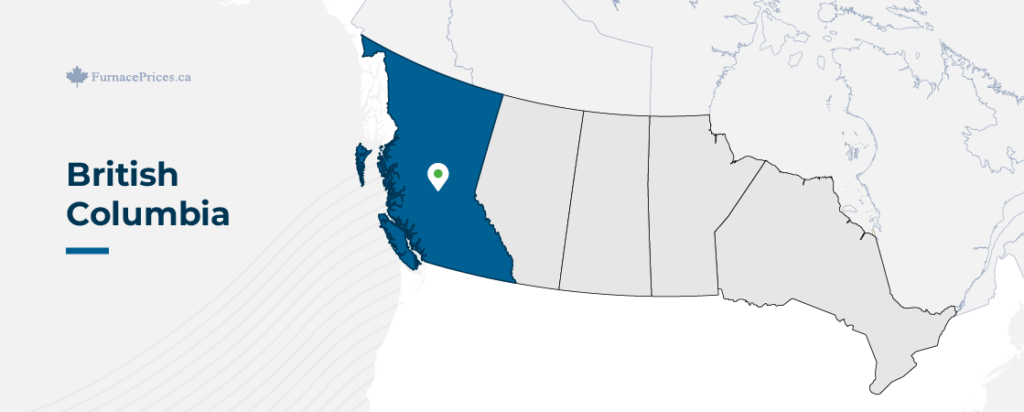 Manitoba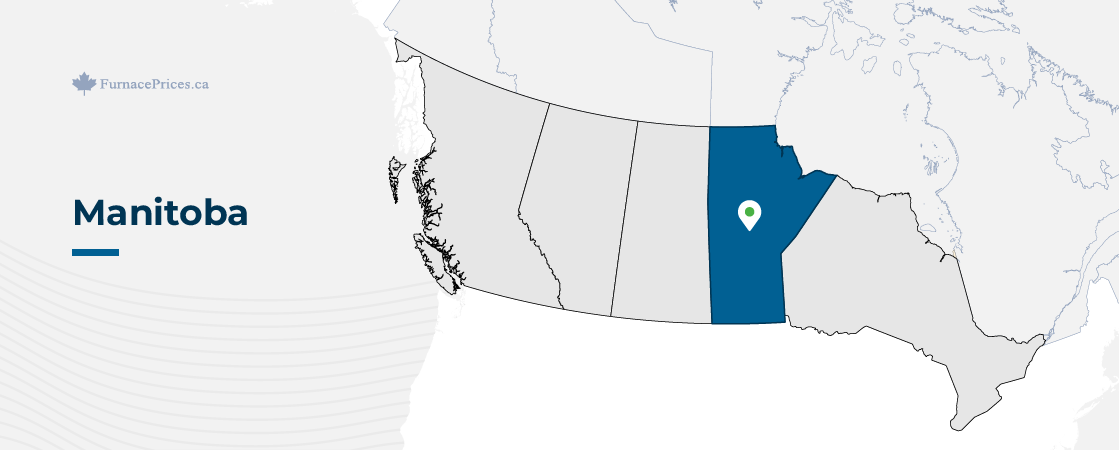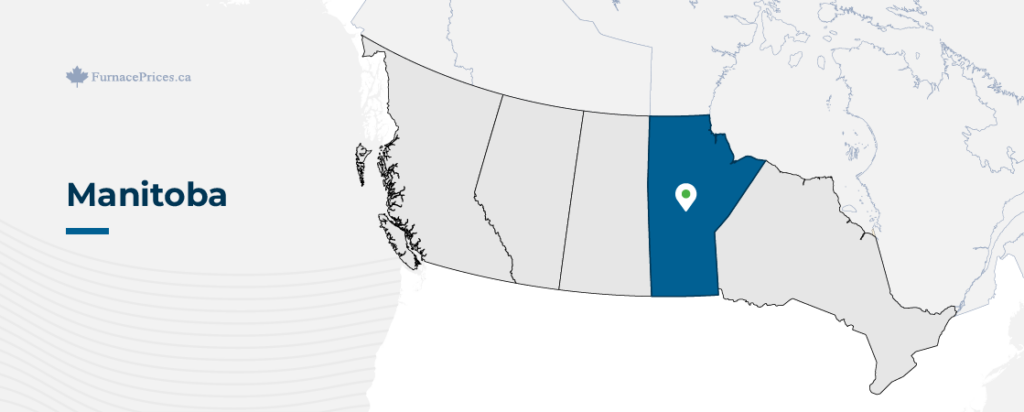 Saskatchewan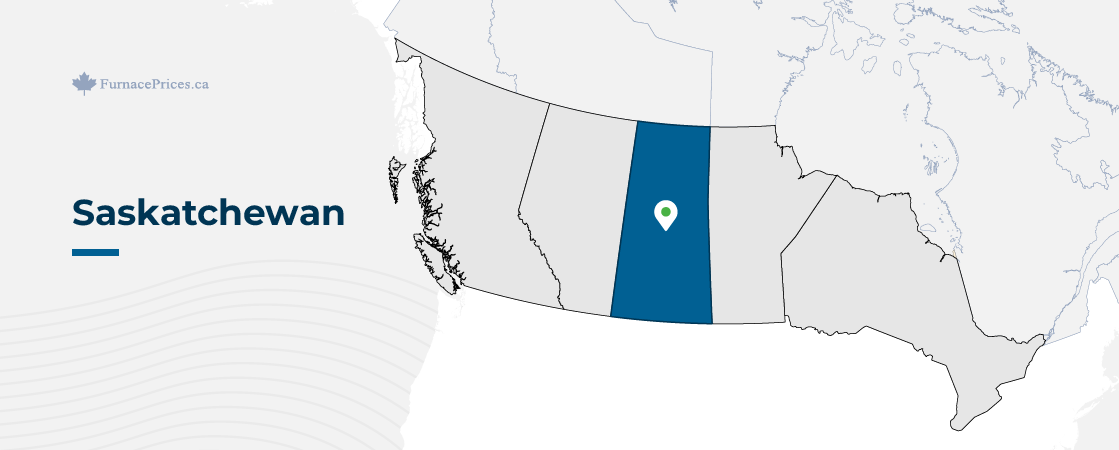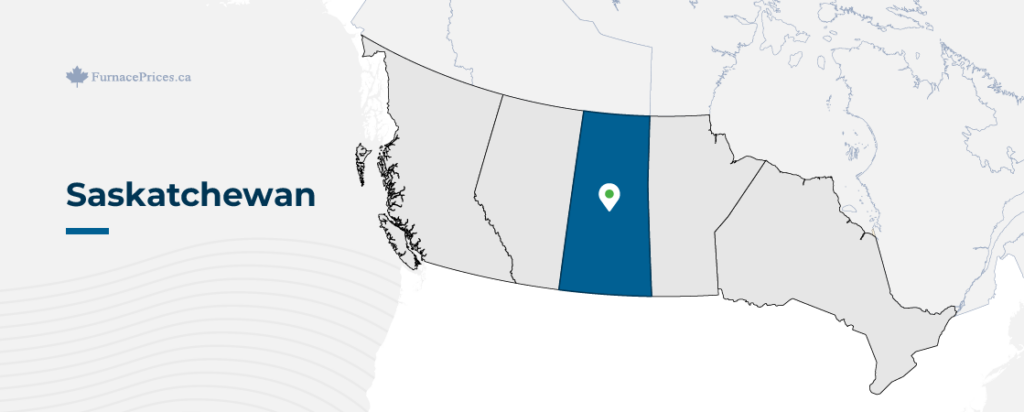 Ontario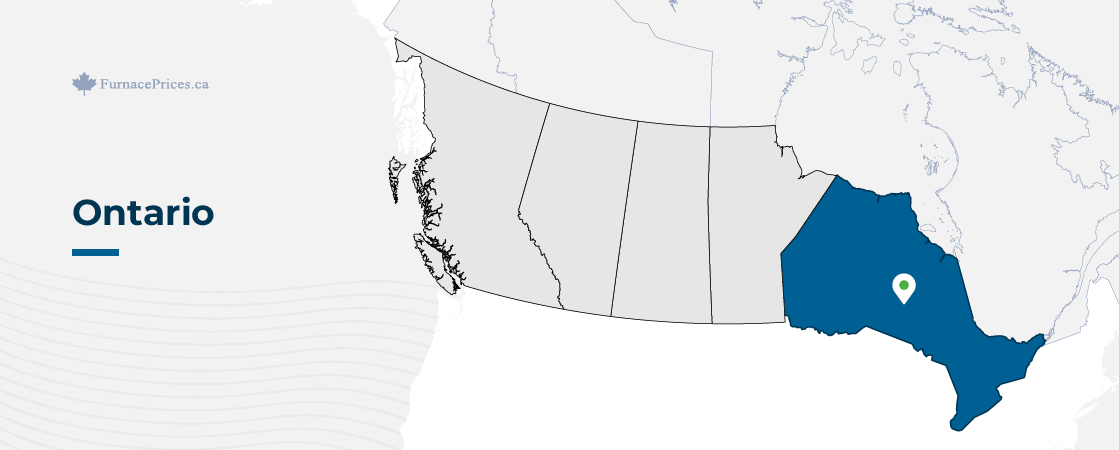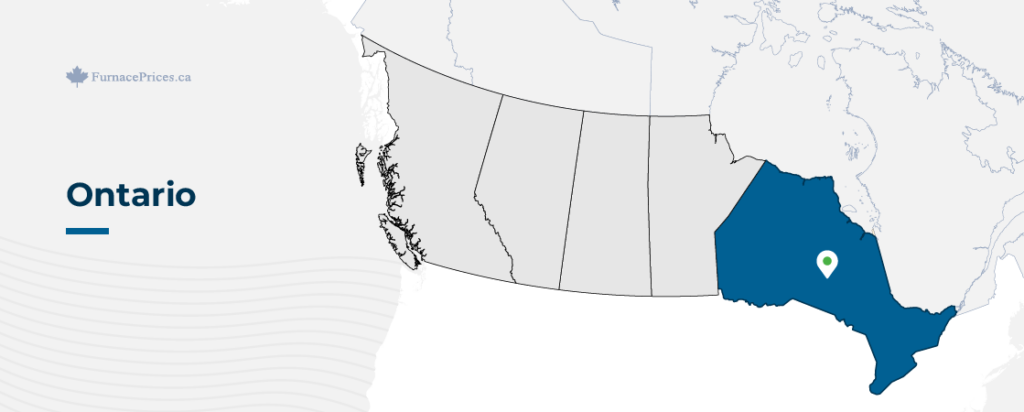 Air Conditioning Oshawa-Whitby, Pickering & Ajax
Air Conditioning Richmond Hill
Air Conditioning St-Catharines
Air Conditioning Kitchener-Waterloo
---
Get Quotes
How soon are you looking to buy?*