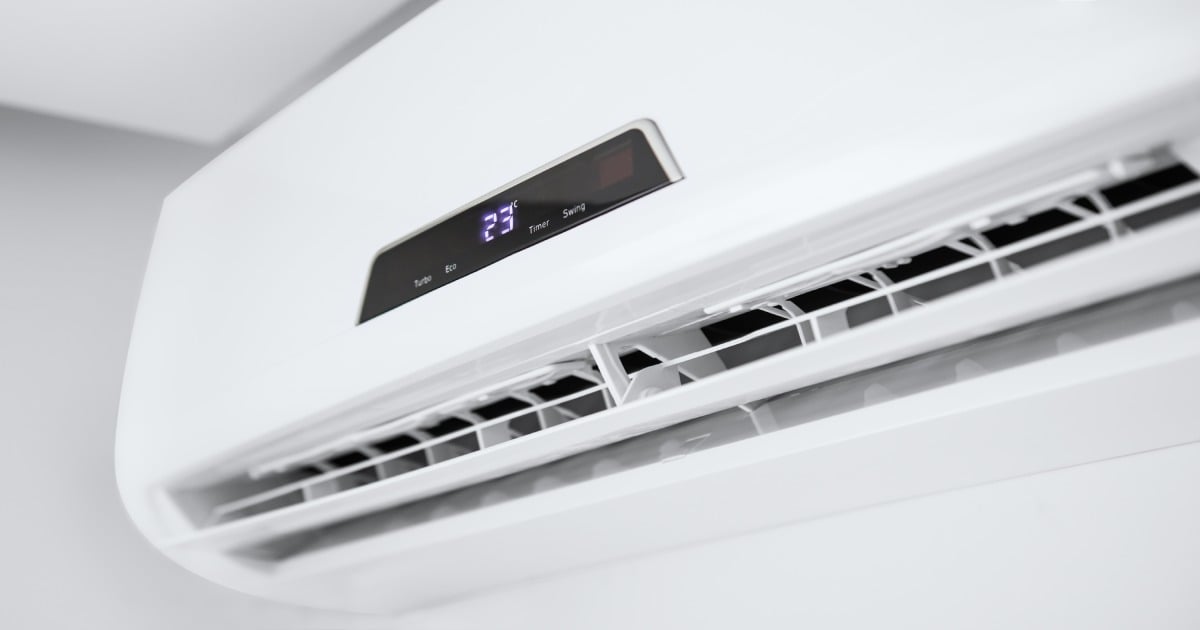 Why does my AC smell bad? If you're asking yourself this question, you've come to the right place.
Generally, your air conditioning unit shouldn't be producing any smell, and it certainly shouldn't be emitting any foul odor. However, when this does happen, it generally points to a serious problem with your air conditioner — often one that requires the assistance of a certified HVAC technician to fix. In this guide, we'll explain some of the most common bad smells your air conditioner may produce, why they happen and how you can fix them.
Why Does My Air Conditioner Smell?
When your air conditioner usually kicks on, there shouldn't be any significant smells. When people determine the normal air from their AC unit has any smell, they generally describe it as "fresh air" or "cold air."
But what if you're asking yourself, "Why does my A/C smell?" And the answer is that it depends. Specifically, it depends on the type of smell that's coming from your air conditioner.
If Your Air Conditioner Smells Musty…
A "musty" smell can be a little different for everyone. Some describe it as the smell of dirty socks, while others consider it closer to damp leaves. But at the end of the day, "musty" generally refers to an unpleasant damp smell that is quite unmissable.
If this describes the smell coming from your air conditioner, you likely have an issue with a dirty evaporator coil or some standing water buildup (inside or around the unit). This can cause mildew, mold and bacteria to grow.
If you're already experiencing a musty smell, you'll want to schedule an appointment with an HVAC technician. But you can avoid this unpleasant experience by getting annual AC maintenance and regularly changing your unit's air filter. If you notice excess condensation or water at any time, it's best to call a technician immediately so it doesn't result in nasty-smelling buildups.
If Your Air Conditioner Smells Like Chemicals…
Smelling chemicals in the air you're breathing is never a good thing, and if that chemical smell is coming from your air conditioner, it could be a serious problem. The chemical smell from your AC unit may vaguely remind you of paint thinner, or it could smell sickly sweet. In either case, you're likely dealing with a refrigerant leak.
Refrigerant is a chemical that helps transfer heat and humidity out of your home during the cooling process. Sometimes called Freon or Puron, refrigerant also plays a crucial role in heaters by drawing heat from outside and transferring it inside. Unfortunately, this chemical is also highly toxic and can cause serious problems if ingested by people or animals.
If you're smelling something sickly sweet or distinctly chemical coming from your air conditioner, you should first turn it off. Then, call an HVAC repair company to service your unit. Be sure to tell them what's going on, and never attempt to fix refrigerant leaks on your own.
If Your AC Smells Like Rotten Eggs…
If it seems like your air conditioner is emitting a smell like rotten eggs, the good news is there probably isn't anything wrong with your AC. The bad news is that there's almost definitely a gas leak in your house, and you need to take immediate steps to keep yourself, your family and your pets safe.
If you smell rotten eggs in your home, most experts recommend you do the following:
Switch off your gas supply if at all possible, to avoid letting any more into the air.
Avoid lighting anything (including cigarettes, candles, etc.) because gas is highly flammable.
Open windows immediately to reduce the risk of toxicity.
Gather your family members and pets, ensuring everyone is accounted for.
Leave your home as soon as you've gathered everyone.
Get in touch with your gas company right away.
Follow any warnings or procedures the gas company gives you over the phone.
Call for emergency medical attention if anyone is feeling lightheaded, nauseous or ill.
If Your AC Smells Like Vinegar…
Several culprits could cause an air conditioner that smells like vinegar. For starters, your air filter might be dirty and could have trapped some smells in it. If this is the case, changing the filter may solve the problem. But this smell could also be caused by more serious issues like:
Excessive condensation
Clogged drain line
Clogged condensate pan
Moldy air conditioner
Moldy ductwork
If changing your air filter doesn't eliminate the smell, you'll need to call a professional. Mold in your system can present a health hazard, which is the most serious concern, but other potential problems will still need a certified HVAC technician to fix them.
If Your Unit Smells Like Burning Plastic…
A smell like burning plastic generally indicates that something is burning or overheating inside your unit. The culprit could be your motor, capacitor or fan belt. It could also be caused by a general electrical issue.
Unfortunately, the causes behind burning plastic smells can be dangerous because they can cause house fires. Switch your unit off immediately and call for local HVAC repair. If you see smoke or flames at any time, shut the unit off and contact the fire department.
For small fires, you can use a fire extinguisher. For any fire, be sure to evacuate your home of people and animals to eliminate the potential for harm should the fire spread beyond your air conditioner unit.
If Your Unit Smells Like Cat Pee…
Cat pee often has a strong, distinct smell. But did you know this smell is because cat pee has a strong ammonia concentration? If you're smelling this from your air conditioner unit, you'll want to seek immediate help because it generally means mold has bred inside your AC unit or ductwork.
Mold is harmful to all life and can cause breathing issues, especially in those already at high risk. If your unit smells like cat pee and anyone in your home feels sick, head to the nearest emergency room.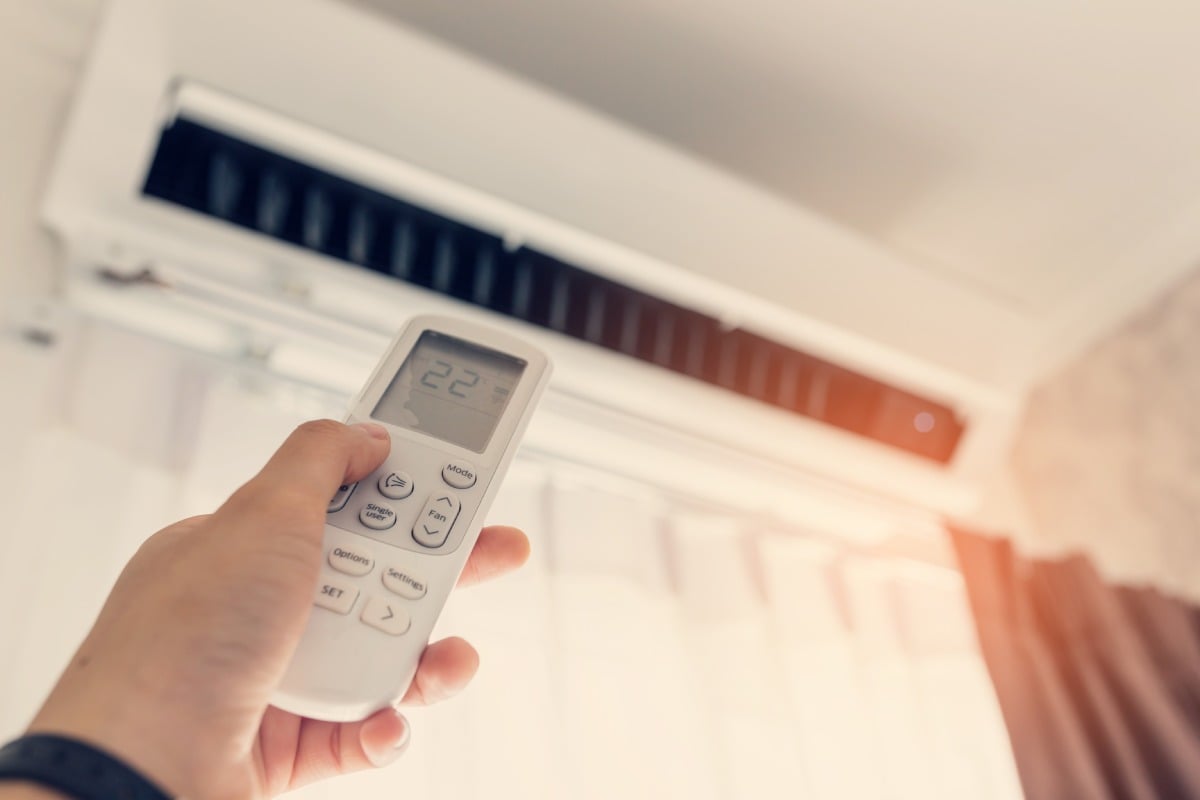 When Should You Call an HVAC Technician About Air Conditioner Smells?
Most air conditioner smells require the assistance of a professional HVAC technician. When in doubt, it's always better to be safe rather than sorry. Air conditioner smells can have a range of causes, but some of them are quite serious and could be damaging to your health or cause a fire.
Other Signs to Watch for When Your AC Smells Musty or Otherwise Bad
Often, other signs will accompany the weird smell coming from your air conditioning unit. These additional issues can help an HVAC technician diagnose the problem. Other signs to watch for include:
Loud or abnormal noises
Rapid cycling (quickly turning on and then back off)
High humidity levels inside your home
Water or fluid leaks anywhere along your HVAC system
Insufficient airflow
Air conditioner is blowing warm air instead of cool
Smoke or flames
Increased energy costs
Find Affordable HVAC Services and Repairs
Still asking yourself, "Why does my air conditioner smell?" An air conditioner technician can help you diagnose and fix the issue. When the problem isn't fixable, a technician can help by replacing your old unit with a new one. Get a free quote on HVAC services and repairs in your area today.
Frequently Asked Questions About Air Conditioner Smells
How do I get rid of the smell in my air conditioner?
Getting rid of the smell in your air conditioner depends on the root cause. The best way to eliminate any odors is to call an HVAC technician to diagnose and solve the problem.
Why is my AC giving off a bad smell?
Many things can cause your AC to give off a bad smell. For example, it could be caused by electrical issues, mold growth or a clogged drain line. Other reasons for bad smells include dirty air conditioning filters, a dirty evaporator coil or excessive condensation.
Is a smelly AC unit bad for you?
In some cases, a smelly AC unit can be bad for you. For example, units that smell like cat pee can be caused by mold, which is toxic to humans and pets when breathed in. A smell of rotten eggs isn't likely caused by your air conditioner unit but might be circulated by one. The smell of rotten eggs is usually caused by a natural gas leak, which is hazardous to your health.
Will the air conditioner smell go away?
Most air conditioner smells will go away once the root cause is solved. However, sometimes, you may need to replace your air conditioner or ductwork to remove the smell entirely.
Get Quotes
How soon are you looking to buy?*