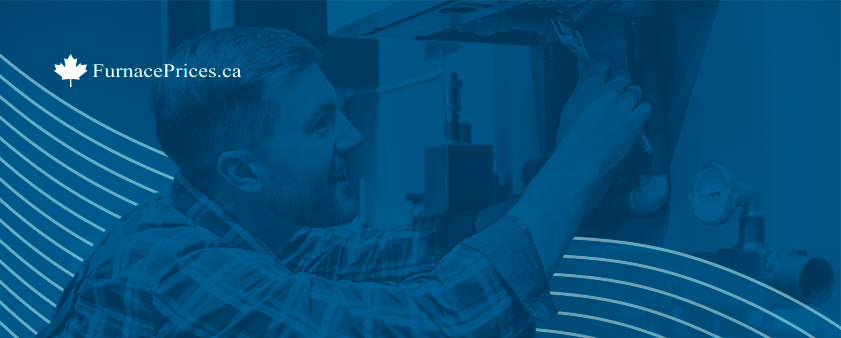 Buying a new furnace or air conditioner is a big investment that you should think carefully about, but upgrading your HVAC system has a lot of potential advantages.
A new heating and cooling system can make your home more efficient, more comfortable, more desirable, more technologically advanced, and cheaper to heat and cool.
Furthermore, new HVAC equipment—including furnaces, air conditioners, water heaters, and boilers—requires less maintenance, causes fewer headaches, and is generally more reliable than an older unit.
Today we'll go over the many potential benefits of upgrading your furnace and air conditioner, including how they can save you money thanks to lower energy bills, fewer maintenance calls, and a new warranty, but also give you some tips that will help you decide when is the right time to upgrade.
A Chance for More Efficient Equipment and Reduced Energy Bills
One of the major potential benefits of upgrading any HVAC equipment is improved efficiency. The furnaces, air conditioners, boilers, and other systems available today are highly efficient, meaning they use less fuel and less energy, and therefore cost less to operate.
The amount of money you can save with improved efficiency will depend on a lot of things, most notably the difference in efficiency between your current furnace or air conditioner and the new one.
For example, if your current furnace is only five years old and has an AFUE of 92 percent and you upgrade to a furnace with a 95 percent AFUE, then your energy savings won't be huge.
By contrast, if you have an older furnace with an efficiency rating around 80 percent or lower, then you could reduce your heating costs a great deal by replacing it with a modern, high-efficiency furnace.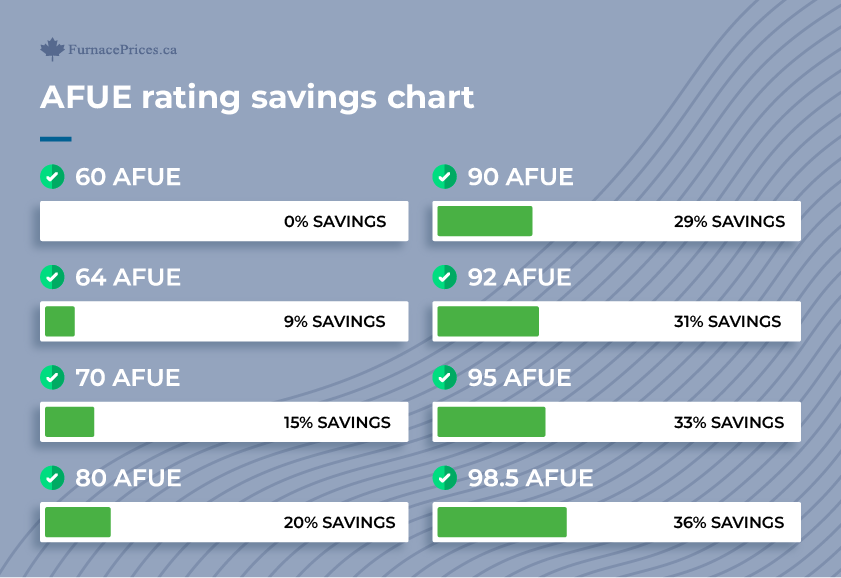 High-efficiency furnaces on the market today have AFUE ratings between 90 and 99 percent, and high-efficiency air conditioners have SEER ratings between 13 and 27.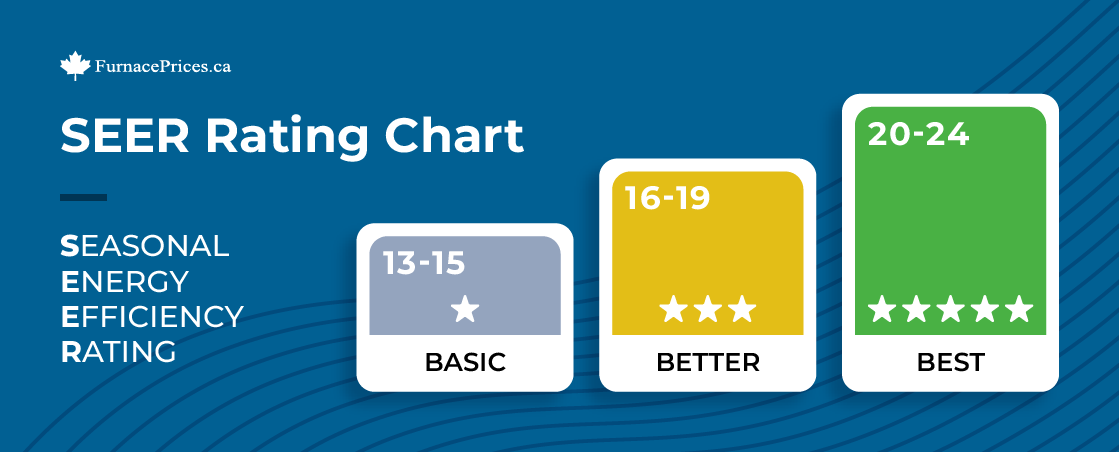 Depending on the efficiency of your old model and the efficiency of your upgrade, you could stand to save a great deal on heating and cooling costs.
Save on Labour Costs with a New Furnace or Air Conditioner That Needs Less Maintenance
Most machines tend to break down more frequently as they get older, and when that starts happening to your furnace or air conditioner, the service and maintenance bills can quickly add up.
In the beginning of a furnace's or air conditioner's life, the unit typically only needs annual maintenance to tune it up and make sure it's in optimal shape for the coming summer or winter. But as it ages, parts can wear out and components can start breaking down, and this can result in high bills for repairs or replacement parts.
By upgrading an older unit that's starting to break down more often, you could save yourself a great deal of money, not to mention a lot of headaches and waiting around for repair technicians.
Repairs Should Be Covered by a New Warranty
Speaking of maintenance, another great thing about a new heating or cooling system is the warranty that comes with it.
All the furnaces and air conditioners sold in Canada come with a warranty, and the terms are getting better and longer all the time as manufacturers compete for business.
A new warranty can be an excellent selling point for new HVAC equipment, especially if your current furnace and air conditioner are older and no longer covered. Warranties can save you a great deal of money on both major and minor repairs.
Here are some common warranty terms that come with the furnaces and air conditioners being sold today: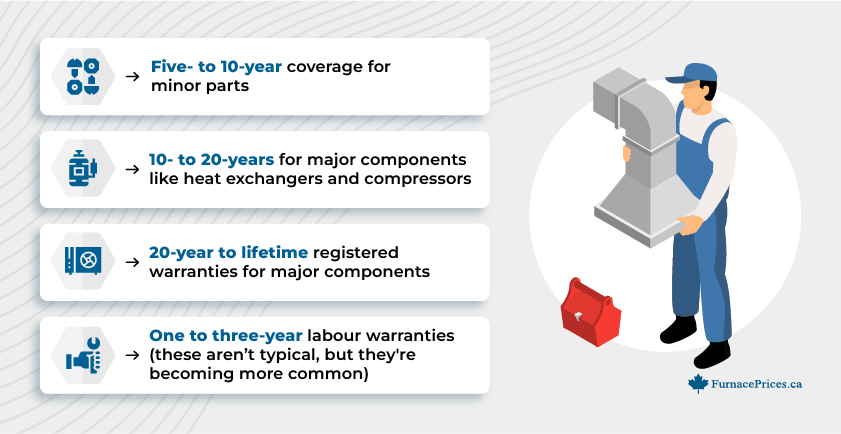 Five- to 10-year coverage for minor parts
10- to 20-years for major components like heat exchangers and compressors
20-year to lifetime registered warranties for major components
One to three-year labour warranties (these aren't typical, but they're becoming more common)
Improved Reliability Can Give You Peace of Mind
Another issue that's related to maintenance is reliability, and this can be a huge advantage to buying a new furnace or air conditioner. If you have older and ailing HVAC equipment that's requiring regular maintenance, it can be difficult to trust that your heating or cooling system will work when you need it most.
One of the most nerve-racking things about older units—especially once they get passed the 10 to 15-year mark—is the possibility that they could break down at any time, like in the middle of a cold snap or a heat wave.
We've already discussed how newer equipment is less likely to break down, and on top of saving you money on repairs, this can also help you sleep better knowing that your family will be safe and comfortable during even the most extreme summer and winter weather.
Upgrade to a Furnace or Air Conditioner with a Modern Design and Cutting-Edge Features
There was a time when buying a new furnace went like this: you visited your local HVAC dealer, picked a brand and size, and went on your merry way.
HVAC technology back then wasn't as advanced as it is today, and if your furnace or air conditioner is from that era, then you might be in for a technological culture shock when you look at a new one.
Furnace and air conditioner technology has come a long way in the last several years, and there are lots of cool features and design improvements available now that could make your life easier, your home more comfortable, and your energy bills a little smaller.
The features that come with a new heating or cooling system will depend on the make and model, as well as how much you spend. If your budget is conservative, then you won't get access to all the same technologies as you might from a more expensive model.
Here are a few of the examples of design features and technologies that might interest you:
| Furnace or Air Conditioner | Feature/Technology | Benefit |
| --- | --- | --- |
| Furnaces | Two-stage or modulating burner | Better energy efficiency, quieter operation, and more even and consistent temperatures |
| Furnaces | Direct electronic ignition | No pilot light to waste fuel, less maintenance, and improved reliability |
| Furnaces | Secondary heat exchanger | Improved efficiency and reduced heat loss |
| Furnaces | Communicating technology | Optimized performance and settings that adjust automatically for better comfort |
| Air Conditioners | Two-stage or variable-speed compressor | Improved efficiency, fewer temperature fluctuations, better humidity control, and quieter operation |
| Air Conditioners | New compressor designs | Quieter and more efficient operation, and longer-lasting components |
| Air Conditioners | Improved refrigerants | Less impact on the environment |
| Furnaces and Air Conditioners | Wi-Fi compatibility | Remote operation of the system using a smartphone or tablet |
| Furnaces and Air Conditioners | Sound-reduction features | Quieter operation |
| Furnaces and Air Conditioners | Air purification and humidity control | Better indoor air quality and improved moisture control |
| Furnaces and Air Conditioners | Self-diagnostics | Makes troubleshooting and maintenance easier and possibly cheaper |
| Furnaces and Air Conditioners | Programmable and smart thermostat compatibility | Better efficiency, less energy waste, lower energy bills, better comfort, and customized settings |
| Furnaces and Air Conditioners | Variable-speed fans | Quieter, more consistent temperatures, better temperature maintenance, and improved efficiency |
| Furnaces and Air Conditioners | Multiple zones | Customized heating and cooling settings in different areas of the house |
New Units Can Mean Better Performance
Along with making your life easier and lowering energy bills, the technologies and design improvements that are available with most new furnaces and air conditioners can also improve indoor comfort by ensuring consistent temperatures.
Furnaces with two-stage or modulating burners and air conditioners with two-stage or variable-speed compressors run longer and at lower speeds whenever possible, and this translates to even temperatures, less noise, fewer hot and cold spots throughout the house, and a home that's always at the temperature you want it to be.
Furthermore, multi- and variable-speed fans also improve temperature consistency and maintenance.
It's important to note that if you upgrade to an entry-level model that only has a single-stage burner or compressor, then you probably won't see these benefits.
Models like this are much more basic, and only have On and Off settings, so they're either running at full capacity or not at all. This generally means they're more affordable, but also less efficient, noisier, and not as good at maintaining your desired temperature.
It's an Opportunity to Upgrade Your Household Technology and Get Cleaner Air, Energy Savings, and More
One of the selling features of many new furnaces and air conditioners is they're compatible with modern technologies that can make your life easier, improve the air quality in your home, increase humidity control, and reduce energy use.
If you choose to upgrade to a mid-range or premium furnace or air conditioner, then you might also be able to pair that unit with technologically advanced devices such as: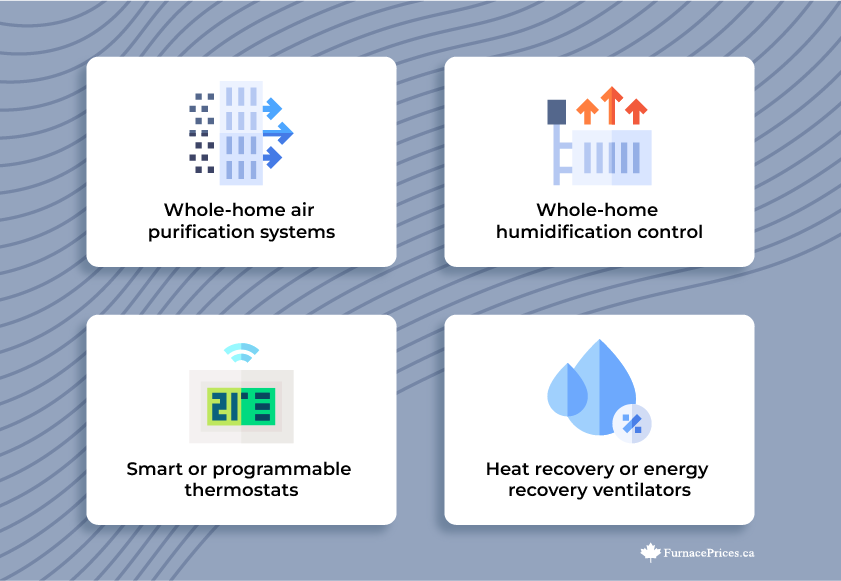 Energy-Efficient Furnaces and Air Conditioners Can Reduce Your Carbon Footprint
We've already talked about the AFUE and SEER ratings of modern high-efficiency furnaces and air conditioners, so you could reduce your carbon footprint by upgrading older and less efficient HVAC equipment.
One of the easiest ways to ensure your upgraded models will reduce your carbon footprint is to look for ENERGY STAR® certification. Furnaces and air conditioners that qualify for the ENERGY STAR program must meet excellent performance and efficiency standards:
Furnaces must have AFUE ratings of at least 95 percent to qualify.
Air conditioners must have SEER ratings of at least 15 to qualify.
Environmentally Friendly Furnace and Air Conditioner Features
There are other green features and technologies that are available with some high-end furnaces and air conditioners that are designed to reduce energy use, lower carbon footprints, and reduce resource consumption, including: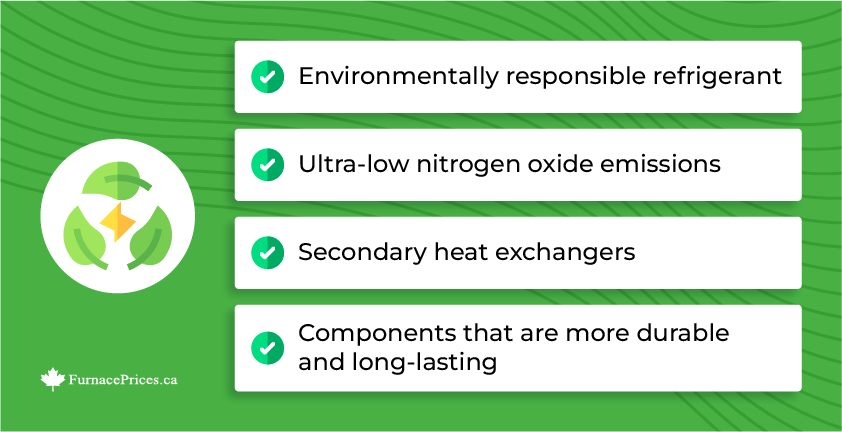 Environmentally responsible refrigerant
Ultra-low nitrogen oxide emissions
Secondary heat exchangers
Components that are more durable and long-lasting
Upgrades Can Make Your Home Safer and More Appealing to Potential Buyers and Insurance Companies
It might be tempting to think that upgrading your furnace and air conditioner will increase the value of your home, and while there typically isn't a correlation between new HVAC equipment and higher home values, an upgraded HVAC system can contribute to a higher resale value in three ways.

Energy Efficiency Upgrades Are a Bonus
First of all, energy efficiency upgrades can increase home values, so if you opt for high-efficiency heating and cooling systems, then this can potentially increase resale value.
Smart Technology Is Another Plus
Secondly, modern homeowners like homes that have smart technology, so when you buy a mid-range or high-end furnace and air conditioner and pair them with a smart thermostat, this can also help justify a higher listing price.
Lots of insurance companies and plenty of potential homeowners don't look favourably on oil heating because they don't like the idea of having a large oil tank in the basement or backyard.
Moreover, oil furnaces tend to require more maintenance because you have to inspect the tank regularly.
Oil spills are environmental disasters and can cost thousands of dollars to clean up, and that's not always a risk that insurers or homeowners want to take on.
As a result, home insurance tends to be higher for houses with oil furnaces, so upgrading to a gas furnace could reduce your premiums and make your home more appealing if you want to sell.
Offsetting the Cost of Upgrades with Rebates
Even though a new furnace or air conditioner can save you money in the long run through lower operating costs, it still requires a sizable investment.
You can gain the benefits of new HVAC equipment while also reducing the cost of the upgrade by looking at models that are eligible for rebates, which are made available through a number of sources, including: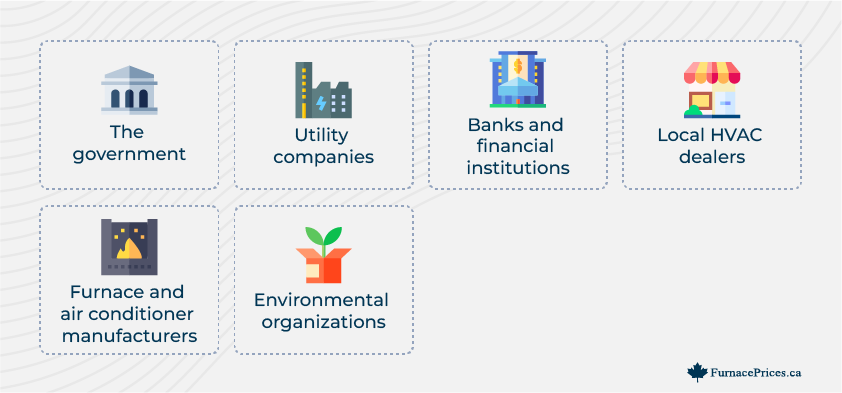 The government
Utility companies
Banks and financial institutions
Local HVAC dealers
Furnace and air conditioner manufacturers
Environmental organizations
You should know, however, that many of the rebates available for heating and cooling systems are designed to encourage consumers to purchase energy-efficient equipment. This usually means a model has to be ENERGY STAR certified or have a high-efficiency rating to qualify.
Another type of rebate you might find is through utility companies that encourage customers to upgrade their oil furnaces to gas-powered ones.
The Benefits You Gain Will Depend on Your Situation and the Upgrade
As discussed throughout this article, there are plenty of potential benefits to upgrading your furnace or air conditioner.
However, the actual advantages you can reap will depend on things like the age and reliability of your current HVAC equipment versus the models you consider as upgrades.
Mid-range and premium furnaces and air conditioners can come with a lot of cool design elements, innovative features, and cutting-edge technologies, but there are also plenty of entry-level models on the market that don't come standard with these perks.
Similarly, if your HVAC equipment is relatively new, moderately efficient, and well-maintained, then you might not see the same cost and energy savings that you might if you were upgrading older units.
It's important to consider the age, efficiency, and shape of your current HVAC equipment when weighing the potential benefits of upgrading.
Simple Rules to Help You Decide if an Upgrade Is Worth the Investment
Below are some general rules you can use to help you determine when it might be time to upgrade your heating and cooling systems:

Consider replacing units that are more than 10 years old.
Modern furnaces and air conditioners have average lifespans of 15 to 20 years. Units that are currently 10 years or older are more than halfway through their expected lifespans, so they might be requiring more frequent maintenance, and the costs of repairs can add up.
Moreover, if the unit is more than 10 years old, you could improve the efficiency of your HVAC system with upgraded models.
By contrast, if your furnace or air conditioner is less than 10 years old, then you might not reap all the benefits talked about today, and upgrading might not be worth the investment. This is especially true if the unit is still under warranty.
Replace a unit that requires expensive repairs.
There's a special rule of thumb just for this one: if a repair will cost more than 50 percent of what you'd pay for a new furnace or air conditioner, then you're probably better off upgrading instead of repairing. This is especially true of units that are 10 years or older.
Don't necessarily upgrade if your current unit is still under warranty.
Today's furnace and air conditioner warranties can last anywhere from five years to the lifetime of the unit, and you should always consider warranty terms before deciding to upgrade.
For example, if your furnace is 12 years old and needs an expensive repair that will be covered by the warranty, then you should seriously consider the repair.
By contrast, if the unit is no longer covered under warranty and the cost of repairs is adding up, then it might be time to upgrade.
Get Quotes
How soon are you looking to buy?*