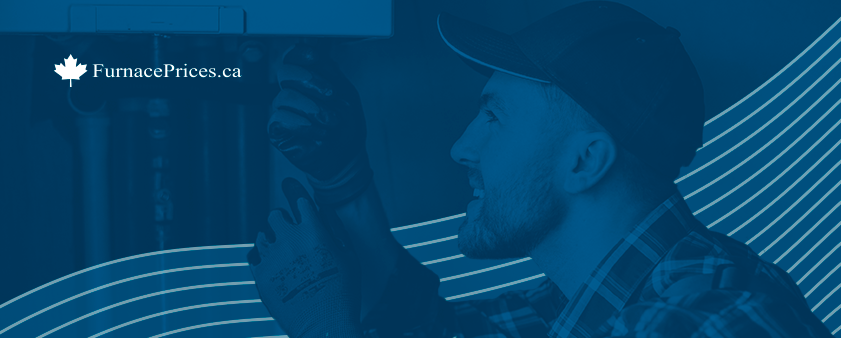 You rely on your furnace every day in winter to keep your home and family safe, comfortable, and warm, and there are important furnace maintenance steps you can take to make sure your furnace is in good shape to do this before you turn it on for the first time.
If you're not sure whether your furnace is winter-ready, then this guide will tell you everything you need to do to get your heating system prepared for the cold weather to come. We'll go over important maintenance, why a little preparation is important, tips to help you lower heating costs, and more.
Why You Should Opt for Professional Maintenance
Annual maintenance for your HVAC system is an important part of home ownership. One of the best and most obvious reasons to leave this to the pros is because they'll be able to clean and service your furnace without damaging it. They'll have all the tools required to get the job done properly and efficiently.
Moreover, a professional HVAC technician will know exactly what to look for in terms of current issues or potential problems, and explain what service or preventative maintenance you might need.
An annual inspection could also save you money by making sure that your furnace is clean, in good working order, and working as efficiently as possible.
Furthermore, it will also ensure the safety of your home and family. Major issues like gas leaks, cracked heat exchangers, and other furnace problems can be serious safety hazards. A professional HVAC contractor will know exactly what to look for to make sure your furnace is safe and ready to go for winter.
Although a professional inspection will be an additional cost, it will also save you plenty of time because you won't have to worry about the maintenance yourself. Just like regular oil changes for your car, an annual furnace inspection is a worthwhile investment.
Lastly, most extended warranties require annual maintenance be performed in order to maintain coverage. This is often buried in the fine print and something homeowners often don't realize until it's too late!
So if you'd like to keep your warranty valid, get your furnace inspected at the start of every fall/winter heating season.
When to Get Started?
It's always best to get a head start on winter maintenance, and we recommend getting started in the fall.
For one thing, professional HVAC technicians get pretty busy in the winter months, and you might have to wait for an inspection or maintenance if you put it off too long. Similarly, if your furnace needs more than just an annual tune-up, you'll have plenty of time to get that dealt with if you start early.
Finally, if you have your furnace serviced early, it will be ready to go as soon as the mercury starts to drop. Some years might feature an earlier than usual cold snap, so having your furnace serviced early in the season never hurts.
Important Steps for Making Sure Your Furnace Is Winter-Ready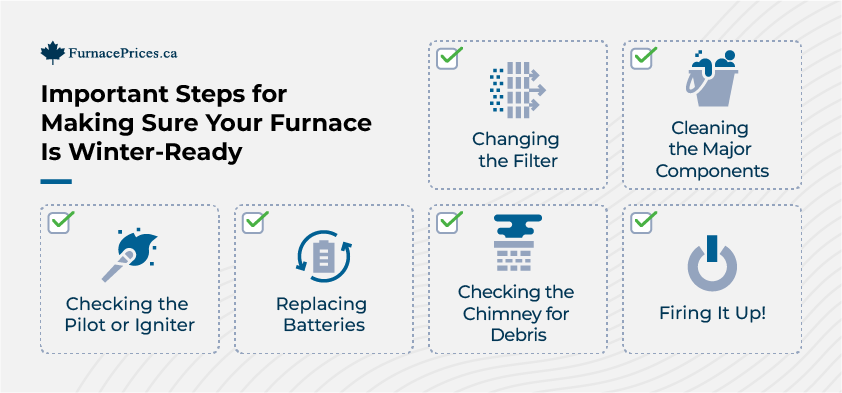 Whether you opt to do annual maintenance on your furnace yourself (not advised!) or have a trained HVAC technician take care of it for you, there are some important things you need to make sure get done before winter arrives.
If you opt for DIY cleaning and maintenance, make sure you have the right tools, have read and understood the manufacturer's instructions, know what you're doing (ideally with prior HVAC experience), and feel comfortable with the job. Always turn off the furnace or shut off power to the unit before getting started.
Changing the Filter
Furnace filters clean the air going through the system, and therefore the air in your house. A clean filter can improve air quality, reduce odours, and improve the overall indoor environment.
Standard furnace filters should be changed or cleaned every one to three months, depending on the style. If you live somewhere that's particularly dusty, smoky, or otherwise polluted, then you should probably change the filter every month, or even more frequently.
More advanced filters, such as thicker flat ones or extended media filters typically only need to be changed every three to six months, but check the manufacturer's instructions to be sure.
Get Quotes
How soon are you looking to buy?*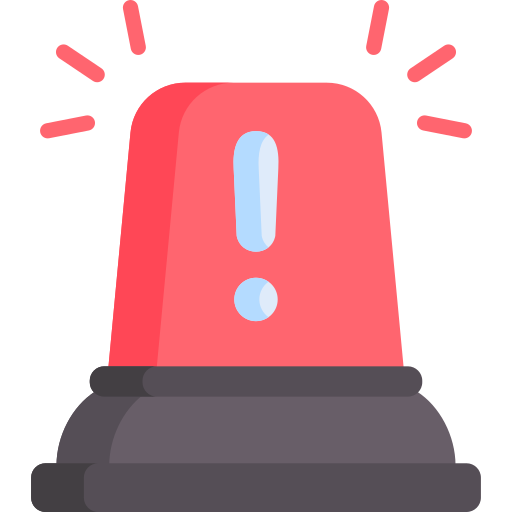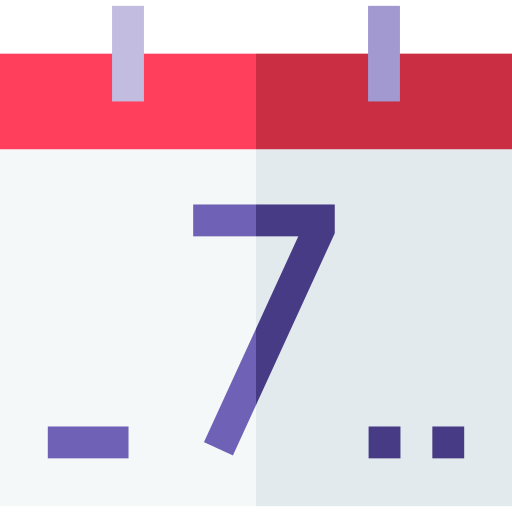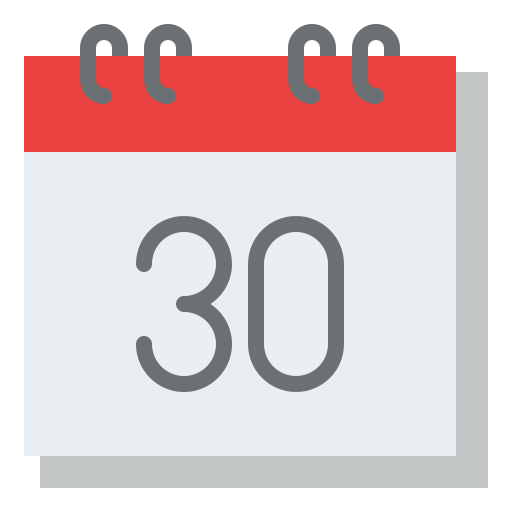 Cleaning the Major Components
Cleaning the blower motor, heat exchanger, burner, and other parts annually will keep your furnace in great shape and help it work efficiently.
To start, clear away any dust, debris, or objects around the furnace to eliminate fire hazards.
WARNING: Following these steps is at your own risk, we recommend calling a certified professional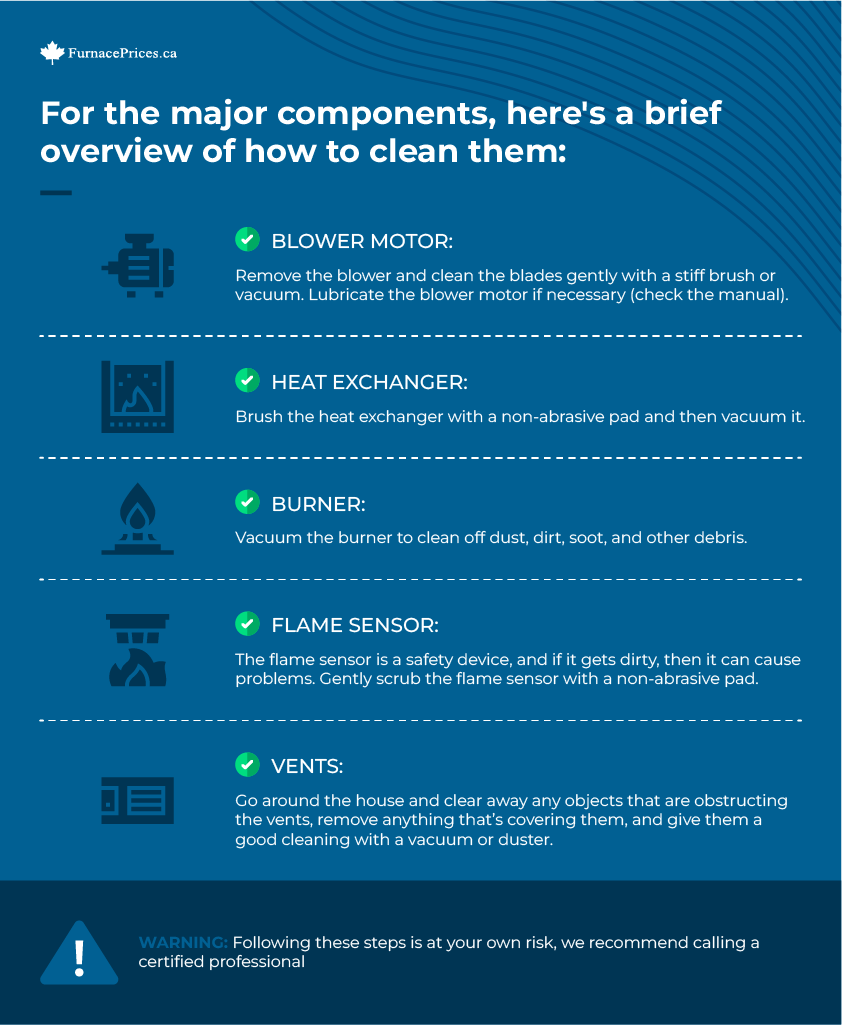 For the major components, here's a brief overview of how to clean them:
Blower motor: Remove the blower and clean the blades gently with a stiff brush or vacuum. Lubricate the blower motor if necessary (check the manual).
Heat exchanger: Brush the heat exchanger with a non-abrasive pad and then vacuum it.
Burner: Vacuum the burner to clean off dust, dirt, soot, and other debris.
Flame sensor: The flame sensor is a safety device, and if it gets dirty, then it can cause problems. Gently scrub the flame sensor with a non-abrasive pad.
Vents: Go around the house and clear away any objects that are obstructing the vents, remove anything that's covering them, and give them a good cleaning with a vacuum or duster.
Checking the Pilot or Igniter
Older furnaces usually have pilot lights, and you should light this to make sure it's working. Newer furnaces that have electric igniters should be tested as well. Hit the reset button if it's not working.
Replacing Batteries
Smoke alarms and carbon monoxide detectors are important pieces of safety equipment, but the batteries need to be replaced regularly for them to protect your home and family.
It's recommended that you replace the batteries in both devices every six months, so the beginning of winter is a good time to do it.
Checking the Chimney for Debris
Some furnaces vent exhaust gasses through the chimney, if you have one. And either way, if you have a wood-burning fireplace you'll want to check it before making the first fire of the season. Poke your head up there and make sure there aren't any obstructions in the chimney, such as nests, animals, or soot buildup.
If necessary, arrange to have your chimney cleaned, because dirty chimneys and trapped exhaust gasses can be health and fire hazards.
Firing It Up!
Switch the thermostat to heating, and to a few degrees warmer than its normal setting and wait for it to come on. Once you've ascertained that everything is working as it should, you can set the thermostat to its normal temperature for winter.
There Are Many Advantages to Furnace Maintenance
An annual furnace tune-up might seem like a hassle, but there are lots of benefits as well, including: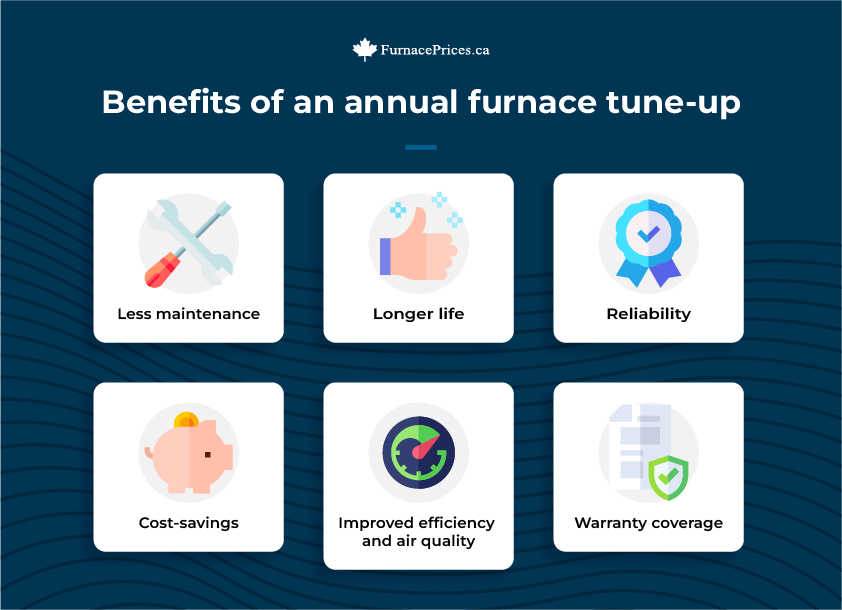 Less maintenance: A little TLC could reduce service requirements and furnace repairs down the road, and that will save you more than you'll spend on an annual inspection.
Longer life: Regular service will also help to prolong the life of your furnace, and that translates to even bigger savings.
Reliability: Pre-winter maintenance will help to ensure that your furnace doesn't break down when you need it most—in the middle of winter.
Improved efficiency and air quality: Important maintenance like cleaning the filters can make your furnace work better and reduce dust and other contaminants in the air.
Cost-savings: Better efficiency and fewer breakdowns will save you on energy bills and maintenance. Plus, regular service might fix small problems that could become expensive issues down the road.
Warranty coverage: Many furnace warranties (including 'Unit Replacement' or 'Lifetime Heat Exchanger' warranties) will revert to the lowest base coverage without proof of annual maintenance performed by a licensed contractor.
Tips to Reduce Heating Costs
Some of the best ways to reduce heating costs in winter include investing in a high-efficiency furnace, having regular maintenance performed, and changing the filters every one to three months. Beyond that, here are some other tips for cutting winter energy bills:

Upgrade your thermostat: If you still use a manual thermostat, then you're missing out on the luxuries of being able to program your heating system to run just the way you like with a programmable thermostat.
However, a step-up from both manual and programmable thermostats are smart thermostats. Smart thermostats can learn your heating habits and make decisions based on your previous settings to make sure your home is always heated how you like it, and as efficiently as possible.
Seal air leaks: Measures taken to make sure that your home is energy efficient can help you make the most out of your home heating system. Focus closely on air leaks in your home, which can cause your furnace to work harder than it needs to, resulting in larger bills at the end of the month and a shorter life for your unit.
Consider having a professional check your home for air leaks, or check the most common culprit areas yourself. These include windows and doors, electrical outlets, ducts, vents, fans, attics and basements, and areas where piping and wiring come into the house.
Increase the humidity: Not only can dry winter air in your home contribute to increased static electricity, dry skin, and sore throats, but it can also make your home feel colder. Humid air feels warmer than dry air, so you can improve indoor comfort with a room or whole-home humidifier.
Get Quotes
How soon are you looking to buy?*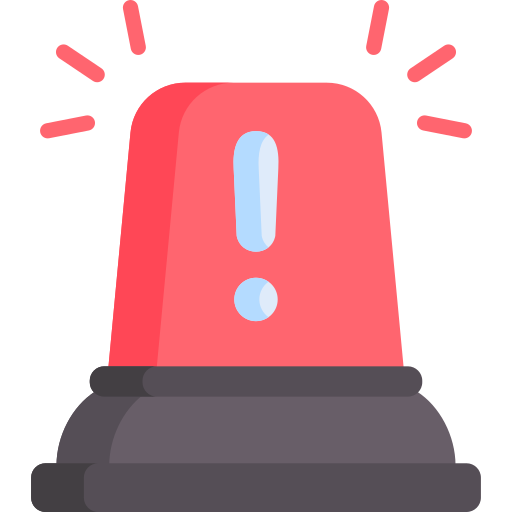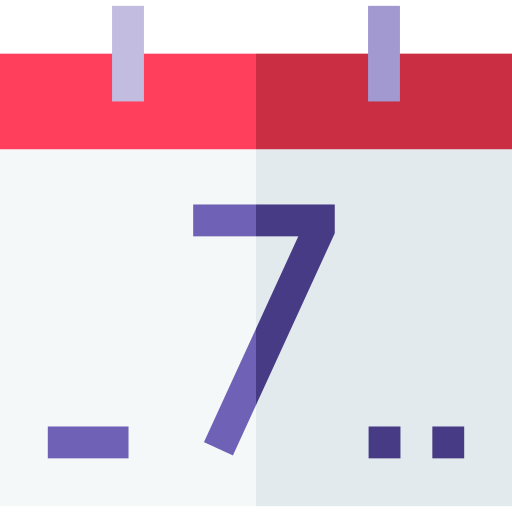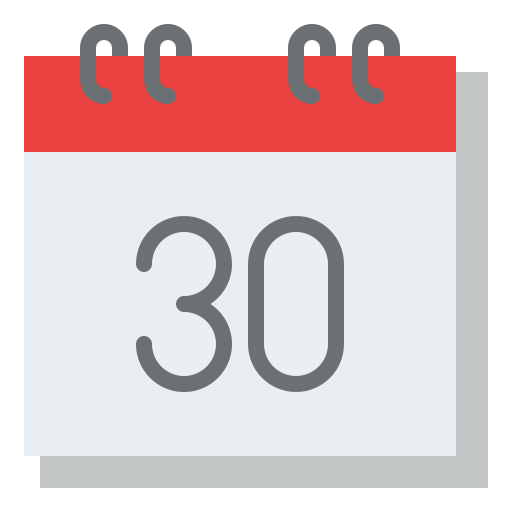 Knowing When It's Time to Upgrade Your Furnace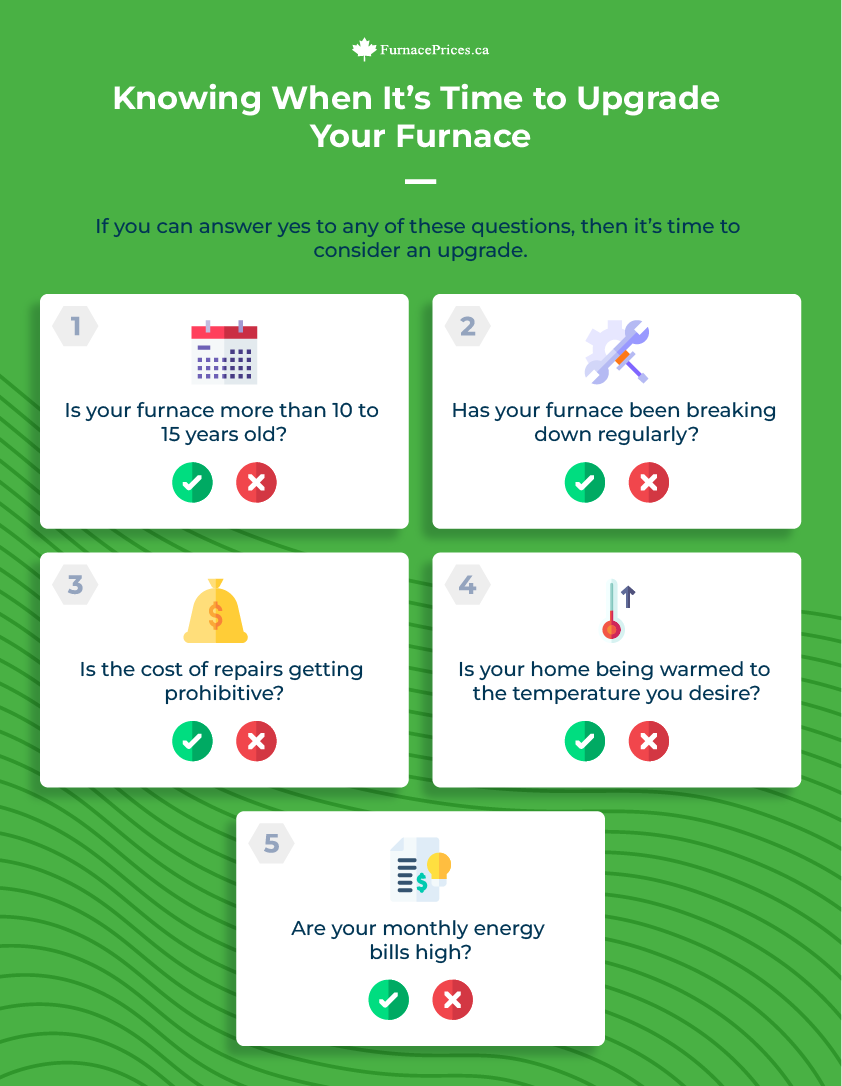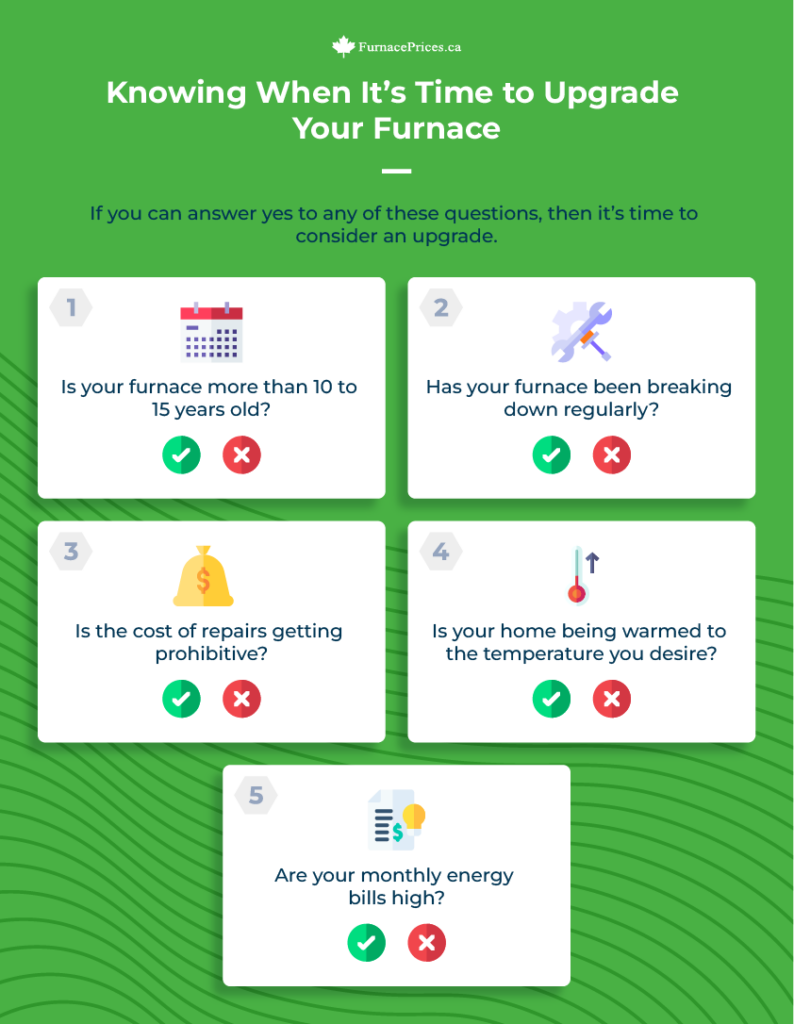 Every furnace reaches a point in its life when it can no longer perform adequately or requires maintenance too often, and that signals it's time for a new high-efficiency furnace.
If you can answer yes to any of these questions, then it's time to consider an upgrade.
Is your furnace more than 10 to 15 years old?

Furnaces around 10 to 15 years old tend to be more susceptible to breakdowns and maintenance issues, and by this point, many part replacement warranties have expired. Older furnaces are also less efficient than modern models, meaning higher energy bills.
That doesn't mean you automatically need to replace your furnace as soon as it hits its 10th birthday, but the older it is, the more worthwhile replacing it for a newer version becomes.

Has your furnace been breaking down regularly?

Depending on what the problem is, furnace breakdowns can be costly. If you're covered by a warranty and can arrange a fast maintenance call, then these breakdowns may only be an inconvenience. But as winter becomes colder, HVAC companies often become busier, so it's good to have a reliable unit to keep you warm.
Especially if your furnace has been red-tagged.

Is the cost of repairs getting prohibitive?

A general rule of thumb for a furnace replacement versus maintenance is this: if the cost of a repair (especially for an older unit that's not under warranty) will cost more than 50 percent of what you'd pay for an upgrade, then you should probably opt for a new furnace.

Is your home being warmed to the temperature you desire?

If your home is cooler than it was when you first purchased your furnace, or it has never reached a suitable temperature, then there could be a maintenance or sizing issue that could be corrected with a new model.

Are your monthly energy bills high?

High heating bills can mean your furnace isn't efficient enough. The AFUE rating is the annual fuel utilization efficiency rating, and this shows how efficient the furnace is at converting energy to heat.
A high-efficiency furnace should have a 90+ percent AFUE rating, and there are some on the market today that are rated as high as 99 percent. By contrast, most furnaces manufactured in the 1990s and earlier might only be 80 percent efficient or less.
The Benefits of a Modern Furnace
One of the main advantages of upgrading your furnace is getting a high-efficiency model with a good AFUE rating that will cut your energy bills.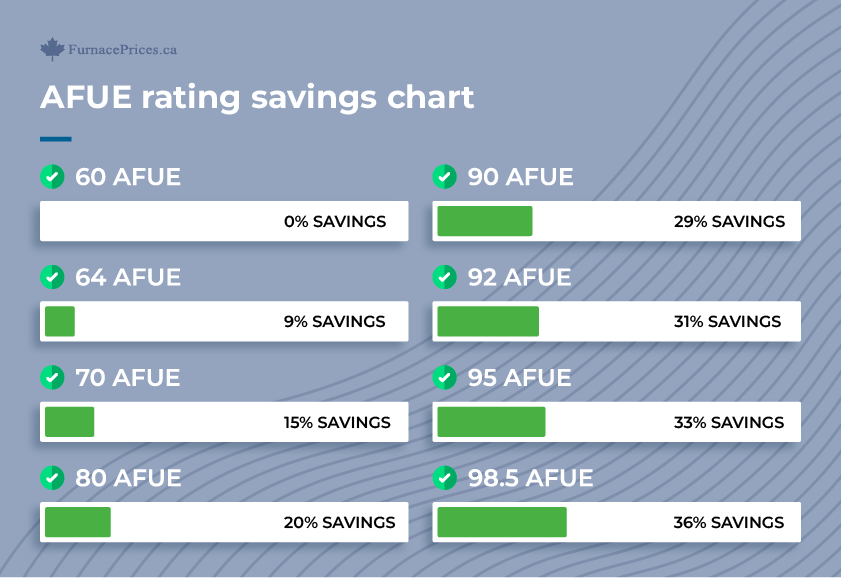 Note that this davings chart shows savings compared to a baseline of 60% AFUE, which would be likely for very old furnaces (25 years+). Furnaces that are in the 15-20 year old range, are likely closer to 75 – 85% AFUE.
Another benefit of high-efficiency furnaces is that many are backed by ENERGY STAR®. ENERGY STAR is a program created by the U.S. Environmental Protection Agency and the U.S. Department of Energy. In Canada, it's administered by the government, and the purpose is to help consumers identify high-efficiency products.
Looking for an ENERGY STAR certified furnace will help you save money on your monthly bills, but it will also guarantee that the unit you buy performs better than comparable models. There are also lots of rebates out there for ENERGY STAR certified furnaces.
Upgrading your furnace is also the opportunity to purchase a unit with a BTU rating that is suitable for your home, meaning the furnace has been accurately sized for your space. A professional HVAC technician will be able to assess your home and calculate the right size for your new furnace.
Another great thing about modern furnaces is the technology. Depending on your budget, you could get a top furnace model with communicating technology, Wi-Fi connectivity, self-diagnostics, quiet operation features, two-stage or modulating gas valves, and much more.
Finally, new furnaces will be covered under warranty, which adds some peace of mind.
FAQ
Should I get my ducts cleaned before winter?
Ductwork and vents accumulate dust and debris, which can impact air quality and aggravate allergies or respiratory issues. A vacuum with the right attachments can be used for the purpose of cleaning the vents and ducts, and this is generally sufficient for most homes. You'll want to consider professional duct cleaning if your home is particularly dusty, you've had a rodent or mold problem, you've recently done renovations, or there's reduced air flow throughout your home. Duct cleaning isn't usually necessary every year, though it may be worth doing every few years.
What temperature should I set my thermostat to?
The ideal temperature to balance warmth and energy-savings is 20 Celsius (68 F). For even bigger savings, use a programmable or smart thermostat to set the temperature lower for when you're sleeping or away from the house. The best smart thermostats like Nest and Ecobee also have an app that lets you easily control the temperature remotely and set automated heating & cooling schedules.
Get Quotes
How soon are you looking to buy?*