Get 24/7 Emergency Service from Our Certified HVAC Contractors Near You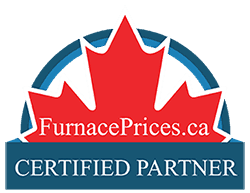 Our local heating & cooling contractors have passed our extensive independent certification process, which helps protect homeowners by verifying their licenses, insurance, track record, and more.
Experienced service technicians available to diagnose and fix your heating system day or night!
Keeprite Furnace Repair Guide 2019
(Updated for 2019)
This handy Keeprite furnace repair guide will tell you about replacing your filter, troubleshooting tips, common issues, model error codes, and more.
Please note, the following is for informational purposes only. Any servicing you attempt is at your own risk.
Keeprite, At a Glance
Keeprite has been a reliable brand in Canada for over 50 years, becoming a trusted name for consumers looking for an affordable furnace. Before any furnace leaves the Keeprite factory, it is given a test run to ensure performance and live up to your expectations.
With ideas like quality, energy efficiency and reliability in mind, it's easy to see why Keeprite furnaces are one of the top contenders in the furnace market. They aim to provide a hassle-free experience for their consumers.
As with any furnace, a little maintenance goes a long way in extending the longevity of your unit. Ensuring that it is clean, running properly, and has good filters can keep the more expensive repairs at bay. Keeping your furnace in good working order means that it'll be running at peak efficiency and maintaining a comfortable home for you.
How to Replace Your Keeprite Air Filter
Open the front panel or door to get access to your Keeprite furnace; you may have to slide or unscrew the panel to work with progressive force.
The filter is typically near the cold air return or the blower chamber. Locate it and ensure that you have easy access to it.
Be mindful of how you pull out the filter, especially if there is an endcap. Slide in the new one (or cleaned old one).
Take care to insert the filter correctly, that the arrows are pointing in the right direction to go with the blower and away from cold air.
Put back the panel to your furnace, either sliding or screwing it back in place.
Keeping a clean filter ensures that your furnace's airway isn't clogged and working harder than it needs to, to circulate air throughout your home. A clean filter also improves the air quality in your home, which is especially important for people with allergies or breathing issues — double check registers and vents to make sure that the airways are 100% accessible.
What's Wrong With Your Keeprite Furnace?
Common Furnace Problems and Troubleshooting
Take care to ensure that your Keeprite furnace is completely shut off with no access to power before trying to diagnose and repair the issue.
| Is your furnace... | The problem might be your... | What's wrong? | How you can fix it: |
| --- | --- | --- | --- |
| Not heating? | Circuit Breaker/Fuse | Possibly the electrical system that provides power to your furnace has shorted or blown the power switch. | Reset your Keeprite furnace's circuit breaker. If it is blown, you'll have to replace it. |
| | Igniter | The furnace's igniter could be cracked or faulty. | Check if the part has cracks. If it does, then replace the igniter. If it doesn't, use a multimeter to test for continuity. |
| Cycling irregularly? | Thermostat | The thermostat of your furnace might be adjusting incorrectly. | If your thermostat has an adjustable calibration scale, adjust the heat anticipator. If this does not address the problem or you don't have a scale, you may have to replace the thermostat. |
| Not blowing hot air? | Blower Motor | The blower motor may have burnt out. If this doesn't seem likely, then the connecting belt may have broken. | Test to see if power is reaching the motor. If it does, but nothing is running, the motor has likely failed and needs replacing. If the motor runs but air doesn't move, the connecting belt has probably broken. You'll have to replace the belt. |
| Blowing too much air? | Control Board | If the relay that regulates the blower motor on the control board has failed, it will continually send voltage to the motor. | Replace the control board. |
| | Thermostat | The contact that controls the blower motor on your thermostat may be stuck closed. The result is that the blower motor will run continuously. | Use a multimeter to check for continuity. If the issue is the thermostat, replace it. |
| Starting and then stopping shortly after? | Flame Sensor | Your furnace's flame sensor monitors the burner, detecting if a flame is present. It's either defective, or there is debris, and won't be able to detect a flame. | If dirty, carefully clean the sensor using a fine abrasive pad. If not, replace the flame sensor. |
Keeprite Furnace Error Codes
| Error Codes | What this means | How to fix it |
| --- | --- | --- |
| LED flashes like a heartbeat | Control has 24 VAC power | n/a |
| Two LED flashes | Unit's pressure switch didn't open | Check for an obstruction in the pressure tubing |
| Three LED flashes | Unit's pressure switch didn't close or reopened | Check for: excessive wind; proper vent size; defective inducer motor; defective pressure switch; inadequate combustion air supply; disconnected or obstructed pressure tubing; or restricted vent |
| Four LED flashes | Limit circuit fault: either a limit or flame rollout is open | Check for: restricted vent; proper vent sizing; loose blower wheel; excessive wind; dirty air filter; or defective blower |
| Five LED flashes | An abnormal flame proving signal, the flame is likely proved while the gas valve is de-energized | Check for a leaky gas valve or a gas valve that is stuck open |
| Six LED flashes | Failure to ignite or the flame sensor was lost while running | Check for: an ungrounded flame sensor; defective hot surface ignitor; low inlet gas pressure; oxide buildup; manual valve shut off; control ground continuity; inadequate flame carryover; or rough ignition |
| Seven LED flashes | Limit circuit lockout | A lockout will occur if the limit or flame rollout is open for longer than 3 minutes. Control will auto-reset after 3 hours |
| Eight LED flashes | Gas heating lockout, control won't auto-reset | Check for a miswired gas valve or a defective control valve |
| Ten LED flashes | Polarity is reversed | Review instructions to correct polarity |
| 1 + 2 | The blower is on after power up | Occurs if the unit is powered up during a call for heat or opens while the blower is on delay |
| 6 + 1 | Ignition lockout | Control will auto-reset after 3 hours |
| LED is off | Secondary voltage fuse is open | Check whether the door switch isn't closed or for a short circuit |
| LED is on | Control circuitry lockout | Will auto-reset after 1 hour |
| LED is solid | Gas valve relay is stuck while open, flame sense circuit failure, or software-check error | Reset power to clear the lockout and then replace control if status code repeats itself |
When to Get a Technician for Keeprite Furnace Repairs
In many cases, you can troubleshoot and repair your furnace with a little know-how and some patience. However, some issues are best dealt with by a trained professional. If you experience any of the symptoms below with your furnace, your best bet is to call a licensed technician.
If your furnace is not producing heat, if it is leaking or dripping, if it is making strange sounds like whistling or clanging (which suggests broken internal parts) or if your boiler switches itself on and off. These are more severe problems that require training to address and can be dangerous if you try to attempt to repair yourself.
Who to Call For Keeprite Furnace Repairs
Having furnace issues can be a headache, and knowing where to start can be frustrating. Checking out online reviews of different local HVAC companies isn't a bad idea and can give you possible technicians to call. However, we advise taking your findings with a grain of salt since reviews tend to be biased one way or another.
Through our independent certification program you can find reputable local heating and cooling companies and independent technicians. So if you're having a rough time finding someone you can trust, these are businesses that we've vetted for our consumers to be precise, trained and reliable. We want to help make sure you make an informed decision when you invite a technician to work on your furnace.
Keeprite's Warranty Coverage
Based on your particular model, Keeprite has specific warranties to cover basics like the heat exchanger or total unit replacement should you have any major issues. You can double-check the warranty that came with your model, or refer to our list below.
Performance Series: 10-year limited warranty on parts and 20-year limited warranty on the heat exchanger, provided you register on time.
ProComfort™ Series: 5-year No Hassle Replacement™ warranty, 10-year limited warranty on parts and a lifetime limited warranty on the heat exchanger, once you register for it on time.
ProComfort™ Deluxe Series: 10-year No Hassle Replacement™ warranty, 10-year limited warranty on parts and a lifetime limited warranty on the heat exchanger, once you register within 90 days of installation.
➤ Protect your Keeprite furnace:  Register and access your Keeprite furnace warranty here
Discontinued Keeprite Models