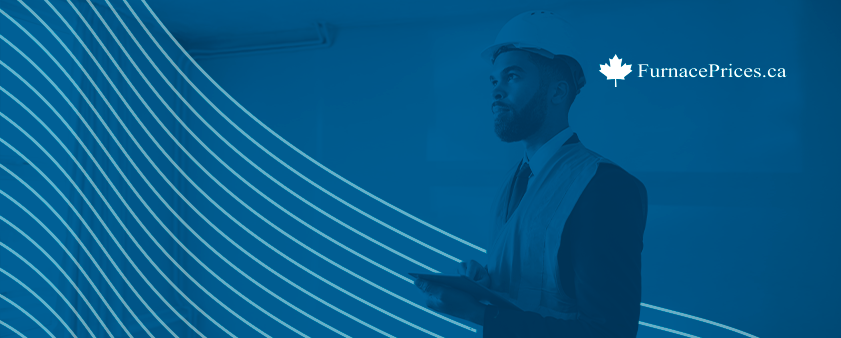 Energy audits are a standard way to see how energy-efficient, airtight and well-insulated a home is. They are often done twice; once before and once after energy-reducing home improvements have been done.
A home energy audit in Canada must usually be performed by an EnerGuide energy advisor registered with Natural Resources Canada, especially when done in the context of qualifying for government rebates, like the Canada Greener Home Program.
In this guide, we'll give you a background on home EnerGuide evaluations, how they work, the costs of one, and the situations in which Canadian homeowners should consider having them performed.
What Is an Energy Audit? (a.k.a. EnerGuide Evaluation)
An energy audit, known officially as an EnerGuide evaluation is an inspection that evaluates your home's energy use and overall energy efficiency. These audits can help you determine where your energy losses are and give you recommendations on how you can reduce them.
One of the primary aims of an energy audit is to help you assess which retrofits, modifications, and replacements should be done to your home in order to improve its energy efficiency so you will lower your utility bills, thereby saving money in the long run.
For an accurate assessment of your house's energy efficiency, several processes are incorporated. Typically, an audit will follow EnerGuide guidelines, conducting a blower door test, an evaluation of your home's insulation levels and effectiveness, and a review of your HVAC (Heating, Ventilation, and Air Conditioning) equipment and water heating equipment.
How Do Energy Audits Work?
Energy audits in Canada usually entail three stages:

1. Preparation & Initial Checks
The evaluation marks the beginning of each home energy audit. It begins when the energy auditor comes to your home (or business) to discuss the process and tools involved, and ensure your home is ready for the test.
The auditor will make sure all windows and doors are shut, and that there are no holes in the building's exterior. He will temporarily block off all the openings to the exterior like vent fans, clothes dryer and kitchen hood exhausts, and fireplaces (remove all ashes first!). He will turn off all pilot lights, so you won't be able to shower or use your furnace, restoring the appliances to their original state at the end of the audit.
These energy experts will examine your building's HVAC system and other appliances like your water heater, clothes washing equipment, and refrigerator, and note the model and age of each. They'll also count the number of windows and doors and calculate the volume of space being heated and cooled.
2. Determining Airtightness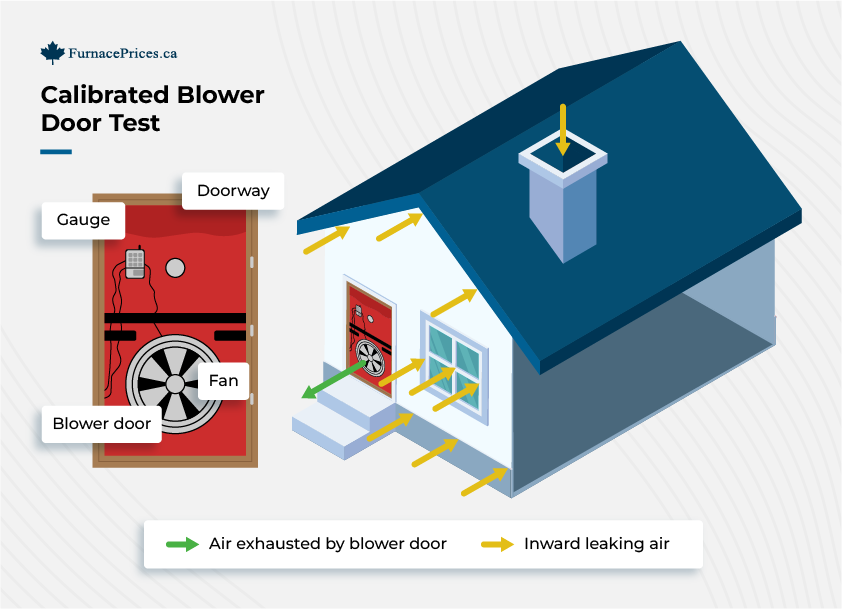 The second stage of an energy audit involves using a blower door to determine the airtightness in your house and help find air leakage. The insulation quality is also evaluated..
During the blower door test, and once all openings to the exterior are sealed, a large fan is temporarily sealed into an exterior doorway. This sucks air out of the building, depressurizing it, which allows the auditor to identify any air leaks so they can be sealed.
The total leakage score is also calculated and recorded to provide a baseline to compare with after improvements are made.
The energy auditor will also perform a thermographic scan of the structure with a high-resolution infrared camera. This allows him to see where there are air leaks, and also to evaluate the insulation within the walls, the top-level ceiling, and the bottom-level floor. He may examine attic insulation directly if the attic is easily accessible.
The advisor will additionally review and discuss electricity usage by your lighting and appliances, window efficiency, and other energy-related aspects of your house.
3. Energy Efficiency Recommendations
After completion of the audit, the energy advisor will provide a report with a list of recommendations for addressing the various issues and improving your home's energy efficiency.
A subsequent audit may be performed at a later date to validate energy efficiency improvements.
After the energy auditor has evaluated electricity use in your home, he'll issue an EnerGuide label provided by Natural Resources Canada that gives your home a rating. The lower your score, the better your home's energy efficiency levels. The label contains useful information about your home's amount of energy use and greenhouse gas emissions, as well as where the energy is used.
You'll also get a Homeowner Information Sheet and a Renovation Upgrade Report to help guide you in improving your home's energy usage.
How Much Does an Energy Audit Cost in Canada?
If you think energy audit costs are expensive, you might want to think again. Typically, an energy audit conducted by a professional should take around 3 to 5 hours, depending on the size of your house, and will cost on average between $300 and $500.
You should consider this a part of the overall investment in reducing your energy consumption and corresponding utility bills. And since audits are often a prerequisite to qualifying for most major government rebate and grant programs, they are usually quite a worthwhile investment.
In some cases, like with the Greener Home Program, a portion of the grant is meant to cover a portion or all of the cost of the pre and post-upgrade audits.
Can You DIY Your Home's Energy Audit?
In most cases, you should hire the services of a professional energy advisor registered with Natural Resources Canada to examine your home's energy usage.
Hiring a registered energy advisor is the best route to take, as they will provide a thorough home energy assessment as well as expert recommendations. They might also be your only option; for example, if your main reason for conducting an energy audit is to qualify for government rebates, you cannot do the audit yourself even if you want to.
That being said, as an ordinary homeowner you could attempt some of the steps of an energy audit to help guide your own DIY energy efficiency improvements, like sealing air leaks.
During a DIY 'energy audit', consider doing the following: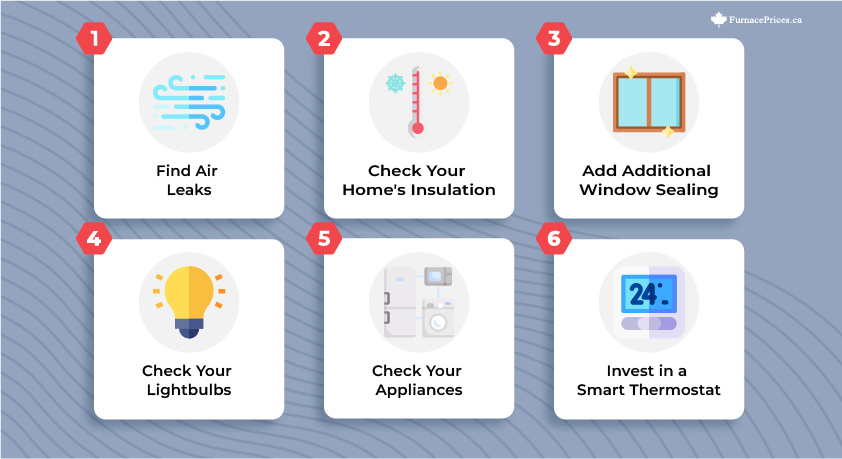 Find Air Leaks: You can simply feel for air leaks using your hand on a cold day, checking around windows and exterior doors or cracks, or you can use smoke from a stick of incense to detect airflow through gaps. If you encounter a leak, use caulk or weatherstripping to fix it.

Check Your Home's Insulation: Look at the insulation in your attic if it's accessible. Touch exterior walls in winter to see if they feel particularly cold. These areas may be good candidates for adding insulation.

Add Additional Window Sealing: Older windows can be a huge source of heat loss. Replacing them with newer high-efficiency windows is a great idea to lower energy consumption and improve the appearance of your house, but it can be expensive. You can buy various DIY weather sealing kits at a hardware store as a temporary solution.

Check Your Lightbulbs: Switching older lights to CFLs or especially LEDs will lower energy consumption and thus help you save money on energy bills. CFLs and LEDs also come with a longer lifespan.

Check Your Appliances: During your DIY energy audit, it's imperative to check the energy efficiency of home appliances. If you discover that any are outdated and inefficient, consider ENERGY STAR®-certified replacements.

Invest in a Smart Thermostat: Smart thermostats are a low-cost investment that can easily pay for itself relatively quickly.

Check the damper on your fireplace: Make sure it seals tightly when you're not using the fireplace.
Why You Should Conduct an Energy Audit for Your Home
Conducting an energy audit for your home gives you multiple benefits: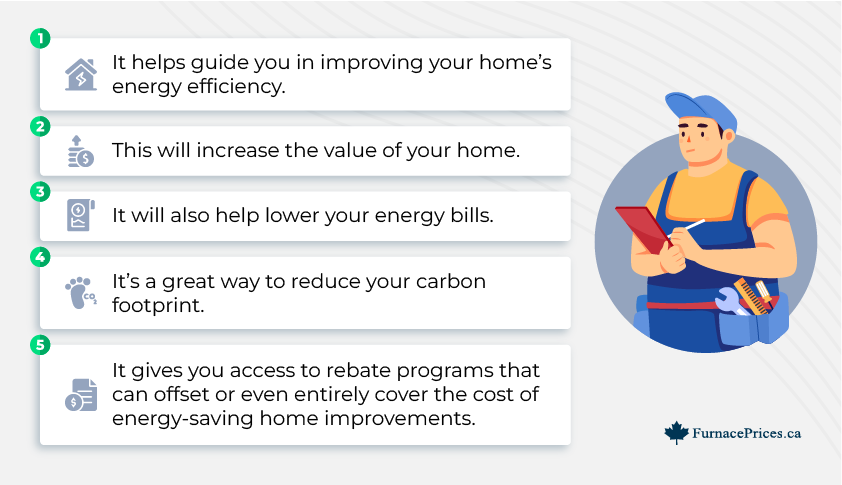 It helps guide you in improving your home's energy efficiency.
This will increase the value of your home.
It will also help lower your energy bills.
It's a great way to reduce your carbon footprint.
It gives you access to rebate programs that can offset or even entirely cover the cost of energy-saving home improvements.
The Bottom Line
Energy audits are an important tool in helping Canadian homeowners understand how to improve their home's energy efficiency and save on their energy bills.
If you're considering home retrofits and upgrades to lower your energy consumption, an energy audit is an essential first step. It can also help you qualify for government grants and home efficiency rebates.
While it does require an investment of your time and money, a Canada energy audit performed by a registered energy advisor is a worthwhile step to any energy-efficient home improvement project.
Get Quotes
How soon are you looking to buy?*