Are you considering adding a zoning system to your home's heating and cooling setup? If so, you'll want to read this guide. It covers everything you need to know about HVAC zoning systems, from their benefits to whether or not one would be right for your home. By the time you finish reading, you'll be able to make an informed decision about whether or not a zoning system is right for you.​
What is an HVAC Zoning System?
An HVAC zoning system provides heating and cooling throughout an establishment. It works by using dampers in the ductwork to regulate and redirect air into different areas of the building or residence. This allows occupants to control and customize the temperature of various zones throughout the building or residence.
There are two ways to set up HVAC zoning. For example, a larger home might have two systems, one controlled by a thermostat upstairs and the other controlled by a thermostat downstairs. This is an example of HVAC zoning where each zone has a separate HVAC system.
Or, you may have a single HVAC system with multiple zones. HVAC equipment usually has multiple duct runs off its plenum (a box that that the heated or cooled air goes into before being distributed throughout the home). Dampers are installed into these duct runs to the zones you want to control.
How does an HVAC zoning system work?
In order to get your HVAC zoning system started, you first have to figure out in which areas you want to control heating and cooling separately. Once you have decided on how to divide up your home into zones, you'll have thermostats installed in each of the zones so you can set the temperature you want.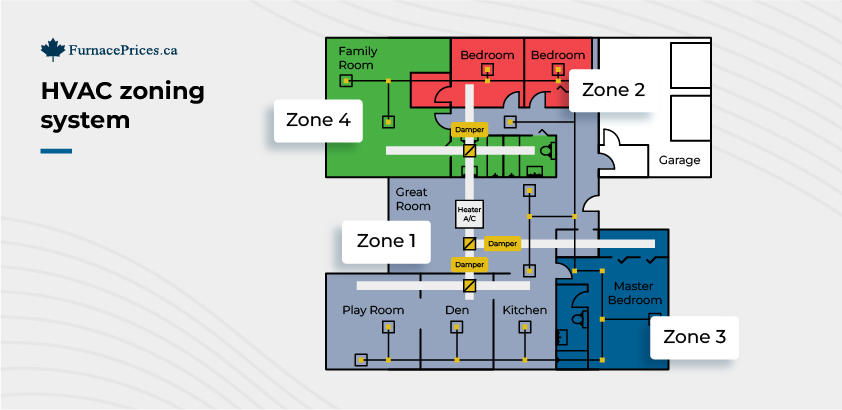 Your HVAC zoning system uses dampers that are installed inside of your ducts. These dampers control airflow within your ducts, letting air pass through or stopping it from flowing through the duct. When you set the thermostat in a zone to a specific temperature, the ducts that serve that zone will open the dampers to allow hot or cold air to enter the area. Once the zone's temperature matches your thermostat setting, the dampers will close off the ducts.
All of these thermostats and dampers will be connected to one HVAC zone control panel, which is the brains of the system. It tells dampers when to open and close to maintain the temperature you want in each zone.
You can have more than two zones if desired, with even individual rooms set up as separate zones, controlled by a thermostat in that room. With more than two zones, however, you may need a newer furnace, one with a variable speed (ECM) motor on the fan if your furnace doesn't already have that kind of motor.
What are the Benefits of an HVAC Zoning System?
HVAC zoning systems offer a number of benefits for homeowners. Perhaps the most obvious benefit is the extra control and comfort that these systems provide. With a traditional HVAC system, the entire home is cooled or heated to the temperature set on a single thermostat in one location. This can often lead to areas that are too cold or too hot because of the distance from the thermostat, and the external influences on those areas.
With an HVAC zoning system, each zone can be set to a different temperature. This allows you to customize the temperature in each room or area of your home to ensure maximum comfort.
Without having to heat or cool your entire home, you will also be saving money on your energy bills. That being said, HVAC zoning systems have a higher installation cost. The HVAC installer needs to install dampers in each duct to every zone, separate thermostats in each zone, and a control panel.
Also, you will need to pay for the increased electrical work involved. HVAC zoning systems need more hardware and have a more complex operating system than traditional options for heating and cooling. This means there is also a higher potential for repairs.
In addition to providing extra control and comfort, HVAC zoning systems can also help to improve air quality. By allowing you to control the temperature in each zone, you can also control the amount of airflow.
This means that you can direct more airflow through areas that are dusty or have other airborne pollutants. As a result, these duct zone control systems can help you create a healthier indoor environment if you have good air filters in your system.
How to tell if an HVAC Zoning System is Right for Your Home
There are a lot of factors to consider when it comes to whether or not a new HVAC system is right for your home. You will want to consider your budget, your existing energy bill (zone heating and air conditioning can save quite a bit of money), and whether or not you have the right infrastructure to install it into your home.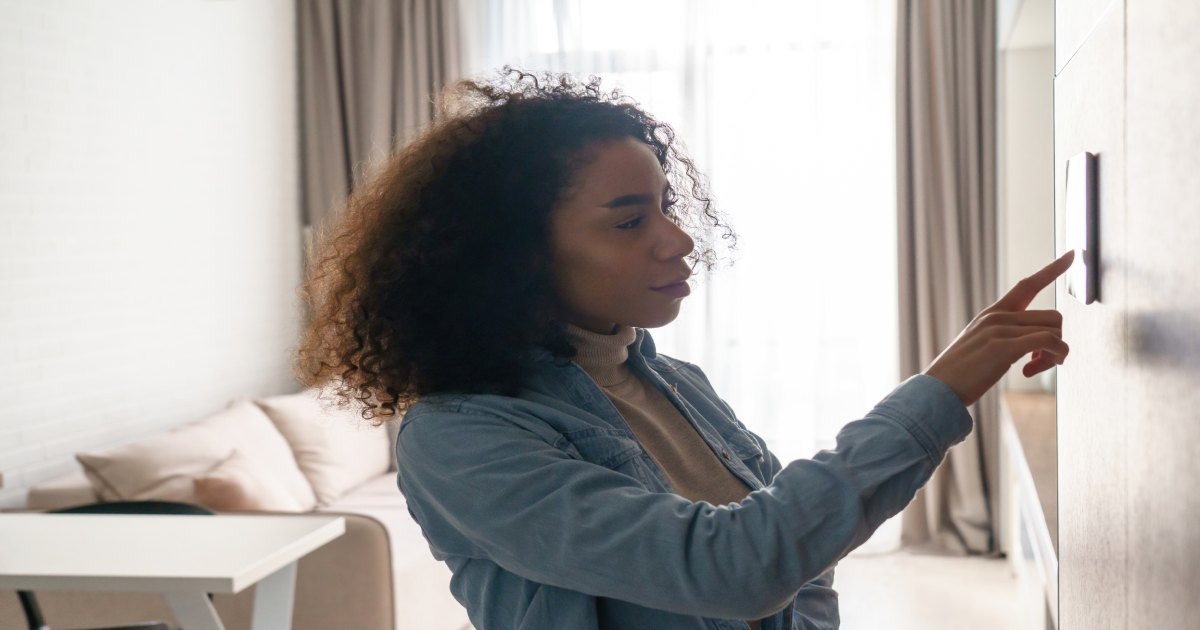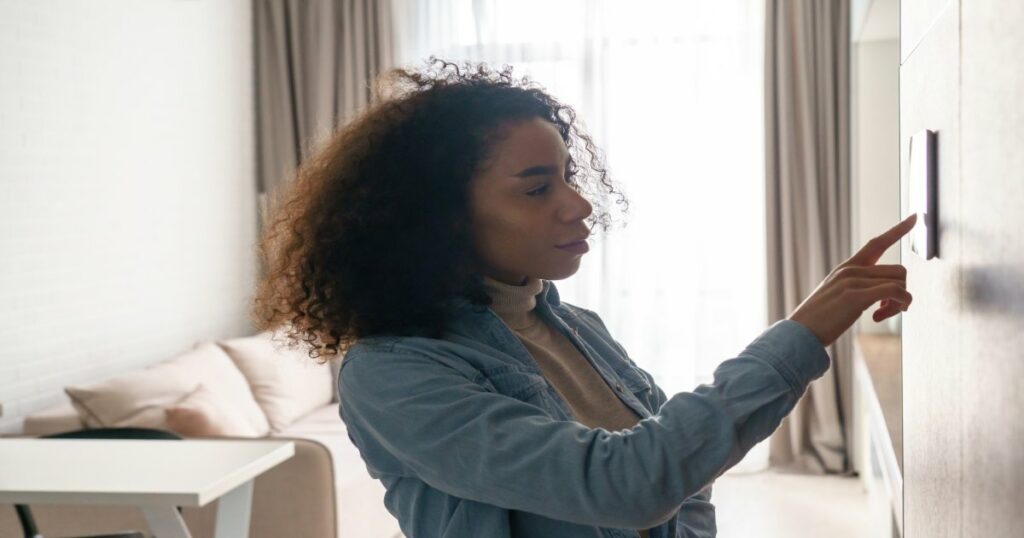 You will also want to consider the type of home you have. Here are a few common home-specific questions you can ask yourself to see if HVAC zoning is right for you.
Do you have a multi-level home?
Do you have a chilly main floor but hot upstairs bedrooms? An HVAC zoning will allow for different temperature settings in different areas of your home, as we mentioned above. If you have a multi-level home with temperature fluctuations, investing in a zoned HVAC system is one solution to get all levels of your home at a comfortable temperature.
HVAC zoning will allow you to set different temperatures for the upstairs and downstairs portions of your home instead of attempting to control both levels with one thermostat. You might even want to control individual rooms within those areas.
Do you have rooms with high ceilings?
A zoned HVAC system is a popular way to fix the problems that come with heating rooms with tall ceilings, where heat will rise, cooling off the ground area of the room. High-ceilinged rooms are notorious for becoming cool and drafty because the warm air rises to the ceiling. Having a separate furnace zone for this type of room can increase air circulation to help keep comfortable temperatures without compromising comfort elsewhere throughout the property.
Does your home have a lot of glass?
HVAC zoning systems are a great way to regulate the temperature in your home, especially if you have a lot of glass. Sunlight can play a big role in raising the temperature of a room, and if you have picture windows, bay windows, or large glass windows, it can be a struggle to maintain a comfortable temperature throughout your entire house.
Dual-glazed windows are the least problematic. Single-pane windows can radiate your heat out when you want it to stay in or transmit heat in when you want it to stay out. The older ones especially can leak your heated or cooled air.
Because HVAC zoning systems work by dividing your house into different zones, you can set the temperature for your glass-walled rooms independently. With zoned air conditioning you won't have to worry about one sunny room becoming too hot, and zoned furnaces will keep your shady rooms with old windows from becoming too cold.
How much does an HVAC zoning system cost?
HVAC zoning is not an insubstantial investment. Typically, the zoning equipment and installation will cost homeowners anywhere from $2,000 to $3,300 or more, depending on the size of your house or building and the number of zones. It also depends on where you are located and the going cost of labor in your area. Comparatively, a typical new residential gas furnace including the installation will cost between $3,000 to $6,000 or more.
That's just the cost of the zoning equipment and installation. If you replace or add HVAC components into your existing system, the cost will be much higher. And you will need to factor in whether or not you have existing ductwork and also whether or not that ductwork can be set up for zoning. Plus, you should factor in renovation costs down the line, just in case.
Despite it having a higher cost of installation, HVAC zoning systems can save money on energy bills in the long run. And you can still find HVAC system deals in your area. Plus, you'll get substantially increased comfort.
What do I need to install zoning to my existing system?
It's much more cost effective to install HVAC zoning into a new build. But you can probably overhaul your existing HVAC system. You will need to budget for a technician to upgrade your existing system as necessary, and then install dampers, wiring, control panel, and thermostats.
Unless you are an HVAC technician, it is unlikely you will be able to install zoning into your existing system by yourself. It's always best to work with a professional.
Is There An Alternative?
Some people think they can achieve the same effect by closing off the vent openings in the rooms they aren't using, and save money by not heating or cooling those rooms. But in addition to being inconvenient, it may be counterproductive.
The fan on your system usually is set to deliver a fixed amount of air to the ducts, according to the calculations your HVAC installer made. If some of the outlets for this are blocked off, the fan has to work harder to deliver that fixed amount of air. This will increase your energy bills and wear out the fan faster.
In Conclusion
HVAC zoning systems are an efficient way to improve comfort while also saving energy. By dividing your home into different zones, you can control the temperature in each zone independently.
This allows you to keep the temperature at a comfortable level in the areas where you spend the most time without wasting energy on areas that are not being used at the time. Homes with high ceilings, multiple levels, varying temperatures between rooms, and lots of glass windows or walls are prime candidates for HVAC zoning systems. That being said, some can find the cost of installation off-putting.
Interested in HVAC zoning systems? Get a Free Quote on HVAC Systems in Your Area.
Get Quotes
How soon are you looking to buy?*