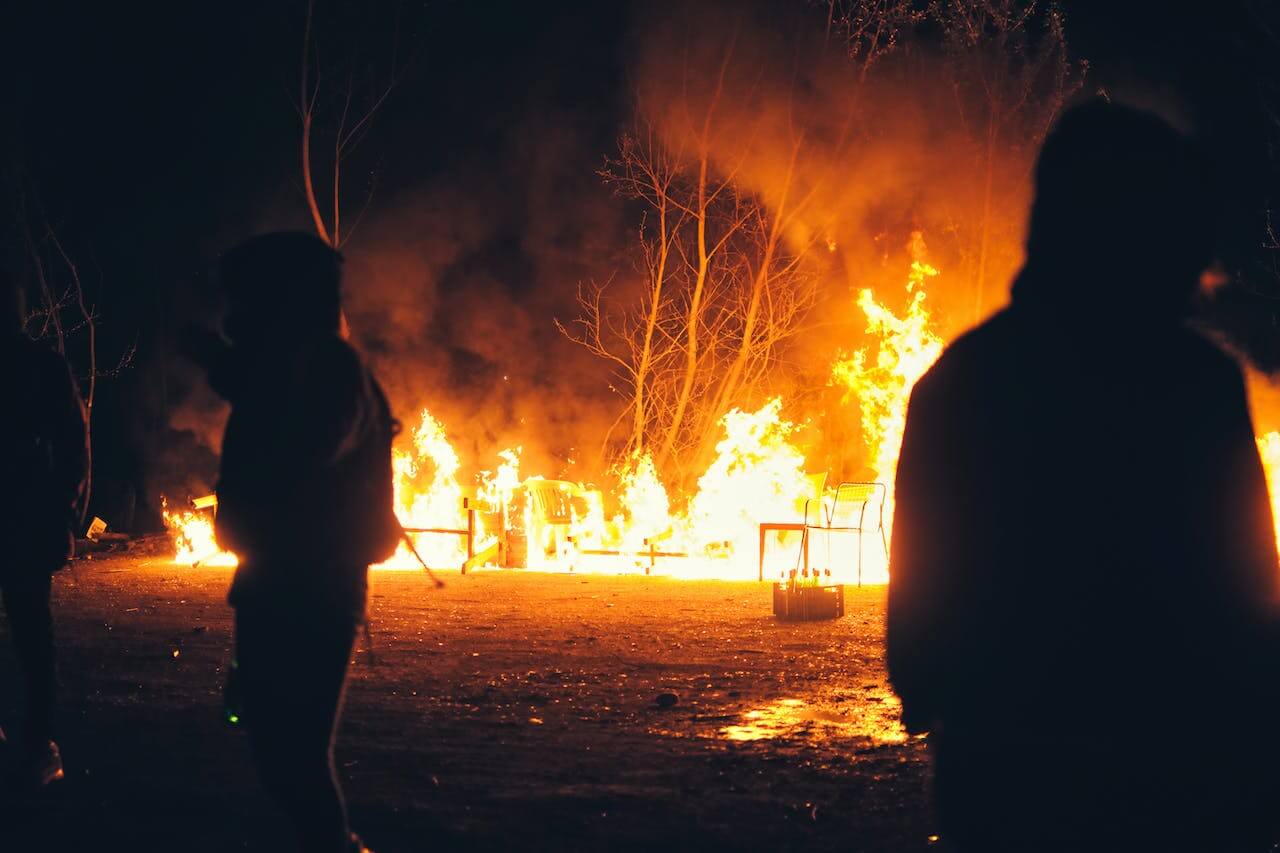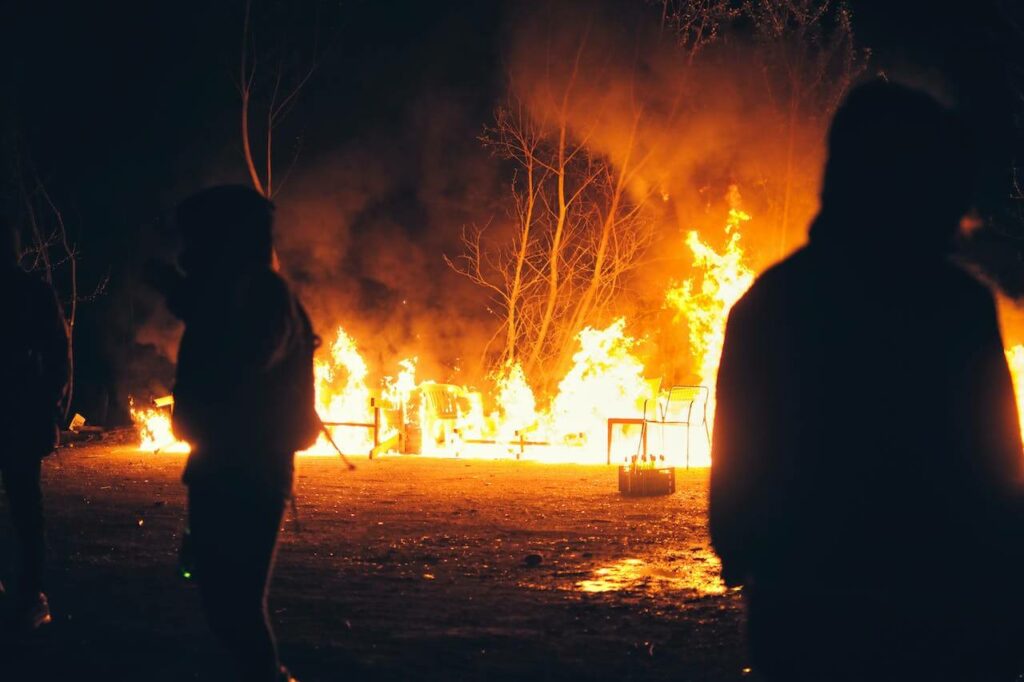 Imagine living in a bustling city and waking up to find the skies masked with a murky haze.
That's the reality for approximately 87 million Americans, all facing the repercussions of Canadian wildfire smoke that ignited earlier this season.
A wildfire is an uncontrolled and rapidly spreading fire in vegetation, forests, grasslands, or other wild areas.
Wildfires can impact the air we breathe in our neighborhoods, even if they're miles away. Even if it looks clear outside, it doesn't mean the air is clean.
So, let's talk about some straightforward steps to keep our lungs happy and our families safe.
Key Takeaways
Severity of Canadian Wildfires: In 2023, over 4,100 fires burned roughly 38,610 square miles in Canada, affecting the air quality for millions, including Americans.
Health Risks: Inhalation of wildfire smoke, a mix of harmful gases and particles, can lead to a range of symptoms, from mild irritations to severe respiratory emergencies.
Preparation and Protection: Stay informed using reliable sources like airnow.gov and the FireWork system.
Limit Indoor Pollutants: Avoid smoking indoors, frying food, using gas stoves, burning candles, and using air fresheners.
Use a Portable Air Cleaner: Ensure the cleaner is ozone-free and contains a High-Efficiency Particulate Air (HEPA) filter.
Ensure Good Air Quality: If the air indoors is compromised, consider seeking shelter elsewhere.
About Wildfire Smoke Events in Canada
As per the Canadian Interagency Forest Fire Centre, over 880 fires are burning nationwide. Out of which, 580 wildfires are deemed "out of control".
The center reported over 4,100 fires in 2023, scorching approximately 10 million hectares (around 38,610 square miles) of land.
Canadian wildfire season typically runs from early April to late October. However, Canada doesn't experience such severe wildfires at this time of year.
But, the ongoing climate crisis is leading to increased average temperatures, limited rainfall, and dry forests. Human activities, such as deforestation and burning fossil fuels, also contribute heavily to this factor.
Where to Find Reliable Information About Wildfire Canada Conditions
Here's a list of reputable places to find reliable information about wildfire Canada conditions:
1. Government and Provincial Agencies:
Canada:
U.S.:
2. Mobile Apps
Fireguard Wildfire Tracker: Real-time tracking of wildfire locations and progression in the US and Canada.
IQAir AirVisual | AirQuality: While primarily an air quality monitoring app, it provides valuable insights into areas affected by wildfire smoke.
Wildfire Map Canada
To view Canada's latest wildfire smoke forecast map, visit the Government of Canada's FireWork system here.
The FireWork system is an innovative air quality prediction tool that provides real-time insights into how wildfire smoke is poised to drift across North America.
Forecasting these patterns for the upcoming 72 hours allows residents to prepare and adjust their activities accordingly.
Symptoms of Wildfire Smoke Exposure
Here are the symptoms of wildfire smoke exposure categorized according to seriousness:
Mild or Common Symptoms
Scratchy throat or irritation
Coughing
Shortness of breath, especially during light physical activity
Stinging eyes
Runny nose
Mild headache
Tiredness or fatigue
Nausea
These symptoms can usually be handled without seeking medical treatment. Consider seeking medical advice if symptoms persist or worsen.
Serious Symptoms
Prolonged coughing spells
Increased shortness of breath or difficulty breathing
Chest pain or tightness
Palpitations or rapid heartbeat
Wheezing or audible whistling sound when breathing
Dizziness or lightheadedness
Fatigue that doesn't improve with rest
Vomiting
If you have any of these symptoms, consult a healthcare professional or seek immediate medical care.
Emergency Symptoms (Seek immediate medical attention)
Difficulty breathing or shortness of breath at rest
Blue or gray lips or fingernails
Sharp or crushing chest pain
Confusion or disorientation
Sudden onset of severe fatigue or weakness
Fainting or loss of consciousness
Dial emergency services (911) immediately and try to move to a cleaner air environment while waiting for assistance.
Wildfire Smoke Health Effects
Wildfire smoke is a complex mixture of gases and fine particles produced when wood and other organic materials burn. Inhaling these substances can pose serious health risks, particularly in vulnerable populations.
Continuous exposure to wildfire smoke can lead to a reduction in lung function.
A common misconception is that since woodsmoke comes from trees, a natural source, it should be harmless. However, its association with inducing asthma and exacerbating heart diseases is well documented.
The Air Quality Index (AQI) is a tool that measures the levels of pollutants in the air. It provides a number between 0 to 500 to represent the air quality, with higher numbers indicating more polluted air. An AQI reading over 100 is considered unhealthy.
When the AQI surpasses 301, the air is deemed hazardous. Everyone, regardless of age or health status, may be adversely affected at this level.
Who Is Most at Risk of the Effects of Wildfire Smoke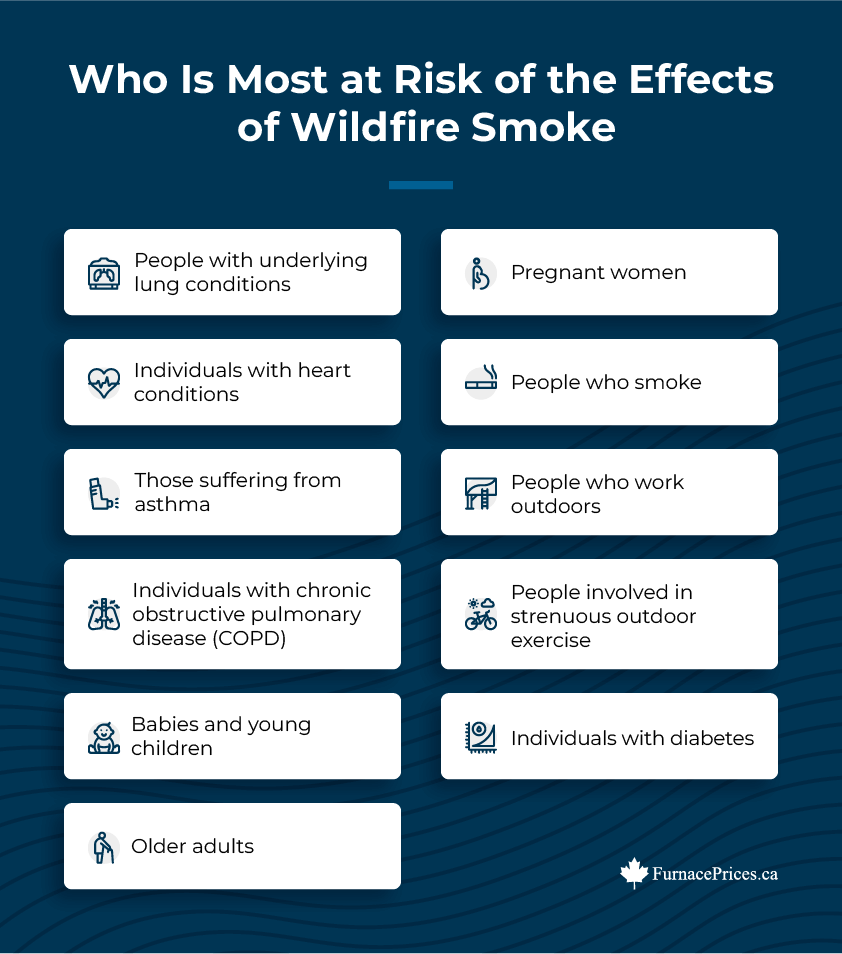 People with underlying lung conditions
Individuals with heart conditions
Those suffering from asthma
Individuals with chronic obstructive pulmonary disease (COPD)
Babies and young children
Older adults
Pregnant women
People who smoke
People who work outdoors
People involved in strenuous outdoor exercise
Individuals with diabetes
Get Quotes
How soon are you looking to buy?*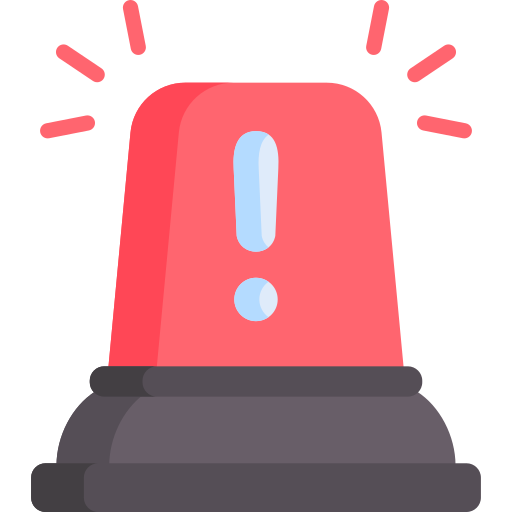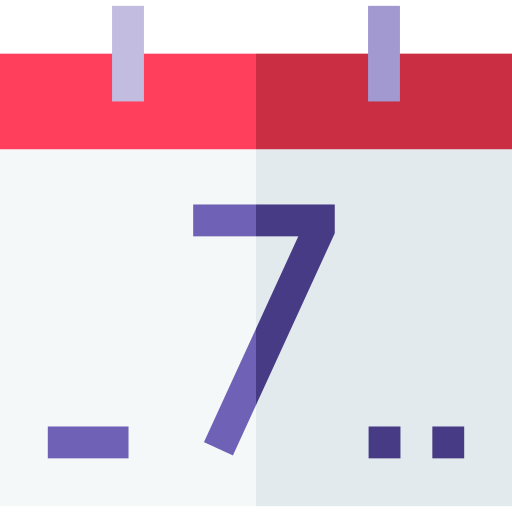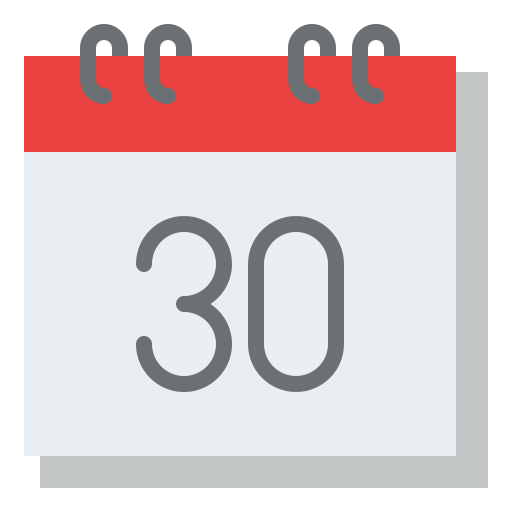 Preparing for Wildfire Smoke Events
Wildfire smoke events are unpredictable, rapidly changing scenarios that demand foresight and preparedness. Here are some essential steps to ensure you and your loved ones are well-prepared during wildfire smoke in Canada:
Checklist for Wildfire Smoke Season Preparedness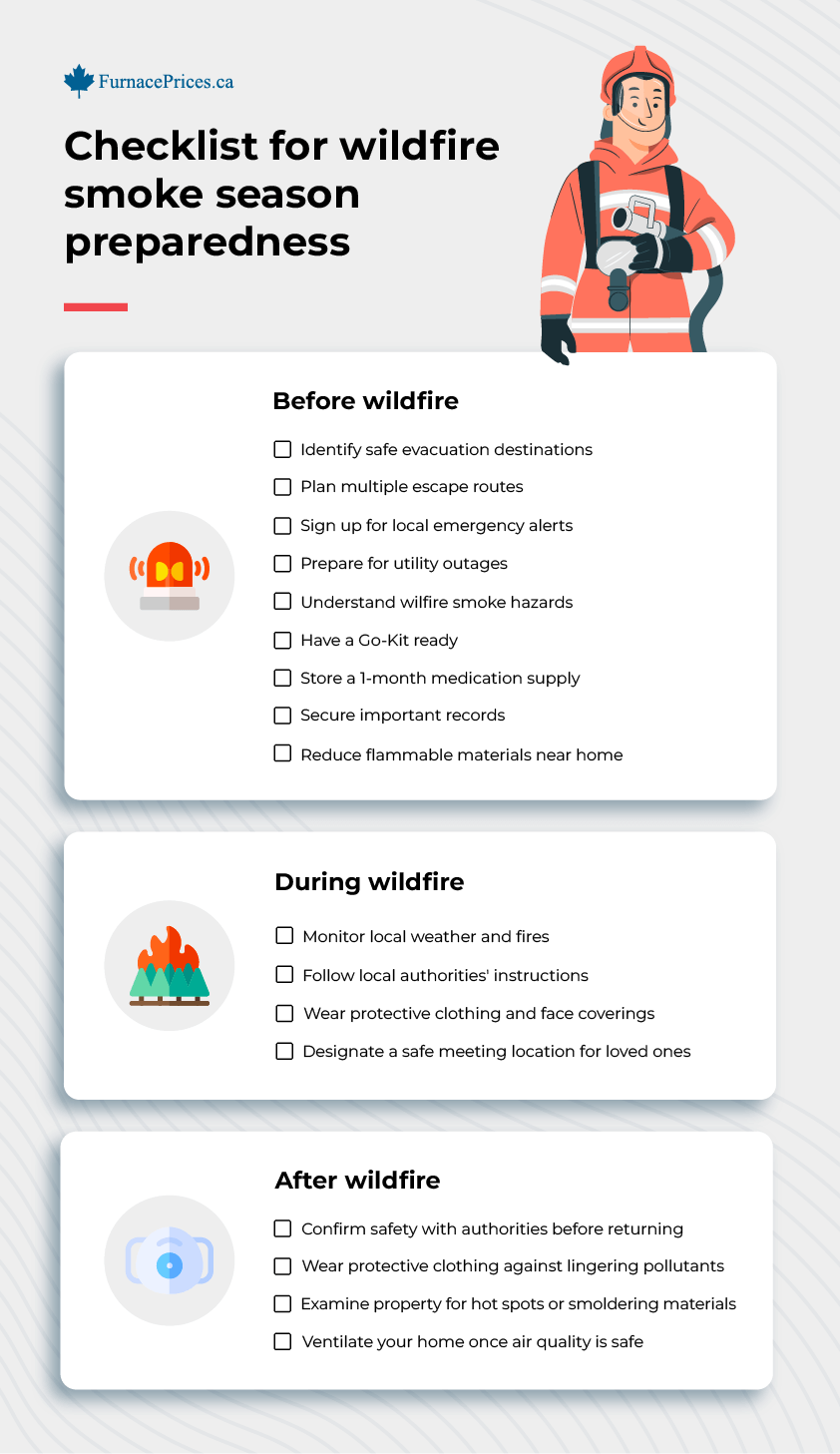 Medical Preparedness
Here are steps and considerations to help you safeguard your health during wildfire seasons:
Ensure you have at least a two-week supply of all essential medications (prescribed drugs + OTC medicines).
For those who rely on medical equipment such as nebulizers, blood pressure monitors, or oxygen concentrators, it's essential to have backup power options like batteries.
Invest in N95 masks or respirators that can filter out fine particles from smoke. Regular surgical or cloth masks won't offer the same level of protection.
Keep a comprehensive first aid kit including bandages, antiseptics, pain relievers, burn ointment, and other necessary supplies.
Wildfires can be traumatic. Acknowledge and address feelings of stress or anxiety.
Protecting Your Indoor Air
Here's how to shield your indoor environment against the raging wildfire smoke:.
Avoid smoking indoors, burning candles, frying food, or using gas stoves.
Keep the humidity levels between 30 and 50%.
Avoid spraying air fresheners.
Do not use a Vacuum cleaner without a HEPA filter.
If you don't have air conditioning and it's too hot indoors with windows closed, seek alternate shelter.
If you're driving a vehicle, keep its windows and vents closed and use the AC in recirculate mode. Try to drive slower in smoky conditions.
If indoor air quality becomes compromised and you cannot improve it, consider temporarily relocating to a community center, a friend's house, or any other location with better air quality.
Keep Wildfire Smoke Out
There are three ways through which wildfire smoke can enter your house:
1. Through open windows and doors (natural ventilation)
Keep windows and doors closed during smoky conditions. Use portable or central air conditioners set to recirculate mode to maintain cooler indoor temperatures.
2. Through mechanical ventilation devices (e.g., bathroom or kitchen fans, HVAC systems with fresh air intake).
Temporarily turn off ventilation systems that intake fresh air. Ensure exhaust fans are only operated when necessary and that HVAC systems have installed high-efficiency particulate air (HEPA) filters.
3. Through small gaps like cracks, joints, and around closed windows and doors (infiltration).
Seal off gaps, cracks, and openings in the home using weather stripping, caulk, or other appropriate sealants. Consider using draft stoppers for doors.
Use a Portable Air Cleaner
Portable air cleaners, also known as air purifiers, remove particles from the air, including those from wildfire smoke. When buying a portable air cleaner, ensure it's ozone-free and has a High-Efficiency Particulate Air (HEPA) filter.
Place the air cleaner in your designated 'clean room' and use it with a central air system for the best results.
Note: Air purifiers can't remove gases like carbon monoxide or formaldehyde.
Drink Plenty of Water
Make sure to drink at least 10-14 glasses a day to keep yourself hydrated. Remember to check if your water storage isn't contaminated by wildfire smoke.
If you have inhaled wildfire smoke by chance, drink hot liquids to increase the production of mucus and saliva. This will help in getting rid of the contaminants.
Carbon Monoxide Alarm
Forest fires release a significant amount of carbon monoxide, also known as 'silent killer'. If left unchecked, it can cause headache, fatigue, nausea, dizziness, and shortness of breath. Severe exposure can lead to unconsciousness or death.
Therefore, it's necessary to install CO alarms on every level of your home, especially near sleeping areas.
Pollutants of Concern
Fine Particulate Matter (PM2.5):
At the heart of wildfire smoke is particle pollution, commonly called PM2.5 due to its diameter of 2.5 micrometers or less. These particles are so tiny (smaller than 0.1 microns) that many are only a fraction of your hair's diameter (70 microns).
They penetrate deep into our lungs, causing asthma attacks, heart attacks, and strokes, sometimes even fatal. Those exposed to it reported increased respiratory issues, including coughing, wheezing, and bronchitis.
Carbon Monoxide
Besides particle pollution, wildfires unleash another silent enemy: carbon monoxide (CO). Breathing in CO hampers our body's ability to transport oxygen, leading to symptoms like headaches, nausea, dizziness, and in severe cases, even premature death.
Carbon Dioxide
CO₂ is a primary combustion product released in vast quantities during wildfires.
While it's a natural component of the air we breathe, it can displace oxygen in elevated concentrations, leading to an increased respiratory rate, altered consciousness, and other health impacts.
Other Pollutants
Wildfires also release a barrage of other harmful emissions, including nitrogen oxides, volatile organic compounds (VOCs), and a range of hazardous air pollutants.
Poor Air Quality Symptoms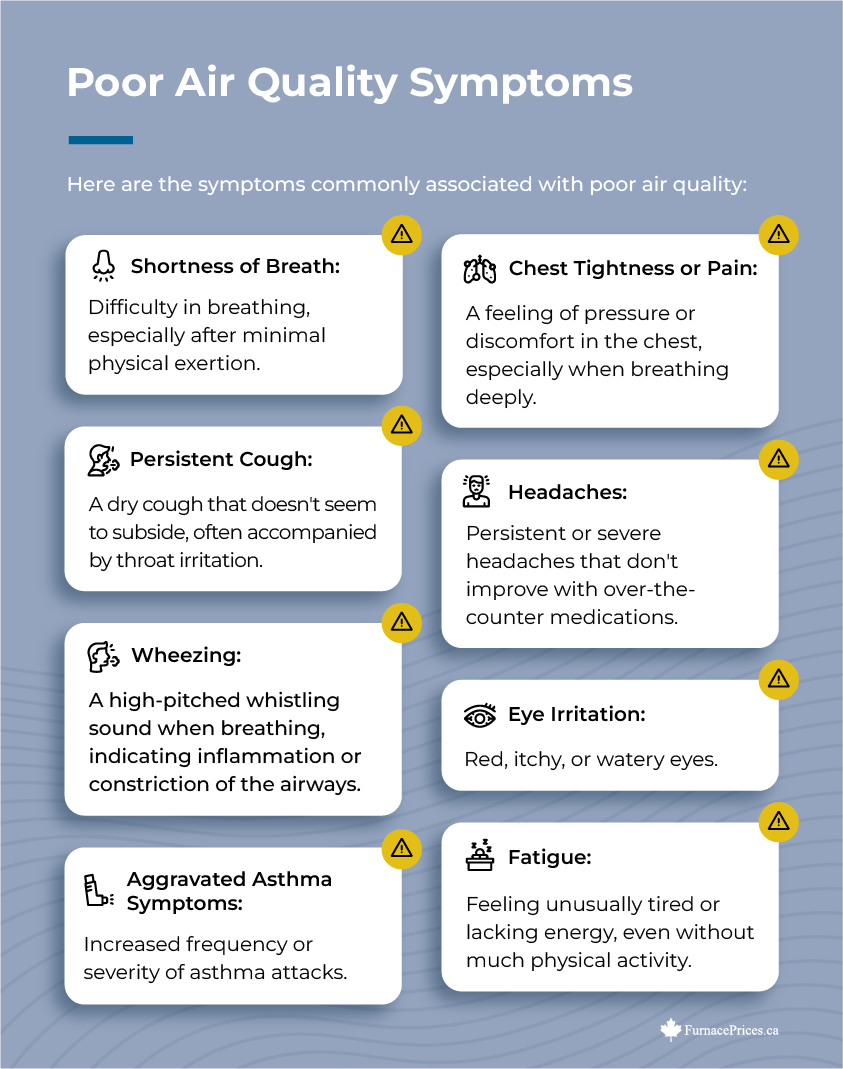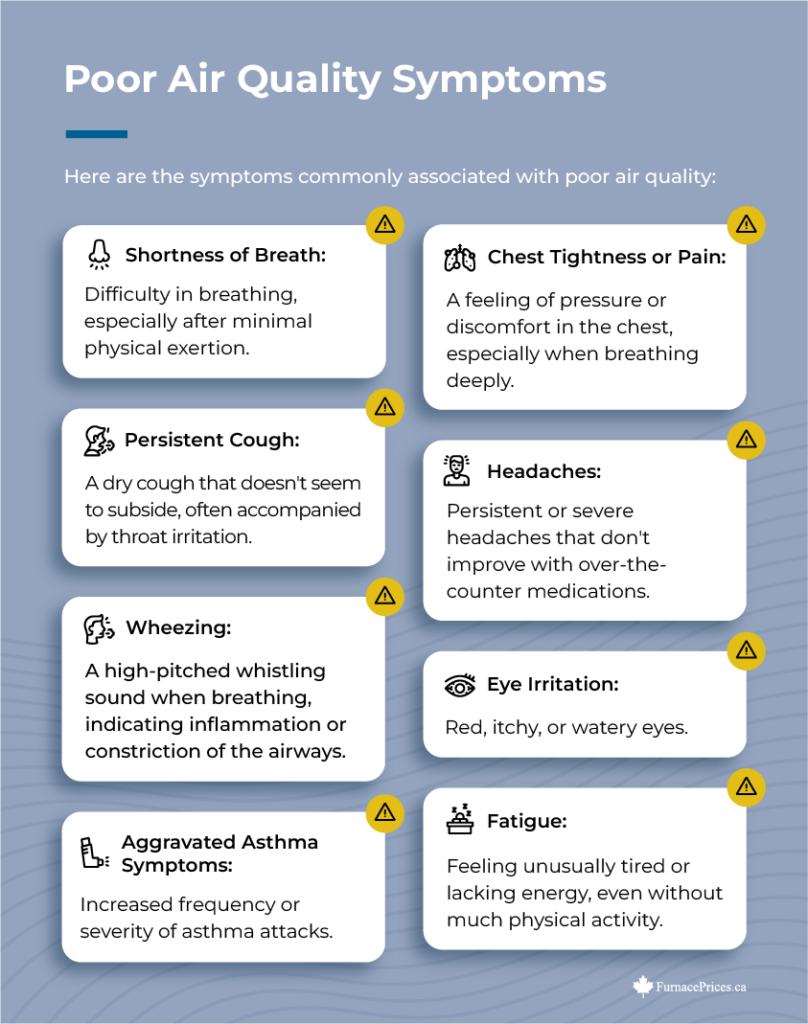 Here are the symptoms commonly associated with poor air quality:
Shortness of Breath: Difficulty in breathing, especially after minimal physical exertion.
Persistent Cough: A dry cough that doesn't seem to subside, often accompanied by throat irritation.
Wheezing: A high-pitched whistling sound when breathing, indicating inflammation or constriction of the airways.
Aggravated Asthma Symptoms: Increased frequency or severity of asthma attacks.
Chest Tightness or Pain: A feeling of pressure or discomfort in the chest, especially when breathing deeply.
Headaches: Persistent or severe headaches that don't improve with over-the-counter medications.
Eye Irritation: Red, itchy, or watery eyes.
Fatigue: Feeling unusually tired or lacking energy, even without much physical activity.
For our detailed guide on it, read more.
Get Quotes
How soon are you looking to buy?*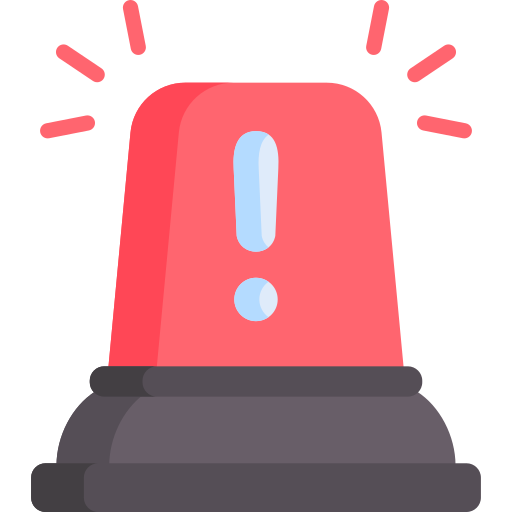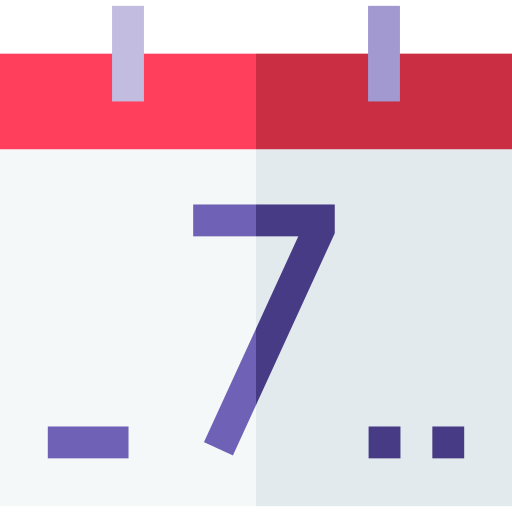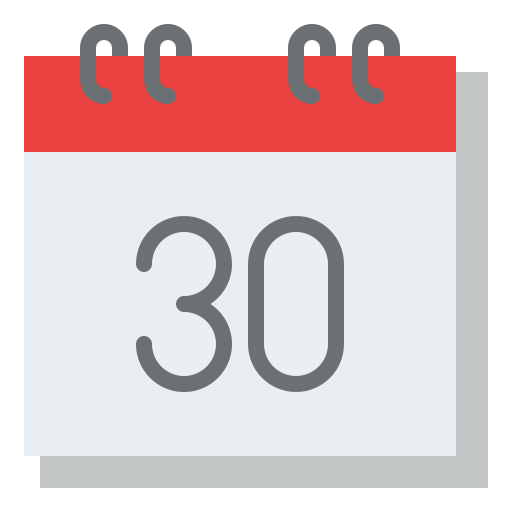 Air Quality Tips for Dealing With Wildfire Smoke
Here are some practical air quality tips and considerations to help you deal with wildfire smoke:
Filtration Effectiveness
Consider investing in a portable air cleaner equipped with a HEPA filter for rooms where you spend the most time, like bedrooms and living rooms.
EPA suggests that using a filter with a MERV rating of 13 or higher can remove as much as 95 percent of the particles that pass through it.
Temperature
Strive for a temperature of 26 °C or lower.
Activities like cooking can generate heat. On smoky days, opt for no-cook meals or use the microwave to avoid adding more heat to your home.
Humidity
Ideally, indoor humidity should be between 30-50%. High humidity can exacerbate respiratory problems and give a perception of high temperatures. Use a dehumidifier if necessary to maintain these levels. Conversely, in dry conditions, a humidifier can help.
Sheltering at Home
On days with poor air quality, try to stay indoors as much as possible. If you need to go outside, limit your exposure by wearing a facemask and refrain from strenuous activities.
Cleaner Air Space Checklist
Creating a cleaner air space in your home can protect you and your family from the harmful effects of wildfire smoke. It's essential to have an area where the air is filtered and free from the pollutants in wildfire smoke.
Below is a checklist to help you prepare and maintain a cleaner air space.
Preparing the Cleaner Air Space
Opt for a room with few windows and doors to minimize potential entry points for polluted outdoor air.
The room should be accessible to all family members and large enough to accommodate them.
Design an entryway, such as a vestibule, which does not expose the main indoor environment directly to the outside.
Set up PM2.5 monitors to measure and compare the indoor and outdoor particulate matter levels concurrently.
Equip the room with an air purifier that is adequate for the size of the room.
Include essentials like drinking water, non-perishable snacks, a first aid kit, medications, and entertainment options like books or board games.
Consider setting up an emergency power solution for situations where there might be a power outage.
Plan your evacuation process.
During a Wildfire Event
Reduce the number of times you open the door to the cleaner air space to keep pollutants out.
Minimize the movement of people into and out of the building to prevent excessive pollutant infiltration.
Keep replacement filters on hand and change them as necessary.
In case the CO alarm goes off, evacuate the premises without delay.
Wet-mop floors and other surfaces frequently. This will minimize the resuspension of settled dust into the indoor air.
Be vigilant about any symptoms in yourself or your family members that might indicate smoke inhalation or exposure.
5 Tips to Purify Air Naturally
1. Indoor Plants
Some plants are known for their ability to remove pollutants like formaldehyde and benzene from the air. Here are some of them:
Weeping Fig
Snake Plant
Aloe Vera
Bamboo Palm
Peace Lily
Spider Plant
Rubber Tree
2. Beeswax Candles
Unlike paraffin candles, which can release harmful fumes, pure beeswax candles burn without producing toxic byproducts and heavy soot. They can also help neutralize pollutants in the air.
3. Salt Lamps
Himalayan salt lamps are believed to produce negative ions, which may help neutralize excess positive ions in the environment. This can help in removing contaminants from the air.
4. Essential Oils
Oils like tea tree, eucalyptus, lavender, and lemon have antimicrobial properties. Use a diffuser to release their natural fragrances and purifying properties into the air.
5. Eliminate Synthetic Fragrances
Avoid using air fresheners, synthetic candles, and other fragrance-based products that release volatile organic compounds (VOCs). Instead, opt for natural alternatives.
How to Protect Pets from Wildfire Smoke?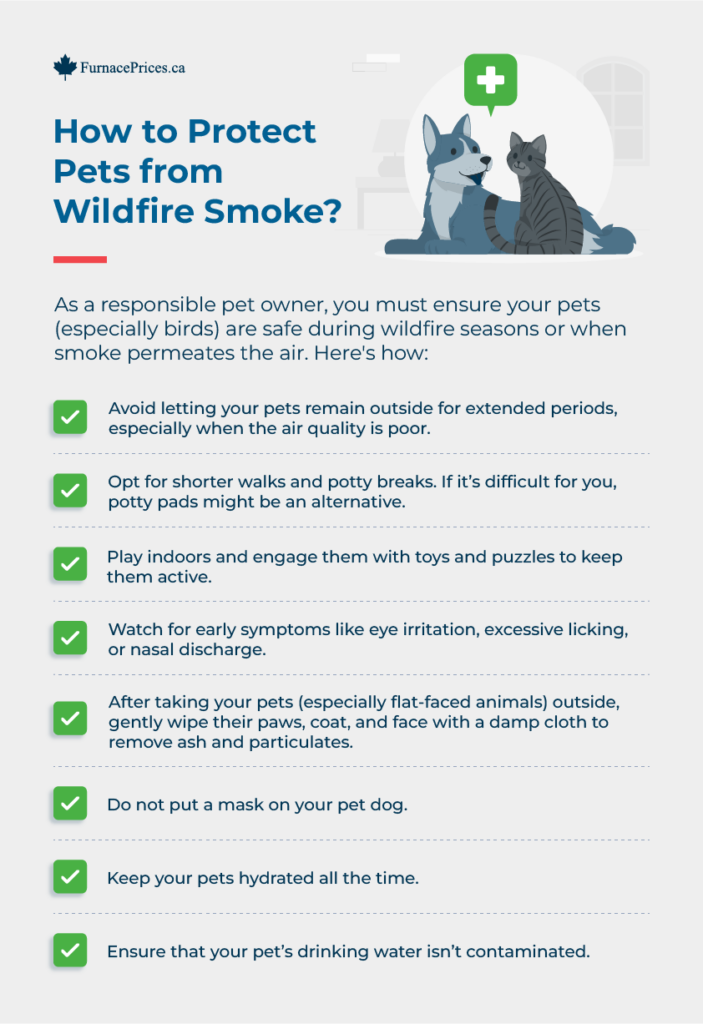 As a responsible pet owner, you must ensure your pets (especially birds) are safe during wildfire seasons or when smoke permeates the air. Here's how:
Avoid letting your pets remain outside for extended periods, especially when the air quality is poor.
Opt for shorter walks and potty breaks. If it's difficult for you, potty pads might be an alternative.
Play indoors and engage them with toys and puzzles to keep them active.
Watch for early symptoms like eye irritation, excessive licking, or nasal discharge.
After taking your pets (especially flat-faced animals) outside, gently wipe their paws, coat, and face with a damp cloth to remove ash and particulates.
Do not put a mask on your pet dog.
Keep your pets hydrated all the time.
Ensure that your pet's drinking water isn't contaminated.
Frequently Asked Questions (FAQs)
What Is Causing the Canadian Wildfires?
Natural factors and human activities primarily cause Canadian wildfires. Lightning strikes, drought, and high temperatures can spark wildfires in forested areas of Canada.
Human activities such as campfires, discarded cigarette butts, equipment use, and even intentional arson can also contribute to the ignition and spread of wildfires.
How Do I Check Air Quality Near Me?
You can check air quality near you by airnow.gov. It is managed by the U.S. Environmental Protection Agency (EPA). It is considered the most trusted and comprehensive resource for real-time and forecasted air quality information across the United States.
1. Visit AirNow.gov, enter your zip code, state, or city
2. Get an instant reading of your location's Air Quality Index (AQI).
3. Scroll down to check the air quality forecast for up to five days.
Get Quotes
How soon are you looking to buy?*