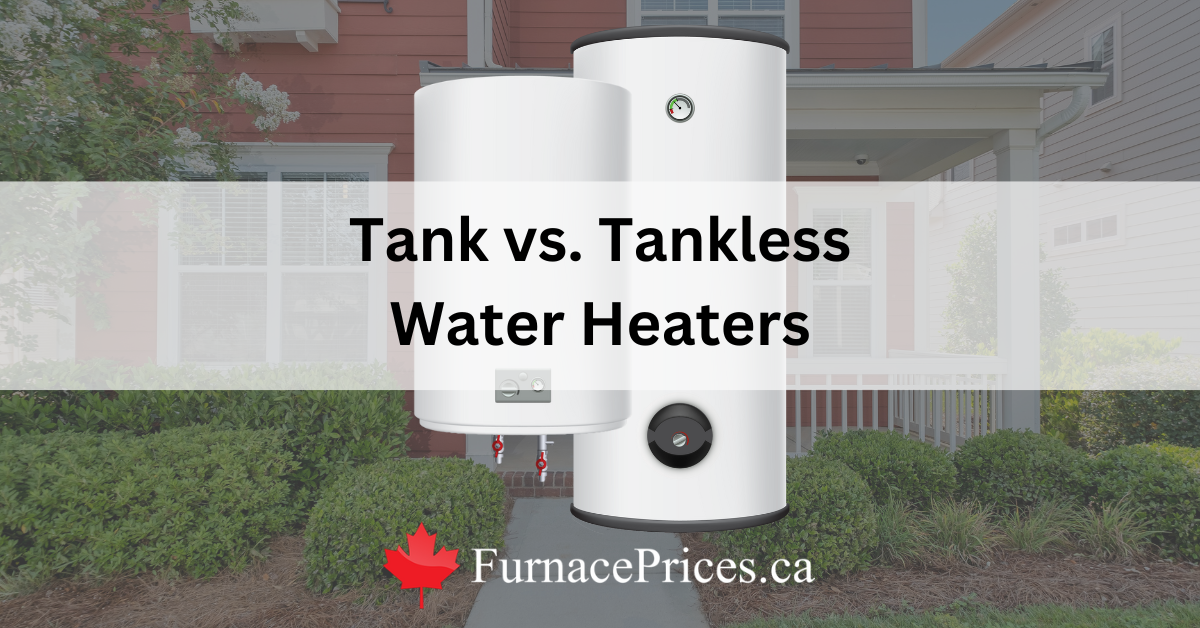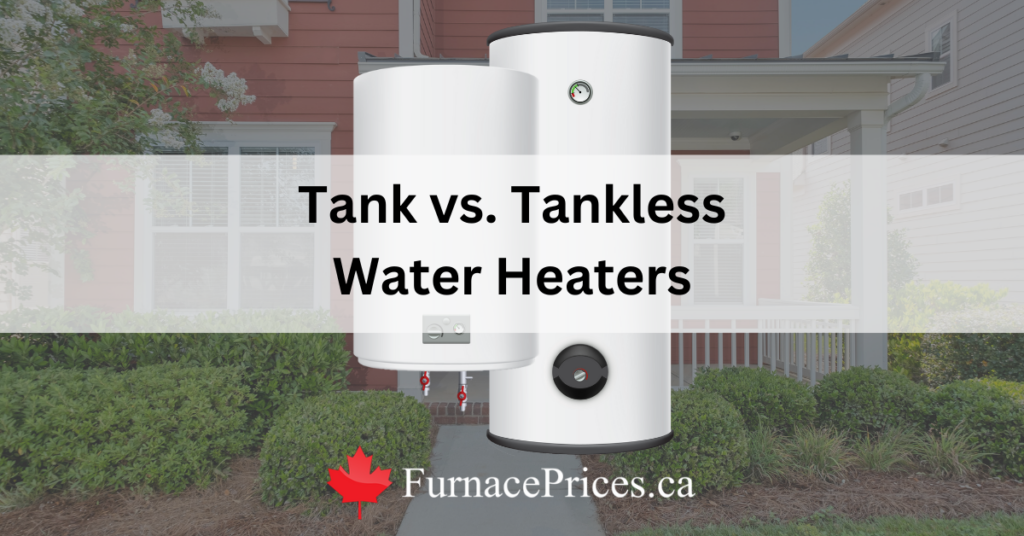 If you're looking for a new water heater, you may be debating between a tankless water heater vs. a tank water heater. These two options broadly encompass most of the available water heaters on the market. If you don't know the difference between these two options, it can be challenging to choose between them. 
What's the real difference between the two options? Is a tankless water heater better than a tank one?
This choice shouldn't be taken lightly because the average Canadian home uses around 75 litres of hot water daily. You may not often think about your home's hot water, but it's a crucial part of daily life for both necessity and comfort. This guide will answer all your questions about the differences (and similarities) between traditional and tankless water heaters, so you can determine which is the best for your family and home.
What Is a Tankless Water Heater?
Tankless water heaters are a relatively new invention, with the first systems patented in 1929 and gaining popularity during the 1990s. On the other hand, traditional tank water heater systems were designed in 1889 and quickly became home mainstays starting in the 1920s. But, of course, it wasn't until the 1940s that water heaters took off, correlating with the rise of electricity in homes.
You may hear tankless units called on-demand water heaters — an apt name because they work by heating water as needed. Anytime you turn on a faucet and require heated water, tankless systems generate as much hot water as you need. As a result, tankless water heaters can theoretically provide an unlimited amount of hot water without ever running out, and they're surprisingly energy efficient while doing it, too.
What Is a Tank Hot Water Heater?
A tank hot water heater is the most common and traditional option in Canada and the United States. This is likely what comes to mind when you think of water heaters: a tank (usually fairly large) with several pipes running off it. If your home has one of these water heaters, you'll probably find it in your basement, but it can occasionally be on the ground level in a water closet (generally for homes without a basement).
The "tank," called a vessel or container, typically holds between 75 and 400 litres of water at a time. The water is stored in the vessel and heated all at once to supply your hot showers, dishwashing and laundry needs. The water may be heated using gas, propane, or electricity, depending on the model of water heater. Regardless of how the water is heated, tank water heaters tend to be efficient because they can utilize energy slowly to preserve the heat of the water.
Pros and Cons of On-Demand Water Heater vs. Tank Water Heater
Both water heater types come with their own sets of pros and cons. Although we've provided a more in-depth breakdown below, we'll briefly discuss these benefits and downsides in a scannable format here.
Tankless Water Heater
The benefits of a tankless water heater include:
Save money because they don't consume energy during the day to keep water hot
Virtually limitless hot water available at any time
Better choice for tight spaces
Can be placed almost anywhere in your home (versus being stored in the basement or water closet)
Won't burst during cold fronts
Virtually zero wait for hot water when you turn on the tap
Less maintenance is required for the upkeep
The downsides of a tankless water heater are:
High initial costs for installation
Having to retrofit your plumbing (and maybe your electrical system) to install
Zero hot water reserves if the electricity goes on
Traditional Water Heater
The benefits of traditional water heaters include:
Comparatively low installation costs
Compatible with other systems in the home
A small hot water reserve during power outages
Still works during power outages, if powered by gas or propane
Typically provides a higher flow rate versus tankless options
The downsides of traditional tank water heaters are:
Higher energy usage because they need to keep the water in their tanks hot when not in use
Limited amount of hot water available
Require larger spaces, so they're typically allocated to the basement
Can burst during freezing weather
A short wait before hot water comes through the faucet
Require regular maintenance and upkeep to work properly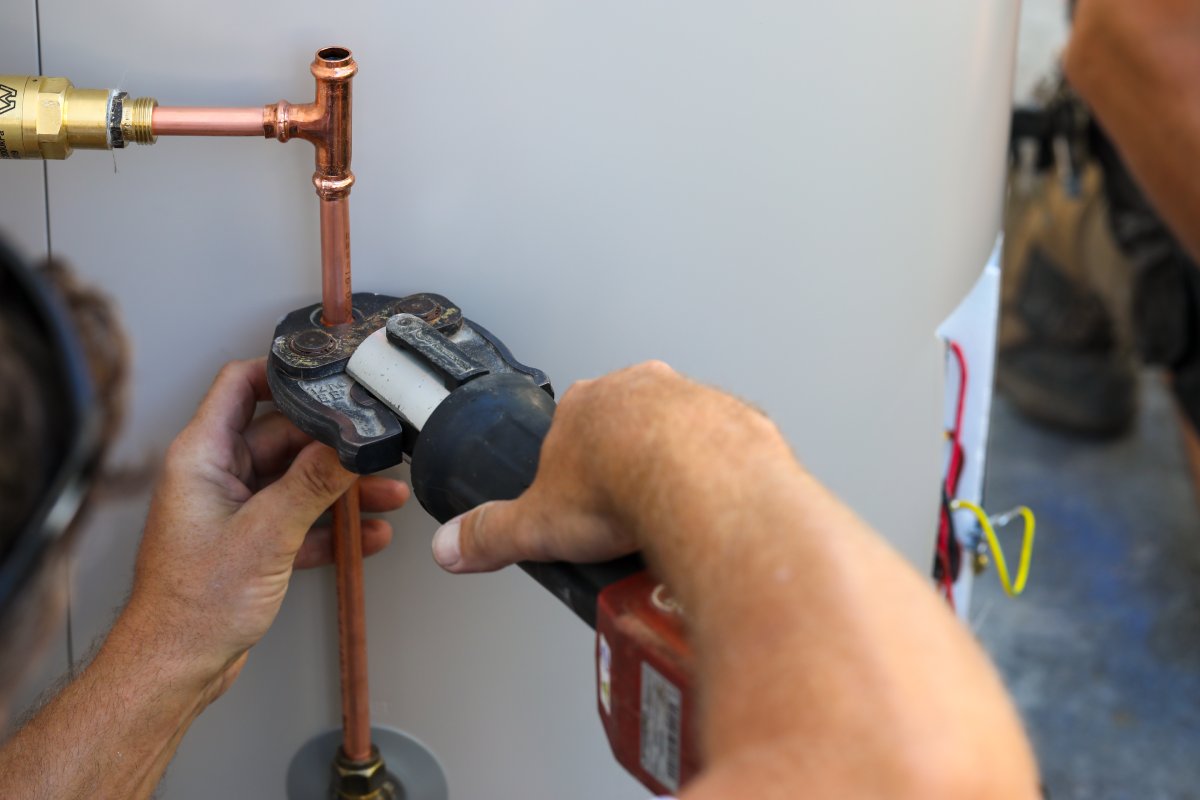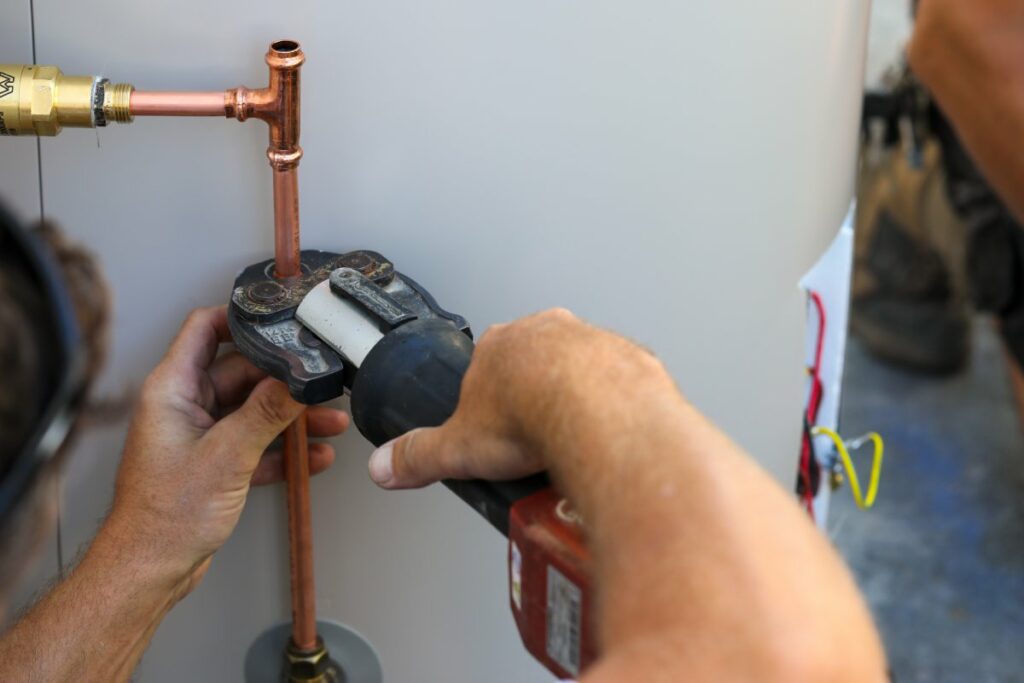 Tankless vs. Tank Water Heaters: An In-Depth Breakdown
Below, you'll find a more in-depth breakdown of how tankless vs. tank water heaters compare.
Cost
Regarding initial costs, traditional water heaters are significantly cheaper for a few reasons. For starters, the systems themselves are cheaper. But it's also important to understand that your home is most likely already designed to integrate with a traditional system, meaning there aren't any additional installation costs.
On the other hand, tankless water systems often require you to retrofit your plumbing, and you may need some electrical work before installation, too. This can significantly drive up the initial costs of a tankless system, making it a poor choice if you're a Canadian homeowner on a tight budget.
Long-term costs tell a different story. Tankless systems require less maintenance, and they can last up to twice as long as traditional systems. Paired with their energy efficiency, tankless systems are less expensive over their total lifetime compared to tank water heaters.
Energy Efficiency
The energy efficiency of either water heater type can vary significantly based on the specific brand and model you choose. However, tankless water heater systems are usually more energy efficient because they don't need to keep the water heated when not in use. Instead, energy is consumed only when the faucet in your kitchen, bathroom or utility room is turned to the hot setting.
Lifespan
A traditional water heater is estimated to last 10 to 15 years with regular upkeep and maintenance. But tankless systems last an average of 20 years, with some lasting significantly longer. In terms of expected usable lifespan, tankless systems are a clear winner.
Maintenance
Both traditional and tankless hot water systems should have annual maintenance to ensure they're working properly — even if it's just a yearly inspection. Generally, the care required for a traditional system is more extensive, making it more expensive.
Space Requirements
Tank water heaters take up a lot of space because the vessel holding the water is large. These tanks also require a safe boundary where nothing else should be placed or installed. On the other hand, tankless systems require significantly less space and can be installed almost anywhere in your home.
Tank vs. Tankless Water Heater: Which Is Better?
There isn't a clear one-size-fits-all answer to the tank vs. tankless water heaters debate. Instead, it's a matter of weighing the pros and cons to determine the best choice for you and your home. For example, if having hot water on demand is the most crucial factor for you, a tankless water heater system is the best choice. If cost is the primary issue, a traditional tank water heater is the clear winner.
Get a Quote on a New Water Heater System Today
Buying your home's new hot water heater system is a substantial investment. There's no straightforward right or wrong answer in the battle of tankless water heater vs. tank water heater. But choosing the right one for your unique preferences and needs using the information within this guide can significantly affect your overall comfort while at home. No matter your choice, you can get a free quote on a new water heater system today by filling out a few simple questions.
Water Heater Frequently Asked Questions
How can I tell if my hot water heater needs to be replaced?
One of the greatest indicators that it's time to replace your water heater is that it's reached the end of its estimated usable lifespan. If your water heater has broken, compare the repair and replacement costs. If a repair costs 60% or more of replacement costs, purchasing a new unit is better. Other indicators that it's time to replace your water heater include rising energy costs, loud noises, weird smells, and lowered efficiency.
Can you run out of water with a tankless water heater?
You shouldn't run out of water if you have a tankless water heater system. If you do have a tankless system and run out of hot water, that indicates you need to call an HVAC repair technician.
Will a tankless water heater run up my electric bill?
A tankless water heater should actually lower your electric bill. The reduction in energy costs varies based on numerous factors and may only be a slight (and barely noticeable) amount. However, your electric bill certainly shouldn't go up after a tankless water heater installation. If it does, you'll want to schedule an appointment with an HVAC technician to determine the cause behind the rising energy rates.
Get Quotes
How soon are you looking to buy?*