Central Air Conditioners in Windsor – Prices, Deals & Get a Free Quote
Looking to replace your existing central air conditioner unit with a more energy-efficient central A/C unit in the Windsor area, you're in the right place. Purchasing a new high-efficiency central A/C to cool your home is an important investment and there are many factors to consider. To help make the selection process easier, we've compiled a detailed overview of popular central A/C brands, pricing, financing options, and rebates or promotions available to Windsor residents.
Average* air conditioner price in Windsor (including install):
$3000 – $6000+
*note many factors can affect price, see further down for details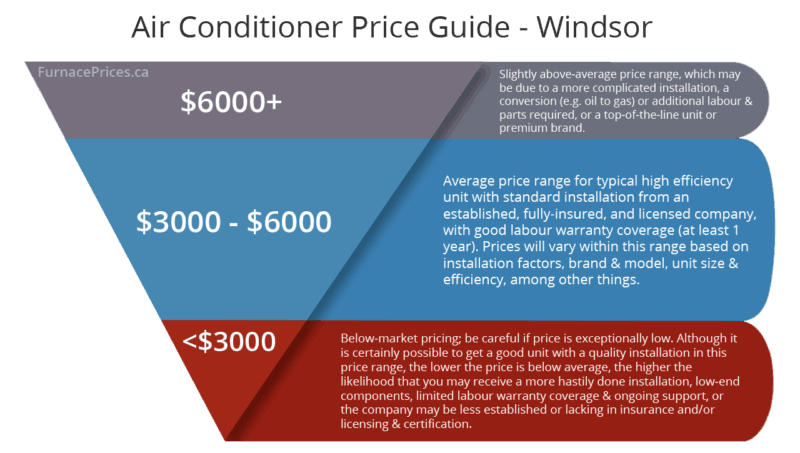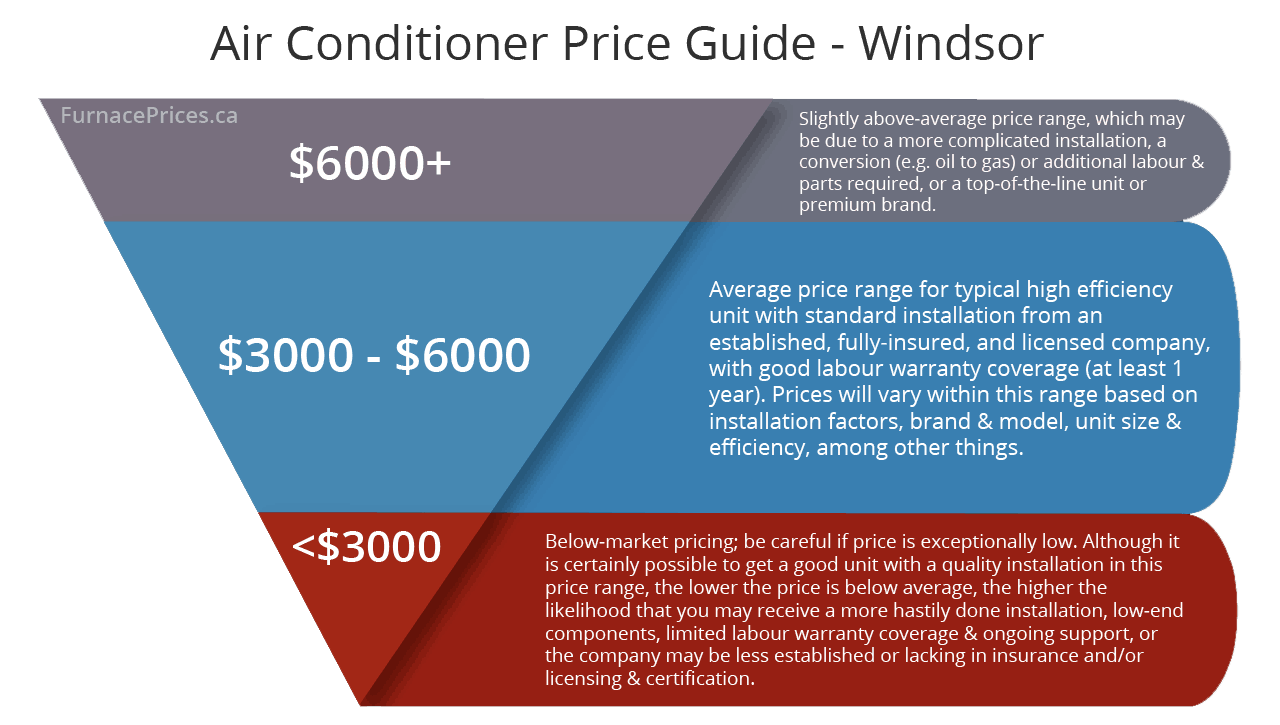 What to look for when choosing a heating & air conditioning contractor
People often fret over the brand of furnace to buy, but the contractor you choose is every bit as important. Not only is the quality of the workmanship and installation crucial to the furnace's lifespan, the company you choose will be relied on for future servicing and warranty coverage.
Always choose an established company that has:
Good, independently-verified feedback
A solid track record and no outstanding disputes
Verified insurance, licenses, and certifications
Experienced staff, with manufacturer training
Registered to offer rebates
Checking all of these things is difficult and time-consuming.
That's why we've already done it for you!
Learn more about our independent local HVAC contractor Certification program, designed to help you get a reliable heating system at a fair price, from reputable local dealers.
Purchasing a High-Efficiency Central A/C
A new high-efficiency central air conditioner is an important investment, and you want to ensure you receive good value for your money. In Canada, central A/C systems energy-efficiency is measured in SEER (Seasonal Energy Efficiency Ratio). This rating can range from 13-20+ for central air conditioners sold in Canada. The greater the number, the more energy-efficient the central air conditioner.
When you're ready to purchase a new central air conditioner, a licensed HVAC dealer can advise you on the size of the central A/C system you need to cool your home effectively. If the unit is too small, it will overperform to deliver the cooling you need. When your A/C system is too large, it will not effectively extract humidity.
Deals Available
Residents of Windsor who plan on buying a new central A/C system are encouraged to click here to check out the sales and rebates available through our trusted local distributors in the Windsor area.
Available Windsor high-efficiency central A/C promotions change regularly, so be sure to check back regularly.
Government Rebates Available
When you buy a new high-efficiency central air conditioner, government rebates and incentives may be available to cover part of your purchase and help you get the most out of your new system. Click here to view Windsor central air conditioner rebates. Your HVAC distributor can also help you determine which rebates you are eligible for and how to apply for them.
Popular Central Air Conditioner Brands
There are many high-quality central A/C brands available for purchase in the Windsor area. Goodman, Carrier, Lennox, Trane and KeepRite offer a range of energy-efficient models with high SEER ratings and a reputation for dependable performance. Each of these brands have unique technologies that optimize comfort levels and enable remote control and most have ENERGY STAR rated models that can lower your monthly energy bills while keeping your home cool at the height of summer.
Looking to Replace Your Air Conditioner?
Get a free custom estimate from trusted local suppliers.
Get an air conditioner quote now!
See why FurnacePrices.ca is Canada's leading provider of heating & cooling information, including unbiased product evaluations, and step by step buyer guides.
Installation
Proper installation of your central A/C unit, including the fitting of your indoor coil, is a key part of getting the most out of your new central A/C system. Your licensed HVAC technician will also be able to verify the quality of the coil, which can affect the efficiency of your unit.
High-Efficiency A/C Pricing
Windsor residents planning to buy a new high-efficiency central A/C unit will pay anywhere from $2500 to $7000 on average for top brands, depending on brand, model, system size, location, and the furnace company you deal with. To ensure that you get the best deal on the most energy-efficient central A/C system for your home, request quotes from different providers and confirm that the company you select offers a comprehensive labour warranty.
Financing Options
Replacing a broken air conditioning system can be costly, but homeowners in Windsor and the surrounding area have different financing options to choose from. Even those with credit challenges have the option of financing their new central A/C system.
General City Information
The city of Windsor heats up in the summertime with highs reaching 27.9 C in July and only dipping slightly to 26.6 C in August. High-efficiency central air conditioners are just one way that Windsor homeowners can stay cool this summer. Before running your central A/C unit at the start of the season, it's important to perform a pre-season maintenance check. Help is just a phone call away, with 75 heating and cooling companies available in the Windsor and surrounding areas.
Windsor & Surrounding Areas
Tecumseh
LaSalle
Essex
Chatham-Kent
Amherstburg
Kingsville
Leamington
Lakeshore
Save time and get a fair price – request a free quote from trusted local HVAC contractors!