High Efficiency Furnaces in Brampton – Prices, Top Deals & Free Quotes
Increased energy-efficiency and savings on monthly heating bills are top of the list for many Brampton residents looking to upgrade to a high-efficiency furnace this season. When researching new home heating systems, it's essential to look at energy-efficient features, government and manufacturer furnace rebates, pricing, installation and financing.
Average* furnace price in Brampton (including install):
$2700 – $5700
*note many factors can affect price, see further down for details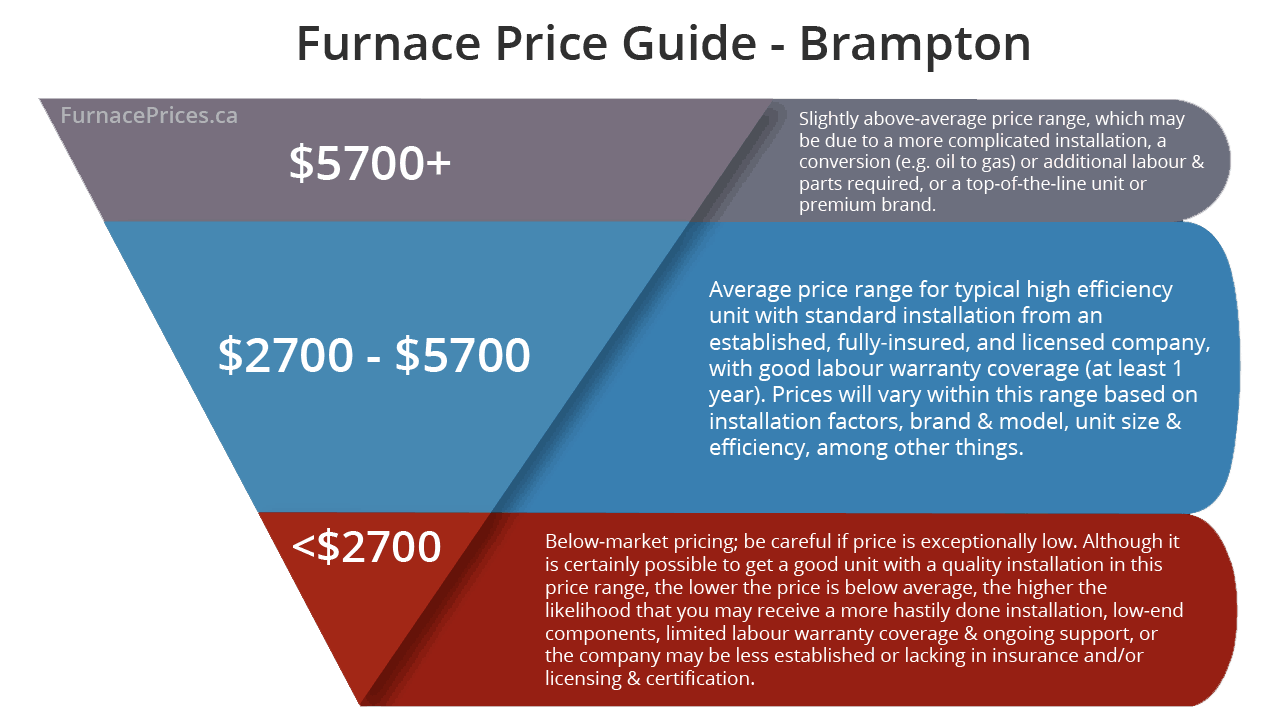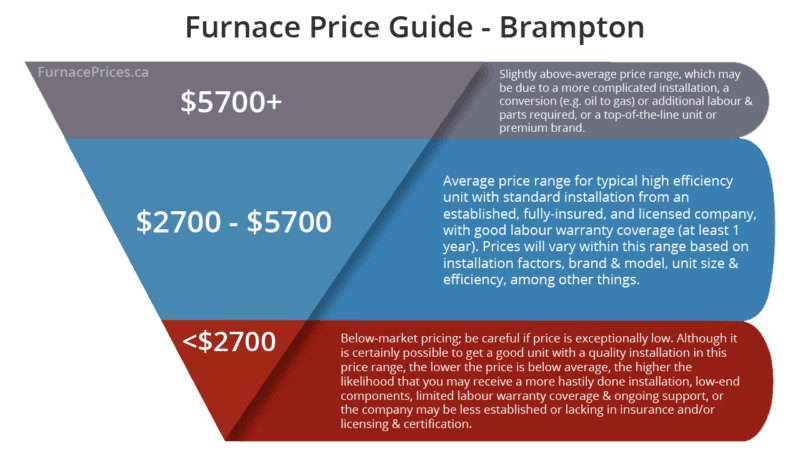 What to look for when choosing a heating & air conditioning contractor
People often fret over the brand of furnace to buy, but the contractor you choose is every bit as important. Not only is the quality of the workmanship and installation crucial to the furnace's lifespan, the company you choose will be relied on for future servicing and warranty coverage.
Always choose an established company that has:
Good, independently-verified feedback
A solid track record and no outstanding disputes
Verified insurance, licenses, and certifications
Experienced staff, with manufacturer training
Registered to offer rebates
Checking all of these things is difficult and time-consuming.
That's why we've already done it for you!
Learn more about our independent local HVAC contractor Certification program, designed to help you get a reliable heating system at a fair price, from reputable local dealers.
Purchasing a High-Efficiency Furnace in Brampton
Energy efficiency is a major factor in choosing your new natural gas furnace. Replacing an inefficient forced-air furnace model can save you money on your monthly energy bill. Natural gas makes sense as a heating source in Brampton, since the infrastructure is already in place.
The term AFUE refers to the amount from every dollar that is going directly towards your energy costs. The higher the AFUE, the less money spent to heat your home.  The minimum AFUE in Canada is 92 per cent, which means for every dollar spent, 92 cents will be used towards energy costs. This represents a large savings on your energy bill. A good rule of thumb is to spend as much as you can afford to get the highest AFUE you can and then you can see a maximum return.
Features to consider:
Purchasing the highest rated AFUE model you can afford will allow for maximum savings on your energy bill. Replacing a 20-year-old furnace with an energy efficient model can show up to 45 per cent savings on energy costs.
You can buy in bulk and save. Many companies offer deals when buying a complete HVAC system (heating, ventilating and air conditioning). This typically includes an air conditioner, heat recovery ventilator and air filtration system.
It's important to protect your investment. When purchasing a furnace there are many factors to consider beyond the price, specifically what type of warranty is available. Warranties will vary from five-year limited parts warranty to 10, 20 or lifetime 'comprehensive' warranties.
A warranty will not be worth the paper it's printed on if it is from a company that won't be in business next year. Make sure you go with a reputable furnace manufacturer. When purchasing a warranty be sure to read all the fine print. Some warranties require you to perform annual maintenance and cleaning with a certified technician. Be sure to mail your warranties so you are on file. Some HVAC professionals will offer an additional labour warranty with installation. These typically last one year.
Deals Available
Coming soon.
Government Rebates Available
The government offers money back furnace rebates to qualified buyers who purchase an ENERGY STAR model:
Ontario Power Authority rebate of $250
Enbridge gas distribution rebate of $2000 towards the cost of an energy audit and retrofit
Hydro One offers $250 off a new high efficiency furnace 
Popular Furnace Brands
Innovative features and reliable performance make Goodman, Lennox, Trane, KeepRite and Carrier popular choices amongst Brampton consumers looking to buy a high-efficiency natural gas or propane furnace. Each brand offers Single Stage and Two Stage operation, and most have Variable Speed, Modulating, or Multi-Speed options available.
Goodman furnace models are compatible with ComfortNet Communication™ systems, which reduce energy costs by allowing indoor temperatures to be adjusted automatically and remotely. Lennox models also come standard with SilentComfort™ and PowerSaver™ technologies, which enable silent operation and easy temperature monitoring. Trane furnaces are designed to support the popular and efficient ComfortLink™ II remote temperature control. KeepRite, an HVAC industry mainstay for over 70 years, has a strong line of ENERGY STAR certified models while  75% of Carrier's home heating systems are ENERGY STAR certified and feature several innovative technology features.  All of these brands have industry-leading warranty coverage, superior AFUE ratings, and a reputation for excellence.
Looking to Replace Your Furnace?
Get a free custom estimate from trusted local suppliers.
See why FurnacePrices.ca is Canada's leading provider of heating & cooling information, including unbiased product evaluations, and step by step buyer guides.
Installation
For your high-efficiency natural gas furnace to operate at peak efficiency, it must be the right size for your home and the installation needs to be done correctly. If the unit is too small, the motor will have to cycle more to compensate, consuming more energy and raising your home heating costs. A licensed and certified HVAC technician can recommend the appropriate size of unit for your home and budget and complete the install in accordance with safety codes, wiring  schematics, and location.
High-Efficiency Furnace Pricing
In Brampton, high-efficiency furnace pricing from trusted and popular brands like Goodman, Lennox, and Trane generally cost between $2200 and $4200, depending on the type and any upgrades or add-ons you select. Installation by a licensed and certified HVAC technician is likely to cost between $500 and $1,500, bringing the average total cost of a new home heating system to $2700 – $5700 in Brampton.
Furnace prices can vary depending on factors such as:
The model and manufacturer

Unit size and BTU output

Efficiency rating

Whether the furnace is single, two-stage, modulating, variable speed or multi-speed
Home heating systems with a higher AFUE rating and BTU output will generally cost more than models with lower ratings. The installation particulars can also affect the overall price. Install location (e.g,. a small, hard-to-reach space), the age of your current system (if applicable), and whether upgrades must be made to meet current building codes all have an impact on cost. Replacing a furnace is also less expensive than converting it to natural or propane gas.
Financing Options
Financing is available for both heating and cooling systems in the Brampton area, making a high-efficiency natural gas furnace affordable for consumers. There are three common financing options available, each with flexible payment terms and open term loans that can be repaid over a period of 12-180 months.
Standard Financing: credit check required.
Zero Interest Financing: credit check and initial administration fee required.
Bad Credit Financing: no credit check, no money upfront and free installation.
Click here to learn more about which financing option best suits your needs. Furnace rental is also an alternative for homeowners who prefer to rent their HVAC equipment.
General City Information
With an average temperature a frigid -6.7 degrees Celsius in January, the over 500,000 residents who call Brampton home want to ensure their furnace is in good repair each winter.  Its close it's proximity to Toronto, Canada's largest city (just over 30 minutes by car and less than 50 kilometers), also allows easy access to many reputable heating and cooling professionals. In fact, for about every 6000 people, there is at least one heating company ready and willing to keep you warm all winter. This competitive market is a great way to lower the bottom line for everyone.
Brampton & Surrounding Areas
Caledon
Orangeville
Shelburne
Mono