Central Air Conditioners in Nova Scotia – Prices, Deals & Get a Free Quote
Central Air Conditioning in Nova Scotia
When purchasing a brand name central air conditioning unit in Nova Scotia, compare prices, request a quote, and get information on dozens of local HVAC companies by request from our team. Check out unbiased reviews and select a contractor from our extensive trade database.
Average price of air conditioning units in Nova Scotia:
$3000 – $5000
*note many factors can affect price, see further down for details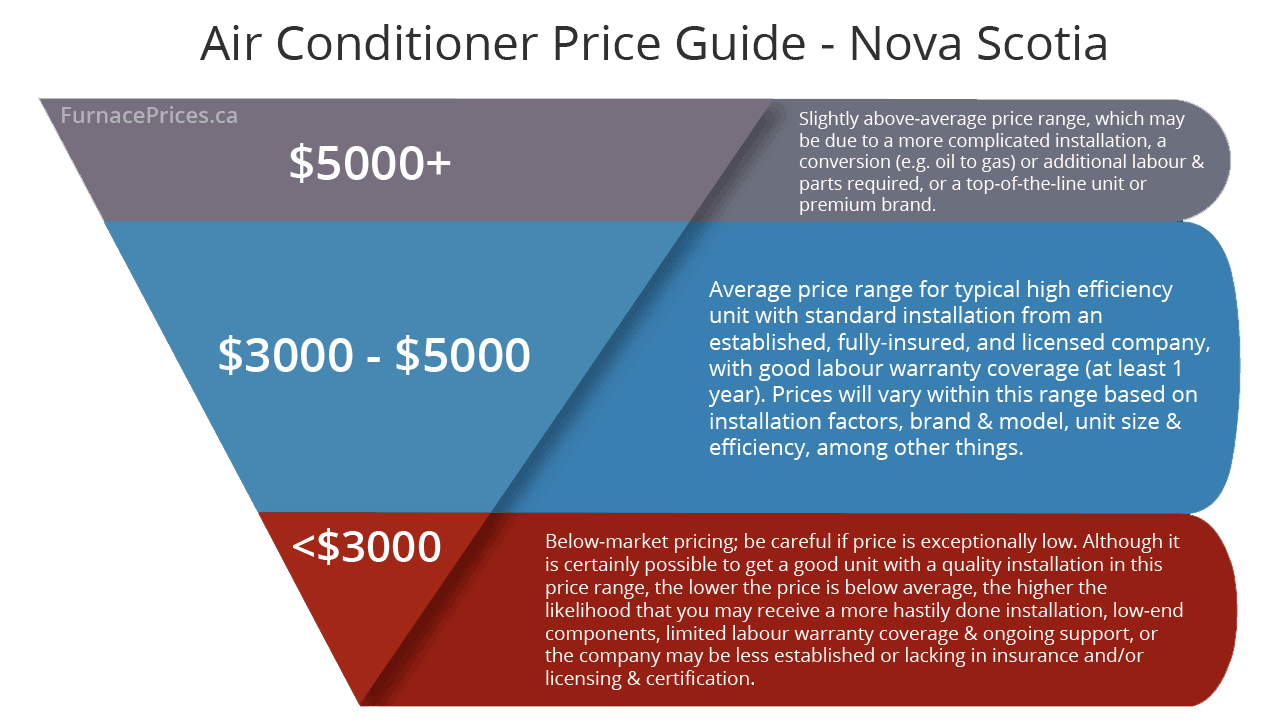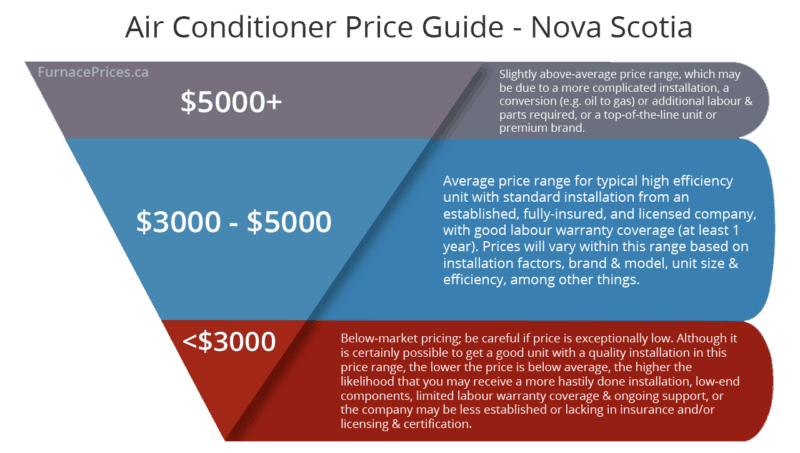 Nova Scotia In A Nutshell
Population: 943,000
Average Temp. Summer: 25 degrees
Average Temp. Winter: -13 degrees
Top Canadian Brands by Price Tier
Low Tier – to $3,800.00 Goodman
Mid Tier – up to $4,500.00 American Standard
Premium Tier – up to $6,000.00 Lennox
What to look for when choosing a heating & air conditioning contractor
People often fret over the brand of furnace to buy, but the contractor you choose is every bit as important. Not only is the quality of the workmanship and installation crucial to the furnace's lifespan, the company you choose will be relied on for future servicing and warranty coverage.
Always choose an established company that has:
Good, independently-verified feedback
A solid track record and no outstanding disputes
Verified insurance, licenses, and certifications
Experienced staff, with manufacturer training
Registered to offer rebates
Checking all of these things is difficult and time-consuming.
That's why we've already done it for you!
Learn more about our independent local HVAC contractor Certification program, designed to help you get a reliable heating system at a fair price, from reputable local dealers.
Pricing
The price of a new air conditioner can vary depending mostly on size and brand. The average A/C unit cost in Nova Scotia ranges from: $3,000.00 to $5,000.00 (including installation). Remember to include the cost of installation when comparing pricing, it is a necessary component when cost figuring and matching.
Deals and Incentives Available
Check with your preferred Nova Scotia HVAC supplier for deals that may be available for the purchase of a new central air conditioning unit. Some companies offer incentives at the end of summer to clear out inventory before winter time, or at the beginning of spring to make room for the arrival of new units.
There is an incentive available to the residents of Nova Scotia for retiring old air conditioning units and upgrading to a newer, more energy efficient model. The Appliance Retirement Incentive is paid out for the receipt of old air conditioning units. Efficiency Nova Scotia administers the program on behalf of the Province of Nova Scotia. Partial funding is received from the Government of Canada's Low Carbon Economy Leadership Fund. For more information, or to inquire on how you can access the incentive contact Efficiency Nova Scotia at: 1-877-999-6035 or [email protected]
Financing
When purchasing a new central air conditioning unit, financing is an option that is available from either the supplier directly, usually if they are a large company, or through a third party which your supplier will facilitate. Some HVAC companies provide varying terms, request a quote from one of our recommended trades.
Companies that offer financing will have several different payment plans available to suit each homeowner's needs. Financing contract terms can be negotiated to cover a range of options, including interest rate and payment terms that can be spread out from 1 to 15 years. Make sure you ask for a free quote from at least two suppliers before committing to an agreement.
Looking to Replace Your Air Conditioner?
Get a free custom estimate from trusted local suppliers.
Get an air conditioner quote now!
See why FurnacePrices.ca is Canada's leading provider of heating & cooling information, including unbiased product evaluations, and step by step buyer guides.
Installation
When purchasing a central air conditioning system from your local HVAC supplier it is important to factor in the cost of installing the system. Due to the complexity of a central A/C unit, installation should only be completed by a recognized HVAC professional. Attempting to self-install may result in a system that does not function properly, could potentially damage your home, and in most cases would void any type of warranty issued by the manufacturer. Search from our extensive trade database for a certified HVAC technician who will ensure your air conditioner is installed and performing correctly.
Comparing SEER vs. EER
When it comes to rating an air conditioning unit based on efficiency in Nova Scotia, consumers look to SEER and/or EER ratings for answers. Here we breakdown the difference between the two so you know what exactly the ratings are telling you.
SEER
Stands for Seasonal Energy Efficiency Ratio
Values range from 8-30
Measures the ratio of cooling output or cooling power—how much energy it takes to cool the air in your home
Shows ratio of output in BTU's per hour
Measures the output over the course of an entire season
The higher the rating the more energy efficient the unit
The higher the rating the more you will save in operating costs
Used more by consumers and companies for marketing efficiency-give an overall snapshot of performance standards
EER
Stands for Energy Efficiency Ratio
Values range from 8-30
Measure the ratio of an A/C unit's cooling capacity per hour to the total electrical energy used in watts
Shows ratio of output in BTU's per hour
Determines the energy efficiency of a central air conditioner
The higher the rating the more efficient the system is
The higher the rating the lower the energy consumption of the unit will be-cost savings
Used more by HVAC technician's to assess efficiency-give more a specific snapshot of the unit's performance standards
What is a BTU?
A BTU stands for British Thermal Unit. It is a measurement used to rate the amount of heat an air conditioner removes for a room or building. The higher the number the greater the cooling power. Used when calculating the operation and efficiency of a central air conditioning unit.
City Info
Nova Scotia belongs to Canada's Maritime provinces. Situated on the east coast of Canada, Nova Scotia is positioned on the coast of the Atlantic Ocean. Known for famous destinations such as Peggy's Cove, The Bay of Fundy, and The Cabot Trail, this eastern province is a popular vacation destination for travellers from all over the globe.
Halifax is the capital city, with a population of 414,000 residents which makes up almost half of the population of this province. The weather can be unpredictable due to Nova Scotia's geographical positioning, with winters known for excessive snow falls and epic storms.
Summer typically brings moderate and warm weather, with some inland temperature exceeding 30+ degrees regularly during the months of July and August. The further inland the less air flow and relief. On those hot and humid summer days a central air conditioning unit can feel like a necessity to get through the summer months. To find out how you can stay cool contact a local HVAC provider for more information.
Nova Scotia & Surrounding Areas
Halifax
Cape Breton
Truro
Amherst
New Glasgow
Bridgewater
Yarmouth
Kentville
Antigonish
Stellarton
Wolfville
Save time and get a fair price – request a free quote from trusted local HVAC contractors!