High Efficiency Furnaces in Markham – Prices, Top Deals & Free Quotes
Markham, featuring the sometimes mild, sometimes bitterly cold winter distinctive of the Southern Ontario climate, can leave you feeling more than chilly if your furnace is not up to scratch. This guide will ensure that you make an informed decision on a new or upgraded furnace that's best suited to your home, budget, and needs.
Average* furnace price in Markham (including install):
$2500 – $4500
*note many factors can affect price, see further down for details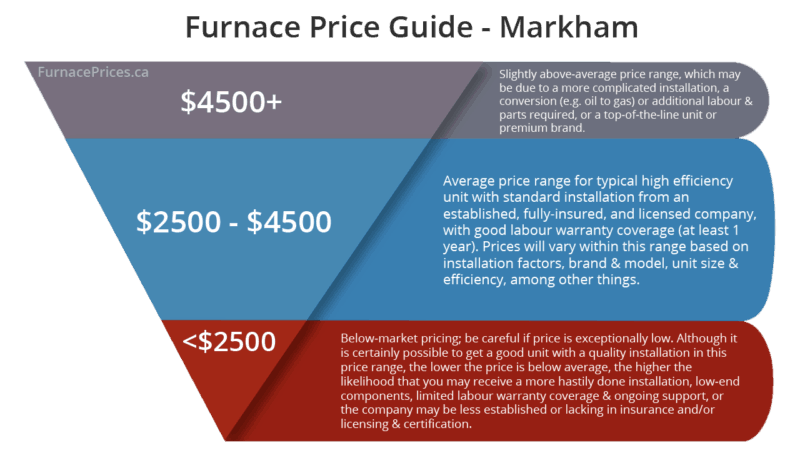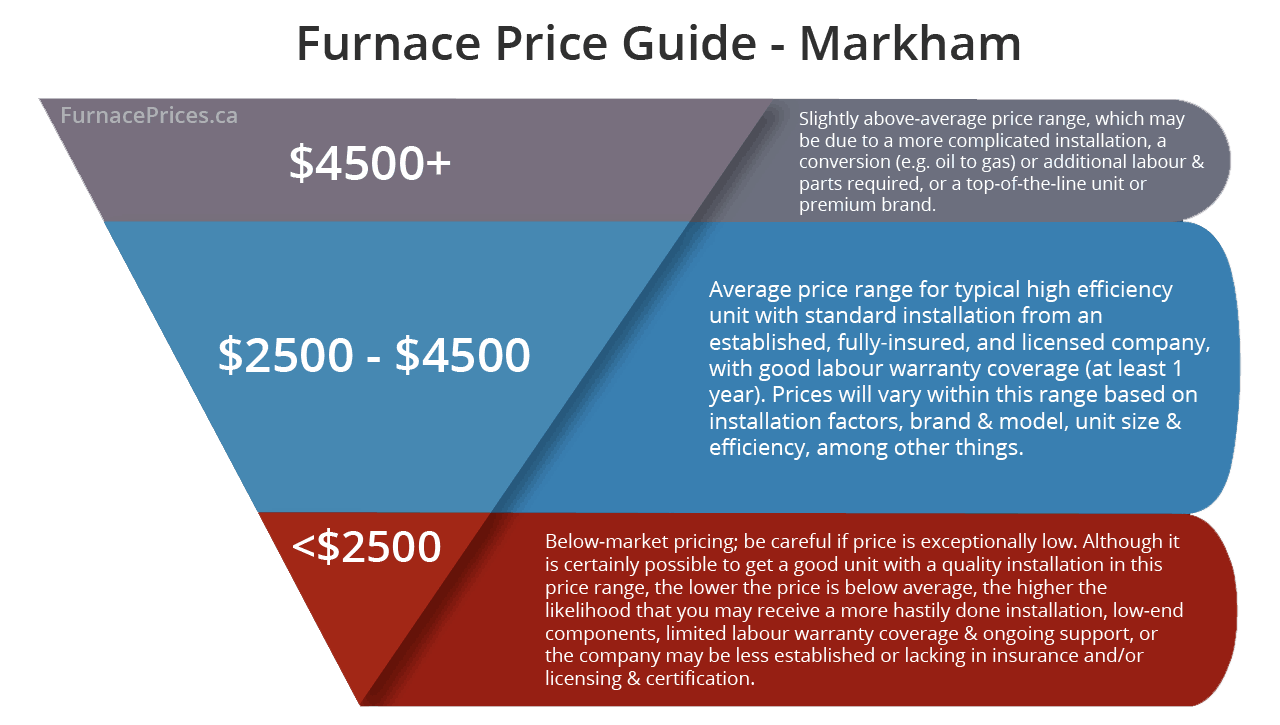 Markham, Ontario By The Numbers
Population: 355,000
Average Temp. (Summer): 19.7 degrees Celsius
Average Temp. (Winter): -5 degrees Celsius
Top Canadian Brands by Price Tier
Low Tier – $2,400+ KeepRite
Mid-Tier – $3,000+ American Standard
Premium Tier – $3,400+ Lennox
Rebates available: Yes
What to look for when choosing a heating & air conditioning contractor
People often fret over the brand of furnace to buy, but the contractor you choose is every bit as important. Not only is the quality of the workmanship and installation crucial to the furnace's lifespan, the company you choose will be relied on for future servicing and warranty coverage.
Always choose an established company that has:
Good, independently-verified feedback
A solid track record and no outstanding disputes
Verified insurance, licenses, and certifications
Experienced staff, with manufacturer training
Registered to offer rebates
Checking all of these things is difficult and time-consuming.
That's why we've already done it for you!
Learn more about our independent local HVAC contractor Certification program, designed to help you get a reliable heating system at a fair price, from reputable local dealers.
Purchasing a High-Efficiency Furnace
Efficiency Ratings
The efficiency rating is one of the most important specifications to consider when replacing your furnace, as it dictates how much of the energy the furnace consumes, will be converted into usable heat. It is expressed as a percentage, known as the AFUE or Annual Fuel Utilization Efficiency. A good AFUE to opt for is at least 95%.
ENERGY STAR®
If you've ever seen the ENERGY STAR symbol on any appliances in the past, you may wonder what it means. This symbol marks products that have passed strict testing overseen by the American EPA and Natural Resources Canada meaning they are among the most efficient products available. Another way of taking advantage of ENERGY STAR furnaces is by exploring rebates that are available in your local area, as they often require ENERGY STAR certified furnaces!
Common Features
Variable-speed blowers – Your furnace will blow out air at varying speeds, resulting in improved airflow control in your home. Your furnace can now adapt to different situations and can maintain a constant temperature as opposed to single-speed blowers, which heat your home to a certain level, and then shut off until the temperature drops.
Zoned heating – Zoned heating gives you control over the temperature in different "zones" or areas of your home. Zoned heating works by the opening and closing of special valves (dampers) in ductwork, usually controlled by the thermostat. It's a great solution if you want different parts of your home to be heated to different temperatures.
Dual heat exchangers – a heat exchanger is a collection of tubes within the furnace which transmit the heat from the burning gasses to the air which will be circulated throughout your home. Dual heat exchangers mean that more heat can be drawn from the burned gas, improving efficiency and the consistency of the temperature in your home.
Factors That Can Affect The Price
The size of your home – The size of your home will dictate what BTU (British Thermal Unit) input and output are required to heat your space. A qualified HVAC contractor will be able to suggest a suitable range for you to consider. Most furnace manufacturers offer the same model with various different BTU inputs and outputs (usually larger numbers, such as 50,000, 60,000, 70,000 etc.) so if your home is particularly small, or large, you don't have to worry.
Efficiency level – The efficiency level shows how many cents in a dollar will go towards heating your home in the form of an AFUE percentage. As a rule of thumb, the higher the percentage, the more expensive your unit will tend to be.
Features – The more advanced the features on a furnace, the more expensive it can be. Features such as zoned heating, control panels, humidity controls can all bump up the price.
Brand – Some furnace brands are more expensive than others. Those that have built up years of experience and proven their reliability can charge more for a similar product than a manufacturer new to the market.
Government Rebates Available
In Ontario, The Independent Electricity System Operator (IESO) offers rebates when you purchase a furnace with a tankless water heater or air conditioner. There may also be rebates for installing a new ENERGY STAR high-efficiency furnace through the Heating and Cooling Incentive Program.
Looking to Replace Your Furnace?
Get a free custom estimate from trusted local suppliers.
See why FurnacePrices.ca is Canada's leading provider of heating & cooling information, including unbiased product evaluations, and step by step buyer guides.
High-Efficiency Furnace Pricing
The average price for a furnace in Markham, Ontario (including the installation) is between $2500 – $4500
Financing Options and Incentives
Most HVAC providers offer various financing options. These can include monthly payments, payment deferral promotions and leasing options. In a city like Markham, there are many HVAC providers, meaning it can be time-consuming to search around for the best deal. It's, still worth browsing around though, as you can stumble on some great deals and units that perfectly suit your home!
General City Information
Markham is one of the largest of nine communities in the York region. Its climate is distinctly in line with the Southern Ontario climate, with lots of snow in the winter and lots of heat in the summer. Home to around 1,500 technology and life science companies, it's a business driven, ethnically diverse community. Located only 30km northeast of Downtown Toronto, it's Canada's 16th largest city, with many residents commuting into Downtown for work. Historically an agricultural community, Markham still celebrates its routes with popular events such as the Markham Fair.
Markham & Surrounding Areas
Aurora
Whitchurch-Stouffville
Richmond Hill
Vaughan