High Efficiency Furnaces in Barrie – Prices, Top Deals & Free Quotes
In the market for a furnace to keep your home cozy in Barrie, Ontario? Investing in a furnace can be overwhelming, especially with the amount of information out there. Our policy is to provide unbiased and honest information so that Canadians can find a furnace that's right for them. See below for the essential features, trends and offers that will make your search for a furnace in Barrie that much easier.
Average* furnace price in Calgary (including install):
$3200 – $5500
*note many factors can affect price, see further down for details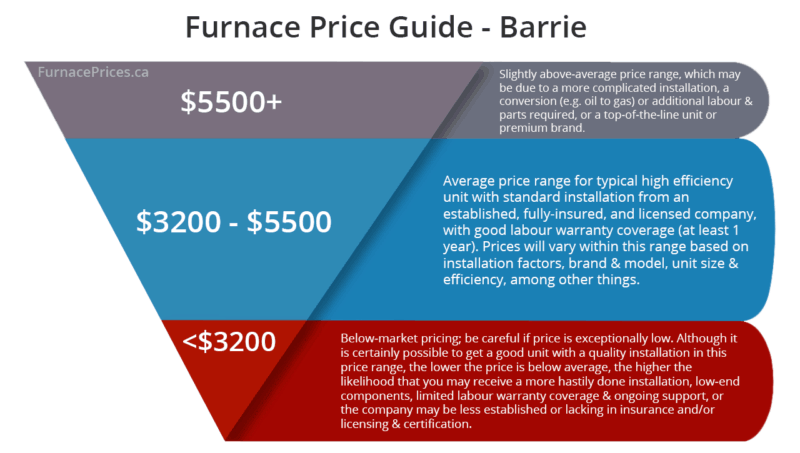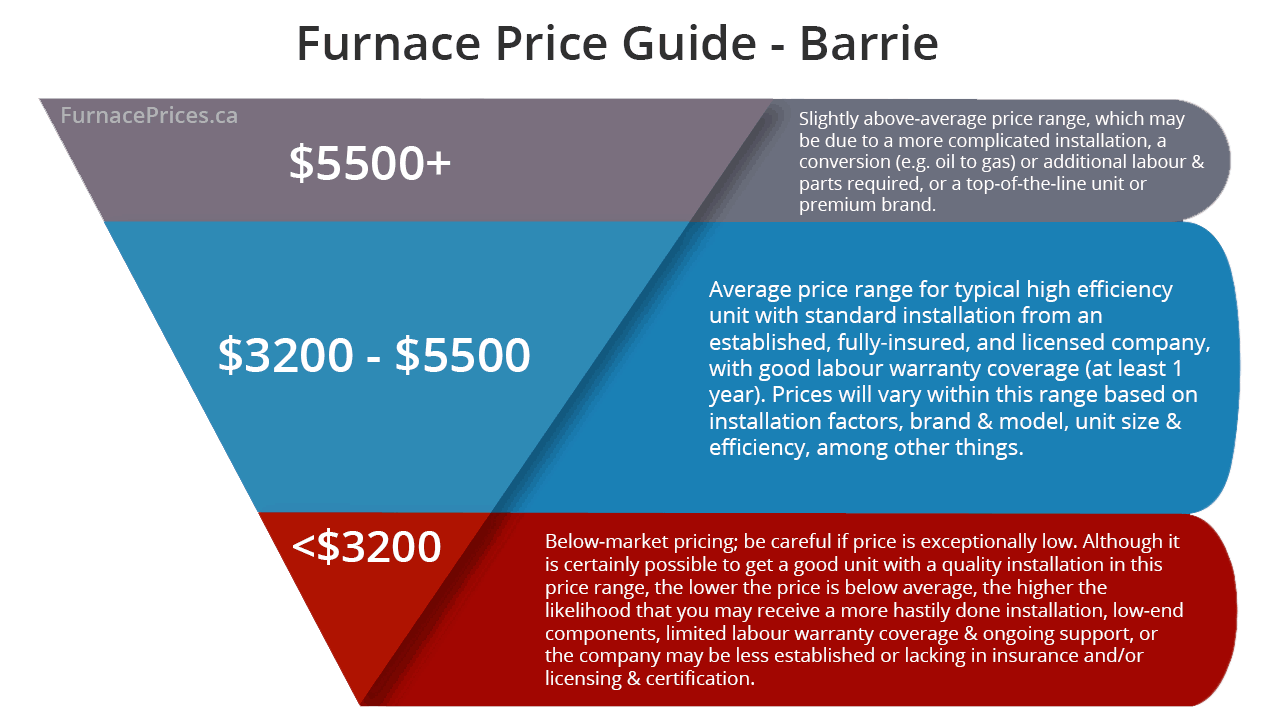 Barrie, Ontario Statistics
Population: 136,063
Average Temp. (Summer): 25 degrees Celsius
Average Temp. (Winter): -2 degrees Celsius
Top Canadian Brands by Price Tier
Low Tier – $2,400 + Goodman
Mid Tier – $3,000 + Rheem
Premium Tier – $3,400 + Lennox
Rebates available: Yes
What to look for when choosing a heating & air conditioning contractor
People often fret over the brand of furnace to buy, but the contractor you choose is every bit as important. Not only is the quality of the workmanship and installation crucial to the furnace's lifespan, the company you choose will be relied on for future servicing and warranty coverage.
Always choose an established company that has:
Good, independently-verified feedback
A solid track record and no outstanding disputes
Verified insurance, licenses, and certifications
Experienced staff, with manufacturer training
Registered to offer rebates
Checking all of these things is difficult and time-consuming.
That's why we've already done it for you!
Learn more about our independent local HVAC contractor Certification program, designed to help you get a reliable heating system at a fair price, from reputable local dealers.
Looking to Replace Your Furnace?
Get a free custom estimate from trusted local suppliers.
See why FurnacePrices.ca is Canada's leading provider of heating & cooling information, including unbiased product evaluations, and step by step buyer guides.
Popular Furnace Brands
Knowing what furnaces other residents are buying can give you a clue about what works best for Barrie's climate and can also mean that repairs will be quicker and easier, as knowledgeable service technicians and parts will be more readily available.
People living in Barrie, Ontario most often bought a furnace by:
Amana
Carrier
Napoleon
Goodman
Lennox
Rheem
York
Installation
Proper installation, by a licensed professional, is required to make sure that your furnace works well and reliably. An experienced and trusted installation service will be able to advise you on the best heating system for your particular home.
Save More on Your Monthly Bills
We all want to keep more money in our pockets and, though heating your home is an inescapable expense, there are things you can do to reduce your energy costs. We've got some fresh ideas to help you save on your monthly heating bills:
Look at your daily routines – Adjust your thermostat, depending on the time of day. Reduce temperatures during the day when the house is empty or overnight when everyone is snuggled in their beds. Lowering the temperature of your home, even by as little as one degree, can result in energy, and cost, savings.
Automate to make things easy – Automated settings on your thermostat will mean you won't even have to think about it. Many smart thermostats are on the market right now, but even older models allow for time set temperature adjustments. Newer models will automatically lower temperatures when you step out the door, making mornings that much easier. With integrated mobile apps, you can also monitor or adjust the temperature of your home, from wherever you are.
Make sure your furnace is in tip-top shape – When is the last time that you changed your furnace's air filter? Is your furnace overdue for servicing? A service call will make sure that your home heating system is clean and running at maximum efficiency. Many HVAC providers offer competitive or reoccuring service packages.
Organize the basement – Stuff seems to multiply overnight in basements, but make sure you keep the area around your furnace clear. Not only is this a safety issue, but it will also allow for greater airflow and, therefore greater efficiency, from your furnace. Although this is somewhat less crucial with modern furnaces, which don't primarily draw in air directly from the area surrounding the furnace, it's still a good idea. It makes your furnace more accessible when servicing and cleaning is required, and reduces the chance of accidental damage or disruption of your furnace's operation.
Tackle drafts and keep the heat in – Look for drafts around your home and prevent heat loss with weather stripping and clear plastic sheeting over windows, as well as window and door draft stoppers. Open blinds and curtains during the day to let heat in and close them at night to keep precious heat from escaping.
Consider upgrading to a high-efficiency furnace – Over the longer term, a high-efficiency furnace will be more cost-effective to operate due to lower heating bills. Propane and gas are less expensive than electricity and burn more completely than oil. Holding on to your old and inefficient furnace can be a false economy, especially if you already have an existing forced air system. While conversion can be costly, in the short term, deals and rebates can help offset the outlay.
Think of your home in terms of zones – If you have a multi-zone furnace system, make the most of it and set it to automate energy savings. Consider how often each area of your home is used and set the thermostat lower for those that are less used. If your furnace does not have this feature, recreate the effect by closing doors to rooms that are used less often and consider closing the vents in those rooms, as well. Be careful not to keep your basement too cold, however, as that can make your first floor feel chilly.
High-Efficiency Furnace Pricing
Average furnace in Barrie (including install): $3200 – $4500
Financing Options
When it comes to purchasing a new heating system, price will be dependent on individual home needs, sizing and which pricing tier you wish to purchase in (we divide price in to the categories of value, mid-range and premium). Many HVAC providers also offer free estimates, monthly payment programs and financing opportunities.
Rates and fees will vary from contractor to contractor depending on the financing partner they use. Typically you'll be able to pay off your new furnace over a number of years, with monthly payments in the $40 to $100 range, depending on the length of the term.
General City Information
Barrie, Ontario is a mid-sized city in Central Ontario perched on the western shores of Lake Simcoe, resulting in cold, snowy winters. Located just over 100km from Toronto, Barrie has long been considered a bedroom community for the metropolis, but still has much to offer in itself. With sandy beaches for summer fun and a prime location in the Ontario Snow Belt for winter sports, Barrie offers year-round adventure.
Barrie & Surrounding Areas
New Tecumseh
Innisfil
Orillia
Gravenhurst
Bracebridge
Midland
Georgina
Collingwood
The Blue Mountains
Wasaga Beach
Penetanguishene
Barrie Certified Local Partner:
Keeping your family Comfortable