High Efficiency Furnaces in Winnipeg – Prices, Top Deals & Free Quotes
Winnipeg's winters can be notoriously long and harsh, so an effective and efficient forced-air propane or natural gas furnace is essential. We've put together this guide on purchasing a new or upgraded furnace that's suited to your budget, home and needs.
Average* furnace price in Winnipeg (including install):
$2800 – $6000
*note many factors can affect price, see further down for details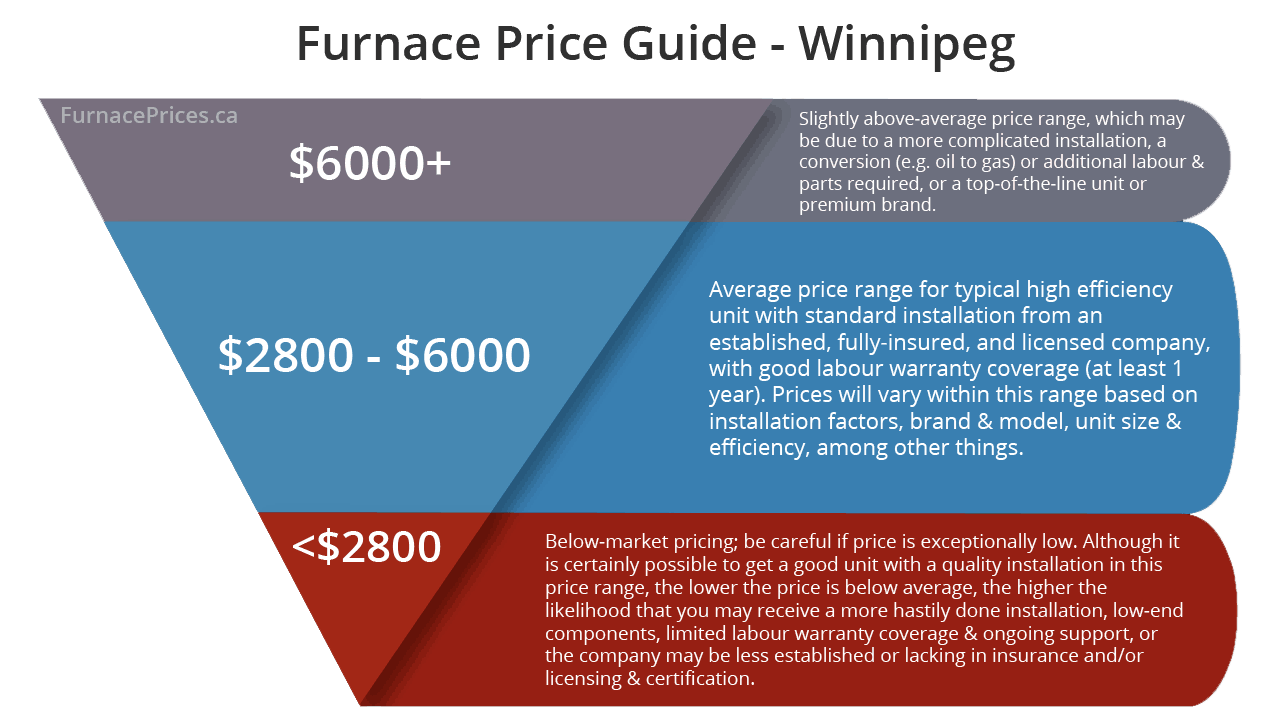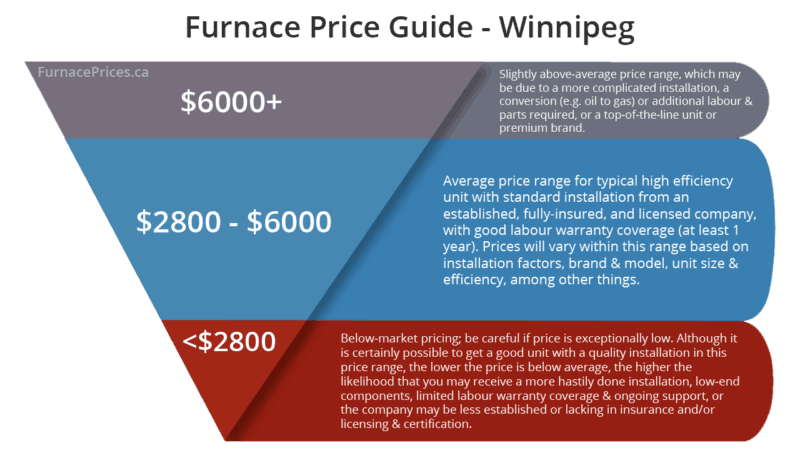 Winnipeg, Manitoba By The Numbers
Population: 709,253
Average Temp. (Summer): 19 degrees Celsius
Average Temp. (Winter): -12 degrees Celsius
Top Canadian Brands by Price Tier
Low Tier – $2,800+ KeepRite
Mid-Tier – $3,500+ American Standard
Premium Tier – $4,000+ Lennox
Rebates available: Yes
What to look for when choosing a heating & air conditioning contractor
People often fret over the brand of furnace to buy, but the contractor you choose is every bit as important. Not only is the quality of the workmanship and installation crucial to the furnace's lifespan, the company you choose will be relied on for future servicing and warranty coverage.
Always choose an established company that has:
Good, independently-verified feedback
A solid track record and no outstanding disputes
Verified insurance, licenses, and certifications
Experienced staff, with manufacturer training
Registered to offer rebates
Checking all of these things is difficult and time-consuming.
That's why we've already done it for you!
Learn more about our independent local HVAC contractor Certification program, designed to help you get a reliable heating system at a fair price, from reputable local dealers.
Who is Our Top Winnipeg Furnace Contractor?
Purchasing a High-Efficiency Furnace
Insulation and Drafts
In addition to having a high-efficiency furnace, it's important to make sure that your house is free from air leaks, as these can dramatically affect the performance of your new unit.
Sealing drafts – If air is leaking into or out of your home, your furnace will be less effective. Make sure you check window seals, door seals and entrances to basements, attics and crawl spaces. One way of testing for air leaks is by using a stick of incense, and if there's a leak, the incense will either be sucked out or blown back towards you indicating airflow. Finally, it's beneficial to have a professional check your home for leaks and then fix any that are found.
Insulate your attic – Tying in closely with sealing drafts, one of the most extreme cases of drafting is a badly insulated attic. A poorly insulated attic can dramatically cool down your home, causing you to spend more money on heating it. Consider a professional insulation install in your attic to ensure your house stays warm, and your furnace doesn't have to work overtime!
Price & Long-Term Value
Many people, naturally, look at the up-front cost of two units, see they are similar and opt for the cheaper version. Often, if many of the features are the same, it will be the aforementioned AFUE rating that is lower on the cheaper unit. However, the AFUE rating shows how many cents in every dollar will be going towards heating your home. So consider it carefully, as a higher AFUE rating will save you money in the long term.
3 Tips To Choosing The Right HVAC Company/Contractor
Check out their licensing and experience – Always check out a potential HVAC company's license and consider their experience. Finding out how long they have held their license is a great way of gauging how experienced they are. Also, don't be afraid to ask about an individuals licensing and experience. Remember, a furnace is an expensive investment so you want the right person installing it!
Ask for references and referrals – References and referrals are a useful way of checking out an HVAC company's experience and quality. Most companies will have previous customers who are happy to be emailed or phoned and answer questions about their experience. Grab a couple of numbers or email addresses and fire some questions over to those that have had experience with the company before!
Price vs value – get an itemized quote – Like the furnace itself, cheapest is not always best. When down to the last few options for the HVAC company you want to use, make sure to ask for an itemized quote of all services that are included. If a price seems to good to be true, be wary of using their services. If most quotes come back in a similar range, consider other points such as their experience and references.
Best of all, we've already done this work for you! At FurnacePrices.ca, we've developed our own certification program to help homeowners connect with established and trusted local HVAC contractors with a good track record!
Get a free quote today from a trusted Certified Local Partner.
High-Efficiency Furnace Pricing
The average price of a furnace in Winnipeg, Manitoba (including installation) is $2800-$6000.
It's important to make the right decision, in sync with your budget, when considering a new furnace. There are many factors to be wary of when considering pricing that can influence the average price of a furnace in Winnipeg.
For example, it's important to be aware of the BTU size. The BTU size is calculated by how much energy is required to raise the temperature of one pound of water by one degree (Fahrenheit). Put simply, the larger your home, the larger your furnaces BTU size needs to be. So, when searching for a new furnace, stay armed with the square footage of your home, so you don't pay for a furnace that doesn't effectively heat your whole home! Be sure to consult a reputable local HVAC contractor who will help determine the correct unit for your home and needs.
Looking to Replace Your Furnace?
Get a free custom estimate from trusted local suppliers.
See why FurnacePrices.ca is Canada's leading provider of heating & cooling information, including unbiased product evaluations, and step by step buyer guides.
Government Rebates Available
Manitoba Hydro has many various rebate options available that are worth researching before purchasing your new furnace.
Energy Finance Plan (up to $5,000 financed on a 5-year term)
Power Smart PAYS Financing
Power Smart Residential Loan
For more information about these rebate options, and even more rebates available for Winnipeg, Manitoba (including commercial rebates) check out our website!
Warranty and Financing Options
Make sure you consider the warranty options offered by various manufacturers when purchasing a new furnace. Although warranties vary manufacturer to manufacturer, a good length is around 10 years for parts, and some manufacturers even offer a lifetime warranty on the heat exchanger! Check with your local Winnipeg HVAC specialist for more information.
In addition to the warranty, it's useful to shop around as many reputable HVAC providers offer various financing options that can suit people in different situations. From monthly payments to payment deferral promotions and leasing options, it can be daunting exploring all of these options but in the long run, can be financially beneficial. Some companies may even have promotions on that coincide with your search for a new furnace, meaning you either save extra or gain more!
Popular Furnace Brands in Winnipeg
Residents of Winnipeg, Manitoba are buying units manufactured by:
Amana
American Standard
Carrier
Comfortmaker
Goodman
KeepRite
Lennox
Napoleon
Trane
General City Information
Winnipeg is the capital of the province of Manitoba. Also the largest city in the province, Winnipeg is named after the nearby Lake Winnipeg and features a distinctly seasonal climate, with very hot summers and freezing cold winters. Coined the "Gateway to the West", Winnipeg features a wealth of railway and transportation activity and a strong, diversified economy. The city is sport mad, and famous for several professional franchises such as the Winnipeg Jets, Winnipeg Goldeyes and the Winnipeg Blue Bombers. Culturally, Winnipeg is also famous for hosting a number of annual festivals such as the Winnipeg Folk Festival and the Jazz Winnipeg Festival.
Winnipeg & Surrounding Areas
Steinbach
Portage la Prairie
Selkirk
Beausejour
Oakbank
Stonewall
Carman