Central Air Conditioners in Winnipeg – Prices, Deals & Get a Free Quote
Buying a new central air conditioner in Winnipeg can feel overwhelming. With so many considerations, it's important to do your research so that you can be confident that the high-efficiency central A/C unit you choose will effectively cool your home and reduce your monthly energy expenses. Our comprehensive list of considerations will help you learn more about different top central air conditioner brands, features, rebates and promotions, and questions to ask your installation company.
Average* air conditioner price in Winnipeg (including install):
$3200 – $4200
*note many factors can affect price, see further down for details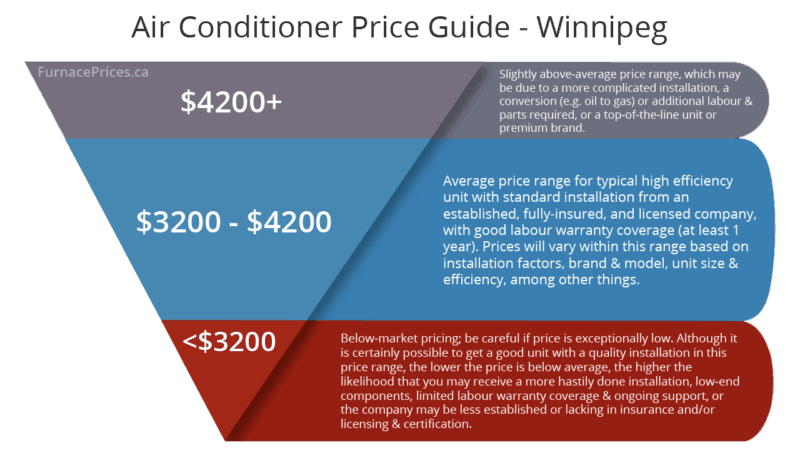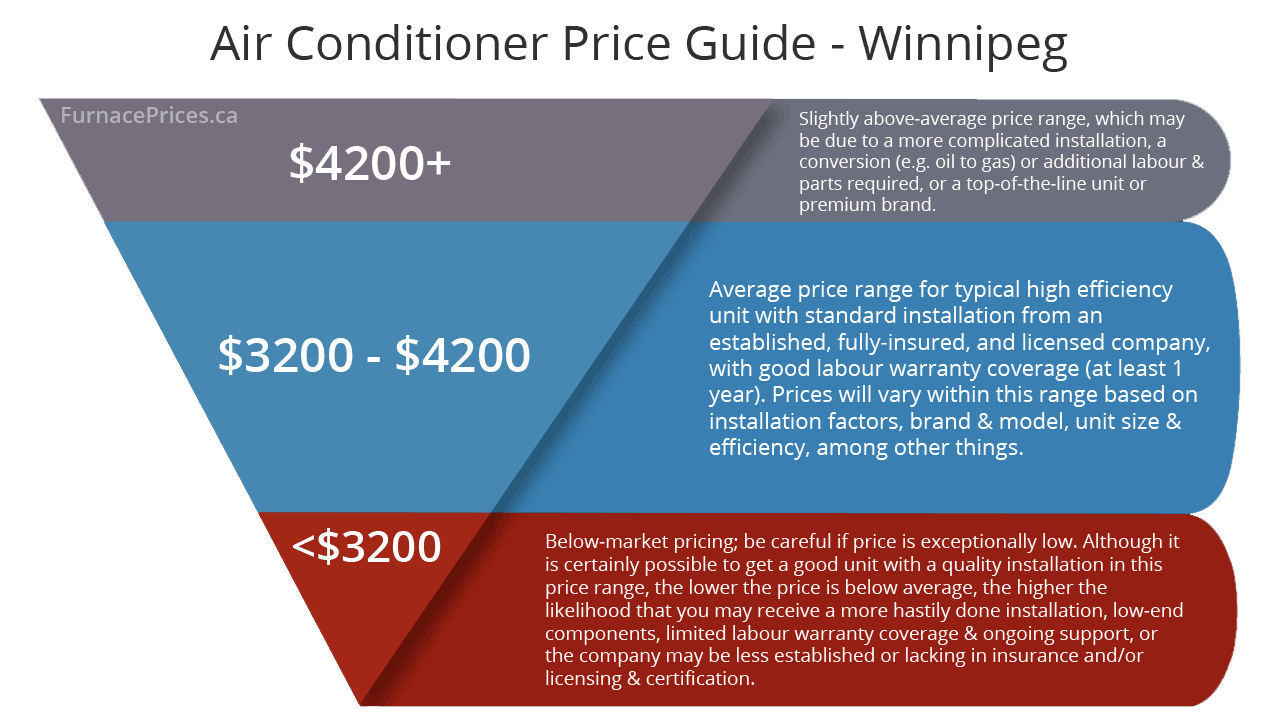 What to look for when choosing a heating & air conditioning contractor
People often fret over the brand of furnace to buy, but the contractor you choose is every bit as important. Not only is the quality of the workmanship and installation crucial to the furnace's lifespan, the company you choose will be relied on for future servicing and warranty coverage.
Always choose an established company that has:
Good, independently-verified feedback
A solid track record and no outstanding disputes
Verified insurance, licenses, and certifications
Experienced staff, with manufacturer training
Registered to offer rebates
Checking all of these things is difficult and time-consuming.
That's why we've already done it for you!
Learn more about our independent local HVAC contractor Certification program, designed to help you get a reliable heating system at a fair price, from reputable local dealers.
Who is Our Top Winnipeg Air Conditioner Contractor?
Purchasing a High-Efficiency Central A/C
Winnipeg residents looking to purchase a new high-efficiency central A/C will want to look for the Seasonal Energy Efficiency Ratio (SEER) rating when selecting which level of energy-efficiency is best for their home cooling. Central A/C systems range from 13-20+ SEER. The higher the SEER number on the A/C, the more energy-efficient the system. Up to 18 SEER offers a moderate to high level of efficiency.
A certified, HVAC dealer will determine what size A/C unit you need for your home so that it can achieve optimal home cooling performance within the energy-efficiency range you selected.
Deals Available
When you purchase a central air conditioner in Winnipeg, don't forget to look for sales and promotions. The savings can help offset the cost of the investment you are about to make. Click here to view a list of deals available now from our trusted local distributors.
Deals do change frequently, so check back to make sure you have the most up-to-date information.
Government Rebates Available
Government rebates are another topic to discuss with your licensed HVAC distributor. They can help you to find available rebates and show you how you can claim them.
For a list of current government rebates in Winnipeg, click here.
Popular Central Air Conditioner Brands
Trane, Lennox, KeepRite and Carrier continue to be amongst the popular high-efficiency air conditioner brands in Winnipeg. Longstanding reputations for manufacturing quality high-efficiency central air conditioner systems and extensive warranties give homeowners peace of mind that their investment is protected.
Each of these trusted brands carries a variety of ENERGY STAR central air conditioner models with a variety of different energy efficiency and noise reducing features. Trane's ComfortLink™ II allows you to control the temperature remotely and Lennox has SunSource® solar panels that let you integrate solar energy into your home. If you aren't sure which features are right for your home, ask your HVAC professional.
Looking to Replace Your Air Conditioner?
Get a free custom estimate from trusted local suppliers.
Get an air conditioner quote now!
See why FurnacePrices.ca is Canada's leading provider of heating & cooling information, including unbiased product evaluations, and step by step buyer guides.
Installation
Installation is another cost to consider in your air conditioner system price. Research certified HVAC installers in Winnipeg to make sure that they are reputable and bring good value for your money.
Installation costs can fluctuate depending on the size of your home, how easily accessible the cooling system is, and if your home needs upgrades to name a few. Don't overlook the indoor coil. Get a high-quality coil that fits properly so that your high-efficiency A/C runs smoothly.
High-Efficiency A/C Pricing
Central air conditioner systems cost on average between $3200 – $4200 in the Winnipeg and surrounding areas. Cost may fluctuate depending on brand, model features, size of the unit you require and installation.
Get a few quotes from HVAC companies and find out both their installation costs and their labour warranty, which should be at least one year.
Financing Options
Central A/C systems are a major home purchase which can seem overwhelming, especially if the cost is unexpected. That's why many Winnipeg homeowners opt to finance their purchase.
Financing is ideal if you don't want to pay for the full air conditioner purchase up front or if you don't want to sacrifice features your family wants and needs.
General City Information
Winnipeg homeowners looking to replace their old central A/C system will want to ensure they choose an energy-efficient model that can keep up with Winnipeg's summer heat. Highs of 26.1 C and 25.5 C in July and August respectively, mean your system needs to be in tip-top shape to keep up with your home's cooling demands. A high-efficiency central air conditioner will not only have you feeling comfortable and cool all summer long it can also help you combat your summer energy bills.
Winnipeg & Surrounding Areas
Steinbach
Portage la Prairie
Selkirk
Beausejour
Oakbank
Stonewall
Carman