Central Air Conditioners in Hamilton – Prices, Deals & Get a Free Quote
An investment in a new, high-efficiency central air conditioner requires careful research to ensure that you're getting the right unit that meets your home's cooling needs and your budget. Our team at Furnace Prices has prepared a comprehensive overview of key considerations when purchasing a high-efficiency central A/C in the Hamilton area, so that you can make an informed decision.
Average* air conditioner price in Hamilton (including install):
$3000 – $4800
*note many factors can affect price, see further down for details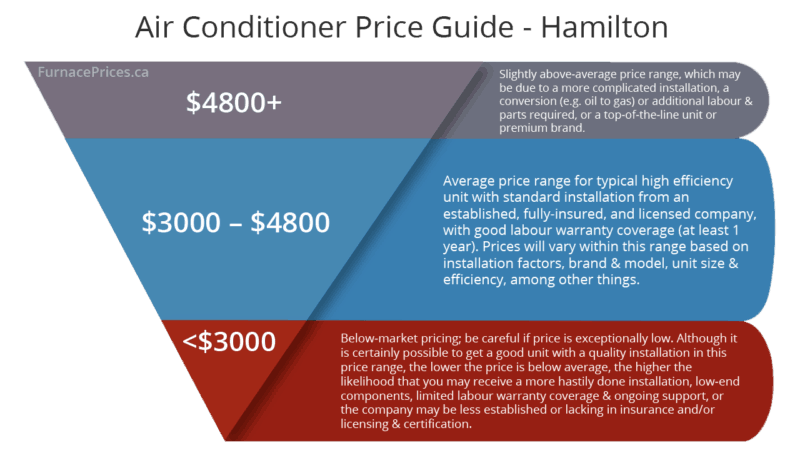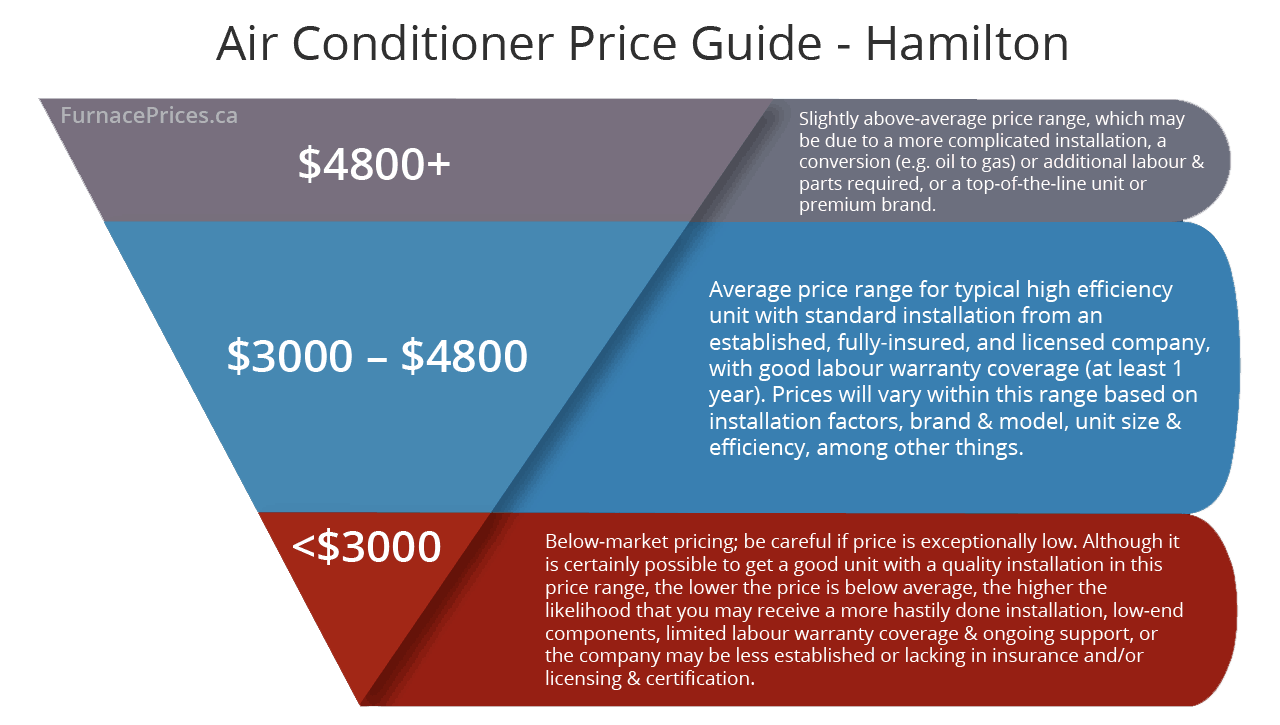 What to look for when choosing a heating & air conditioning contractor
People often fret over the brand of furnace to buy, but the contractor you choose is every bit as important. Not only is the quality of the workmanship and installation crucial to the furnace's lifespan, the company you choose will be relied on for future servicing and warranty coverage.
Always choose an established company that has:
Good, independently-verified feedback
A solid track record and no outstanding disputes
Verified insurance, licenses, and certifications
Experienced staff, with manufacturer training
Registered to offer rebates
Checking all of these things is difficult and time-consuming.
That's why we've already done it for you!
Learn more about our independent local HVAC contractor Certification program, designed to help you get a reliable heating system at a fair price, from reputable local dealers.
Purchasing a High-Efficiency Central A/C
Choosing to upgrade to a high-efficiency central air conditioner will allow you to stay cool while saving money on your home energy bills this summer. All central A/C models sold in Canada have a Seasonal Energy Efficiency Ratio (SEER) sticker which indicates the energy-efficiency of the unit. The higher the SEER, the greater the energy-efficiency you can expect. Central air conditioners range in efficiency from 13-20+ SEER.
Before you purchase a central air conditioner unit for your home, it's important to have a licensed HVAC contractor determine the correct size of central air conditioner model you require to efficiently cool your home. Proper sizing is critical because if the central A/C system is too small the unit will not be able to keep up with the cooling demands of your home and you will experience frequent on and off cycling of the unit. Too large and it will not be able to extract the humidity from the air properly.
Deals Available
Hamilton consumers looking to purchase a new central air conditioner this season will want to take a look at the current deals available through our trusted local distributors in the Hamilton area.
Government Rebates Available
Your new high-efficiency central air conditioner purchase may be eligible for government rebates. Click here to view Hamilton central air conditioner rebates. Your HVAC distributor will be able to assist you with understanding and applying for all of the rebates you are entitled to.
Popular Central Air Conditioner Brands
Goodman, Lennox, Carrier, KeepRite and Trane continue to top the list of central air conditioner brands searched for by Hamilton homeowners looking to purchase a new energy-efficient cooling system for their home. Trane, Goodman, Carrier and Lennox all offer remote temperature control compatibility, allowing you to adjust the temperature of your home using your smartphone. KeepRite limited No Hassle Replacement™ warranty coverage ensures that your investment in a high-efficiency central air conditioner is protected.
Looking to Replace Your Air Conditioner?
Get a free custom estimate from trusted local suppliers.
Get an air conditioner quote now!
See why FurnacePrices.ca is Canada's leading provider of heating & cooling information, including unbiased product evaluations, and step by step buyer guides.
Installation
Proper installation of your central A/C system is essential to ensure that it can achieve optimal cooling of your home. Proper fit of the indoor coil can be a challenge and impact the installation costs. The quality of your indoor coil will also impact the overall efficiency of your unit, so it's important to ensure that the quality of coil is good.
High-Efficiency A/C Pricing
Hamilton consumers can expect to pay roughly $3000 – $4800 for a new, high-efficiency central A/C unit. Factors that affect central A/C pricing include brand, model, size, installation, the region you live in and the furnace company you choose.
It's best to not always choose the absolute lowest price you find. Also important to consider is the reputability of the company, the quality of the installation, as well as the ongoing support in case servicing is needed. So be wary of prices that are well below this range.
Financing Options
Unexpected central air conditioner replacement can be a costly household expense. Luckily there are several financing plans available for Hamilton homeowners who wish to take advantage of flexible payment options when it comes to financing your new, central cooling system. 
The 3 Types of Central A/C Financing Options Available to Hamilton Consumers Include:
Standard: As with all types of traditional financing, a credit check is required. Monthly payments with flexible terms from 1-15 years.
Bad Credit: Bad credit shouldn't be a barrier to purchasing a high-efficiency, central air conditioner for your home. This open loan doesn't require a credit check and no money is paid up front. Simple, monthly payments with a term that works for you. Payment terms usually range from 1-10 years in length.
Zero-Interest: An administration fee and credit check are needed when you apply for a Zero-Interest loan to finance your central A/C purchase. Monthly payments, over a 1-15 year term.
Affordable, monthly payments to make upgrading to a high-efficiency, central air conditioner easier to manage for Hamilton homeowners.
General City Information
With temperatures reaching an average high of 27.2 C in July and 25.7 C in the city of Hamilton, many homeowners are choosing to invest in an energy-efficient central air conditioner to help them beat the heat. With over 120 HVAC contractors operating in Hamilton and the surrounding areas, it's important for residents to do their research to select a reliable contractor.
Hamilton Surrounding Areas
Simcoe
Caledonia
Norwich
Brantford
Burlington
Brant
Save time and get a fair price – request a free quote from trusted local HVAC contractors!