Vancouver Heating & Cooling Services and Contractors
This guide will cover everything you need to know about the best heating and cooling companies in Vancouver.
We'll talk about what certifications to look for, discuss qualities that set contractors apart from the competition, explain the independent certification program that can put you in touch with dependable contractors, and introduce you to the certified partners in Vancouver.
Summers and winters in Vancouver tend to be milder than some other places in Canada, but the summer months are getting warmer and winters are still chilly. As a homeowner, therefore, you rely on heating and cooling systems to keep your home comfortable and inviting throughout much of the year.
One of the questions you'll have to face as a homeowner is which Vancouver HVAC contractor to trust when you need maintenance, repairs, or an upgrade to your furnace, boiler, water heater, or air conditioner.
These local heating & air conditioning companies are FurnacePrices.ca Certified partners, meaning they have passed our extensive 15-point independent certification process, learn more here (opens in a new tab).
Note that while all companies listed on our website are required to pass our certification process, companies do pay a membership fee to be featured on our website.
Published
Certified Vancouver Heating & Cooling Contractors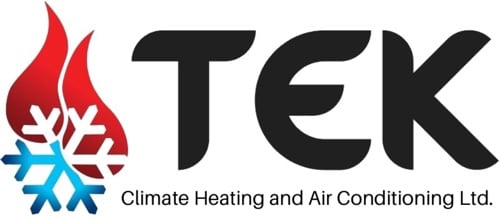 Proudly serving the Vancouver area
About TEK Climate:
Established, with a great track record
Amazing feedback from verified customers
Fully licensed, bonded, and insured
Experienced and well-trained staff
24-hour emergency service
Current Promo
FREE wifi stat, 4 filters, and no charge added value witch includes 1st-year service free with every furnace and air conditioner installed
1ST YEAR SERVICE INCLUDED - We come back 1 year from now to make sure everything is running correctly. ($199) VALUE
FURNACE SERVICE INCLUDED ON A/C INSTALLATION (on day of install) - ($199 VALUE)
FREE WI-FI THERMOSTAT - ($499 VALUE)
- 100% SATISFACTION GUARANTEE-if you are not satisfied, the TEKclimate team will insure and do what it takes to make it right.
- LONGEST WARRANTIES- We are confident in our line of products and quality of installation, TEKclimate offers a long labor warranty.
- NO-HASSLE WARRANTY- If something goes wrong, we will take care of it. PERIOD.
- NO LEMON GUARANTEE- If for any reason the equipment has ongoing problems, we will replace it no questions asked.
- PROPERTY PROTECTION GUARANTEE
- LIFE-LONG RELATIONSHIP GUARANTEE- WE WANT TO EARN YOUR BUSINESS FOR LIFE.
- KEEP YOUR FAMILY & HOME SAFE- We carry 5 million in liability insurance. Licensed, bonded, insured.
- OVER 20 YEARS EXPERIENCE WITH 5 STARS GOOGLE REVIEWS- We strive for excellence. ABSOLUTELY EVERYTHING IS INCLUDED FOR THE INSTALL EQUIPMENT WE QUOTED- our comfort advisers quote for the entire job.
- WE PROCESS WARRANTY, PERMITS & REBATES
- WE TAKE CARE OF EVERY ASPECT OF THE INSTALLATION.
- IN-HOUSE INSTALLATION CREW- Know who is in your home. TEKclimate does not use a 'sub-contractor foreman'.

Proudly serving the Vancouver area
About Aire Energy:
Established, with a great track record
Amazing feedback from verified customers
Fully licensed, bonded, and insured
Experienced and well-trained staff
24 hours 7 days a week
Current Promo
Buy a furnace and get a Free heat Pump*
Up to 12 months deferral payment, no interest no payment.
What Makes These Some of Vancouver's Top Heating and Air Conditioning Companies?
Learn more about what makes these companies a great choice for upgrading or replacing your heating & cooling system.
TEK Climate Heating and Air Conditioning
TEK Climate is one of the most trusted heating and air conditioning companies in Vancouver, and customer satisfaction is their top priority.
They've been serving Vancouver for over 20 years, and are available to help homeowners all over the GVA, including Abbotsford, Surrey, Burnaby, Langley, New Westminster, Mission, Richmond, Delta, Coquitlam, and beyond.
TEK Climate Heating and Air Conditioning is a certified partner for many reasons, including that they offer a full range of services, like sales, HVAC repairs, installation, and more.
Their technicians are trained and qualified to work with propane and natural gas furnaces, boiler heating systems, central and ductless air conditioners, water heaters, heat pumps, commercial equipment, and even gas fitting and refrigeration. Plus, they're available around the clock, 365 days a year for all your HVAC needs.
Here are some other reasons TEK Climate has been a trusted HVAC company in Vancouver for the last two decades:
They carry and are familiar with all the most popular brands
They have excellent customer service and get excellent feedback from real customers
They're bonded, licensed, and insured
They stay on top of all the latest rebates, so they can pass savings along to you
They offer some of the best prices around and promise great value for what you pay
They provide continuing support for customers
They back their installations with industry-leading warranties
What Makes a Good HVAC Contractor?
Do you need help with your heating and cooling system and want to know what to look for in the best Vancouver HVAC contractors?
There are many things to consider when you're evaluating HVAC companies, and it's not all about who has the best prices. A reliable and trustworthy contractor will also have great business practices, professional qualifications, and more. Let's look at what separates the best heating and cooling contractors in Vancouver from the rest:
Responsiveness: You might just be in the process of considering a furnace or air conditioner upgrade, or you might be experiencing an HVAC emergency that requires immediate attention. In either case, you want an HVAC company you can rely on to be available and responsive when you need them, even if it's in the middle of the night.
Technical qualifications: Did you know that HVAC technicians working in Vancouver and elsewhere in British Columbia need a certification of qualification? The certification demonstrates that they've completed an apprenticeship, or that they have extensive knowledge in the field. This ensures that only people who are trained and qualified are allowed to install and service your furnace, air conditioner, and other HVAC equipment.
Experience and reputation: Working with HVAC equipment of all kinds and from various manufacturers is a skill that's acquired through special training and years of experience, and a good company will have built a good reputation in the community by providing professional and expert service over many years.
Insurance: It's not mandatory for an HVAC company to have insurance, but all the reputable ones do. This protects them and you, and ensures that you won't be charged with covering additional expenses in the rare case that something goes wrong during installation or maintenance.
Customer service: The best HVAC companies know that customer service is just as important as technical skills and knowledge. After all, you're inviting the contractor into your home, and it will put your mind at ease if the technicians and staff you talk to are friendly and professional, as well as trained and knowledgeable. Part of that customer service also includes providing quotes that are transparent, accurate, and easy to understand.
One-stop service: HVAC involves a lot more than just furnaces and air conditioners, and good technicians have training and experience that enables them to work with boilers, water heaters, ventilation systems, and more. Moreover, any company you talk to should offer a full range of services, including:

Sales
Installation
Maintenance
Annual tune-ups and inspections
Troubleshooting
Diagnostics
Repairs
Replacements
Emergency service
An Independent Certification Program to Help you Find the Best HVAC Contractors in Vancouver
As you can see, there's a lot to think about when assessing the HVAC contractors that you're considering inviting into your home. To make matters harder, there are well over 50 contractors operating throughout the Greater Vancouver Area.
All of this is to say that it can be tough to know who to trust for your heating and cooling needs.
Our independent contractor certification program is designed to take away the headache of having to vet and choose an HVAC company from the multitude operating in the city.
The program evaluates contractors from all over the country and finds the best ones in each city that meet our strict standards. We look at over 15 different criteria when assessing HVAC companies, and the ones that make the grade are the best furnace and air conditioning contractors in Vancouver and Canada.
We go beyond online reviews—which can be inaccurate or even inauthentic—and find contractors that are reliable, trustworthy, qualified, experienced, and dependable. Here are just some of the reasons you can trust the contractors you find through the program:
They've given us proof of their credentials, including licenses and insurance
We have vetted them extensively, and that includes talking to real customers
We track and monitor their performance and customer satisfaction ratings
They don't pay us to get certified: they have to pass our tests with flying colours
We're objective because we're an independent organization and don't represent any one contractor, company, or brand
---
Check out these guides you may also find helpful: