High Efficiency Furnaces in Hamilton – Prices, Top Deals & Free Quotes
Living in Hamilton can mean a constantly changing temperature and high humidity. Whether you're headed for one of the many farmers' markets or hiking in the trails in the Niagara Escarpment, get out and enjoy your thriving city knowing that you'll come home to the perfect temperature indoors. With our help, you can find a high-efficiency furnace perfectly suited for life in Tiger Town.
Average* furnace price in Hamilton (including install):
$2700 – $5700
*note many factors can affect price, see further down for details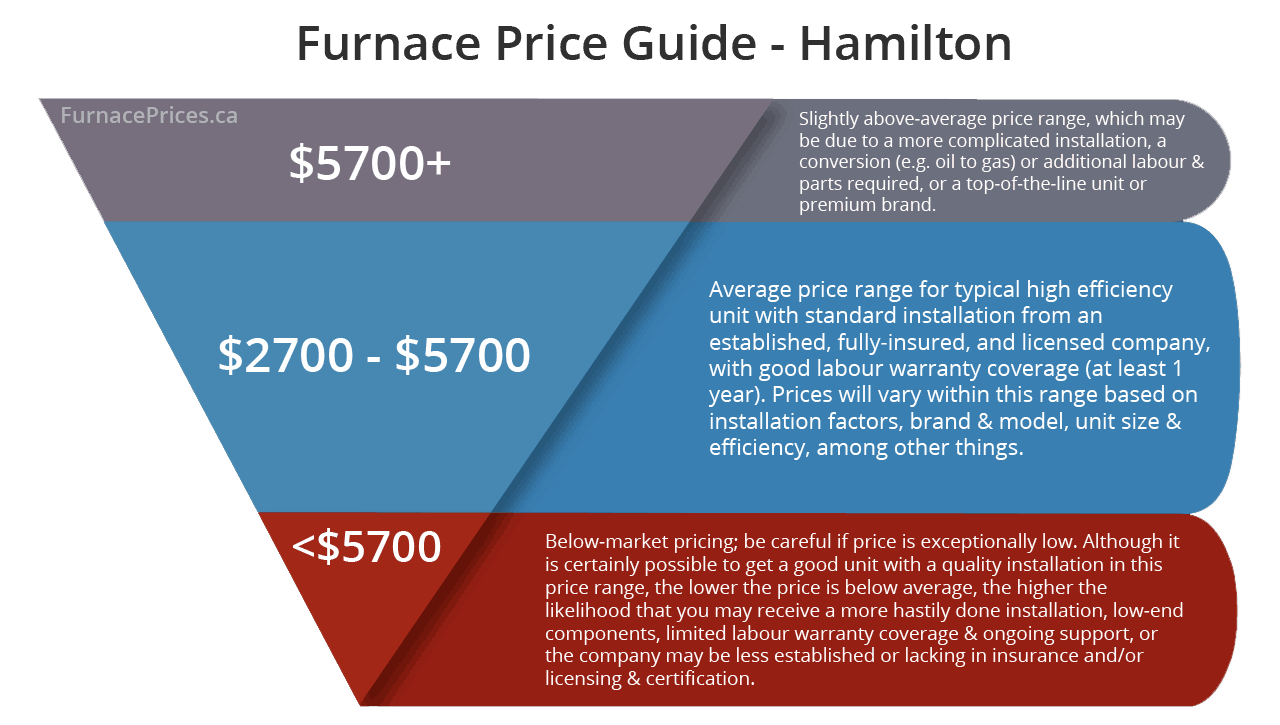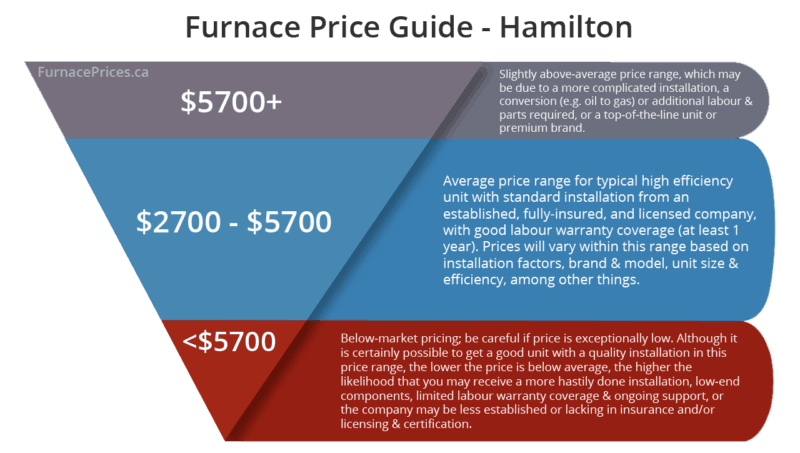 A Bird's Eye View of Hamilton, Ontario
City population: 536,917
Summer weather avg: 21 degrees
Winter weather avg: -5 degrees
Avg Unit Price
Value tier $2,700 Goodman
Mid-Range tier $3,000 Rheem
Premium tier $4,200 Carrier
Rebates available: Yes
What to look for when choosing a heating & air conditioning contractor
People often fret over the brand of furnace to buy, but the contractor you choose is every bit as important. Not only is the quality of the workmanship and installation crucial to the furnace's lifespan, the company you choose will be relied on for future servicing and warranty coverage.
Always choose an established company that has:
Good, independently-verified feedback
A solid track record and no outstanding disputes
Verified insurance, licenses, and certifications
Experienced staff, with manufacturer training
Registered to offer rebates
Checking all of these things is difficult and time-consuming.
That's why we've already done it for you!
Learn more about our independent local HVAC contractor Certification program, designed to help you get a reliable heating system at a fair price, from reputable local dealers.
Buying a Furnace in Hamilton
With over 120 HVAC providers to choose from, Hamilton residents can benefit from the competitive market. Many of the top contractors in the Hamilton area are family-run businesses that have been operating for years, so you can purchase a unit from someone you can trust.
Given Hamilton's unique weather profile, these are the key features to look for in a furnace so that you can enjoy consistent, and reliable, home heating:
Zoned Heating
In any home, there are different areas that are hotter or colder, depending on the time of day or the time of year. This inconsistency can result in an increase of fuel use and higher heating costs, especially when you are constantly trying to warm a cold basement or a drafty sitting room.
An HVAC provider can help by designing a furnace zoning system tailor-made to your home. This would usually be achieved by having multiple thermostats on different levels or areas of your home. Multi-zoned heating systems work with most high-efficiency furnaces and can be compatible with your A/C unit, as well.
The thermostats will control the dampers in the ductwork of your heating system, opening and closing, which provides or limits warm air to rooms, as necessary. In this way, zoned heating increases furnace efficiency. It also has the added bonus of catering to the different temperature preferences of family members.
Humidity Control
Hamilton's proximity to Lake Ontario means damp air, no matter what the season. Striking the right level of humidity is important, not only for the comfort of you and your family, but for your home as well. Too little humidity makes us feel uncomfortable and can cause irritants, like dry skin or respiratory problems. If the air is too humid, you run the risk of mold and mildew forming in your home.
Thankfully, there are a number of high-efficiency systems on the market that allow you to independently adjust the humidity of your home. Depending on the model, the humidifier may be built-in or an add-on unit. You may also find the colder the winter months get, the higher you will want to set your humidity level.
Some examples of humidity control systems are:
Value: KEEPRITE
KeepRite offers a range of programmable thermostats for its furnaces that allow you to set your desired humidity level.
Mid-range: TRANE
Trane humidifiers are designed to complement their home heating systems and can be controlled independently of your heating unit.
Premium: LENNOX
The Lennox Healthy Climate® humidifier or the Humiditrol® whole-home de/humidification system works to add moisture in the winter and remove moisture in the summer, as needed for maximum home comfort.
Warranty
A high-efficiency furnace is likely to be the biggest single investment you will make in your home. A comprehensive warranty will give you confidence in your investment. In general, when you purchase a premium unit, you receive a more extensive warranty. This isn't always the case, though, so make sure you read the fine print.
Warranties are also dependent on a number of factors, like professional installation and regular maintenance. The single most important thing to do, though, is to fill in and submit your warranty paperwork. Our local contractors are highly experienced and can assist you in this process.
Some warranties that we rate highly:
Value: GOODMAN

Lifetime guarantee on heat exchanger
10-year guarantee on parts
Limited warranty plan for unit replacement (furnace models 96% AFUE +)

Mid-range: RHEEM

Limited lifetime guarantee on heat exchanger
Conditional limited lifetime guarantee for unit replacement
Limited 10-year guarantee on parts

Premium: CARRIER

Limited 20-year guarantee on heat exchanger
Limited 10-year guarantee on parts
Deals Available
Local companies offer deals on duct cleaning, HVAC tune-up discounts and end of season sales. You can also take advantage of free quotes and estimates, friend referral discounts and protection plans.
Looking to Replace Your Furnace?
Get a free custom estimate from trusted local suppliers.
See why FurnacePrices.ca is Canada's leading provider of heating & cooling information, including unbiased product evaluations, and step by step buyer guides.
Government Rebates Available
CMHC Green Home:
Receive a refund of up to 25% when you either buy, build or renovate for energy efficiency using CMHC-insured financing.
Save on Energy:
Save $250 on a new high-efficiency furnace
Union Gas:
Save up to $1,000 when you upgrade to a high-efficiency home heating system
Save up to $250 when you invest in a furnace with an electrically commutated motor (ECM)
Keep up-to-date on the deals and rebates available to residents of Hamilton by checking our Current Heating & Cooling Deals and Promotions regularly.
Popular Furnace Brands in Hamilton
Carrier
Goodman
KeepRite
Lennox
Rheem
Trane
High-Efficiency Furnace Pricing
Average furnace price in Hamilton (including installation): $2700 – $5700
Around the City
Located an hour south of Toronto, Hamilton is a major port city and one of the oldest cities in Ontario. Being perched on the southwestern tip of Lake Ontario creates a humid environment and gives Hamilton significant rainfall over the year. Surrounded by nature, the Niagara Escarpment runs through the city providing easy access to natural beauty and a wide range of outdoor activities. Visitors also frequent the popular Royal Botanical Gardens and the Canadian Football Hall of Fame. For those looking to relocate to Hamilton, the city boasts affordable housing, a thriving arts scene and a wide range of restaurants, from fine-dining to food trucks.
Surrounding Areas
Guelph (47 km)
Mississauga (48 km)
Toronto (69 km)
Niagara Falls (72 km)
London (128 km)
Popular Neighbourhoods
For young professionals: Crown Point East
For young families: Crown Point West, Gibson
For lovers of the outdoors: St. Claire