Central Air Conditioners in Kitchener – Prices, Deals & Get a Free Quote
If you need a new air-conditioning unit for your home in Kitchener, Ontario, take advantage of our unbiased information. Compare prices, request a quote, and get more information on many HVAC companies in Canada.
Average air conditioner prices in Kitchener (including install):
$3000 – $5500
Final cost will depend on factors relating to the installation, brand, model, size and more. Get a fair price with a free custom estimate from trusted local providers.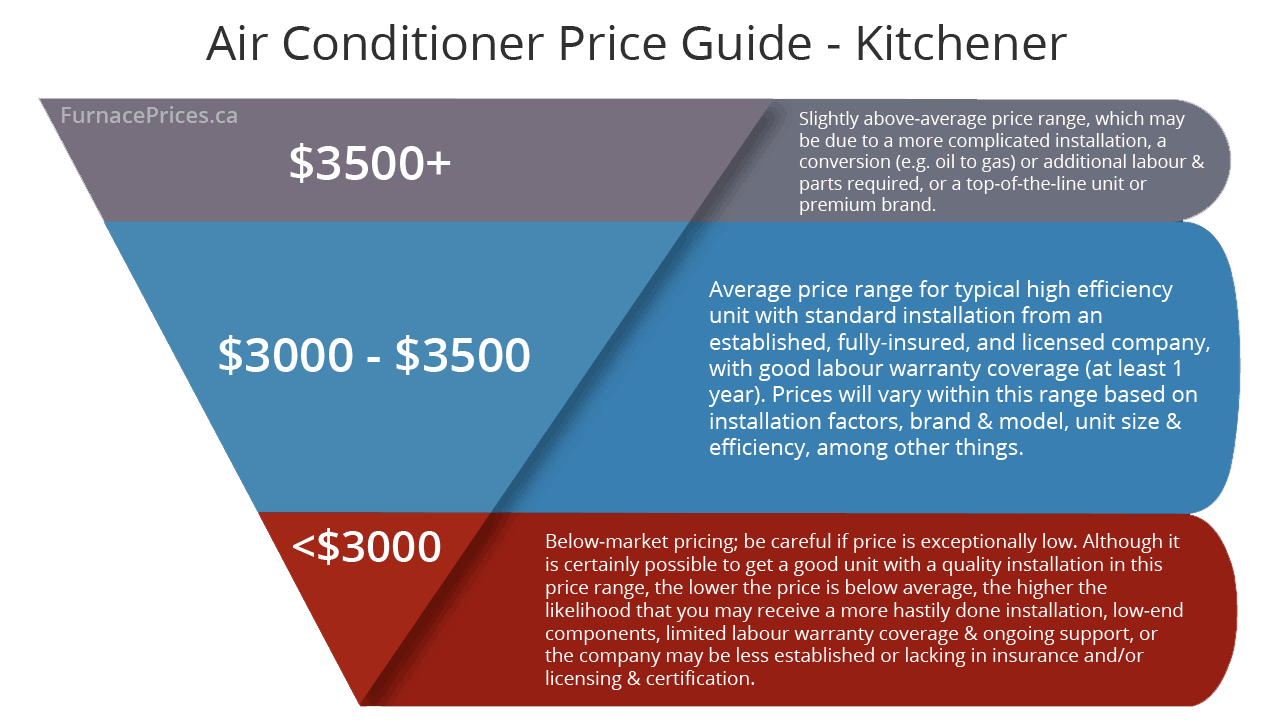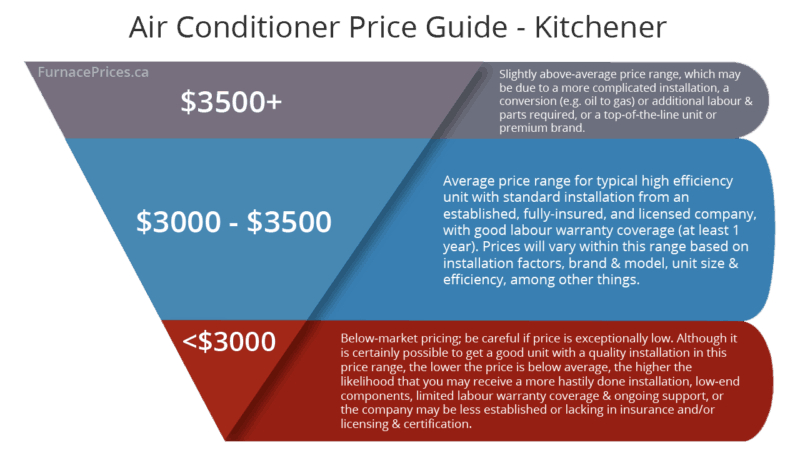 Kitchener, Ontario Summary
Population: 233, 222
Average Temp. Summer: 26 degrees
Average Temp. Winter: -7
Top Canadian Brands by Price Tier:
Low Tier – to 3,800$ York
Mid Tier – Up to 4,500$ Trane
Premium Tier – up to 6,000$+ Carrier
REQUEST A QUOTE
Save time and ask our team for a quote. We can provide you with estimates based on regional pricing.
What to look for when choosing a heating & air conditioning contractor
People often fret over the brand of furnace to buy, but the contractor you choose is every bit as important. Not only is the quality of the workmanship and installation crucial to the furnace's lifespan, the company you choose will be relied on for future servicing and warranty coverage.
Always choose an established company that has:
Good, independently-verified feedback
A solid track record and no outstanding disputes
Verified insurance, licenses, and certifications
Experienced staff, with manufacturer training
Registered to offer rebates
Checking all of these things is difficult and time-consuming.
That's why we've already done it for you!
Learn more about our independent local HVAC contractor Certification program, designed to help you get a reliable heating system at a fair price, from reputable local dealers.
Who is Our Top Kitchener-Waterloo Air Conditioners Contractor?
Constant Home Comfort is one of our trusted Certified Local Partners,
because:
Very established, decades of experience
Amazing customer feedback
Great customer support
Good warranty coverage
But don't take our word for it.
Learn more about Constant Home Comfort and what sets them apart here >>
What to Look for in a High-Efficiency Air Conditioner
When investing in an air conditioner, you should ask yourself some questions to help narrow down your search for the right one. Here are the most important factors to keep in mind.
ENERGY STAR CERTIFICATION
Units that adhere to strict EPA guidelines will earn an Energy Star rating. These units are more energy efficient, less expensive to operate and produce fewer greenhouse emissions.
SEER RATING
The SEER, or Seasonal Energy Efficiency Ratio, is the amount of cooling an air conditioner can push out per unit of energy consumed. The higher the rating, the more efficient it is.
ENERGY EFFICIENCY
The most energy smart AC units will keep you cool without putting much of a dent into your energy budget. We compare dozens of Canadian brands to help you make smarter decisions in energy.
FEATURES
From temperature control to power settings and remote controls, features are an important part of any purchasing decision.
PRICE
We break down the price of hundreds of units by both brand and region, and will even tell you what to expect with installation.
NOISE RATING
Compare the best units not just on their prices and features, but on their decibel level as well.
WARRANTY
From a practical point of view, we can make your choice simple with warranty information on the top brands in the country.
Important Questions When Choosing a New Air Conditioner
How much space are you cooling?
If you live in a condo, you'll need to look at models that can efficiently cool your unit. A condo's needs differ vastly from a home's needs when it comes to central AC.
What condition are your air ducts in?
With Central AC, you'll want an expert to inspect the quality of your ducts, as they may negatively affect airflow within your home.
How long will you live in your home?
If you intend to stay in your home for many years, it might be wise to invest in a cost-effective system.
How hot or cold do you want your home to be?
Depending on what your temperature tolerance is, you may be able to get away with a low powered central AC if you find with not feeling extremely cool.
Deals Available
Coming soon.
Government Rebates
Residents and small businesses in Ontario who are purchasing and/or installing eligible central heating or cooling equipment through registered contractors may also be eligible for government and utility company rebates.
Ask our local partner for details when requesting a quote.
Looking to Replace Your Air Conditioner?
Get a free custom estimate from trusted local suppliers.
Get an air conditioner quote now!
See why FurnacePrices.ca is Canada's leading provider of heating & cooling information, including unbiased product evaluations, and step by step buyer guides.
Installation
Installation can add cost to your total, but it's necessary. A licensed specialist will ensure that your unit is installed both efficiently and safely. Installation costs can also vary based on:
Types of homes (especially older homes) or with an older unit that requires extensive safety upgrades to meet new standards
Operating on a different energy source and having to convert to natural gas or propane (i.e. oil)
Hard to reach installation places
City Info
Located in the Saint Lawrence Lowlands of Southwestern Ontario, Kitchener offers big-city excitement without losing its small-town charm. As a haven for music lovers, the city plays host to many international artists with the TD Kitchener Blues Fest, KOI Music Festival, and Big Music Fest. The city's hot summers mean that residents and visitors are able to enjoy their time stretching outdoors near the lake in the historic Victoria Park. But for those who wish to celebrate Kitchener's rich cultural heritage, the Doon Heritage Village and Waterloo Region Museum offer a wealth of information. Between farmer's markets and Oktoberfest parties, you'll always have something fun to do while in Kitchener.